Election Preview: Rep. Steven Horsford looks to hold off challenge from Jim Marchant in Congressional District 4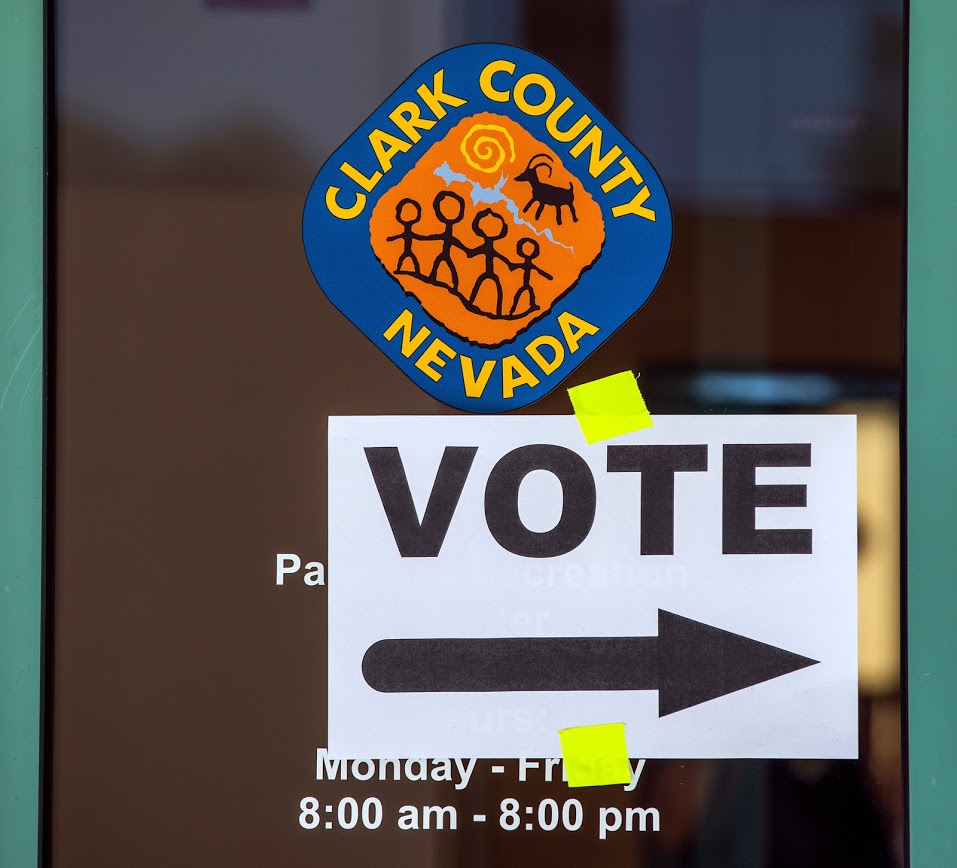 In the absence of a statewide race at the top of Nevada's 2020 ballot, many eyes have fallen to a pair of competitive congressional races that could play a role in deciding which party takes control of the House come November.
In District 4, incumbent Democrat Steven Horsford has run a re-election race that has largely ignored a challenge from former one-term Republican Assemblyman Jim Marchant, a staunch pro-Trump conservative who's sought to pressure Horsford on the issues and on character.
In the ads with the most money behind them — and consequently the widest reach — the Horsford campaign has largely held to a positive tone that's praised his work on Capitol Hill, especially in the wake of the coronavirus pandemic.
In a TV ad launched late last month, his only major ad buy so far this cycle, Horsford touted his role in passing federal coronavirus relief in March, with a testimonial from a local business praising him for securing Paycheck Protection Program loans for Nevada businesses.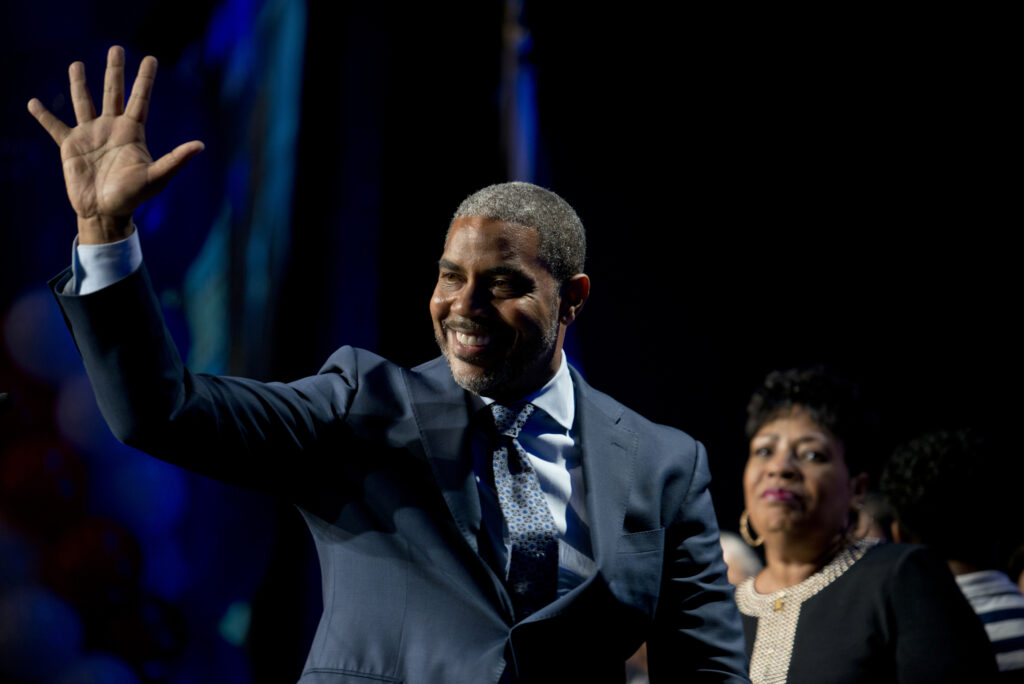 The congressman's online messaging, most notably on Facebook, has more directly challenged Marchant's bid, though it has done so without ever naming him. Calling him "my Republican opponent," "my far-right opponent" or often simply "my opponent," Horsford's online ads have criticized Marchant's links to the Freedom Caucus — an evolution of the old Tea Party movement in the House — and his endorsements from groups such as the National Rifle Association.
Horsford also has frequently used the specter of Republican PAC money as his own fundraising driver, accusing "GOP outside dark money groups" of spending more than $1 million "to spread deceitful ads across Nevada."
Still, these online ads likely comprise a small portion of Horsford's overall spending, according to data available through Facebook's Ad Library. Most individual online ads have been boosted by less than $100 in spending, and the campaign spent just $807 on Facebook ads over the last week.
Horsford has maintained a sizable lead in the money race, raising more than $3 million cumulatively and entering the final weeks of the election with roughly $1.5 million cash on hand, according to his campaign.
Marchant has generally lagged behind Horsford's fundraising, though by how much will remain unknown until campaign finance reports are released on Oct. 15. Through the second quarter, Marchant's campaign had cumulatively tallied roughly $646,000, of which about $143,000 remained in cash on hand.
After emerging from the largest competitive primary field in any Nevada congressional race, Marchant has since repeatedly criticized Horsford for being "too far left," especially on the issue of reforming police departments in the wake of the George Floyd protests this summer.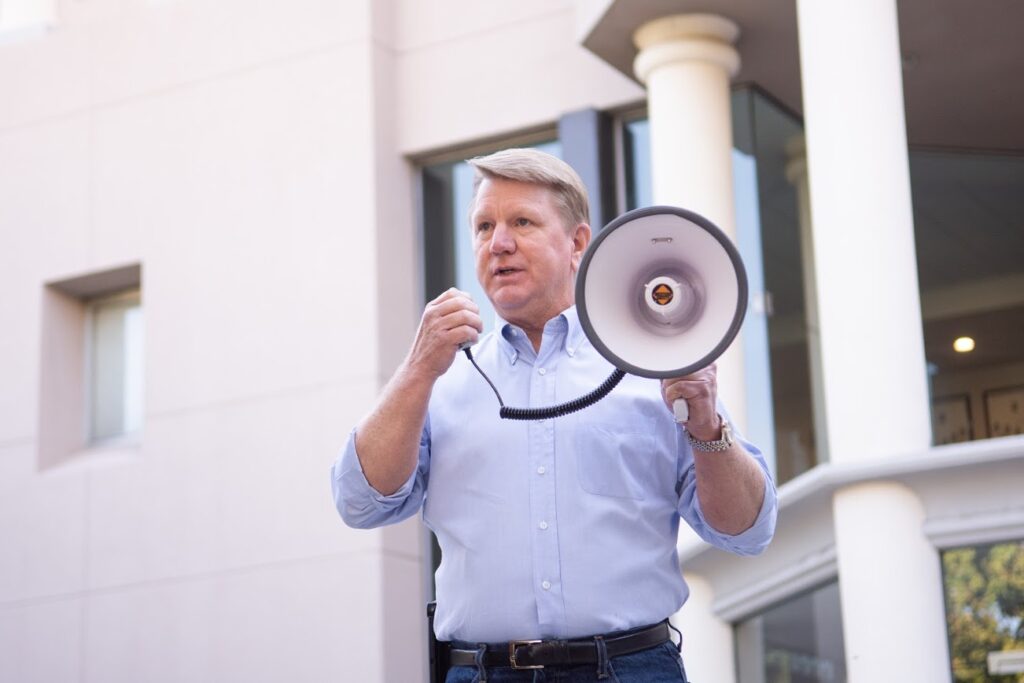 Endorsed by police unions, the Las Vegas Review-Journal and President Trump himself, Marchant has attacked Horsford for being a "radical leftist" and sought to link him to efforts by activists to defund local police departments.
Police funding remains tied to state and local dollars, however, and members of Congress exert little pressure over such local public safety spending. An ideological analysis by the website Govtrack rates Horsford slightly left of the ideological median among Democrats, but still to the right of representatives such as Rep. Alexandria Ocasio-Cortez or Rep. Rashida Tlaib, based on bills he sponsored or co-sponsored in 2019.
Marchant's campaign also has more recently sought to raise the issue of an affair Horsford admitted to earlier this year between himself and a former intern for Sen. Harry Reid, Gabriela Linder.
Linder first revealed the affair, which she says went on twice — between 2009 and 2010 and 2017 and 2019 — under a pseudonym on a podcast in April. Her identity was later revealed in May by the Review-Journal, after which Horsford confirmed that the affair took place.
While Marchant's messaging has tiptoed around the affair itself — one ad proclaims the congressman's sex life is "none of our business" — it has targeted the ethical implications of the entire episode.
Namely, Marchant and his Republican allies have seized on a story first reported by the Nevada Current in July that Horsford had paid an unknown amount to Linder using money from his own company, Resources +.
Horsford's office denied any ethical wrongdoing, and told the Current that the money did not exceed limits placed on him by House rules.
News of the affair did little to stop Horsford's renomination earlier this year in an uncompetitive Democratic primary in which Horsford won more than 75 percent of the vote. Still, it remains unclear how the re-emergence of the issue in Republican messaging may influence voters in the general election, especially in the context of the wider 2020 election, the race for the White House and the complications of voting in the middle of a pandemic.
District 4 at a glance
Nevada's newest congressional district, District 4 was carved out following re-apportionment from the 2010 census. Among the largest districts in the country by area, its geographically sprawling boundaries encompass both parts of Clark County, including North Las Vegas, as well as a handful of the counties in the state's rural center, including Nye, White Pine and Lincoln counties.
With sizable populations of both Black and Hispanic voters in Clark County, District 4 has often — though not always — tilted toward Democrats. Voter registration figures show Democrats lead Republicans 41 percent to 31 percent, with another 21.8 percent of voters registered as non-partisans.
Horsford, at the time a state senator, was the first to win the district, taking the seat in 2012 by a margin of 8 points over perennial Republican contender Danny Tarkanian. Horsford would later be upset in the 2014 midterms, when Mesquite-area Assemblyman Cresent Hardy won the seat by roughly 2.7 percentage points as part of a wave of Republican victories statewide.
Democrats flipped the seat once more in 2016, this time with then-State. Sen. Ruben Kihuen, who defeated Hardy by 4 points as Democrats statewide rode to victory in a number of key competitive races.
But following revelations in late 2017 that Kihuen had sexually harassed a campaign staffer, the incumbent's decision to forgo a reelection bid in 2018 opened the door for a return for Horsford, who had spent his years outside office working at his own public relations and consulting firm.
Horsford went on to win easily in 2018's "blue wave," besting Hardy in a rematch of the 2014 race by roughly 8.2 percentage points.
Outside observers have generally forecast a strong edge for Democrats in District 4 based on both demographics and historical voting trends. The Cook Political Report and the University of Virginia Center for Politics rate the district as "Likely Democratic," while FiveThirtyEight rates the race as "Lean Democratic."
Featured Videos
Comment Policy (updated 4/20/2021): Please keep your comments civil. We reserve the right to delete comments or ban users who engage in personal attacks, use an excess of profanity, make verifiably false statements or are otherwise nasty. Comments that contain links must be approved by admin.