Rep. Horsford, who has campaigned as a family man, acknowledges extramarital affair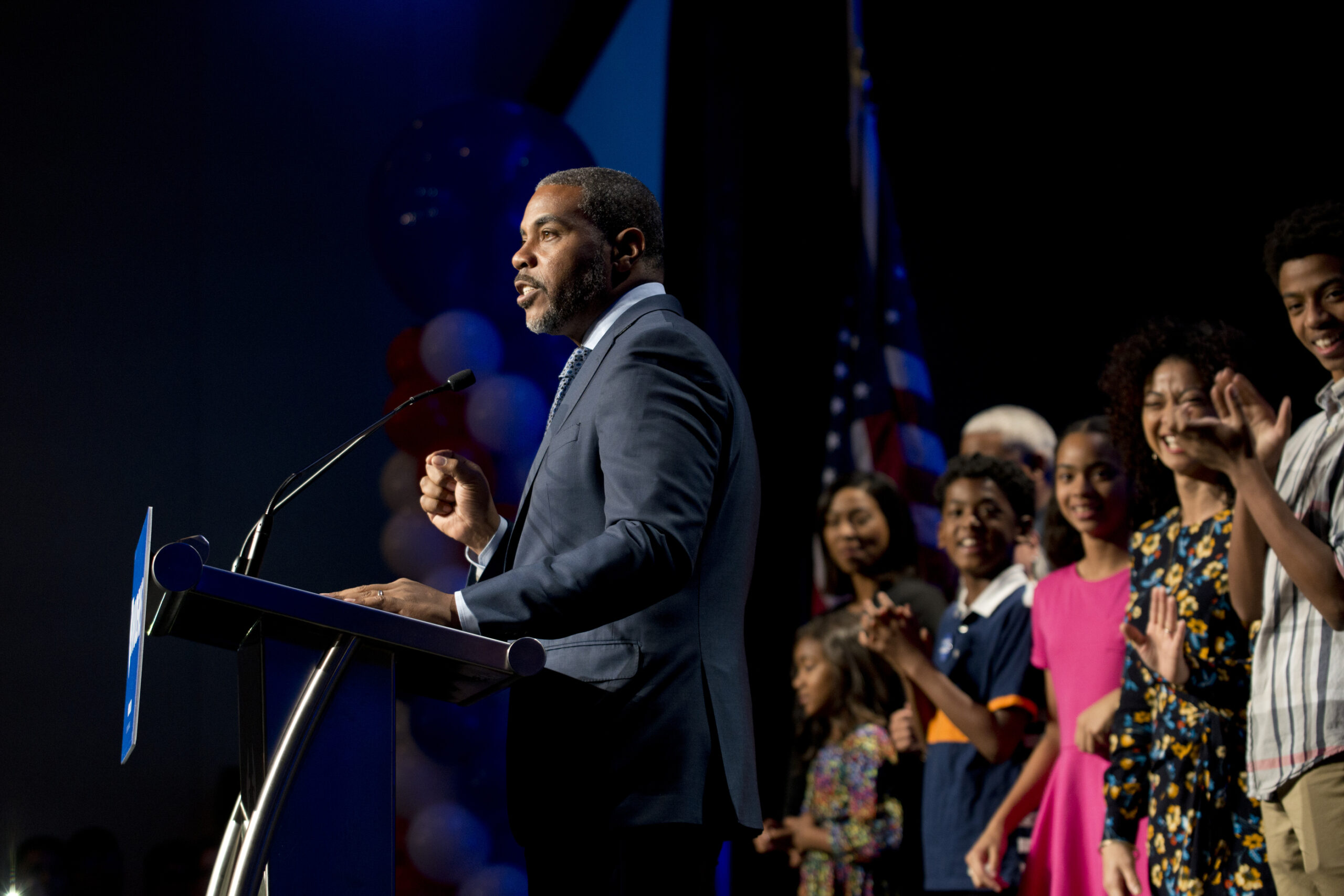 Democratic Rep. Steven Horsford, who describes himself on his re-election website as a "devoted family man," has acknowledged that he had an extramarital affair that spanned years after a woman detailed a relationship that started a decade ago when she was 21 and he, at 36, was the highest-ranking senator in the Legislature.
The admission comes as the woman, first identified by the Las Vegas Review-Journal as Gabriela Linder, is releasing a series of six-minute podcasts called "Mistress for Congress" detailing the circumstances of an affair. She initially identified the subject with the pseudonym "Bob" but recently revealed that her account was about Horsford.
"It is true that I had a previous consensual relationship with another adult outside of my marriage, over the course of several years," Horsford said in a statement provided to The Nevada Independent. "I'm deeply sorry to all of those who have been impacted by this very poor decision, most importantly my wife and family. Out of concern for my family during this challenging time, I ask that our privacy is respected."
In her podcast, Linder said she met Horsford in 2009 when she was a 21-year-old intern for Sen. Harry Reid and Horsford was a state senator. She said they began a sexual relationship that lasted for about a year and a half, but kept in touch afterwards and resumed the affair from 2017 to 2019, a timeline that overlaps with Horsford's second term in Congress that began in 2019.
Linder said her podcast series "isn't some revenge campaign to destroy Steven," who she said she was in love with, but rather an attempt to tell "my truth." She does think he should step away from elected office, though.
"Did he cause me a lot of harm? Yes. Do I believe he needs to do some atoning? Absolutely," she said on the podcast. "Do I believe he needs to step out of public office for some time to do that atoning? Yes."
Linder has not responded to requests sent Saturday for an interview. Horsford's office did not make him available for an interview on Saturday or directly address a question about whether he plans to proceed with his ongoing campaign amid calls for him to step aside, although his office did say "this former personal relationship has no bearing on the Congressman's ability to fight for the people of Nevada and he fully intends to serve them in this Congress, and beyond."
Horsford is seeking re-election to the 4th Congressional District seat, which encompasses North Las Vegas and large segments of rural, central Nevada. Horsford ran for the seat in 2018 after former Rep. Ruben Kihuen opted to not run for re-election amid multiple reports of sexual harassment.
While the district has a comfortable Democratic registration advantage and Horsford has not attracted formidable challengers in the ongoing primary, a large field of Republicans hopes to run against him in the general election.
At least one of those Republican candidates, Lisa Song Sutton, is calling for a House ethics investigation into whether any taxpayer dollars were used in commission of an affair.
Linder indicated on her podcast that Horsford had offered financial support over the years, although Horsford's office says that neither his House office nor the campaign had provided Linder compensation.
Another candidate for the seat, Republican Sam Peters, called for a "full investigation" on his Facebook page and said it was "time to remove this loser from Congress!" Democrat Brie D'Ayr said it's time to elect a woman to the seat, arguing that "you can't give it 100% if you're constantly distracted by issues that have nothing to do with the job of making your constituents' lives better."
Linder's account of events places the beginning of the affair at the height of Horsford's eight-year legislative career — when he was Senate majority leader from 2009 to 2012.
Years later, he would face questions about what he knew and whether he took enough action in that leadership role to intervene in the case of Mark Manendo, a longtime state senator who was found in 2017 to have violated harassment policies for activities ranging from unwanted sexual advances to harassing conduct during numerous legislative sessions.
In an interview in 2017, Horsford declined to comment on some specifics of his dealings with Manendo. But he argued for systemic improvements in workplaces.
"This is a moment and it's a moment we need to reflect on and more importantly fix things that are broken," he said in an interview. "There needs to be a process that's independent, that's fair, that allows people to come forward. People shouldn't have to go to their boss alone to file a complaint and be heard — there needs to be a better code of conduct and ethics.
Horsford describes himself on his campaign website as "a devoted family man" who "has built a strong family." His Twitter accounts feature family photos and remarks supportive of his wife, a university professor.
Facing criticism for maintaining a home just outside of Washington D.C., he told The Nevada Independent in 2018 that he did so so he could have meals with his family and attend his three school-age children's activities during the work week. His own father was killed in an episode of gun violence when he was 19.
"I know what it's like to grow up without a father. And it is very important to me that I always am there to be present and to provide for my kids," he said.
Horsford, a longtime director of the Culinary Academy workforce training organization, was elected to the state Senate in 2004 and held its top post for the 2009 and 2011 legislative sessions.
He served as co-chair of President Barack Obama's 2008 campaign in Nevada and did stints as a Democratic national committeeman and as vice chairman for the Democratic Legislative Campaign Committee, a fundraising entity.
He won a race for Nevada's newly created 4th district in 2012 but lost the seat to Republican Cresent Hardy in the "red wave" of 2014. He started running his own business, Resources Plus, which provides public relations and consulting on workforce development strategies, skipped the 2016 cycle, and ran for the seat in 2018 when it became clear that Kihuen would not seek the role again.
In a debate in the 2018 election, Horsford said it bothered him that an ethics commission was taking months to present findings about the accusations and that Kihuen accusers wake up each morning still seeing him in office.
"It absolutely does, and that is why we should expect more of every elected official and every person in power," he said.
Updated at 6:48 p.m. on 5/16/20 to add comment about Horsford's future political plans.
Featured Videos
Comment Policy (updated 4/20/2021): Please keep your comments civil. We reserve the right to delete comments or ban users who engage in personal attacks, use an excess of profanity, make verifiably false statements or are otherwise nasty. Comments that contain links must be approved by admin.