Elections officials clear way for more people with felony convictions to vote in Nevada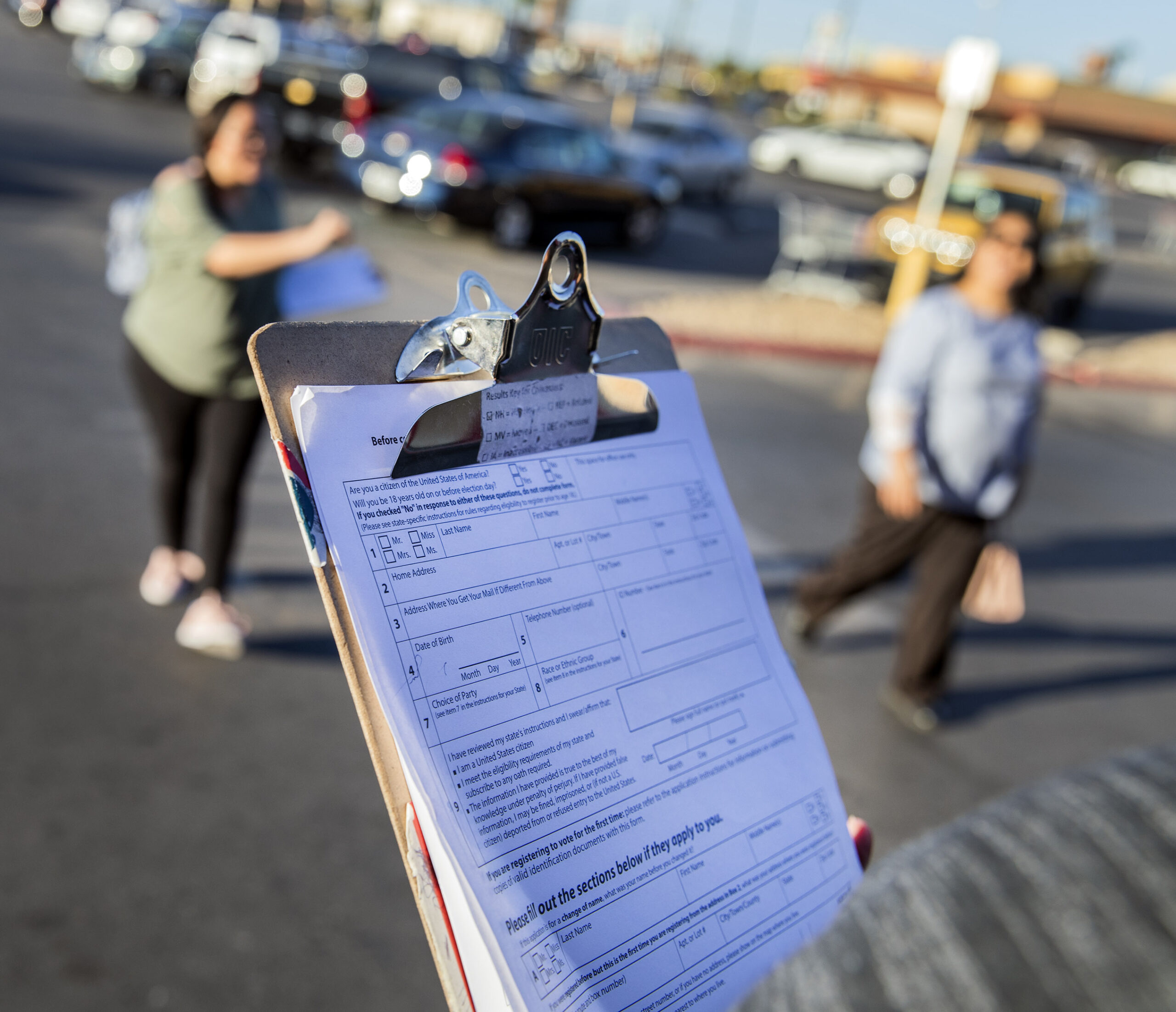 More than 500 Clark County residents who were rejected from the voter rolls this year because of a felony conviction will remain eligible to complete their registration as part of an agreement with a group that's trying to expand restoration of felons' voting rights.
The Campaign Legal Center, which has staff in Nevada trying to encourage ex-felons to participate in elections through the Restore Your Vote campaign, announced Tuesday that it had reached a deal with state and Clark County election officials amid confusion about how convicted felons needed to prove they had their voting rights restored. The agreement allows people to sign an affidavit about their restored voting rights while registering or at the polling place, rather than dig up proof of their eligibility to complete the process.
"Nevada voters should not be disenfranchised due to an unnecessary paperwork requirement," Blair Bowie, a legal fellow at CLC, said in a statement. "We are pleased that the Nevada Secretary of State and Clark County registrar worked with us to resolve this issue amicably, so that the voters could be reinstated in time for the November elections. It is critical that Nevadans and voters around the country receive accurate information about their state's voting rights restoration requirements."
Clark County Registrar of Voters Joe Gloria said the county was not disenfranchising voters, but that under the previous process, people with a conviction would have either had to show discharge paperwork or come into his office, sign an affidavit that they were eligible to vote and have it notarized. The 500 or so people with felony convictions who had tried to register this year but hadn't completed those steps and were rejected were sent a letter last week saying that, under the terms of the agreement with CLC, they could show up to a polling place and re-activate their aborted registration process.
They will have to sign an affidavit — which summarizes the eligibility criteria — when they arrive at the polls. Their signature would certify that they were honorably discharged and were not convicted of a violent felony that would, in most cases, disqualify them from voting.
Some 90,000 Nevadans were ineligible to vote in 2016 because of a felony conviction, according to CLC staff. That's about 4 percent of the voting age population.
Nevada allows some people with criminal convictions to regain their right to vote, but the rules are complicated. Among them: Until next year, people must have been honorably discharged from parole or probation before they can regain their rights (a new law passed in 2017 will allow those who were dishonorably discharged to vote as well, but it does not take effect until 2019).
Bowie said some people whom the CLC worked with were being rejected from registering because they did not have proof that they were honorably discharged. She said there was confusion because the Division of Parole and Probation apparently is no longer issuing the discharge documents that clerks were requesting.
The Nevada secretary of state's office also issued a memo Thursday clarifying to elections officials in other counties about the rules for felons registering to vote, and recommending that they give ex-felons a chance to sign the declaration that they are eligible to vote rather than requiring paperwork about their discharge and denying them a registration if they cannot produce it.
The completed form "will serve as a record that the registrant reviewed, acknowledged, and declared his or her compliance with the applicable eligibility criteria," wrote Wayne Thorley, deputy secretary for elections. "This office believes that the declaration form will bolster the overall integrity of Nevada's voter registration process by providing specific, accurate information to registrants and election officials alike, thus creating a disincentive for anyone to feign confusion about voter eligibility requirements for ex-felons."
People with felony convictions will be signing the declaration under penalty of perjury, but there is otherwise not a screening process on the front end to verify that the registrant has indeed regained their right to vote, Gloria said.
CLC said it has helped 558 people in Las Vegas and 273 people in Reno this cycle to take steps toward regaining their right to vote.
Updated at 9 a.m. on Oct. 24, 2018 to add comments from Clark County Registrar Joe Gloria about previous registration process.
The Nevada Independent is raising $200,000 by Dec. 31 to support coverage of the 2024 election.
Tax-deductible donations from readers like you fund this critical work.
If you give today,your donation will be matched dollar-for-dollar.
Give + Get Matched
Featured Videos