Embattled Douglas County schools superintendent submits resignation
A proposed separation agreement includes salary through July 2024 and a clause not to 'interfere' with trustees' efforts for three years.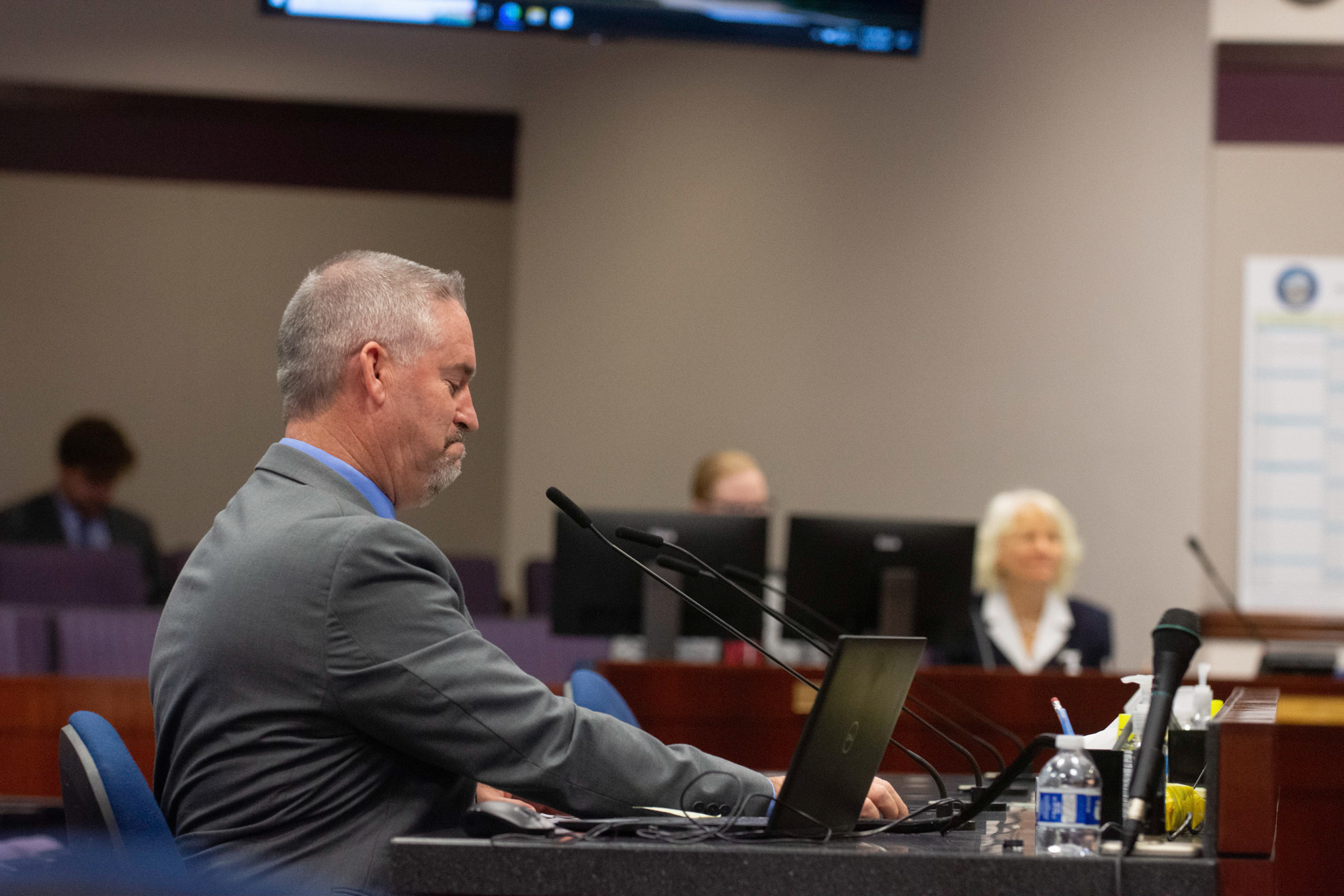 Weeks after a motion by the Douglas County School Board to terminate Superintendent Keith Lewis' contract failed, Lewis is looking to part ways with the school district — a special meeting is set for next Wednesday to discuss, and possibly approve, Lewis' voluntary resignation.
The news of Lewis' upcoming resignation was first reported by The Record-Courier, based in Gardnerville.
The move comes after months of strife between him and the school board, including his public concerns about high legal fees since Republican politician Joey Gilbert was hired as legal counsel and a power struggle playing out through proposed changes to bylaws.
A description of the agenda item states that Lewis "seeks this approval voluntarily and warrants that he is doing so of his own free will and that he has not been coerced into making this request."
If Lewis' resignation is approved, the board will appoint the next most senior executive as acting superintendent until it names a successor.
If the board doesn't approve the separation agreement, Lewis is expected to return to work the next business day following the meeting.
Lewis wasn't immediately available to respond to a request for comment. According to an automated message sent from Lewis' email account, Lewis is out of office through Monday.
Lewis has served as the superintendent for the Douglas County School District (DCSD), located in a deep-red county 50 miles south of Reno, since 2020. The district serves about 5,300 students.
According to his LinkedIn profile, Lewis started his career with the district in 1995 as a physical education teacher at Gardnerville and Pinon Hills Elementary schools. Before becoming the superintendent, he worked as the district's human resources executive director and also oversaw its transportation, school nutrition and facilities departments.
Under the proposed separation agreement, the district would continue to pay Lewis his salary and contribute to his state retirement account through July 31, 2024, effectively giving him 30 years of public service. The district also would pay Lewis a lump sum for any unused paid time off.
The proposed agreement further states Lewis agrees not to participate in any recall efforts against existing school board trustees, with the exception of his right to vote in such an election. Lewis also would agree to refrain from contact with any officer or employee of the district, "for the specific purpose of interfering with the trustee's efforts to direct the operations of the district" for the next three years.
The special meeting comes weeks after an Oct. 6 board meeting where the school board failed to pass a motion to terminate Lewis' employment with the district. Prior to the meeting, Lewis had said he and the board had come to an agreement on his termination, but four of the seven school board members voted to keep Lewis on as superintendent after he received overwhelming support from community members who came to speak during the public comment portion of the meeting.
After the vote, Lewis said in a statement to The Nevada Independent it remained to be seen "whether the disdain that a faction of the board" has toward him would hinder the district's future operations if he stays on as superintendent.
Since Gilbert's hiring in July, Lewis has voiced concerns about Gilbert's exorbitant legal costs.
On Monday, School Board President Susan Jansen announced that after invoicing the Douglas County School District for about $110,000 for two months of legal services, Gilbert has credited more than $32,000 back to the district. Still, Gilbert's firm charged the district nearly $77,000 by Sept. 21 — an amount equal to nearly half of the district's $160,000 annual budget for legal services.
The Nevada Independent is raising $200,000 by Dec. 31 to support coverage of the 2024 election.
Tax-deductible donations from readers like you fund this critical work.
If you give today,your donation will be matched dollar-for-dollar.
Give + Get Matched
Featured Videos