Experts: Nevada's casino industry can't 'bury its head' over cryptocurrency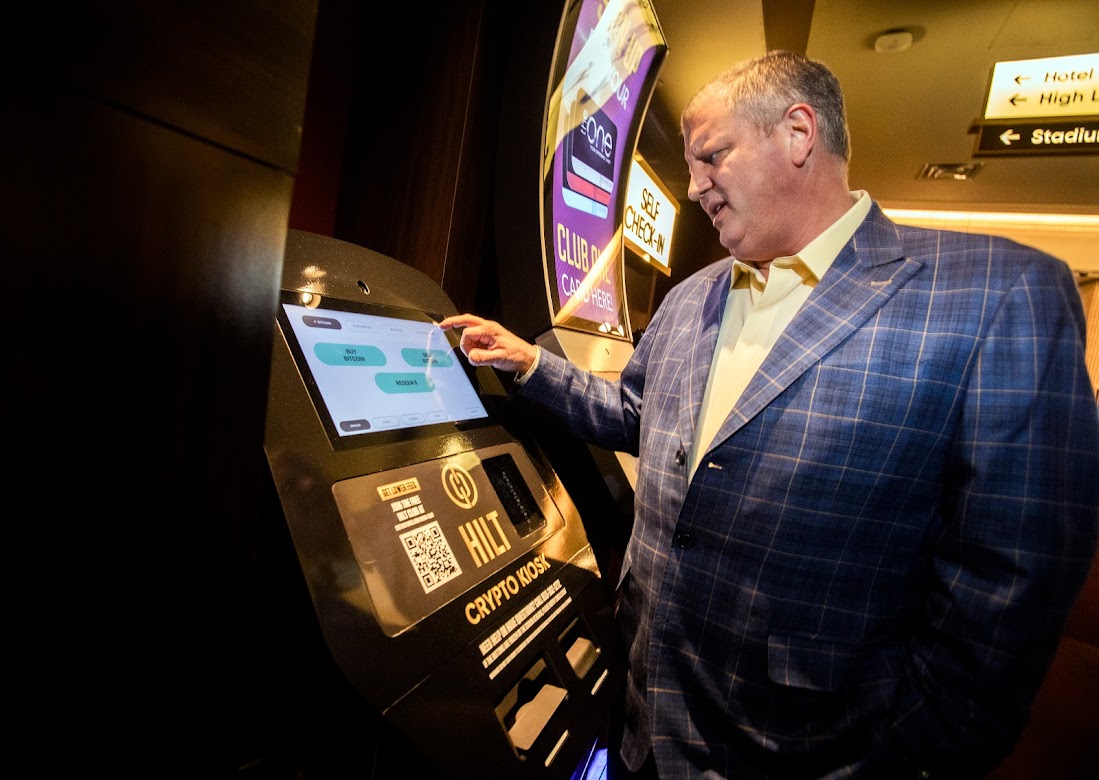 Downtown casino owner Derek Stevens wasn't sure how his customers would respond eight years ago when he began accepting Bitcoin for select non-gaming transactions at the D Las Vegas and Golden Gate.
He thought guests would use the digital currency for splashy purchases, such as hotel rooms or meals at the D's American Coney Island and Andiamo Italian Steakhouse. Instead, patrons visited the Bitcoin BitPay devices inside gift shops for single-item purchases, such as a bag of potato chips.
"That was happening all day long," Stevens recalled. "We just saw frequent small denomination transactions."
Stevens eventually had a cryptocurrency exchange kiosk – similar to an automated teller machine – installed at D Las Vegas. When he opened Circa Resort & Casino in October 2020, a similar machine was added to that property.
That's when he noticed a change.
Instead of converting cryptocurrency to cash, people use the machines to exchange their cash for cryptocurrency.
"Let's say some guy working at the Golden Nugget across the street makes a couple of hundred dollars in tips," Stevens said. "He might exchange that for a couple hundred in Bitcoin. We thought people would utilize the machines like an ATM. But the machines routinely have more deposits than they have withdrawals."
Some gaming industry observers have begun to question not if, but when cryptocurrency might find its way onto casino table games and slot machines.
"You can't bury your head in the ground about crypto anymore when you're talking about billions of dollars," said Omer Sattar, co-CEO of Sightline Payments, a digital payment provider for the gaming industry. "There is something real happening."
​​As cryptocurrency gains more users, the casino industry has started its own complicated calculus to determine how to mesh the digital assets into gaming operations. While kiosks that convert dollars to cryptocurrency or vice versa have popped up in several casinos, gambling with largely unregulated digital currency is a bridge too far at this point.
Raul Sood, CEO and co-founder of blockchain developer Irreverent Labs and the former CEO of Unikrn, an eSports company, shook up the gaming industry as a keynote speaker at the 2015 Global Gaming Expo. He told the audience traditional slot machine manufacturers were doing a poor job of addressing the interests of the casino customers.
He had a similar message for the casino industry when asked about cryptocurrency and gaming.
"Vegas is going to have to start thinking how do you do stuff in the metaverse and bring that customer to their real property," Sood told The Nevada Independent. "They're probably losing their minds because they still haven't figured out how to embrace crypto yet."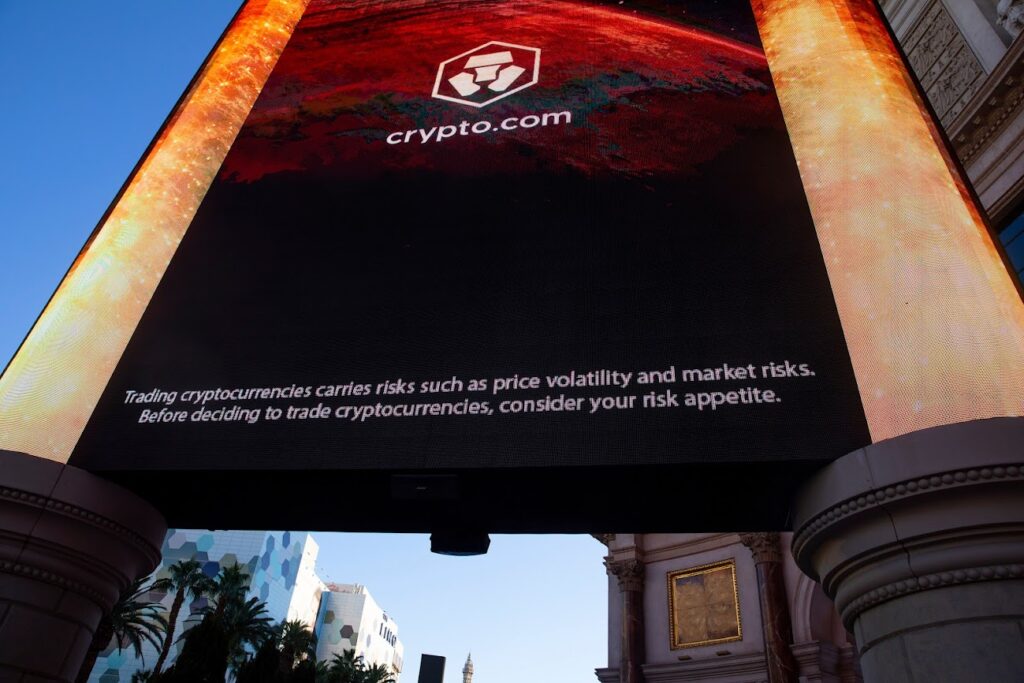 Crypto finds Vegas
Stevens' early embrace of what was once thought of as a novelty is now squarely in the mainstream: Cryptocurrency trading platforms and businesses have garnered enormous attention nationally over the last few months.
During the Super Bowl, cryptocurrency companies purchased nearly a dozen different advertising spots that each cost between $6 million and $7 million for 30 seconds of airtime. The most attention was given to the 60-second spot by cryptocurrency exchange Coinbase that was nothing more than a floating QR code — a campaign so popular it temporarily caused the company's app to stop functioning.
It's also present in Las Vegas: Digital exchange Crypto.com, which features star athletes and actors in its advertising, used the reader board of the Caesars Forum Shops marquee on the Strip to tout the company as a platform for trading different currencies.
So far, only a handful of Las Vegas gaming operators are pushing cryptocurrency for non-gaming purposes. Stevens doesn't do much promotion for the machines other than running messaging on electronic billboards along the Fremont Street entrances at Circa and D Las Vegas.
"We might run it for a few weeks, just to let people know we have them here," he said.
A month before last summer's grand opening, Resorts World Las Vegas announced a partnership with Gemini, a cryptocurrency exchange that would allow customers to access various digital payment methods "across all areas" of the $4.3 billion Strip resort. Gemini is a platform where customers buy, sell, store or earn different cryptocurrencies.
"The partnership we announced with Gemini in May is to explore future opportunities that will allow patrons to use their crypto wallet on the property for non-gaming transactions," Resorts World Las Vegas President Scott Sibella said in an email. "These opportunities are a work in progress, and we will be able to provide more information as these efforts unfold."
Resorts World has since added a cryptocurrency exchange machine near the Famous Foods dining area. The property has not promoted the kiosk — Sibella said it's meant to be "part of enhancing the overall guest experience through technology-driven conveniences."
MGM Resorts International spokesman Brian Ahern said the casino operator had heard from guests "who have a strong desire to use cryptocurrency" at the company's Strip properties.
"We're exploring the feasibility of allowing cryptocurrency for a limited number of casino-related transactions consistent with all applicable laws and regulations," Ahern said in an email.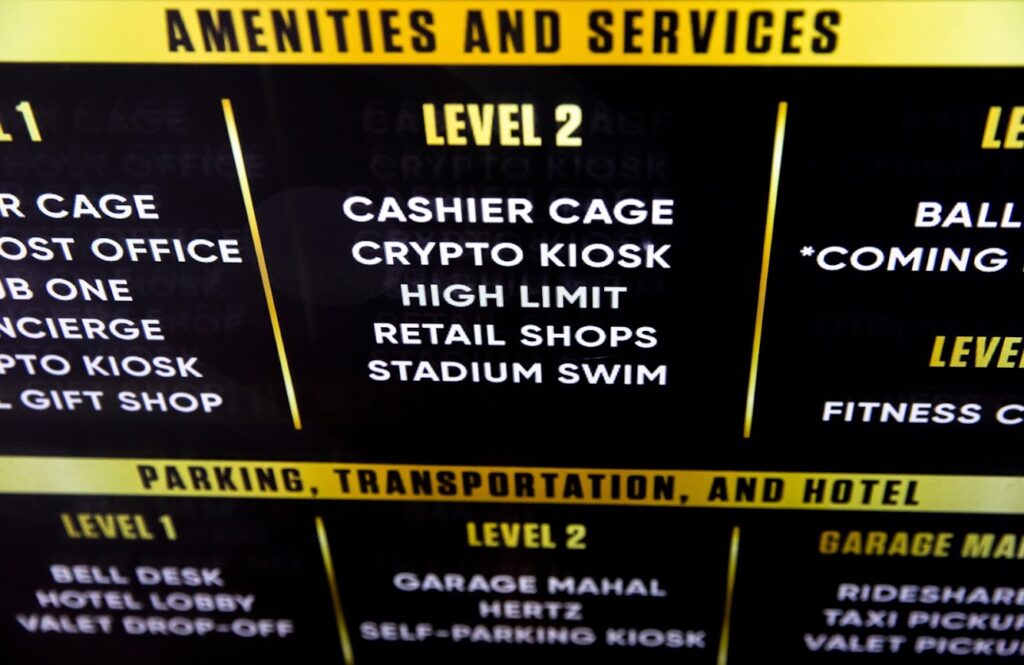 An absence of crypto regulations
For now, the easiest way to use cryptocurrency in gaming is through a kiosk that converts the digital currency to U.S. dollars, which can then be loaded onto a digital wallet or exchanged at a casino cage or a table game for casino chips.
The Nevada Gaming Control Board doesn't have regulations governing the use of cryptocurrency on casino floors. So don't expect to find a Bitcoin acceptor on a blackjack table.
"The board's current policy is, we don't use cryptocurrency directly to conduct gaming activity," said Jim Barbie, chief of the control board's technology division. "We have stated previously, if an entity or licensee wants to come forward, they would need to show us how they want to do it, and they also need to show us how their KYC (know your customer) requirements occur."
Barbee said KYC is "huge in the crypto space" because crypto companies are considered money transmitters by the U.S. Department of Treasury's Financial Crimes Enforcement Network (FinCEN), which collects and analyzes financial transactions. FinCEN and the gaming industry have worked together on compliance with all anti-money laundering regulations and rules under the Bank Secrecy Act.
However, Barbee said cryptocurrency is still "lightly regulated" and some of the cryptocurrency exchanges don't adhere to the various requirements.
"That creates an environment where you can't wholly rule out that the source of funds are coming from illicit activity," Barbee said. "So now, there's an inherent challenge with the use of cryptocurrency."
The digital payment news website Coinmarketcap.com lists 1,583 cryptocurrencies, more than all of the world's traditional fiat currencies, government-based money such as the U.S. dollar or the Euro. Bitcoin, Ethereum and Dogecoin are among the most well-known cryptocurrencies.
A report released last month by Crypto.com projects the number of cryptocurrency owners to reach 1 billion by the end of the year. The number of crypto owners nearly tripled last year, reaching 295 million people by December, according to the report.
Even as cryptocurrency gains traction, the underlying concept can be difficult to understand: Cryptocurrency is defined as an encrypted data string that is monitored through a blockchain – a shared ledger that records and tracks transactions.
Cryptocurrencies are maintained across several computer networks that are not dependent on a central authority like a bank or government to uphold it. The decentralized digital currency relies on cryptography — computerized encoding and decoding of information — to prevent fraudulent activity.
FinCEN has not weighed in on cryptocurrency – defined by the agency as convertible virtual currency (CVC) – and its potential use within the casino industry in more than two-and-a-half years.
At the Las Vegas Anti-Money Laundering Conference in August 2019, then-FinCEN Director Kenneth Blanco said in prepared remarks that any gaming property "on the internet or a physical casino" needs to ensure cryptocurrency is accounted for in policies, procedures, internal controls and risk assessments.
"You should also consider how you will review and conduct due diligence on transactions in CVC," Blanco said. "How will you conduct blockchain analytics to determine the source of the CVC? How will you incorporate CVC-related indicators into your (suspicious activity report) filings as appropriate?"
The Washington D.C.-based American Gaming Association, which brokered much of the relationship between the industry and FinCEN, has primarily focused its efforts on the expansion of payment modernization in casinos, such as the expanded use of mobile wallets and cashless gaming technology.
AGA Senior Vice President Casey Clark said that effort has advanced to cryptocurrencies, adding that the introduction of cryptocurrency convertors on casino floors has been a good first step.
"We're certainly engaged with our members about what they might want to see, but there is still a little bit of the unknown on what will be permitted," Clark said. "People are spending a lot of time and money thinking about how do you deliver for the next generation of gaming customers. [Cryptocurrency] is certainly going to be part of that conversation."
One state, Wyoming, allows its sportsbooks to accept wagers in "digital, crypto, and virtual currencies," as long as the wagers can be converted to cash.
Former state Sen. Ben Kieckhefer, appointed to the Nevada Gaming Commission last fall, said if cryptocurrency is eventually allowed for use with gaming activities, Nevada's tax policy should ensure the taxes are paid in U.S. dollars.
Kieckhefer is confident, however, that Nevada's gaming industry will find a path that makes cryptocurrencies work for all parties.
"I do think we should be thinking about a pathway for (cryptocurrency), especially if the customer demands it," Kieckhefer said. "Las Vegas is really good at continuing to evolve in a way that satisfies the needs and desires of its customers."
A blockchain casino management system
In late January, Bloomberg News reported the Biden Administration was preparing an executive order outlining a comprehensive government strategy on cryptocurrencies, while asking federal agencies to determine their risks and opportunities.
That news prompted a cryptocurrency market meltdown that saw roughly $130 billion of value disappear over one day, as major digital coins went through a multi-day sell-off. According to CNBC, Bitcoin was off more than 50 percent from its all-time high and was trading at its lowest level since July 2021.
That type of fluctuation concerns Nevada gaming regulators.
"That goes back to the difficulties when there are thousands of different cryptocurrencies," Gaming Control Board Chairman Brin Gibson said in an interview. "Let's say that you're gambling, and the crypto exchange transaction happens at eight o'clock at night, and then there is a drop (in value) at three in the morning. On some days, there could be a major movement in markets, right? So that's an issue for us."
Sattar understands the concern from regulators. But he's also hopeful that a casino management system could be built through a blockchain that could also handle issues such as responsible gaming.
The fundamental issue surrounding money, he said, is trust.
"If I give you $1, you trust that it has the guarantee of the U.S. government," Sattar said. "It has to be the same with crypto."
Sood, who was awarded a gaming license by Isle of Man gaming in 2018 that allowed Unikrn to accept wagers on eSports, said a blockchain would satisfy compliance with anti-money laundering law and know-your-customer concerns.
"The blockchain is the best technology to do that. It's better than cash," Sood said. "And by far, it's totally better than current systems. Everything gets tracked on the blockchain, whether you're using Bitcoin or another currency."
Kahlil Philander, a former director of research at UNLV's International Gaming Institute, said any slowness by the gaming industry in adopting blockchain technology could ultimately cost casinos new potential customers.
Philander, who is now an assistant professor in Washington State University's school of hospitality business management, said the Generation Z audience – anyone born after 1997 – is growing up "digitally native" and has embraced new technologies, such as cryptocurrency.
He said a reluctance to adopt digital currency won't "cannibalize the gaming industry, but it will at least take away much of its growth prospects. You might be able to keep boomers and older millennials, but everybody that comes behind Generation Z are all going to be tuned into these types of technologies."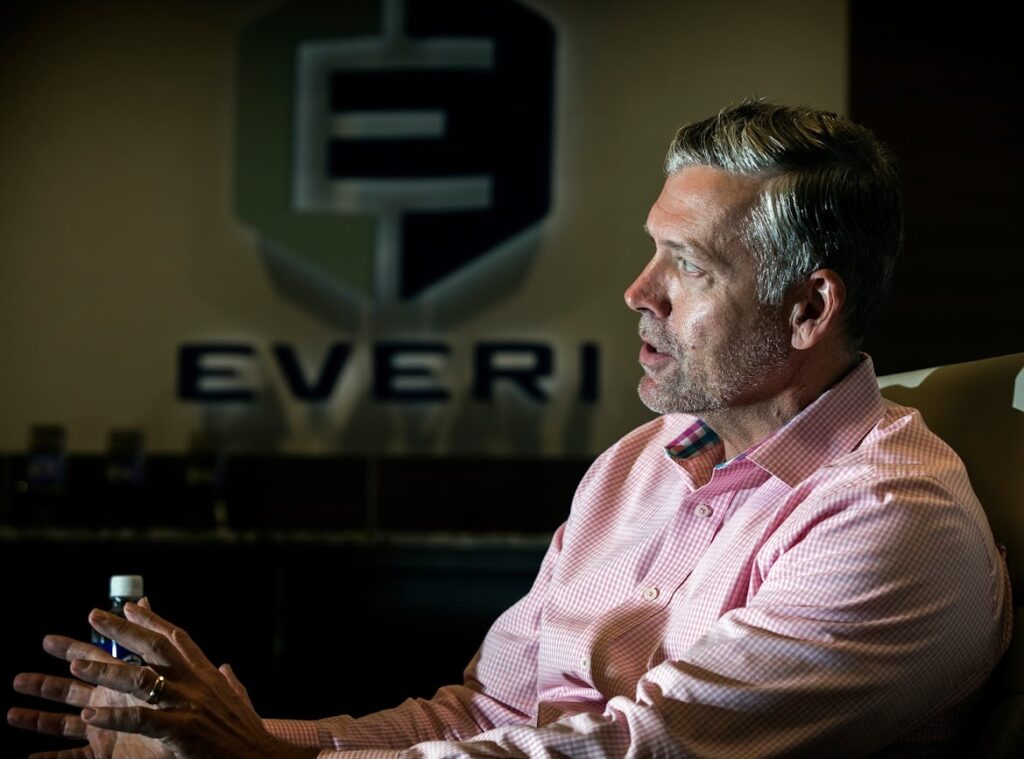 Payment companies to provide crypto solutions
Jerry Rau, managing director for Eilers and Krejcik Gaming, follows electronic money movement companies in the casino industry and believes there is a future for directly loading digital current for gaming purposes. But it won't happen tomorrow.
Rau said financial technology companies already involved in the industry – especially those that have participated in the rollout of cashless gaming systems – are all exploring ways for cryptocurrency and the gaming industry to coexist.
"There [are] a lot of payment processors that are poised and ready for this when the regulators start allowing it," Rau said. "But then I don't see anybody in the U.S. allowing the direct interaction with crypto within a casino in the near future."
He said it would initially take some type of "interior intermediary load option," such as a general-purpose reloadable credit card.
The largest payment processing and financial technology companies with footholds in the gaming industry are moving forward with cryptocurrency discussions and potential options.
No one, however, is willing to offer a timetable.
Everi Holdings Executive Vice President Darren Simmons said the company has been exploring the crypto space for the past few years. Everi has seen the payment choice gain traction and is "becoming mainstream" in certain industries, such as major retailers.
"Even though people feel like this is something that's new, when you have major financial institutions out there with crypto trading desks, you get the feeling it's moving in a good direction," Simmons said.
Similar to Stevens' efforts at his downtown casinos, a casino in Florida that is an Everi customer recently placed a Bitcoin ATM near the casino, allowing customers the ability to buy and sell crypto. Simmons suggested the gaming industry as a whole has taken a conservative approach toward cryptocurrency by not heavily advertising any ties or products, but subtly introducing the idea to the customer.
"I think there is a model out there that can be successful," he said. "There also needs to be a desire in the industry and a consumer base."
Zakary Cutler, CEO of North America iGaming, a division of payment solution company Paysafe, said the interest in digital payments continues to grow in the gaming world, led by operators, payment processors and consumers.
The idea that Las Vegas casinos have crypto ATMs was a good sign, while the non-gaming hospitality industry has shown some movement toward cryptocurrency.
"We're connected into a large percentage of all the regulated operators and from everything we hear, there is a strong demand for something to happen," Cutler said.
He said there has been some discussion around lobbying efforts and other initiatives.
"There's sort of three forces [operators, customers and financial services companies] at play here and all of them are pointing in the direction that this should happen," Cutler said.
Sattar said the payment "on-ramps and off-ramps" to merge cryptocurrency and gaming will be built by existing payment processing companies.
"We're the ones that are licensed and will have to get licensed," Sattar said. "I don't see Crypto.com coming in to get a gaming license."
A solution to the cryptocurrency and gaming question isn't going to be answered overnight.
"I'm not saying the industry is ready to start gambling with crypto, but I am saying that we as an industry need to capitalize on technology advancements," said Marcus Prater, executive director of the Association of Gaming Equipment Manufacturers.
The Nevada Independent is raising $200,000 by Dec. 31 to support coverage of the 2024 election.
Tax-deductible donations from readers like you fund this critical work.
If you give today,your donation will be matched dollar-for-dollar.
Give + Get Matched
Featured Videos