Facing attacks from left, Heller signs onto pre-existing conditions bill with nine Republican senators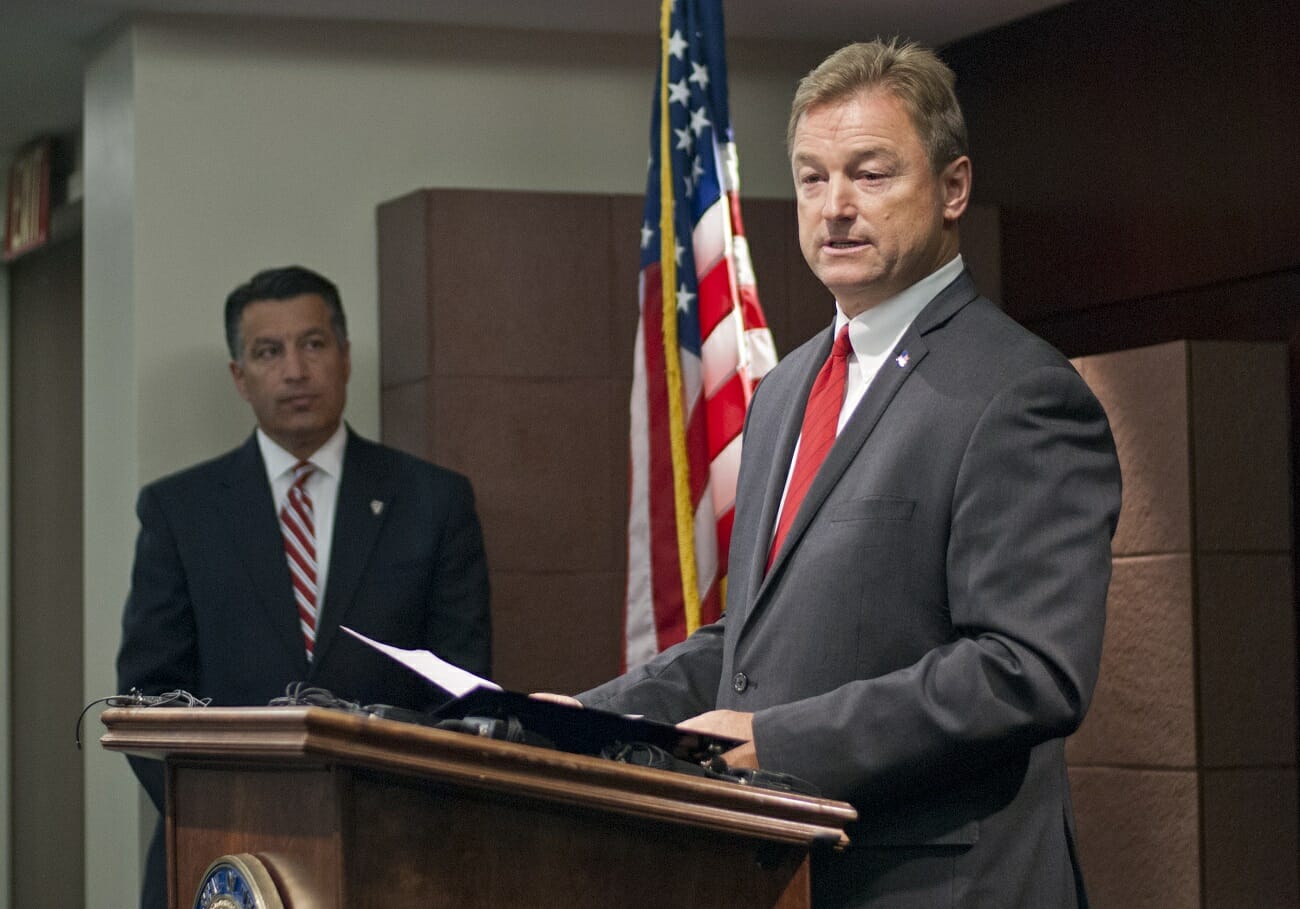 U.S. Sen. Dean Heller and nine of his Republican colleagues have introduced legislation to bring back the Affordable Care Act's protections for patients with pre-existing conditions in the event that a federal court strikes them down next week, though health-care policy experts are cautioning that the bill may still leave sick patients without the care they need.
The bill, which was introduced in the Senate on Thursday, would preserve two key portions of the 2010 health-care law that prevent insurance companies from denying coverage and charging higher premiums to patients with pre-existing conditions. Both provisions are currently in limbo pending the outcome of Texas v. United States, a Republican-led lawsuit brought by 20 states challenging the Affordable Care Act's constitutionality after Congress removed the tax penalty associated with the law's individual mandate to buy health insurance. (Nevada is not one of the states involved in the lawsuit.)
But the Republican-sponsored legislation doesn't include a third portion of the federal law in jeopardy that prohibits insurance companies from excluding coverage of the pre-existing condition itself, an omission that one health-care expert described as "throwing a 10-foot rope to somebody in a 20-foot hole." In short, a person with diabetes couldn't be denied insurance or charged more for their coverage under the legislation, but an insurance company could decide not to cover any doctor's visits, medication or other treatment associated with the diabetes diagnosis.
The introduction of the bill comes as Heller is locked in a bitter re-election fight against freshman Rep. Jacky Rosen that has focused significantly on health care. Her campaign has been hammering the Republican senator for not directly commenting on the pending lawsuit and releasing ad after ad highlighting Heller's wavering over legislation to repeal and replace the Affordable Care Act last year.
Heller, in a statement accompanying the release of the bill, said that patients with pre-existing conditions in Nevada and across the country "should be protected — period."
"This legislation will make sure that Nevada's most vulnerable have access to coverage, and I'm proud to join my colleagues to introduce it," Heller said.
Heller's office did not directly address a request from The Nevada Independent for more information about why the Republican senator decided to back the legislation. However, his Republican co-sponsors have acknowledged that the bill is, at least in part, an attempt to stymie efforts by Democrats to make pre-existing conditions a campaign issue while also teeing up a response should the court strike down the health-care law, either in full or in part.
Of the bill's 10 sponsors, only three are up for re-election this year, and Heller is the only one facing a close contest. Sen. John Barrasso, R-Wyoming, and Sen. Roger Wicker, R-Mississippi, are expected to easily sail through elections in their red states.
"I just don't want the Democrats getting away with making it up that pre-existing conditions are going to change. It is not going to change," said Sen. Lamar Alexander, R-Tennessee. "Pre-existing conditions guarantee is the law and it's not going to change and anything I can do to make that clear to people who might be worrying about it I am going to try to do."
But health-care policy experts have come down hard on the bill, with Larry Levitt, senior vice president for health reform at the nonprofit Kaiser Family Foundation, calling it a "mirage" in a Friday tweet. Heather Korbulic, the executive director of Nevada's health insurance exchange, said in an email that the legislation "does not strengthen or even uphold the ACA's pre-existing protections" for the estimated 25 percent of Nevadans who have them and "arguably weakens them to the detriment of consumers, providers and Nevada's public health."
When the ACA became law, it homogenized the rules for pre-existing conditions among insurance plans, where previously a patchwork of state and federal laws dictated what plans were allowed to consider pre-existing conditions and for how long.
For instance, group plans across the country were previously subject to the federal health-care law HIPAA (the Health Insurance Portability and Accountability Act), which said that plans could not exclude coverage of pre-existing conditions as long as the person had had medical coverage for at least 12 months prior and had gone no more than 63 days without coverage. The goal was to make it easier for people to change jobs without incurring a new waiting period to receive coverage for their pre-existing conditions.
"It set a pretty narrow tightrope for people to balance on," said Karen Pollitz, a senior fellow at the Kaiser Family Foundation. "If you were 63 days between jobs then that's it, you could be pre-exed again."
People who didn't fall under HIPAA rules and purchased insurance individually were subject to a patchwork of state rules about whether coverage of their pre-existing conditions could be considered and for how long. In Nevada, insurance plans were able to look back six months to determine pre-existing condition exclusions but only at services for which individuals had actually received treatment.
When the ACA came along, it set one standard: Insurers were not allowed to deny coverage or charge more based on a pre-existing condition or exclude coverage of that pre-existing condition. But those consumer insurance protections are now in limbo pending the decision in the Texas lawsuit, which is set to be argued next week.
In an unusual move, the Justice Department declined in June to defend the Affordable Care Act in the lawsuit, but argued in a brief that it believes only the consumer insurance protections are invalid. The Texas attorney general is arguing that the repeal of the individual mandate has rendered the entire law unconstitutional.
If the court sides with either the Justice Department or the Texas attorney general, those consumer insurance protections will go away, which is where the Republican senators' backstop measure comes into play. However, health-care policy experts say that the legislation is essentially meaningless unless it also prevents insurance companies from excluding coverage of pre-existing conditions.
"If you've got a serious condition, it's kind of like throwing a 10 foot rope to somebody in a 20 foot hole. It's not going to help them. It's really not," Pollitz said. "What you would pay for the insurance and the little you would get, I think most people would say no that's not meaningfully better for me."
Also, while the Republican bill would prevent people from being charged more because of pre-existing conditions, it wouldn't stop insurance companies from setting different rates based on gender, occupation, hobbies and more, a prohibition in the ACA that could also be undone in the Texas lawsuit.
Sen. Thom Tillis, R-North Carolina, said on Monday that he's willing to change the bill if needed to ensure that treatment for pre-existing conditions is covered.
"We can look at the details," Tillis said. "If there is anything else we need to do to make it clear that's not the intent we'll do it."
But Tillis said there are no immediate plans for consideration of the bill on the floor or in committee.
"We are going through right now and trying to explain that this is one of probably a handful of things that we need to be talking about depending on the outcome in the courts," Tillis said.
And not all Republican senators are on board with the bill. Sen. Susan Collins, R-Maine, said she does not support the bill because it doesn't protect some of the other health guarantees included in the ACA.
"I do support the objective of it, but the problem is that it doesn't deal with essential benefits, like maternity care, and substance abuse treatment and some of the other consumer protections of the ACA I think are important," Collins said. "So I think it's a good step, but I'd like to see it broadened."
Even Sen. Joe Manchin, D-West Virginia, one possible Democratic supporter for the bill, said he opposes the measure because of concerns about coverage of treatments.
"I think there's not as much protection as with the [ACA] the way it is currently written," he said.
Manchin, who is also facing a tough re-election battle in a state where President Donald Trump won by double-digits on 2016, has been an outspoken supporter of keeping coverage for pre-existing conditions.
"It's not just popular, it's a life and death decision for many people," he said. "To put it back in the hands of insurance companies to make a decision on whether they are going to insure you or not … we just got away from those draconian ways. We don't want to go back there."
Despite GOP efforts to neutralize the pre-existing conditions issue, Democrats are planning on questioning U.S. Supreme Court nominee Brett Kavanaugh about his views on the lawsuit during Senate Judiciary Committee hearings that are slated to begin next week.
"I will ask him questions relating to what he will do with the Texas case that I know will get up to the Supreme Court," said Sen. Mazie Hirono, D-Hawaii, who is a member of the Judiciary panel. "That's a huge area of concern."
The Nevada Independent is raising $200,000 by Dec. 31 to support coverage of the 2024 election.
Tax-deductible donations from readers like you fund this critical work.
If you give today,your donation will be matched dollar-for-dollar.
Give + Get Matched
Featured Videos