Female candidates, including Cegavske, make historic gains after midterm election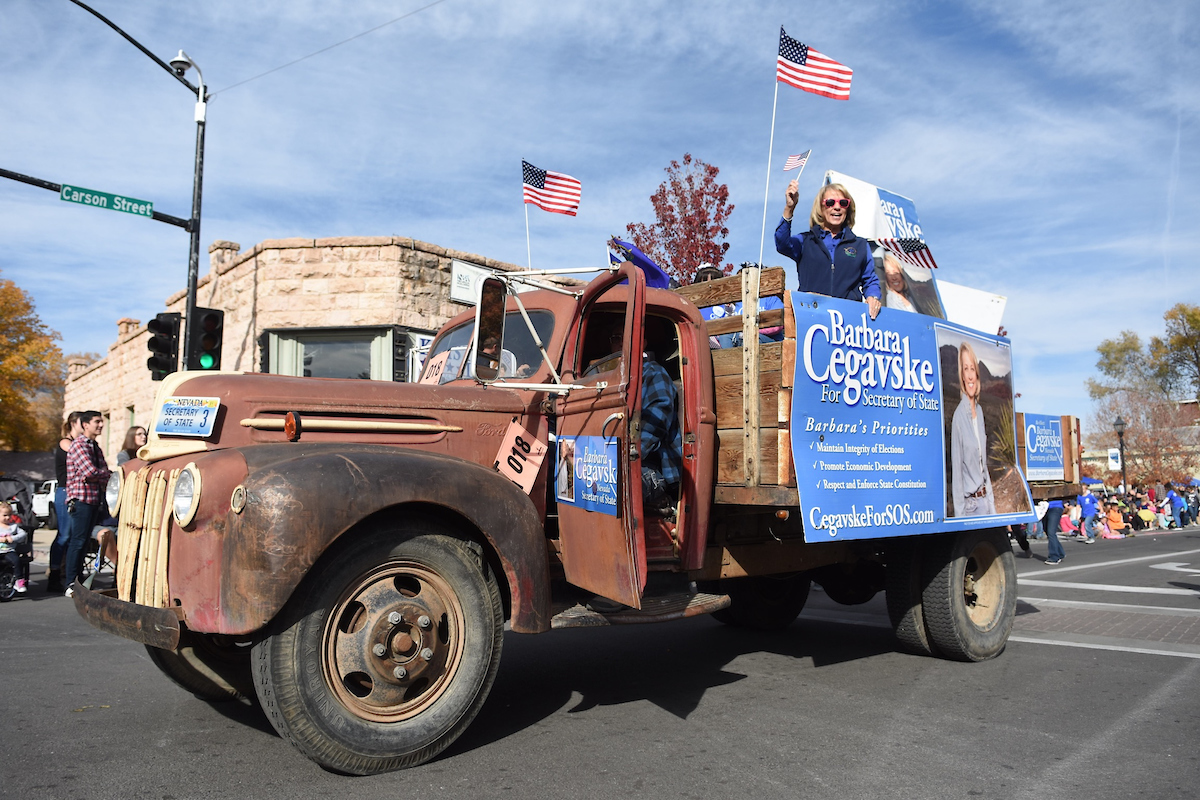 Female candidates were historically successful at the ballot box once the dust settled on a long Election Night, with a possible female majority in the Legislature on the horizon and women faring better than male candidates in key races.
A near total wipeout for Republicans in statewide offices was averted amid news that Secretary of State Barbara Cegavske was able to hold on and eke out a win over Democratic Assemblyman Nelson Araujo. Cegavske outperformed the rest of the Republican ticket and captured more votes in populous Clark County than any other statewide Republican candidate.
Further down the ballot, a record number of women prevailed in Nevada's legislative races, and three victories by female candidates in state Supreme Court races means Nevada's highest court will soon be majority female.
Victories were elusive for two state lawmakers seeking higher office. Araujo lost his bid to Cegavske, while Republican Senate Leader Michael Roberson was defeated by former state Treasurer Kate Marshall in the race for lieutenant governor. Democratic state Senate Majority Leader Aaron Ford won his race for attorney general, but by a slim margin after a strong showing by Republican candidate Wes Duncan.
Read below for some highlights of Tuesday's election that you may have missed.
Ticket-splitters
Democrat Steve Sisolak bested Republican Adam Laxalt by more than 4 percentage points in the election, or by more than 39,000 votes.
Two races down the ballot, Cegavske provided the party with one of few bright spots on Election Day with a 6,200-vote win over Araujo despite few television ads and being substantially outraised and outspent by the Democratic assemblyman in the race.
So how did Cegavske pull it off? In short, her returns followed the path that other top Republicans hoped would lead them to victory in the midterms — staving off a massive defeat in populous Clark County, holding or tying vote totals in Washoe County and winning big enough in the rurals to capture victory.
Cegavske brought in more than 285,500 votes in Clark County, 19,300 more than Laxalt, 18,900 more than Heller and more than any other Republican running statewide. Araujo's nearly 334,000 votes in Clark County were the fewest recorded among top Democrats in the county, running more than 24,000 votes behind Rep. Jacky Rosen.
The secretary of state was also one of three statewide Republicans to win swingy Washoe County, gaining slightly more than 1,400 votes over Araujo's total. And Cegavske crushed Araujo in the state's rural counties, winning 90,231 votes to his 36,326 votes, a difference of more than 53,900 votes. Cegavske's margin of victory in total votes from rural counties was higher than those reported by Heller (50,129), Laxalt (51,181) and Duncan (53,296).
In an interview, Cegavske said she believed voters supported her because her campaign never went negative and because the connections she built in her 40-plus years in Nevada and through time spent campaigning throughout the state.
"A lot of people told me that I was the Republican they were going to vote for on their ticket," she said. "So that makes me feel good."
Unlike Heller and Laxalt, Cegavske made few public appearances with President Donald Trump and Vice President Mike Pence during their campaign visits to the state. She said it wasn't intentional and only went to events that didn't interfere with her secretary of state duties, including a veteran's bill signing with the president in Las Vegas and Pence's rally in Carson City in October.
Although control of the other five constitutional offices flipped from Republican to Democrat control, Cegavske said she doesn't foresee any issues working with the new officer-holders given her non-partisan approach to the office and background with newly elected office-holders including Sisolak.
"I think we'll all work out just fine," she said.
But rural dominance and a win in Washoe County didn't translate into a win for Republican attorney general hopeful Wes Duncan, underscoring the importance of Clark County in statewide races. Duncan's vote total in Washoe eclipsed Ford by more than 5,800, and the Democrat posted the weakest numbers in the county (83,969) of all other major Democrats in the race, running more than 9,800 votes behind Rosen in the county.
But Ford's vote total of 338,273 votes in Clark County — more than 63,800 votes than Duncan — was enough to stem losses outside of the state's main population center and translate to a narrow 4,600-vote victory.
Legislative letdowns
For state lawmakers hoping to make the jump to a statewide office, Tuesday's results were a disappointment.
Roberson, running for lieutenant governor, fared poorly on Tuesday and brought in the smallest number of votes of any Republican running statewide, though he ran in the lone race with two independent candidates also vying for ballots.
Still, his 80,796 votes in Washoe County were the lowest of any major statewide candidate, losing the county by 14,400 votes to Democrat Kate Marshall. His margin of victory in rural counties of about 40,000 votes was also about 10,000 fewer than the tallies reported by other top Republicans such as Heller and Duncan.
Roberson's legislative counterparts also fared poorly in Washoe County. Ford's 83,969 votes were the second-lowest total reported behind Roberson, and ran more than 10,000 behind the totals recorded by Rosen and Sisolak. Ford and Araujo's opponents were the only statewide Republicans to win in Washoe County outside of treasurer candidate Bob Beers.
High vote totals in Clark County were able to save Ford but not Araujo. Although Ford tallied only about 3,500 votes more than Araujo, Cegavske's better performance in the county than Duncan by about 11,000 votes led to her victory and sealed Duncan's narrow defeat.
The Year of the Women
2018 was touted as the Year of the Women, and in Nevada, the adage proved true.
Thirty women will serve in the Legislature next year after women either held onto or picked up seats in six competitive races in the Assembly. (That number would have been 31 if former Assemblywoman Jill Dickman, a Republican, had defeated incumbent Democrat Skip Daly for the Assembly District 31 seat.)
With final results in from Clark County, there will be 22 women and 20 men in the Assembly, a majority in that chamber, and 13 men and eight women in the Senate. In total, there will be 33 men and 30 women serving in the Legislature.
However, there are three seats that will be up for appointment before the upcoming legislative session — those held by Democratic state Sens. Tick Segerblom and Ford and newly elected Republican Assemblyman Dennis Hof, who died last month. If two of those seats are filled by women, it is possible for the Legislature to be made up of a majority of women.
Half of the state's constitutional offices — lieutenant governor, secretary of state and controller — were won by female candidates. Cegavske was the only Republican to win statewide in the election, and incoming Lt. Gov. Kate Marshall and Controller Catherine Byrne were the only statewide Democratic candidates to eclipse more than 50 percent of the vote.
Nevada's congressional delegation has also become majority female, with Democrats Rosen in the Senate and Susie Lee in the House joining incumbents Rep. Dina Titus and Sen. Catherine Cortez Masto in Congress. Nevada will also become the seventh state to have a pair of female senators.
Nevada's Supreme Court will also have a majority of female justices for the first time in history, following victories by District Court Judge Elissa Cadish, incumbent Lidia Stiglich and Court of Appeals Justice Abbi Silver. Along with Justice Kristina Pickering, the four will make up a majority of the seven-member court.
The state also approved the "Pink Tax" ballot question exempting feminine hygiene products from state sales tax on a comfortable 56 to 43 percent difference.
Hardy outperforms Tarkanian in House races
Nevada's 3rd Congressional District should be a safer bet for Republicans than the 4th Congressional District. Yet the Republican candidate for the 4th District, former Rep. Cresent Hardy, outperformed the Republican in the 3rd District, businessman Danny Tarkanian, Tuesday night, though both candidates ultimately lost their races.
Nevada's 3rd Congressional District is also its swingiest, with only 7,064 more registered Democrats than Republicans. In its 16-year history, the suburban House seat has twice been held by Democrats, who served one term each, and twice by Republicans, who served three terms each.
It's a far cry from Nevada's 4th Congressional District, a bluer seat that includes Democratic strongholds in the older parts of Las Vegas and North Las Vegas as well as portions of several traditionally red rural Nevada counties. That district, which has 36,577 more Democrats than Republicans, has once been represented by a Republican, Hardy, and twice represented by a Democrat.
But Hardy still managed to secure 43.7 percent of the vote in the 4th District Tuesday night, ultimately losing by only 8.3 percentage points to another of the district's former representatives, Democrat Steven Horsford. That's a smaller margin of loss than the 9.3 percentage-point voter registration advantage that Democrats have in the district.
By contrast, Tarkanian only secured 42.9 percent of the vote, losing to Democratic education advocate and philanthropist Susie Lee by 9.1 percentage points even though Democrats only hold a 1.6 percentage point advantage in the district. It was also much more significant than the 1.2 percentage point loss in 2016 to now-Senator elect Jacky Rosen, the district's current representative.
In terms of raw votes, Hardy lost by 19,140 votes while Tarkanian lost by 25,543 votes.
Hardy was likely boosted by the fact that like Horsford, he, too, previously represented the district. He was also helped by a strong showing in the rurals — where he had an 11,571 vote advantage over Horsford — that helped offset Horsford's 30,711 vote lead in Clark County.
No Bundy spoiler
GOP fears that nonpartisan gubernatorial candidate Ryan Bundy — son of controversial Mesquite rancher Cliven Bundy — would bleed away enough votes from Laxalt to give Sisolak the victory turned out to be largely unfounded.
At the close of polls, Bundy's vote total sat at just over 13,800 votes, or about 1.4 percent of votes cast in the gubernatorial race. Giving those votes to Laxalt wouldn't have changed the outcome of the race, which Sisolak won by 39,819 votes.
Bundy outperformed two other third party candidates, Independent American Party candidate Russell Best (10,064 votes) and Libertarian Party candidate Jared Lord (8,639 votes). But his vote total ended up being less than the roughly 2 percent of voters who cast ballots for "None of these candidates."
Updated at 12:12 p.m. on Nov. 11, 2018: An original version of this story stated that Cegavske was one of two statewide Republican candidates to win Washoe County. Three Republican candidates won in Washoe.
Featured Videos
Comment Policy (updated 4/20/2021): Please keep your comments civil. We reserve the right to delete comments or ban users who engage in personal attacks, use an excess of profanity, make verifiably false statements or are otherwise nasty. Comments that contain links must be approved by admin.