Former prostitutes allege unwelcome sexual contact from brothel owner Dennis Hof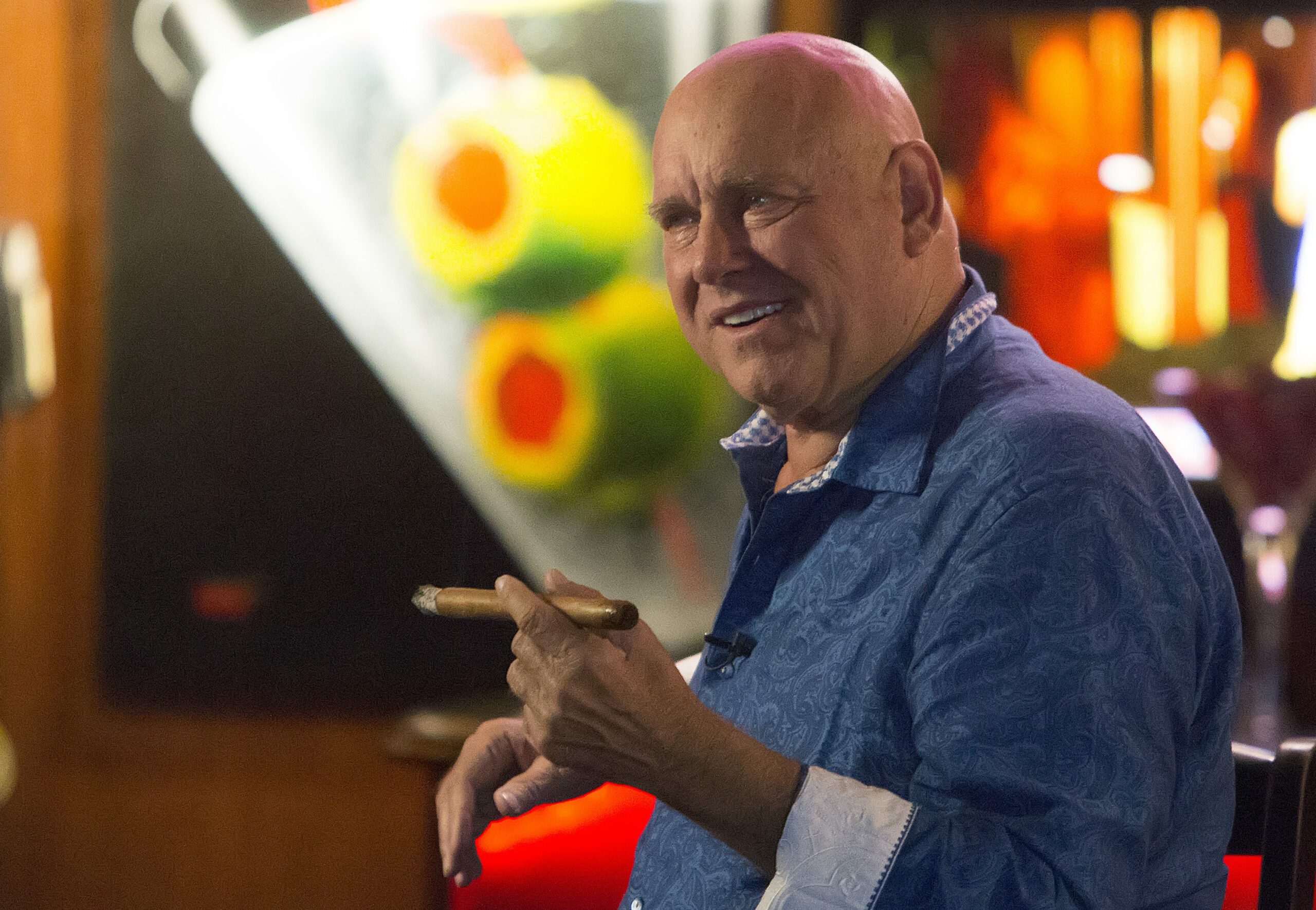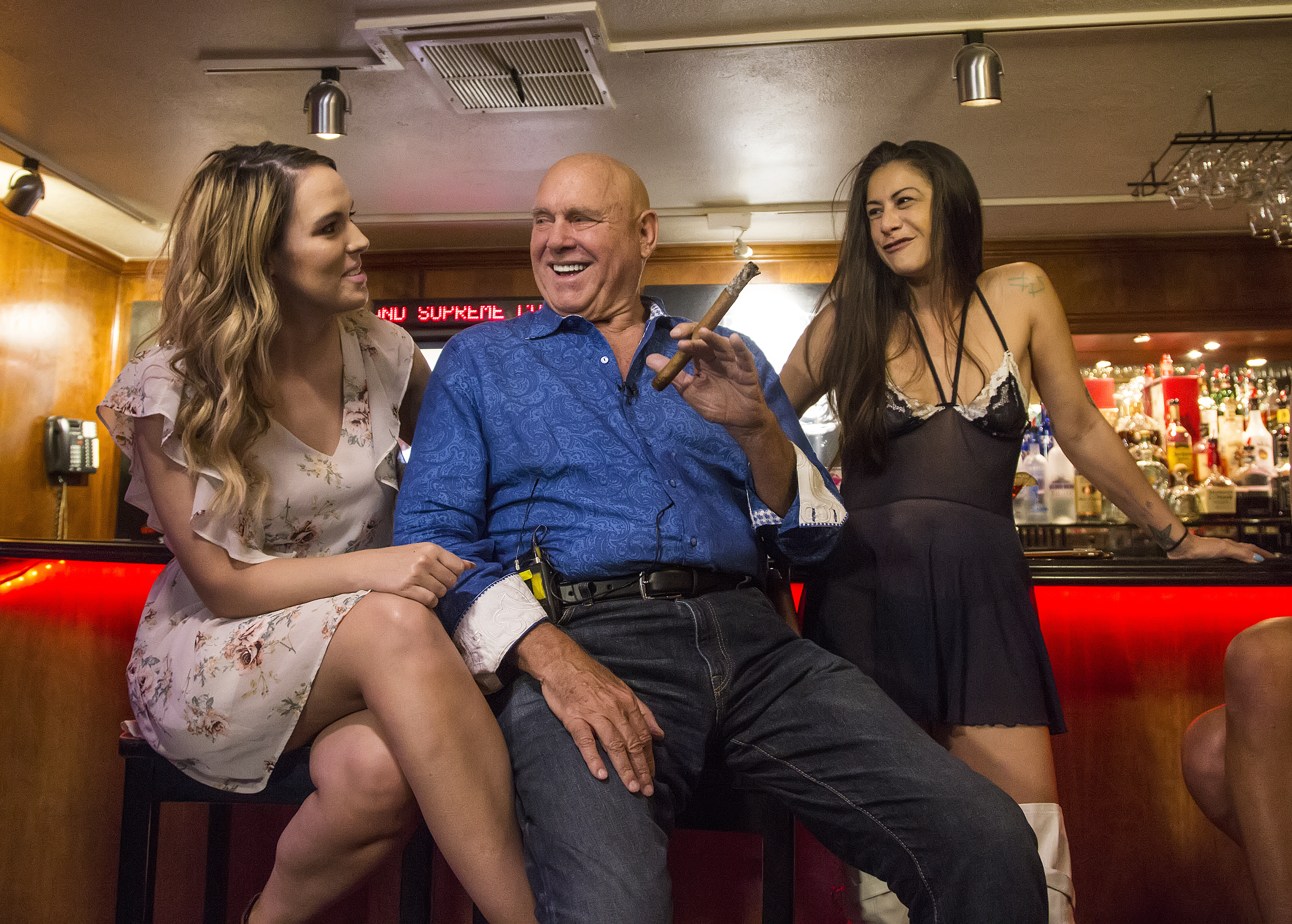 Brothel owner Dennis Hof is known for his outsized personality, lending bravado and an air of levity to Nevada's legal prostitution industry. He promoted a "Hookers for Hillary" campaign to piggyback on the contentious 2016 election and invited basketball star Lamar Odom back to the brothel shortly after a medical scare there, capitalizing on the situation by telling him two girls and a one-night stay were on the house.
He credits his hit HBO series, Cathouse, with bringing more acceptance to prostitution, although a new wave of opposition has cropped up and could snuff out prostitution in the two counties where he's operating if it crosses some more hurdles. He chafes at the suggestion that his work is exploitative.
"It's the girls' choice to do it. They come to us and want to do it," he said in a January interview. "How is that exploiting? If anyone's being exploited, it's men that have to pay for something they can't get enough of."
But life as the most famous operator of the brothels legal only in Nevada hasn't always been winks and laughs. Police and court records show Hof, who owns roughly one-third of the 20 brothels in Nevada, has faced serious allegations from former employees in the years since he first bought the Moonlite Bunny Ranch in Northern Nevada in 1992, although he has not been convicted of any crimes or charged for the alleged conduct.
Hof is running a formidable race seeking a seat in the Nevada Assembly, and his profession and business practices have been a focus for his primary opponent, three-term incumbent Republican Assemblyman James Oscarson. StopHof.com, a website paid for by Oscarson, says "Nevada is too important to be left in the hands of a self-proclaimed Pimp" and links to articles highlighting everything from sex-related allegations to alleged brothel advertising rule violations. 
Hof, in turn, has pounded Oscarson for a 2015 vote in favor of Gov. Brian Sandoval's tax package, and got backup from Nevada Republican Party Chairman Michael McDonald, who has called Oscarson a "lying son of a bitch" who has been "AWOL" from party activities, although McDonald insists the party isn't endorsing in the primary.
Hof makes no secret of the fact that he has sex with the women who work at his brothels, describing numerous liaisons with his "working girls" in his 2015 autobiography, "The Art of the Pimp."
"Every time he hired a new girl for the ranch, he had to test her out," Judy Gloria, Hof's longtime assistant, wrote in a chapter she contributed to the book.
But several women who previously worked for Hof and spoke on the record to The Nevada Independent recounted unwanted sexual advances and, in one case, nonconsensual sex from him. They described not feeling that they had a choice but to indulge Hof.
Hof did not respond directly to a list of 15 specific questions stemming from the allegations, but he pointed to a statement he's posted on his website about one accuser, calling her allegations absurd and outrageous.
"My opponent, James 'The Big [Selloutski]' Oscarson, and the entire political establishment here in Nevada are absolutely PETRIFIED that you and I might win the Assembly District 36 seat in the Legislature," said the post on his site, which was dated April 21. "As such, they're coming at us with multiple, full-blown, scorched earth, disinformation attacks – including ballot initiatives to shut my businesses down and dredging up absolutely phony allegations of 'sexual assault' against me."
Oscarson's campaign spokeswoman, Laura Billman, said the assemblyman is "absolutely not" involved in the campaign to ban brothels in Nye and Lyon counties.
"It is typical of the opponent to cause himself problems, by not following rules and calling negative attention to the industry he is in, and then blaming other people," she said.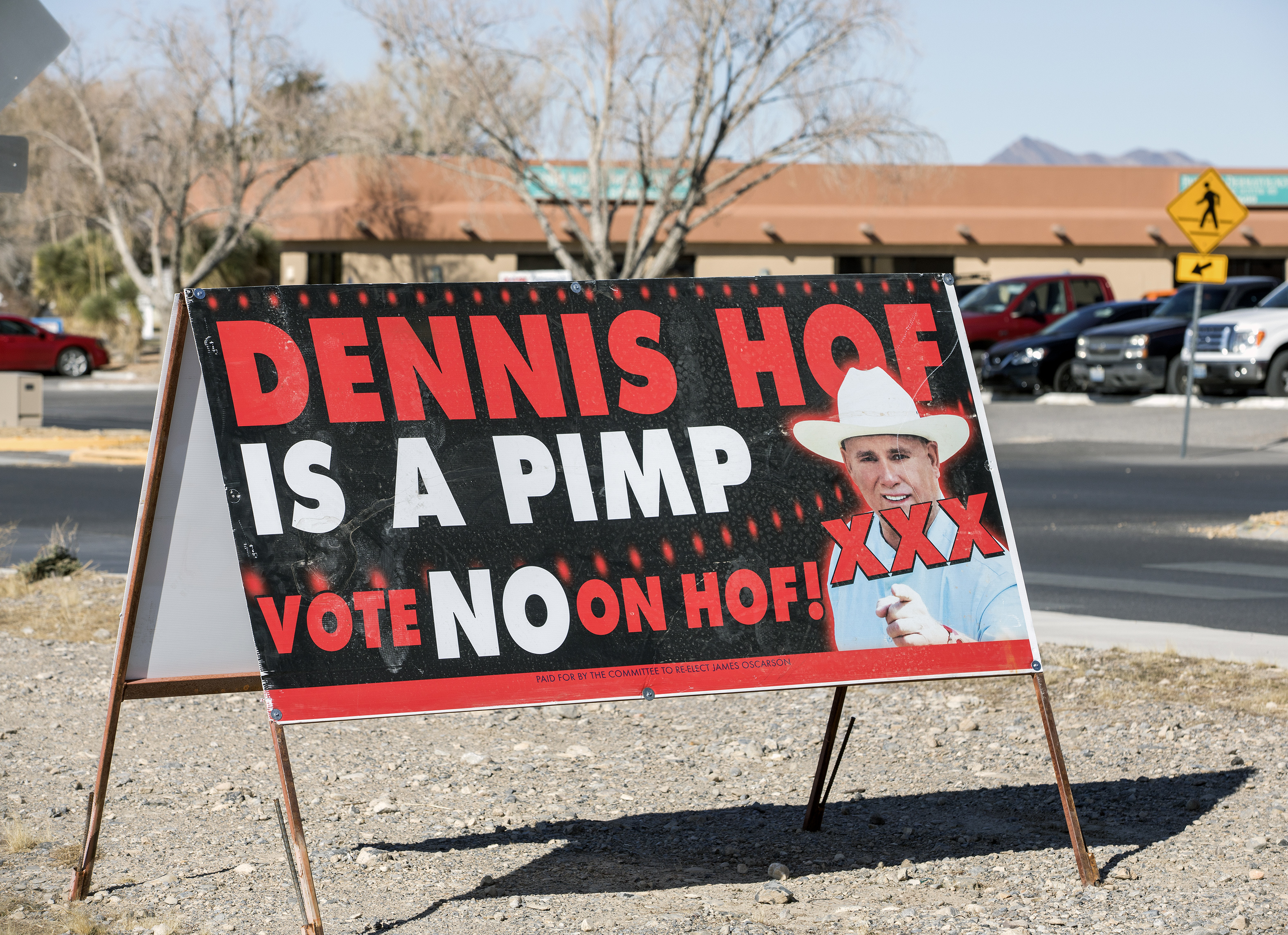 Former brothel worker alleges Hof raped her
Jennifer O'Kane says she's not a crusader against legal prostitution in general — she ran a brothel herself for a few years. But she does think men should be banned from owning brothels because, as she puts it, some use the girls as their own personal playground.
O'Kane, 47, has accused Hof of raping her repeatedly in the weeks after she started working at the Love Ranch brothel in Crystal, Nevada in January and February 2011. Over the past few years, she's made the claims in interviews with a porn industry blogger, on her Twitter feed, to law enforcement agencies and to the Las Vegas Review-Journal.
"When the madam comes and tells you to go do something, you do it," she said about their initial encounter in an interview with The Nevada Independent. "I was told to go to my room. OK. That goes on in any house — if you're told to do something, you do it."
She said when she went into the room, Hof was sitting on the bed and asked her to sit next to him. When she did, he put his hands around her neck "so tight I froze," she said.
O'Kane summarized what he said to her in the encounter as "I was his." She said he proceeded with sexual acts, and she signaled to Hof that the sex was not consensual with the word "no," with crying and with begging.
"It was forceful, it was violent, it was against my will ... And it was my boss," she said. "He doesn't tell people that we don't have a choice."
She described the earlier encounters as aggressive, but said as time went on that it was easier and less painful if she "just went along with it," smiled and treated him as a client.
Hof has denied O'Kane's allegations, saying on his website that O'Kane "is a disgruntled former sex worker who was also a competitor of mine before she lost her own brothel," and described the situation as "muckraking in the political cesspool."
O'Kane, who said she's also brought her concerns to the Nevada attorney general's office, denies that there's a political motive and says she's frustrated that little has happened as a result. Attorney General Adam Laxalt's office didn't respond to an inquiry Friday about whether they had received a complaint and if there was an investigation related to O'Kane's complaints about Hof.
O'Kane alleged that Hof did not wear a condom when they had sex. Nye County's brothel ordinance requires that condoms are used in houses of prostitution and signs be posted proclaiming the rule, although he was cited last year in Nye County for not having a "condoms are mandatory" sign in one of the rooms. T.J. Moore, who worked as a "house parent" and then as a madam at two of Hof's Southern Nevada brothels between 2013 and 2015, also alleged to The Nevada Independent that Hof does not use condoms.
"He says 'I never wear a condom. You guys get tested. I only fuck the girls in the brothels,'" O'Kane said. Hof didn't directly respond to questions about whether he had sex with O'Kane and whether he wears a condom while having sex with prostitutes at his brothels.
One day, "staff came and got me and said that I was positive for an STD and that who had I been sleeping with without a condom and that was the only way to get what I supposedly had gotten," O'Kane said. "And at that point, I was like, you guys, I've been sleeping with Dennis Hof. That's the only person without a condom."
The STD test result turned out to be a false positive. But she said she was immediately transferred to the Love Ranch North brothel outside of Carson City, ostensibly because she had been telling people that Hof wasn't using a condom.
"I didn't have a choice. It was pack your bags and you're going to the airport," she said.
O'Kane says she first told authorities about the situation within a few weeks of starting at the brothel in 2011, when she visited a sheriff's office building and spoke with a deputy in a lobby, telling him she wanted to report a rape. But she says the officer didn't write anything down and didn't provide her a case number. The Nye County District Attorney's Office has said it doesn't have a written record of the 2011 accusation.
O'Kane showed up to a Nye County Commission meeting on Oct. 18, 2016, apparently overtaken by emotion and unable to continue with testimony she was offering in a public comment period.
She was interviewed by Nye County Detective James Brainard following her appearance at the meeting, and told him that she was raped and battered daily by Hof from January to February 2011, according to the report. She told the deputy she complained to management that she was being forced to have sex with Hof against her will, but that she "was blown off," according to the report.
She said she was being harassed by Hof and that Hof's attorney had threatened a lawsuit "if she continued to defame Hof, via media sites." O'Kane provided The Nevada Independent a photo of a letter from Hof attorney Mark Wray dated Oct. 3, 2016, which asks her boss for help in "reining in one of your employees who is engaged in actionable conduct" including "false accusations of criminal conduct."
At that time, O'Kane was madam at the Calico Club brothel in Battle Mountain. She said she stopped running the business in 2016, after being diagnosed with uterine cancer and deciding she needed to focus on her health. It remains closed.
"I opened up a brothel in 2011 just because of what he did to me," she said. "That's the only reason I dedicated my life to prostitutes. To teach them that they didn't have to have sex with the owner — they didn't have to be forced to do something against their will, and they could say no."
O'Kane has spoken out on the matter in videos, including ones from late 2015. She said that Hof has sex with the women who work at the brothels without paying them, and that the madam told her "he does it all the time. Get used to it."
"No one cares because I was a prostitute," O'Kane said in one live video initially broadcast through Periscope. "People may not think that prostitutes can be raped but a sales contract is a sales contract whether you're selling a car, a home or your body."
She called the situation "sexual harassment of the worst kind."
"So to rape me as a perk of being the owner of the business was no different than it would have been in any other situation," she said in an interview with The Nevada Independent. "He's a (Harvey) Weinstein that is being allowed because they're prostitutes, they're sex providers."
Ultimately, the detective who interviewed her in October 2016 concluded that "there were no witnesses and no physical evidence in this allegation, except Jennifer's statement," and added that O'Kane had refused to offer the names of potential witnesses. In his report, the detective also raised the prospect that politics was at play.
"There could be political motivation," the detective wrote. "Hof was running for Nevada Assembly and the election was being held November 8th."
Hof handily lost that election. In December 2017, the detective filed another police report as O'Kane pressed the issue.
"I was advised that Jennifer has been contacting the sheriff and the district attorney's office for something to be done," he said, noting that she had provided the names of five people who could help with the case.
Of those five, one woman — Suzanne Palmiere — told the detective she was a longtime friend of O'Kane, and that O'Kane had spoken with her on the phone to say she suffered verbal abuse and sexual harassment at the Love Ranch, including being locked in a room and not allowed to leave. But she was not a direct witness of the conduct and had only heard it through O'Kane.
Reached by phone on May 25, Palmiere told The Nevada Independent that she was in touch with O'Kane during the time she was living at the brothel, and visited her there in person on more than one occasion. O'Kane told her she was pressured to sleep with Hof.
"He made it very clear that that was going to happen, whether she wanted it to happen or not," Palmiere said. "She wasn't given a choice."
One of the people the detective interviewed was a sex assault survivor advocate who had only briefly spoken to O'Kane and another hadn't known her personally but had worked for Hof and said he wasn't a good boss. In spite of the statements, the detective said none of the contacts were witnesses in the investigation, and the case was forwarded to the district attorney for review. Nye County Deputy District Attorney Katrina Samuels issued a letter on March 15, 2018 declining to prosecute the case.
District Attorney Angelo Bello indicated his office had no choice on but to deny the case because the only written report the sheriff's office has is from 2016 and was not filed within the statute of limitations.
Since the time of O'Kane's alleged rape, Nevada lawmakers have extended the statute of limitations on sexual assault, allowing people to file a report up to 20 years after the incident in question. The bill, supported by a woman who accused comedian Bill Cosby of sexual assault, was enacted in 2015, but didn't apply to O'Kane's case because the four-year statute of limitations that was the law previously had expired about eight months before O'Kane made her 2016 report, Bello said.
"He says it's some kind of political hoax, and it has to be noted that this has never gone away," she said. "I opened a brothel because of this idiot."
O'Kane believes powerbrokers fear Hof.
"I know they're very afraid of him. He's currently suing two commissioners," she said. "And all people want me to do is try to do a civil suit. I don't want money out of this. I want him in jail. I want him in jail for rape and assault."
Hof is suing Commissioner Andrew "Butch" Borasky for defamation over comments he made at a commission meeting suggesting that if he were harmed, people should look into Hof. He also sued Nye County Commission Vice Chair Dan Schinhofen and Sheriff Sharon Wehrly earlier this year, alleging that they are infringing on his First Amendment rights by trying to block him from posting a sign that indirectly advertised the brothel. The sign posted on his personal property said "Lovers at Play" and featured two stick figures in a sexually suggestive pose; direct advertisements of brothels are strictly regulated.
But that's not to say the fear doesn't go both ways. In his book, Hof described the extensive background check he went through to get into the brothel industry in the first place and acknowledges that his brothel license is at the discretion of the commission.
"As a brothel owner, I have just five county commissioners holding my fate in their hands. If three of them decide to rescind my license, it's all over," he wrote.
Diana Grandmaison alleges molestation
Diana Grandmaison, who went by the stage name "Desi Foxx," had been a businesswoman for most of her life. But in 2007, when her daughter decided to start doing adult films, she joined her in pornography.
"I followed her. I was terrified for her so I basically kinda went with her," she said.
But the pair started speaking out publicly against some of the practices in the industry, including the lack of condoms and the pressure to do incestuous scenes with her daughter. She said her advocacy through her blog drew lots of attention, as well as scorn and threats.
"We were kinda hiding out up in Lancaster, California, and we were pretty much destitute," she said.
Her daughter's public relations representative helped the young woman connect with Hof for a possible job in prostitution, and Grandmaison said she begrudgingly followed her to the Bunny Ranch brothel in the Carson City area. Her first day was March 18, 2009 — her 49th birthday.
Grandmaison said there was only one time that Hof got sexual with her.
"I was at one end of the bar he was sitting at the bar and he called me over, you know. I was thinking we were going to talk about something," she said in an interview with The Nevada Independent. "And he just grabbed me and stuck his hand up my, you know, clothes -- it was kind of more like a lingerie type dress -- and, you know, proceeded to molest me."
She said she resisted the advance.
"I tried to pull away from him, you know, kind of laughing it off and pushing it away," she said. "And he had his fingers inside me and so he actually gripped me so I couldn't leave."
When he didn't stop, she said she faked a quick orgasm and he let go.
"I don't think it was about sex for him either. He was doing it to show me that he had possession and control of me. That's exactly what I felt," she said. "He was staring me in the eye while he was doing it, with a smirk on his face. And it wasn't like — he didn't have me touch him and do anything to him, it was strictly he was just showing me that he owned me and even though I might be an older woman, then he could do it to me too."
Hof did not directly respond to The Nevada Independent's questions about whether he disputes the account. He has previously criticized her on blogs.
Grandmaison said the incident was embarrassing — it happened in front of others at the bar — and she was later chastised by the madam, who said "that I made a spectacle of myself and that they have more class than that in the brothel," she said. "And I was like, I didn't do it, he did it! Why aren't you saying this to him?"
But she didn't report the incident to the police at the time; the first time she said she put that incident on the record was when Detective Brainard, investigating O'Kane's case, called her.
Although she didn't have information for the detective on O'Kane's case, Grandmaison told the detective that Hof "was not a nice person, nor was he a good person to work for," according to the report.
"She stated that Dennis regularly assault (sic) the young girls and recalled being forced to perform acts to Dennis," the detective wrote in a December 2017 police report. "She stated that you just couldn't say no to Dennis, or you would face the consequences."
Repercussions could include being placed in a different room, having clients chosen for you or being denied customers altogether, she said.
"She stated that Dennis was just a legalized pimp," the detective wrote.
Grandmaison told The Nevada Independent she eventually left the brothel because she found the practice of all the girls lining up whenever a man came in the door "very degrading and very demeaning."
"We had to go line up at that door and stand there and try to flirt with the guys that came in to get 'em to pick us," she said. "It's very degrading to beg a man to pay me to have sex with him."
What's more, the pay was barely enough to get by, she said.
All pay was split 50-50 with the house, and even if a girl received flowers from a customer, Hof would estimate the cost and have her pay half to the brothel, Grandmaison said. She also had to pay rent for her room, in addition to the rent she was paying for an off-site, Hof-owned apartment she maintained separately because she had a dog.
Eventually, after about four months in the brothel, it became too much.
"I was crying every night," she said. "I'd be in the room crying and then have to try and clean my face when a man came in and it was — can you imagine having sex with a man after you're bawling your eyes out? I just couldn't take it."
After one moderately good-paying job, she finally had enough money to leave. She now lives in the Tampa Bay area and has been trying to rebuild her life — something that hasn't been easy.
In one instance, she landed a job and her name was posted on the company's website. The next day, people started sending her boss pictures of her doing porn, and he summoned her into his office to chastise her for not telling about her past job.
"All the old men, the investment reps, get porn every day in emails, but they might not work with a rep because I worked there," she said. "So I got fired."
In another instance, she thought she scored a job in security and then communication with the company suddenly cut off. She thinks they searched for her online and dropped her after discovering her past career.
"I just actually got a decent job and we'll see how it goes, but you know, I've struggled," she said. "It's been 10 years since I started talking out about all these issues and, you know, I struggle. But I'm not going to shut up. I'd rather be broke and take down pimps."
She said she used to have more liberal views about sexuality, but has evolved to oppose prostitution in all its forms.
"After this experience, I still believed in legalization but that changes needed to be made," she said about her time in the brothel. "And then as time went by, and as evil as it got, and the more research I learned, and the deeper into the rabbit hole, I started realizing there's no such thing as a healthy sex industry."
In 2010, she filed a lawsuit against the company that tested porn actors for STDs, alleging they exposed private information about her. Today, she's working an administrative job where she makes about half what she did before she made her foray into the sex industry, and she continues to speak out against prostitution and pornography.
"The job of a prostitute is to con out a guy of as much money as you can for as little sex as possible. OK. And that is the job description," she said. "Even the girls in there who say, 'oh I like being a prostitute,' well, then you like being a con woman. A con artist. Because it is a con."
Lyon County deputy alleges a threat
In spite of reports provided to authorities over the years, some Hof critics believe he's escaped serious punishment through intimidation.
In 1999, Lyon County sheriff's deputy Brian Putzer filed a police report saying that Hof had threatened him with death after he did a walk-through of Madam Kitty's Guest Ranch.
Putzer said it was typical for a deputy on the graveyard shift to visit the brothel and do a "card check" to ensure the prostitutes there were registered and no illegal prostitutes were on site.
According to the report, Putzer found an "out book," a binder that detailed appointments between prostitutes and customers outside the actual brothel, including their names, who their driver was and where they were going. In general, the appointments were at hotels in Reno, Carson City and Lake Tahoe — located in counties where prostitution is illegal.
Jason Guinasso, an attorney who's supporting an effort to ban brothels, said he believes such "outdates" are illegal if the act of prostitution occurs in a county where prostitution is illegal, although he says there's an argument to be made for situations where the actual financial transaction took place in a brothel. It's also tough to track.
"The law's clear, it's just how do you enforce it?" he said, adding that law enforcement officials are more likely to go after easier to prove violations.
After a "minor confrontation" with an employee of the brothel, Putzer did not take the book. He was then put on the phone with Hof, who "advised Putzer that they were going to have problems," according to the affidavit.
Hof "also made a statement to the effect of a girl had once caused problems at Mustang, and she ended up dead. Putzer perceived this statement to be an implied threat from Hof," according to the report.
Putzer, in an interview with The Nevada Independent, said he recalled Hof screaming at him during the phone call, accusing him of trying to "save the whores."
Putzer says he wanted to seek out a warrant for Hof's arrest, but because of the heated nature of the confrontation, he sought counsel from a superior. That superior told him they were going to let the matter go and advised him not to take the book or pursue a case against Hof, Putzer said.
"That caused a lot of bad blood between me and the department," said Putzer, who has since left the department but remains in law enforcement. "I had major heartache."
The deputy filed the affidavit for "informational purposes," according to the report, and no charges were pursed.
Hof did not respond directly to questions about Putzer's allegations.
Putzer said he felt superiors in the small county's sheriff's office rationalized Hof's conduct and didn't want the publicity of challenging him. Hof's contribution to the local economy was also significant, and the county was poor — Putzer remembers that the lights on his patrol car only shone blue because the red light was out there weren't funds to replace it.
"Dennis Hof was off-limits," he said.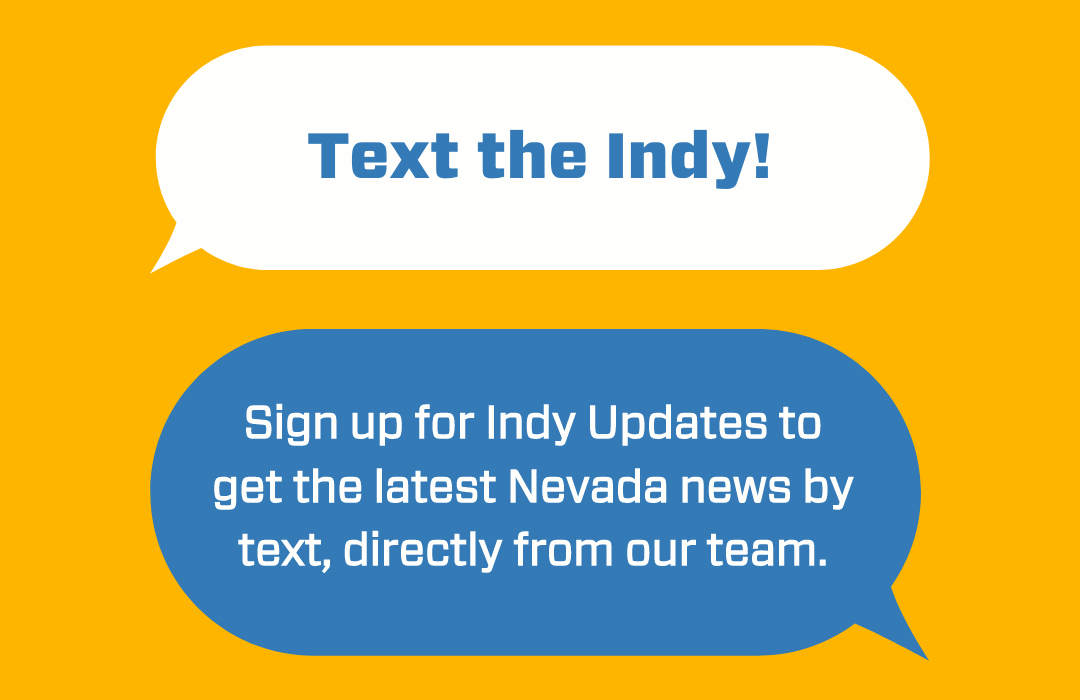 Featured Videos