Four years after bitter defeat, Sanders enters Nevada caucus as a frontrunner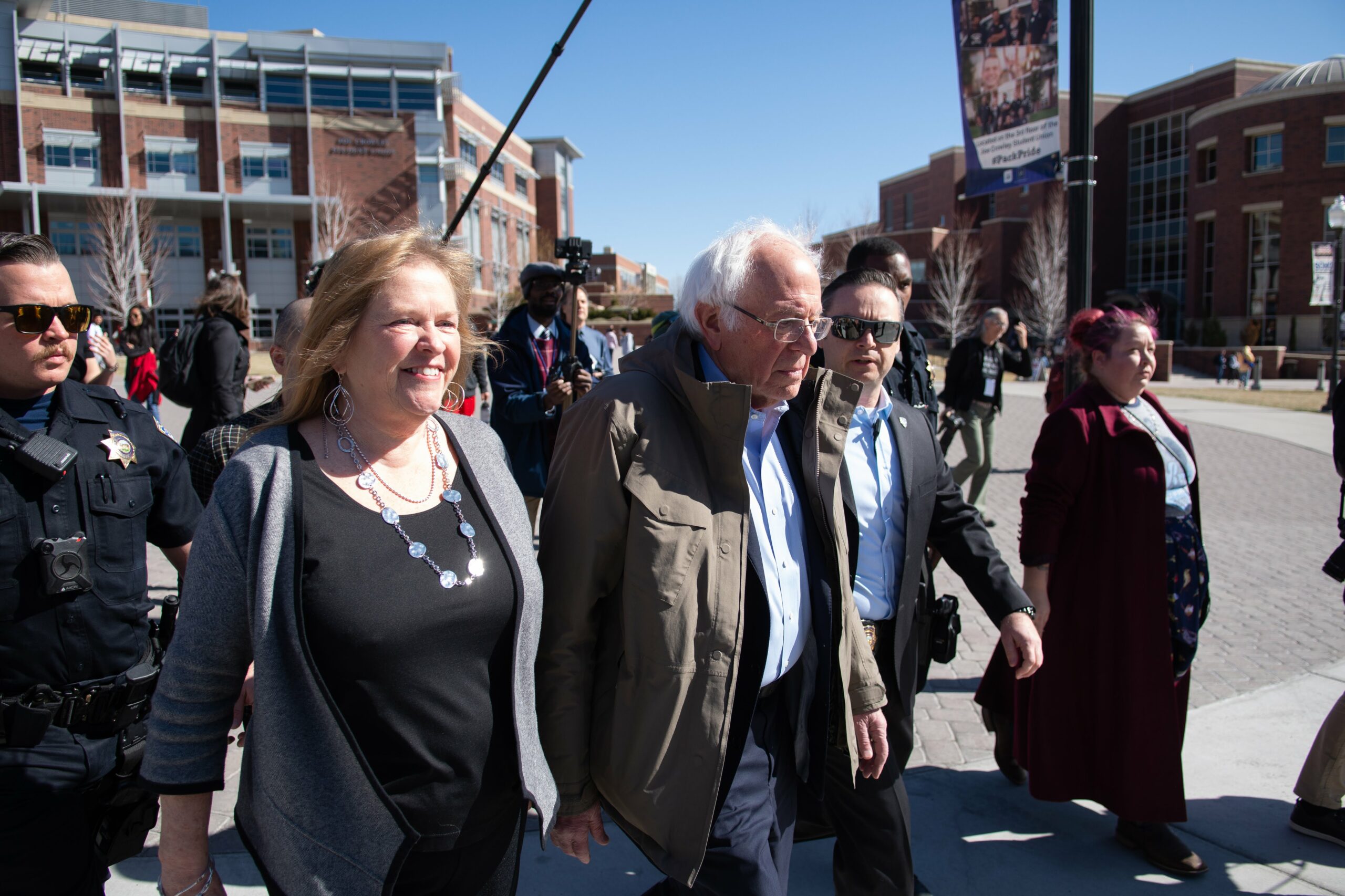 Vermont Sen. Bernie Sanders, standing on a stage in the middle of the UNLV campus on Tuesday, was bullish.
He had every reason to be. He won the popular votes in Iowa and New Hampshire, though former South Bend Mayor Pete Buttigieg won one more delegate than Sanders out of the Hawkeye State and the two tied for delegates out of New Hampshire. And Sanders is the favorite heading into Nevada's first in the West caucus on Saturday.
"If there is a large voter turnout here in Nevada, I believe we're going to win the caucus here," Sanders said, to the cheers of more than a thousand students and others who had gathered to hear him speak in Las Vegas. "And if we win the caucus here, we're going to do really well in South Carolina, in California, and on Super Tuesday. And if we do well on Super Tuesday, we're going to win the Democratic nomination, and if we win the Democratic nomination, we will defeat Donald Trump."
The Vermont senator built strong relationships in Nevada during his last presidential campaign, and only lost to former Secretary of State Hillary Clinton by 5.4 percentage points — a victory in and of itself after he was projected to lose by high double-digit margins in the months leading up to the 2016 caucus.
This time around, Sanders has an even stronger, more organized campaign. His team wasn't the earliest on the ground, but he has since built up a formidable operation with more than 250 staffers. He also hired an experienced team of political operatives who know Nevada well to harness the grassroots energy from his 2016 campaign.
Perhaps most importantly, Nevada is the first opportunity Sanders has to clearly distinguish himself as the frontrunner in the race. If he doesn't, the race could remain muddled heading into South Carolina's primary later this month and the Super Tuesday contests at the beginning of March.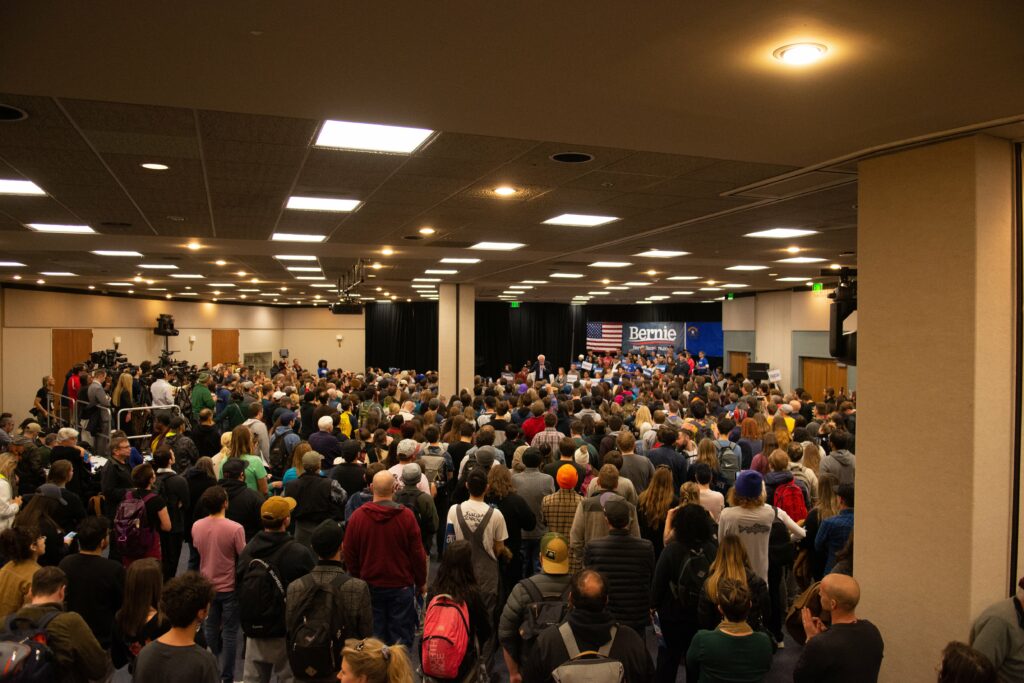 A Sanders victory in the Silver State appears to be increasingly likely. Two recent polls — one by the Las Vegas Review-Journal and another by the left-leaning Data for Progress — show Sanders with comfortable leads over primary opponents, buoyed by overwhelming support among young voters and minorities. Rival campaigns have conceded that the "best hope" is a second or third place finish.
If Sanders is right, a victory in Nevada will create unstoppable momentum that propels him all the way to the White House.
"For me it's just Bernie, just all the way," said Natalie Ramirez, an 18-year-old UNR student. "I don't really support any of the other ones."
But Sanders' electability in the general election has his skeptics worried. A pro-Israel super PAC launched a $600,000 ad campaign in Nevada claiming Sanders "just can't win" in a general election, and a neoliberal think tank, partially funded by Wall Street, issued a memo warning that Sanders would lose the general election.
Rival candidates, including Buttigieg, have rebuked Sanders' best-known policy positions, including Medicare for all, and suggested that Nevada voters shouldn't view the race as a choice between a political revolution or the status quo.
Rich Parks, who attended Sanders' rally at the University of Nevada, Reno on Tuesday, said he didn't plan to caucus because he was largely happy with the Democratic slate of candidates. But he voiced concern that Sanders would fare poorly in a general election.
"He is on the radical side, and most of the country is in the middle, center-left, center-right, and he's on the far left," he said. "I don't think he's going to appeal to a lot of people."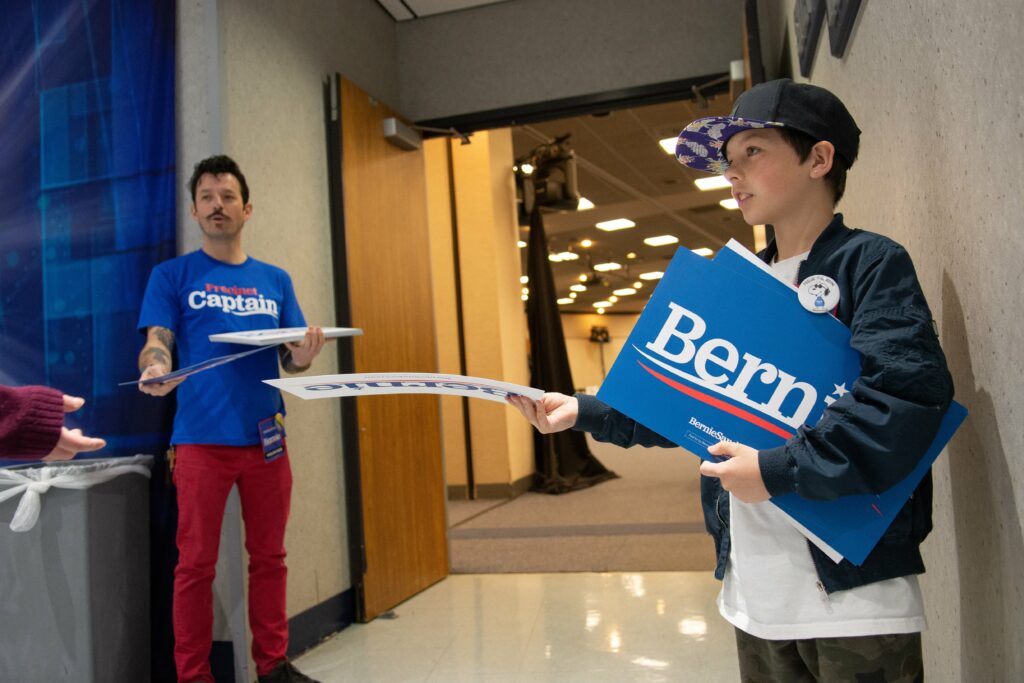 While supporters of other candidates may be making complex calculations about who to support based on who they think will be palatable to a wider electorate in November, Sanders supporters aren't. Many of them think he can win because of his policies.
Jonathan Hernandez, 22, said he wasn't sure who to vote for before seeing Sanders speak at UNLV on Tuesday, but the Vermont senator's policies spoke to him personally.
"It's really good that he wants to help the immigrant people. I have a girlfriend, she doesn't have papers. So for me, for her family, it's really important," Hernandez said. "Also I think the fact that he doesn't want to charge money for school, for education, is important for us as students."
Ron Snooks, a Fallon resident who has never caucused before but signed up to be one of Sanders' precinct chairs in the rural county, said he was inspired to get involved after Trump's election and because of Sanders' policies. He said there's "a lot of people who are surprisingly pro-Bernie" in rural Nevada.
"He's representing actual American values, not just something that the media wants you to see, or the corporations want to put forth as what our views actually are," he said before Sanders' rally in Carson City on Sunday. "He's focused on the people."
And Sanders' supporters feel like he has the fire and the passion to defeat Trump — that he can fight populism with populism.
"I think he's the best one, because he's a populist like Trump, but on the mirror side of it," said Chava Bat-Esha, 70. "None of the rest of them are populist. None of the rest of them are taking a position and have the broad support of so many people."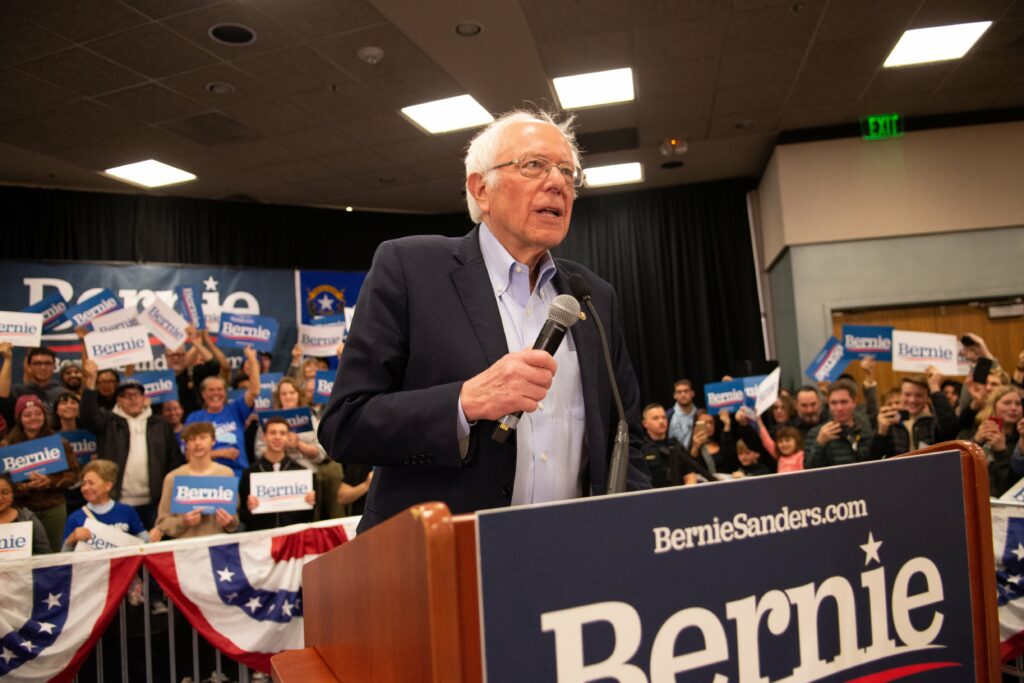 Even if Sanders does emerge victorious from Nevada's caucus on Saturday, he still faces a significant hurdle on Super Tuesday: former New York City Mayor Michael Bloomberg. While his Democratic presidential opponents have been down in the trenches in the four early nominating states, Bloomberg has focused on the rest of the nation, spending more than $330 million since launching his campaign in November — and to great effect.
The latest NBC News/WSJ poll released Tuesday has Bloomberg tied for third place in the race nationally, with 14 percent support. That survey also qualified him at the last-minute for Wednesday night's debate stage in Nevada, a state in which he hasn't bothered to campaign and where he didn't file to participate in the Democratic caucus.
Though Sanders has gone after Buttigieg and Biden by name — saying at a rally in Carson City that they were "nice guys" but had taken campaign contributions from billionaires — he has reserved most of his ire for Bloomberg.
In Carson City, Sanders deadpanned that Bloomberg was "down to his last $60 billion."
"Here is the message: Anybody here worth $60 billion, you can run for the president, and you can buy the airwaves," he said days later in Reno. "My friends, that is called oligarchy, not democracy."
It's an entirely different approach than the one that Sanders has taken. The Vermont senator's campaign announced Wednesday that it has knocked on more than 400,000 doors in Nevada, including 200,000 doors in the last 17 days.
"We're going to win this election not because we are buying the airwaves, as Mr. Bloomberg is, we are going to win this election because we are putting together the strongest grassroots movement that this country has ever seen," he said in Reno.
And Sanders is banking on high turnout to carry him to victory. The Nevada State Democratic Party estimated that roughly 36,000 people voted during the first three of four days of early voting ahead of the caucus. Roughly 118,000 voters participated in the state's 2008 caucus, and about 84,000 participated in the 2016 caucus.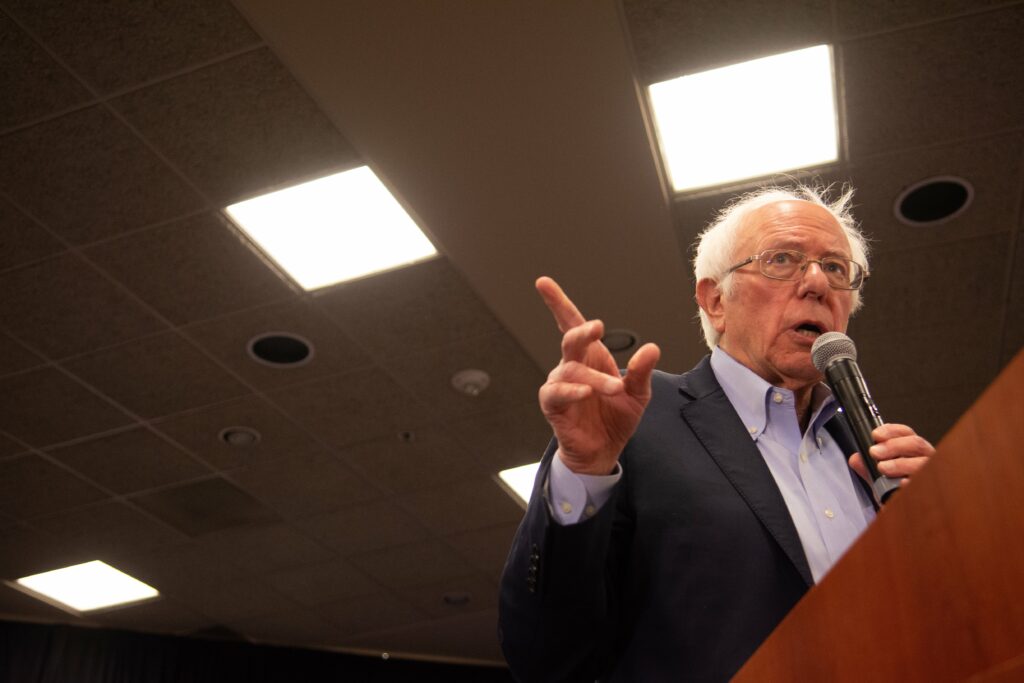 But that high turnout could be threatened if his supporters lose confidence in the caucus process, which was already hanging by a thread for some after a bitter 2016 contest in Nevada and was only thrown further into jeopardy after Iowa's problem-plagued contest. For their part, Sanders' campaign staff have been trying to make the process as clear as possible for their supporters, particularly in light of a rule that required early caucus-goers to select up to three presidential preferences.
For many Sanders supporters, the election is an all or nothing proposition. Several Sanders supporters interviewed by the Independent have voted Sanders for all three choices on their early vote ballot, or voted Sanders and uncommitted twice.
"I just feel like he's the best choice," said Barb, an early caucusgoer at the Centennial YMCA on Sunday who selected only Sanders and uncommitted and asked only to be identified by her first name.
Sanders has relished his outsider role, telling supporters in Carson City that he's not only opposed by the "corporate establishment," but also by the "Democratic establishment," the "Republican caucus" and "media establishment." It's a line of skepticism echoed by several Sanders supporters, who say they're confident he can win Nevada but fear outside interference in the results.
"I'm concerned about what's going to happen going forward, because I know he's not what the (Democratic National Committee) wants, and I feel like they're going to get shady again and start pushing other people ahead who've got more money," Cami Allen said at a rally in Reno on Tuesday. "I hope they don't mess with him."
Courtney Pike, a 22-year-old UNR student, was equally concerned with how the caucus might play out.
"I think that the DNC might choose to, what's the word? Might screw Bernie over," she said. "So I'm not as confident because I feel like he might get the popular vote and then it'll be the same deal where he might get screwed over. So I'm not very confident."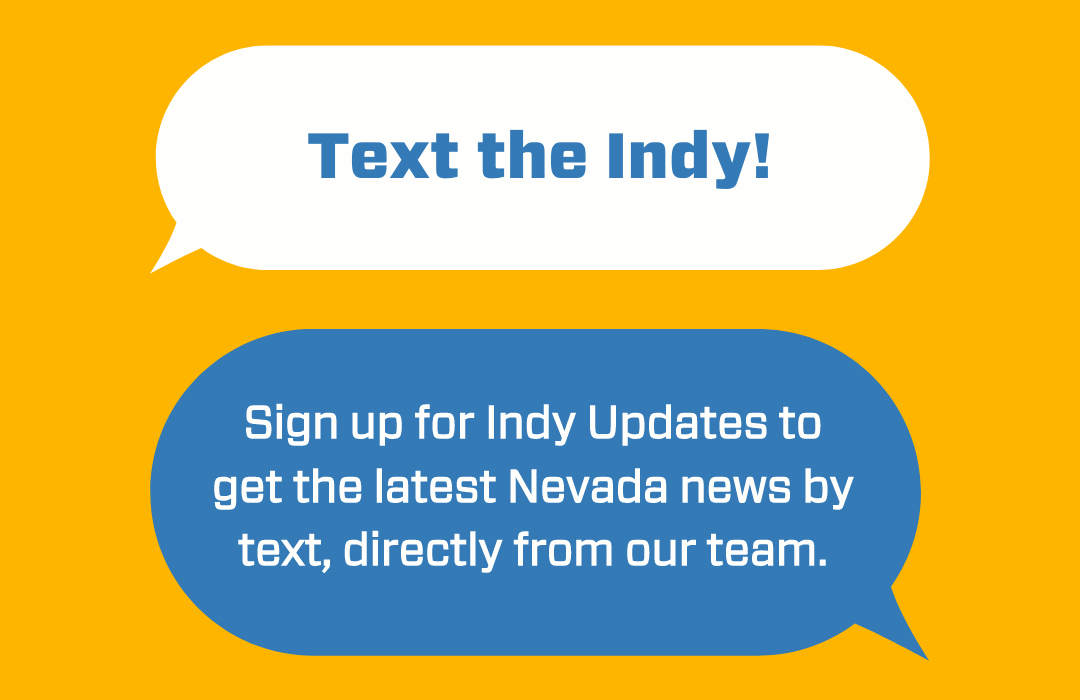 Featured Videos
Comment Policy (updated 4/20/2021): Please keep your comments civil. We reserve the right to delete comments or ban users who engage in personal attacks, use an excess of profanity, make verifiably false statements or are otherwise nasty. Comments that contain links must be approved by admin.