Freedom House: How one Las Vegas recovery center is helping break the cycle of addiction
This story has been translated and edited from its original Spanish version.
Years of snorting, using needles, wanting to take their own own lives, interspersed with attempts to clean up and get back on their feet.
That's been life for thousands of Las Vegas men who tried and failed to leave behind the hell of drug addiction before they found Freedom House, a rehabilitation center in Las Vegas started eight years ago by a former drug addict.
The face of addiction has many masks, expressed through alcoholism, out-of-control gambling, and abuse of prescription medications or street drugs. The toll is heavy not only for the addicts, but also for their families and the rehabilitation services focused on helping them.
In Nevada, where the mental health system is already one of the most understaffed in the country, addiction recovery centers are dealing with the added burden of addressing the recent opioid crisis. But Freedom House founder and CEO Jeff Iverson said the transformations he's seen make the effort worth it.
"You can imagine how I feel, having been one of these guys and now to be able to help them," Iverson said. "It is amazing to transform such a debilitating character flaw, addiction, and turn it around. That is what this is all about, helping other people."
Mental health: Huge demand and very few resources
Nevada has the lowest proportion of providers for the treatment of substance abuse of any state in the country, with 11 professionals in that field per every 1,000 Nevadans with an addiction, according to a 2015 report from The Pew Charitable Trusts. The rate of providers varies widely from state to state, with the highest rate in Vermont, which has 70 professionals per 1,000 people with an addiction.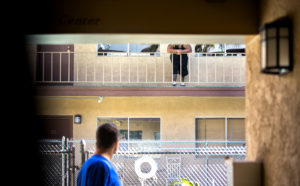 The prevalence of drug and alcohol addiction varies widely from one state to another, too. Surveys conducted in both 2013 and 2014 by the Substance Abuse and Mental Health Services Administration found that 6.8 percent of Nevadans aged 12 and older were dependent on or had abused alcohol.
In the same survey, 2.7 percent of the population aged 12 or older in Nevada were found to be dependent on or had abused illicit drugs.
And it's getting worse. The Office of Public Health Informatics and Epidemiology Division of Public and Behavioral Health (OPHIE) pointed out in a report that intoxication by heroin use and prescription drugs dramatically increased in the state between 2010 and 2015. Emergency department visits due to poisoning by heroin rose from 136 in 2010 to 271 in 2015, for example.
Addiction not only produces wear and tear on the body, but also affects the mind. There's a lack of mental health services and resources, too, for addicts as well as others.
Nevada is near the bottom when it comes to access to mental health care for both young people and adults, according to a report from Mental Health America.
Democratic Assemblyman Nelson Araujo, who attended an event Wednesday celebrating the eighth anniversary of Freedom House, sponsored a bill that breaks up mental health service delivery into four areas of focus to foster more local input.
"There's still so much to do," said Araujo, who is now running for secretary of state. "It's one of those services that is constantly being cut in the budget … the worst thing we can do as a state is ignore the problem of mental health and addictions."
Republican state Sen. Scott Hammond, who also attended the facility's anniversary event, said it's important to listen to organizations such as Freedom House that are on the ground and can help pinpoint exactly where funds are needed.
Coming out of the maze
Many addicts had promising futures before falling into the cloud of addiction.
Some came from well-off backgrounds, had a job, or were in school, but became trapped in the cycle of dependence because of loneliness or depression.
All of them pledged countless times that it would be the last time they drank or used.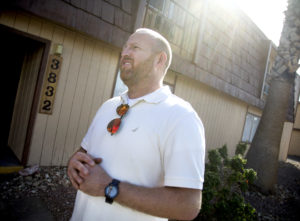 Iverson knows the story all too well because he lived through it. Although he now dedicates much of his time to running the addiction recovery center for men, it wasn't an easy journey.
A native of Las Vegas, Iverson told The Nevada Independent that he got caught in the web of addiction when he was about 20. He loved to party, and gamble, and drink, activities Las Vegas was happy to offer.
His alcohol use quickly escalated into methamphetamine use. Then he became an IV user, injecting it into his blood. For him, drugs were the solution to his problems.
How do you reach that point? When do you go too far with partying? For Iverson, there's something in the mind of an addict, a lack of an "off" switch.
"Some people, for example, might miss a day of work because they drank too much the night before,"  Iverson said. "I think for an alcoholic or a drug addict, those types of things become like, 'Oh, my job's getting in the way of my partying.'"
His first recovery attempt was in 2001 when he went to a treatment center in California at the request of his parents. While he learned about addictions, he didn't consider himself a drug addict, and resumed his drug use as soon as he returned to Las Vegas.
That was the beginning of a five-year downward spiral in which he got entangled with the law, eventually facing serious felony criminal charges for possession and drug manufacturing. It was in prison that he hit rock bottom and had plenty of time to think about the future, deciding he was finally ready to embark on the path toward recovery.
Shortly after his release, he found a job at a limousine company — a minor miracle considering his criminal record. Within six months, he rose in the ranks to become general manager.
Helping others
Iverson had been clean and sober for almost three years when he started Freedom House. He was ready to create a community of people who, like him, wanted to turn their life around.
The precursor to Freedom House was a for-profit program designed to help those who wanted to sober up. Iverson started renting apartments to customers on the west side of Las Vegas, but the more he got to know the population and understood their needs, the more he realized the benefits to operating as a non-profit. He shut that program down and opened Freedom House.
Men are referred to Freedom House by caseworkers and specialty court programs that offer alternative sentences. In rare cases, Freedom House helps people directly from the streets, but this is unusual for a transition center and also expensive.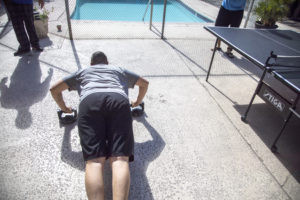 The recovery program is intense. To enter, participants must pass a test confirming they're free of drugs and alcohol; they must attend meetings and therapies, and, above all, they need a strong desire to change.
Iverson said that Freedom House is not a homeless shelter nor a place where people who have warrants can go and hide from the law.
"We have our own internal assessment policies and practices to help identify the people who are best qualified to come into our program who are really serious about turning their life around," Iverson said.
Since its opening in 2010, Freedom House has helped more than 2,000 men break free from addiction to methamphetamine, opiates, gambling, cocaine, or alcohol.
Although the program lasts between 90 and 120 days, with the goal of preparing participants to find a job and another place to live, some participants can stay longer depending on their individual case.
The center has a $2.5 million annual budget, with multiple sources of income to keep the program afloat, Iverson said. In addition to fundraising events and a scholarship program, participants sometimes find other ways to fund their stay.
"For example, a guy in district court that they've identified who needs inpatient treatment can come here," Iverson said. "The state actually pays it through the Substance Abuse Treatment and Prevention Agency (SAPTA) dollars, but that person is not paying to be here."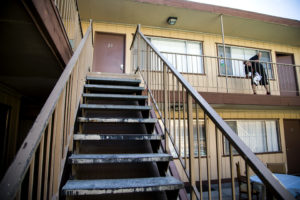 Freedom House also helps patients enroll in Medicaid and food stamp programs so that they can start becoming self-sufficient when they leave.
The center also provides anger management and moral reconation therapies that seek to increase moral reasoning, and has a licensed drug and alcohol counselor on staff who provides outpatient therapy.
Freedom House is located in a neighborhood not far from UNLV. The center serves three meals a day, many of which are possible thanks to Three Square.
The value of life
For men like Brandon Logan and Andrew Keeler, Freedom House is a place for new beginnings.
Keeler didn't have a home and started using drugs when he was 17. Cocaine was first, then heroin for six years, and from there, he injected the drug for four years before moving on to methamphetamine.
By 34, Keeler was contemplating suicide — barely alive, feeling lost. It wasn't that he didn't know if he could get sober, it was that he didn't know if he could live sober, he told The Nevada Independent.
When he came to Freedom House two years ago, after his sponsor referred him, he had already completed a detox treatment. He was able to get help thanks to the center's scholarship program, and this time, was committed to moving forward.
One of the first things he noticed was that the team at Freedom House was interested in the personal growth of the patients. There was a counselor who taught him a sort of discipline he never had.
Keeler explained that when a young person uses drugs for a long time, he doesn't know how to be an adult, how to get a job, or how to function in society.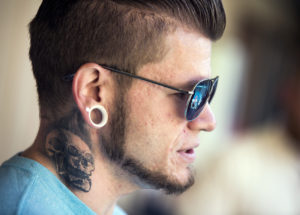 "I remember my fourth day here, I was a little shaky and stuff, and I didn't understand why," Keeler said. "I was feeling really sick, and my counselor pulled me in. He gave me a cookie. He's like, 'Do you eat regular meals?' I'm like, 'Well, I just eat when I get hungry'. He had to show me how to eat. I mean it sounds asinine, but it's really how it is."
The counselors guided him on what type of employment would suit him best and how to dress for a job interview.
"After a month here, I was able to get a job," Keeler said. "I started to pay my own rent and my bills. For many addicts, being sober isn't just about how to stop using drugs, it's about how to become a good person."
It took him nine months to complete the program, which has helped him to stay sober for the past two years. He works at a timeshare company and also on the Freedom House website.
"I do a 12-Step recovery program, I still do that to this day, and that saved my life in a lot of ways," Keeler said. "But this place introduced me to it, and in a fashion that made it accessible and understandable for me."
Grateful for a new opportunity
Two signs hang on the wall of a classroom where Brandon Logan attends group therapy, trying to break free after 14 years of drug abuse: "Faith, hope and love," says one, and the other says "Courage and strength."
Logan began to drink and use drugs when he was 15. That same year, he got in some trouble and ended up in jail for 42 days. When he got out, he wasn't allowed to come home.
The day he left jail, a friend from his church contacted Logan's parents to say that he knew someone who could help Logan. It was Iverson.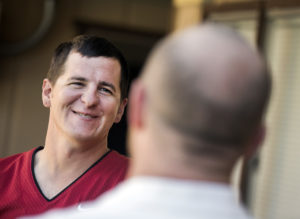 "He got me in here for a month for free," Logan, 29, told The Nevada Independent. "He helped me out to get on my feet to a place to have a roof over my head."
Logan said that if it hadn't been for the center and the four months he's spent there, he would probably still be using drugs. Now he has a part-time job at a convention center and is in training for a full-time position.
For those who feel that there is no hope for recovery, Logan said they should put aside their fear of asking for help and to have faith in God.
"I'm just thankful to be … sober," he said.
Celebrating accomplishments
Keith Hinchen could barely hold back tears when he spoke to The Nevada Independent at the center's anniversary event.
Hinchen, who was a Marine, said he was addicted to crack cocaine for more than seven years. He was homeless, with no job, family, or friends.
"I didn't have any type of support," he said. "I needed to find acceptance through either the drugs, or the people that dealt in the drugs."
Hinchen was referred to Freedom House through the veteran's court program, which gave him the choice of either going to jail, or to a recovery program where he could change his life. He decided to go to Freedom House, where he was able not only to complete the program, but also to find love and support.
As he was going through his treatment program, he also attended culinary classes. He now works as a cook at the Paris casino and is determined to accomplish his goal of becoming a bona fide chef.
"Ever since I set foot in these doors, I had nothing but success," he said, his voice shaking with emotion. "When I look back to what I've been through, sometimes it hurts, but I'm happy I've come this far."