From chocolate to hummus, staff shortages vexing small businesses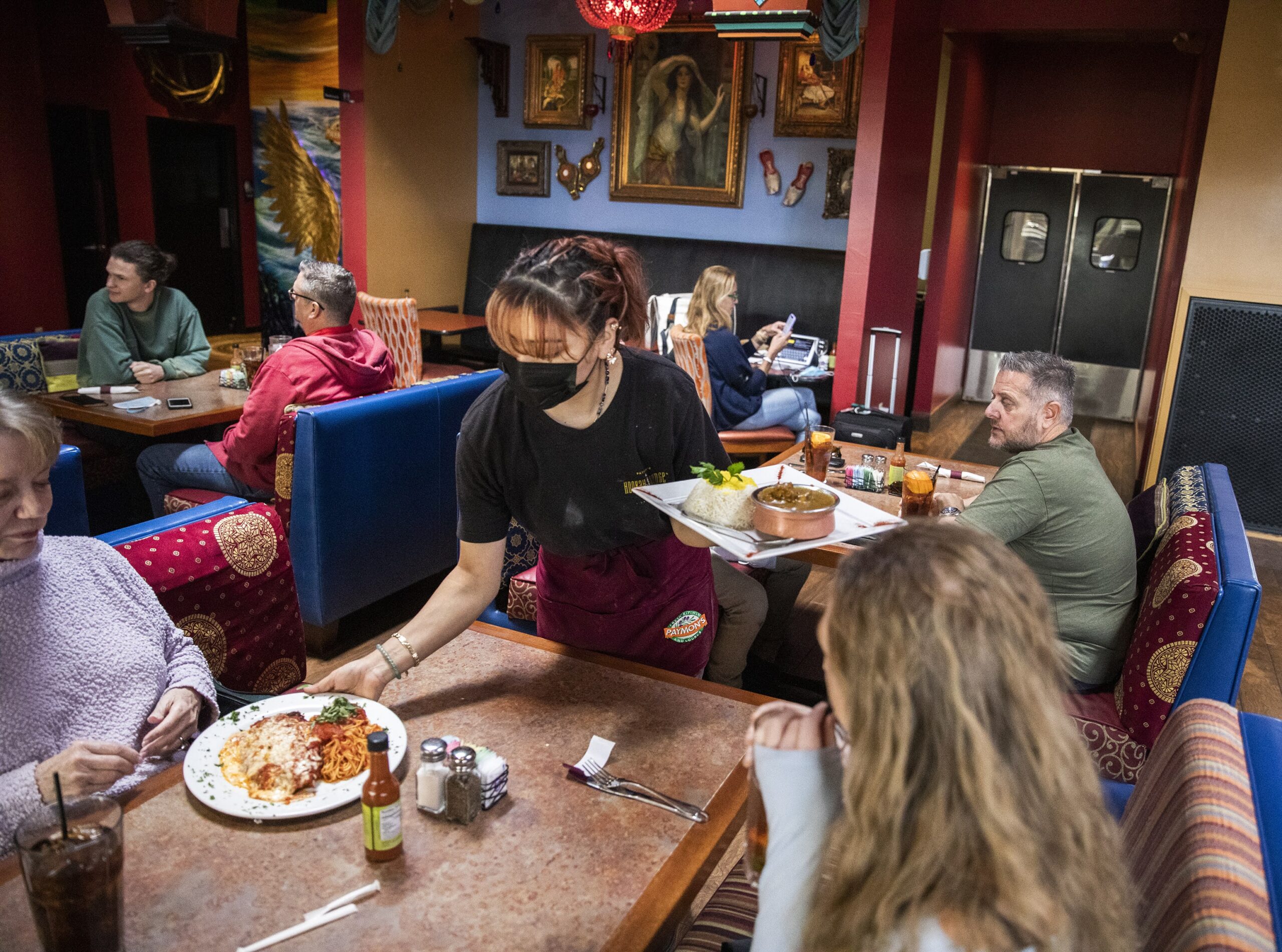 Before the pandemic, Paymon's Fresh Kitchen and Lounge, a local Mediterranean restaurant company with two locations in the Las Vegas area, had about 80 employees.
Now, only 70 employees keep the restaurants afloat. While being short 10 people doesn't seem severe, Paymon's operator Jeff Ecker said "the impact is profound."
"The people that are there are tired, they're wiped out," he said. "It's difficult to relay to them how important they are, and how much they're appreciated, when they're just exhausted."
The recent increase of COVID-19 cases from the highly contagious Omicron variant has negatively affected about two-thirds of small business owners to varying degrees nationwide, according to a survey conducted this month by the National Federation of Independent Business (NFIB).
The sudden Omicron surge was partly fueled by the rapid spread of the variant and gatherings around the holiday season. In the first week of 2022, the state's cumulative confirmed COVID-19 cases ratcheted up to more than 500,000 cases since the pandemic began and new cases per day have eclipsed records set during prior waves.
Since the beginning of the year, the Clark County School District took a pause to "stop the spread," some Nevada hospitals have characterized their staffing situation as "crisis" level, and more COVID-19 testing sites were opened in Northern and Southern Nevada to address the increased demand.
Because Omicron has proved to be more mild than other COVID variants, negative effects on staffing are proving to be temporary as employees who contract the virus are typically only out for a few days rather than two weeks, a NFIB spokesperson said.
"We've been very, very lucky," Ecker said. "We haven't really dealt with people being sick. I know a lot of our people have been vaccinated, but that doesn't stop you from getting it or passing it on. They're diligent with their face masks."
Paymon's, still short of being back to its ideal, pre-pandemic staff numbers, has found cook positions the most difficult to fill as more attractive jobs pop up in restaurants on the Strip with higher wages and bonuses — benefits that independent restaurants might not be able to compete with.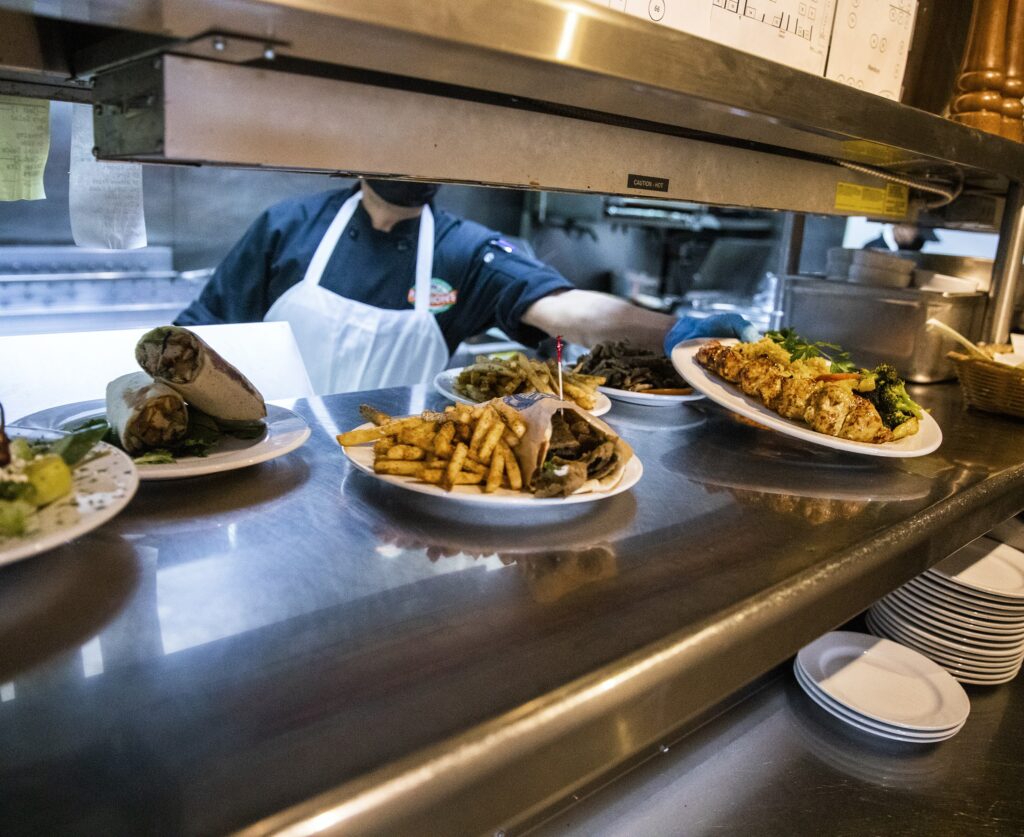 The NFIB survey showed 23 percent of small businesses are experiencing a self-described "significant" staffing shortage and 20 percent are experiencing a "moderate" staffing shortage. Small business owners also reported that staffing shortages have affected sales and profit.
Ecker said the only thing that compares to the pandemic-related challenges are those from the 2008 recession. At the time, the restaurant also struggled to find qualified staff because people were moving away to find other opportunities.
"You can't blame people for wanting to better their situation," he said. "We've all done it. We've all moved up the ladder and tried to make a better quality of life for ourselves. So certainly can't blame people for moving on to bigger and better things."
As of December 2021, Nevada's labor force participation rate remains about 4 percent lower than it did prior to the pandemic.
Paymon's has adapted. Ecker said for the past six months, one of Paymon's locations has been closed on Mondays so cooks can help out at the other restaurant. While the strategy means losing some business, operators realize they also need to maintain the same quality.
"It's a situation where you're constantly short staffed. There are days where you have to go with one cook on the line instead of three," he said. "And then you're jeopardizing your reputation because you're not giving great service."
Staffing shortages have also forced Paymon's to turn down catering opportunities or hosting big events because they cannot guarantee enough staff, Ecker said.
"It's getting a little better"
While Reno-based sweets manufacturer Kimmie Candy does not require its employees to be vaccinated against COVID-19, about 50 percent of its employees are vaccinated, owner Joe Dutra said.
But even those who are vaccinated have contracted the virus. At the beginning of the pandemic, only one or two employees would be out sick every few weeks. In recent weeks, between four to six employees are out per week because they tested positive for COVID-19. Typically, they have gone back to work the following week.
In 2020, even though operations at the factory never shut down, its usual customers were pausing their business and leaving them with truckloads of unsold candy.
While Dutra managed to make payroll for the company's core 35 employees, thanks to federal Paycheck Protection Program (PPP) loans, he prefers to have a team of 45 for additional help with packaging and production. But he said finding qualified employees that will stay long-term has been a challenge.
"We've had a very, very difficult time finding employees since 2020. The people that do come in don't work very long. They quit and move on to other temp jobs," he said. "In 2022, it's getting a little better. More people are walking through the door, but it's still a problem … And we can't pay them tremendously high wages, because 54 percent of the cost of our candy is labor."
The average salary for a Kimmie Candy temporary packaging operator is about $12.90 per hour, according to an online job listing. Factory workers and supervisors earn an average of $17 per hour, Dutra said.
Nationwide, small employers facing staffing shortages are making adjustments to attract applicants for open positions, including increasing wages, more paid time off, offering hiring bonuses, or enhancing health insurance benefits.
Other challenges
The pandemic has affected more than staffing. A combination of supply chain delays and rising inflation have increased the prices of ingredients for both Kimmie Candy and Paymon's, adding yet another problem to the stack.
According to an NFIB survey, 47 percent of small business owners reported supply chains had a significant impact on their business nationwide. A majority of those anticipate the supply chain disruption that is affecting their business to continue for five months or more. The supply chain has seen delays as truck drivers and harbor workers have also been out because of the virus.
For Paymon's, some supply chain issues have forced them to find alternative ingredients for recipes or raise the price on certain items. Ecker said raising the prices of dishes is not a choice they make lightly.
"The cost of these items has pretty much skyrocketed. Some of the inflation on products and labor has been huge," Ecker said. "It's been extremely challenging. You can't just raise prices — that's no longer really an option because customers will shift downward; they'll go from fine dining, to casual dining, to fast food."
This year, Kimmie Candy will have to raise prices on products containing chocolate because of a 38 percent increase in the price of the ingredient. About 64 percent of small business owners have increased their average selling prices because of supply chain disruptions, compounded by labor shortages that have prompted them to raise wages to recruit and retain staff.
"So you have to raise your price, then distributors' pricing goes up because they're having added fuel costs, and also labor shortages," Dutra said. "It kind of exacerbates all the problems that we're having."
The Nevada Independent is raising $200,000 by Dec. 31 to support coverage of the 2024 election.
Tax-deductible donations from readers like you fund this critical work.
If you give today,your donation will be matched dollar-for-dollar.
Give + Get Matched
Featured Videos