Gilbert vows lower rates for Douglas County schools as legal bills threaten budget
After racking up $110,000 in charges after two months as counsel, Joey Gilbert's legal fees are on track to surpass the district's annual legal services budget.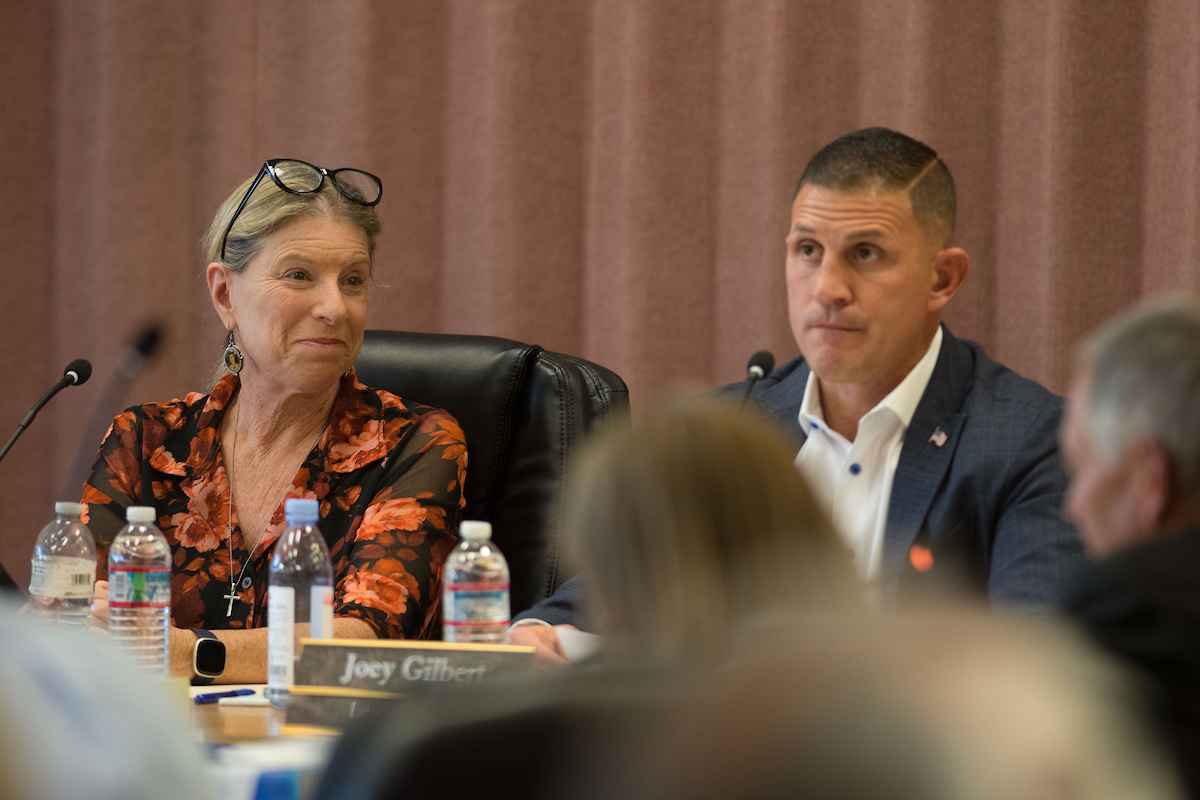 As Douglas County School District faces skyrocketing legal bills since hiring Reno lawyer and former Republican governor candidate Joey Gilbert as its counsel, Gilbert said Tuesday that upwards of $15,000 would be credited back to the district and he'd work to lower future costs.
During a school board meeting Tuesday, trustees approved paying Gilbert $74,000 for services provided largely over the previous month, bringing his total billing to $110,000 since he was hired in late July. At the board's September meeting, a fractured group of trustees similarly approved nearly $36,000 in expenses for Gilbert.
Gilbert sought to justify the costs Tuesday, explaining that he spent extensive time researching changes made to the board's bylaws in recent years — which some trustees are now seeking to reverse — and that the district that serves about 5,300 students in a county 50 miles south of Reno has received a spike in public records requests amid a groundswell of opposition to his hiring.
"I don't think we're gonna have to do any more of that," he said of the research on past changes. "So I would like to see the legal bills come down considerably … When I came in here I never in my wildest dreams imagined that I'd be in here with, like I said, 30 public record requests deep, four Open Meeting Law complaints and a writ of mandamus that's now 900 pages."
Superintendent Keith Lewis — who remained in his position following a contentious board meeting Friday that saw trustees vote 4-3 to not terminate his contract — previously told The Nevada Independent that he was concerned about Gilbert's fees being "on pace to blow past" the district's $160,000 annual budget for legal services.
At least $15,000 of that amount is set to be credited back to the district, according to Gilbert and Kiera Sears, an employee of Gilbert's who is not licensed as an attorney but has helped present legal opinions to the board. They said the firm's fees are meant to be charged against the $7,500 monthly retainer first before other charges add up.
With that credit, the fees accrued over two months would amount to about $95,000, or 59 percent of the annual legal budget.
Gilbert noted additional funds would be credited to the district by reducing the billing rate for Sears. He said her services are typically billed at $475 per hour, but were billed for the district at $325 per hour — the same rate he charges — and will now be reduced further.
"After hearing from folks in the public that said to me, 'You should reduce her,' we've reduced her down to $225 an hour," Gilbert said. "So there's going to be a retroactive credit back and probably another $10,000 to $15,000 on top of it."
Continuing a stretch of hourslong, argumentative meetings, the Tuesday meeting was again marked by conflict as several trustees sparred with Gilbert, and members of the public took opposite sides.
Some speakers at the meeting accused members of the public of filing superfluous public records requests to drive up Gilbert's legal bills — a sentiment Gilbert echoed.
"Some of these things are being filed just to be a nuisance," he said. "The same people that are speaking right next to each other are requesting the same documents and they have to be gone through. Everything has to be gone through over and over again. Things sometimes have to be redacted. It is cumbersome. It is time consuming. It is expensive."
Trustee Linda Gilkerson repeatedly criticized Gilbert's fees. She and other trustees raised concerns about costs racked up for communications between Gilbert and board members.
Gilbert pushed back on that point.
"I rarely bill for calls or emails back and forth. It usually has to be something substantial or super significant, but I'm on the phone [for] hours and hours with board members all the time," he said, adding later that he is not "fleecing the billing."
But Gilkerson pointed to the size of costs over the first two months, saying "our budget cannot support the continued legal bills."
Teachers and parents who spoke at the meeting expressed frustration that students' issues are being overshadowed amid the dispute.
Talia Tretton, a student at Douglas High School, said her parents are teachers and that she felt those voices were not being heard.
"I feel that you're not listening to the people that matter, especially the students and teachers who come here to speak," Tretton told trustees.
The Nevada Independent is raising $200,000 by Dec. 31 to support coverage of the 2024 election.
Tax-deductible donations from readers like you fund this critical work.
If you give today,your donation will be matched dollar-for-dollar.
Give + Get Matched
Featured Videos