Tough questions, prickly Reno crowd pressure Heller & Amodei at town hall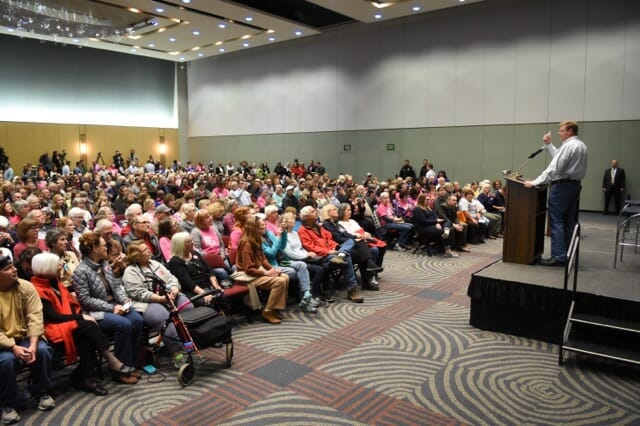 After nearly two and a half hours of grilling by an at times hostile crowd at a Reno town hall Monday morning, Republicans Sen. Dean Heller and Rep. Mark Amodei were all smiles.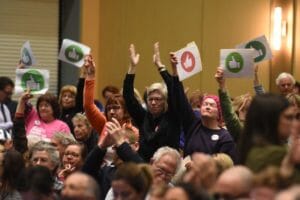 Left-leaning crowd members in pink Planned Parenthood t-shirts and the now ubiquitous "pussy hats" crowded a 541-seat ballroom in the Reno-Sparks Convention Center and pressed the two Nevada Republicans on a host of issues ranging from the future of the Affordable Care Act to funding for the Environmental Protection Agency.
But Heller and Amodei circumlocuted their way around several of the thornier, partisan-driven questions — to the annoyance of the crowd, which occasionally broke out into chants demanding a yes or no answer — with the pair escaping the event relatively unscathed compared to recent hostile town halls hosted by congressional Republicans.
Heller — one of few swing-state Republicans facing re-election in 2018 and the only GOP senator up in a state won by Hillary Clinton — took multiple questions over his recent vote to allow state and local governments to withhold federal funding for family planning services from organizations such as Planned Parenthood.
One woman talked about the help she had received from Planned Parenthood both as a teenager and dealing with an abusive husband and asked the two men where people could receive the same type of support if funding is stripped from the organization.
"I have no problems with federal funding for Planned Parenthood," Heller said, before dodging a clarifying question about whether he would promise to protect funding for the organization.
"The question is, should federal funding cover some of the activities that occur at Planned Parenthood?" Heller said.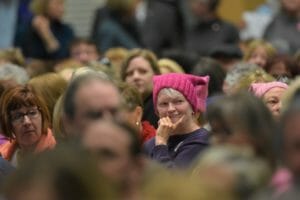 The state Democratic Party seized on the remark, pointing to a story by Las Vegas Review-Journal columnist Steve Sebelius where a spokesman for the senator said he "does not support federal funding for Planned Parenthood." Heller's office also released a statement in 2015 saying his record was "clear" on pro-life issues noting that he voted twice to defund Planned Parenthood.
Nevertheless, asked whether he would support federal dollars going to the family planning organization to help address the syphilis outbreak in the Las Vegas area, Heller said he would. He emphasized that his vote was not to defund Planned Parenthood but to nullify a rule put in place under President Barack Obama's administration barring states from withholding federal family planning dollars from organizations that also perform abortions.
"I trust Governor (Brian) Sandoval to make these decisions rather than someone in Washington D.C.," Heller said.
Supporting local and state control over federal was a major theme that Heller and Amodei, who played high school basketball together in Carson City, stressed in answers to multiple questions.
Amodei detailed his opposition to House Speaker Paul Ryan's American Health Care Act, congressional Republicans' repeal and replace solution to the Affordable Care Act, noting that the Medicaid portion of the legislation would have left state lawmakers with a $130 million dollar hole.
"I was interviewed on that Republican stronghold of MSNBC four times in one week and said I did not support it," Amodei said.
Heller, who also opposed the House plan, pivoted from a question about single-payer health care systems to talk about the high cost of certain prescription drugs such as the EpiPen allergy shot, which costs roughly $600 in the U.S. and less than half that in Canada. He and a handful of other Republicans supported a failed nonbinding budget amendment in January that would have allowed importation of prescription drugs from Canada.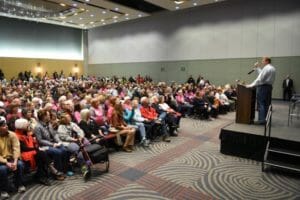 Both Republicans took heat from audience members over their answers on monuments and public lands, due in part to their opposition to former President Barack Obama's use of the Antiquities Act to create the Basin and Range and Gold Butte National Monuments in the last two years of his presidency.
Heller and Amodei in January jointly introduced a bill that would require congressional approval before the creation of a national monument, which Amodei said was important to prevent "executive overreach."
"What we're doing here in the last two hours is much more than what was done on Basin and Range," Amodei said.
Both Republicans stressed their support for comprehensive immigration reform, bemoaning how politicized the issue has become and with Heller declaring Congress had "failed" on immigration. Amodei laid the blame for not bringing a compromise immigration bill up for a vote squarely at the feet of Republican and Democratic leadership.
"This is something that both sides are going to have to put on their big person shorts on and buck up," Amodei said. "If you want to have an impact … tell folks on both sides to get off their butts and bring a bill to the floor."
Heller was one of 14 Senate Republicans who voted in favor of the so-called "Gang of Eight" bill, a bipartisan immigration reform bill introduced in 2013 that would have created a path to citizenship for some of the 11 million undocumented immigrants in the United States as well as increased border security. Though the measure passed the Senate, it never succeeded in the House. Both Republicans say they support some sort of pathway to citizenship for people not legally in the country.
Heller wouldn't take a stance on possible budget cuts to the Environmental Protection Agency proposed in the White House's budget, saying only that he will be one of a group of "reasonable people" who will come together and "make correct adjustments to this president's budget." Heller also claimed that "no Republican back in Washington D.C." has "done more for alternative energy" than he has.
He also couldn't remember whether he had taken any donations from the wealthy Koch brothers — who have downplayed the risks of climate change — though he said he was "pretty certain" he had, but he said that those donations wouldn't change his views on energy policy. Koch Industries gave $20,500 to Heller directly in 2012.
Several audience members questioned why Amodei and Heller hadn't held a town hall previously. The duo dealt with hostile questions during a 45-minute impromptu question and answer session with members of the Carson City Chamber of Commerce in February, and Heller hosted a closed-door event in Sun City Anthem in March. Heller also touted his tele-town halls, which he says draws in more than 5,000 people for a weekly question and answer session.
Heller is scheduled to address a joint session of the Nevada Legislature later on Monday.
Photos in this piece by The Nevada Independent staff.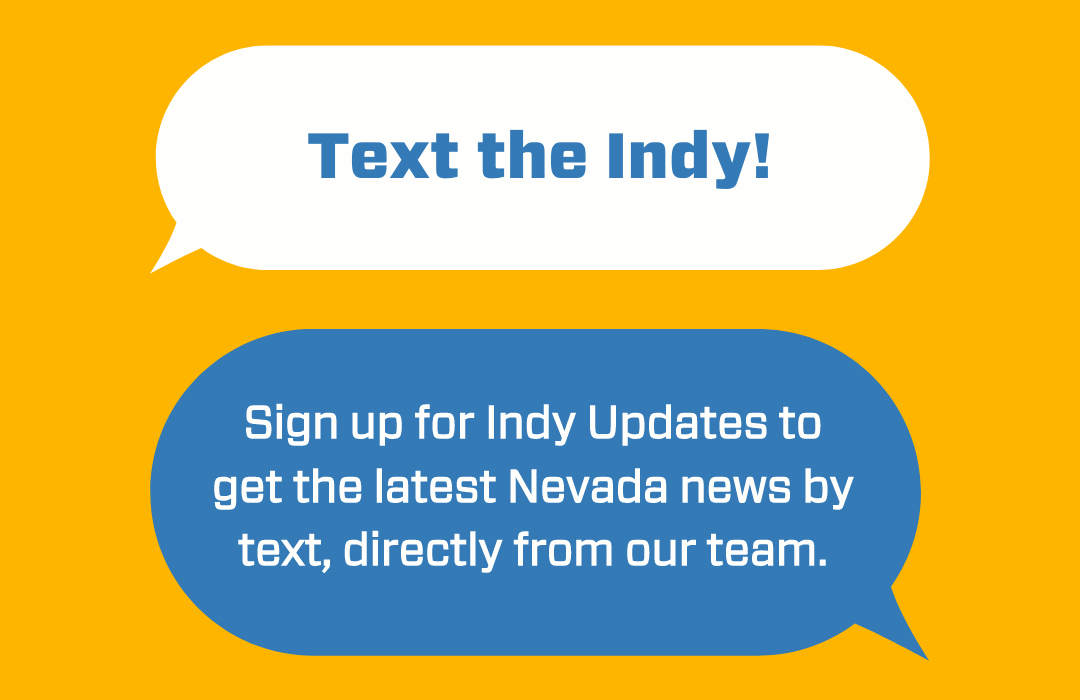 Featured Videos
Comment Policy (updated 4/20/2021): Please keep your comments civil. We reserve the right to delete comments or ban users who engage in personal attacks, use an excess of profanity, make verifiably false statements or are otherwise nasty. Comments that contain links must be approved by admin.