Election 2018
Heller, Laxalt join the vice president on a military-centric tour through Las Vegas
By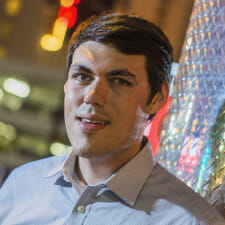 Riley Snyder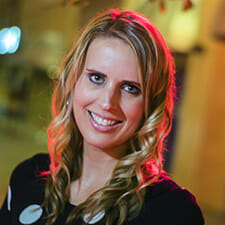 Jackie Valley
Vice President Mike Pence speaks during the AFwerX grand opening in Las Vegas on Thursday, Jan. 11, 2018. Daniel Clark/The Nevada Independent
Heller, Laxalt join the vice president on a military-centric tour through Las Vegas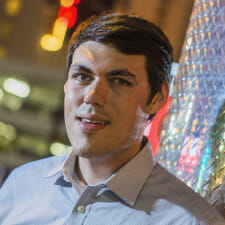 Riley Snyder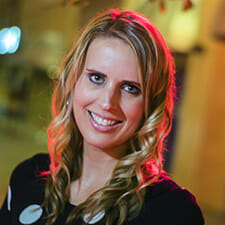 Jackie Valley
January 11th, 2018 - 5:25pm
Vice President Mike Pence made a two-stop tour through Las Vegas on Thursday, promoting a new military program while also providing a boost to the nation's most-endangered Senate Republican — Nevada Sen. Dean Heller.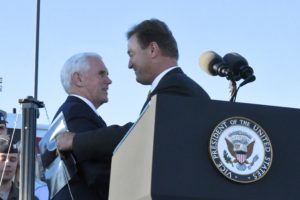 Heller and Attorney General Adam Laxalt, a Republican gubernatorial candidate, joined Pence on his visit. The vice president called them "great champions of Nevada" and lobbed more praise on Heller, saying the senator is a "great, great champion of our Armed Forces, a great friend of mine from our days in Congress and a tenacious advocate for everything about Nevada."
The group first visited AFwerX, an Air Force-backed "innovation center" near UNLV that allows service members to collaborate with students, faculty and community members on technology-related projects that ultimately could help the military.
The new military program sits in a business park in the shadows of the Las Vegas Strip, where thousands have gathered this week for CES, the world's largest consumer technology show — making its debut that much more timely.
"It's a program that will connect the next generation of American problem-solvers to Air Force decision-makers and serve as an accelerator in adopting the cutting-edge ideas from the laboratory to the front lines in real time," Pence said. "Now, we think the Silver State is the perfect place to open the first AFwerX storefront. Southern Nevada has been on the forefront of innovation in aviation for decades."
The program aims to solve "wicked-hard problems" and develop innovations for war-fighting, such as how to keep a downed airman hydrated or how blockchain could help military security, Air Force Secretary Heather Wilson said.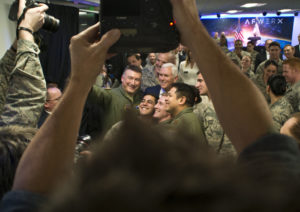 During Pence's roughly 12-minute speech at AFwerX, he also touted President Donald Trump's commitment to the military and defense spending, earning applause from the Air Force members sitting in the audience.
"I am pleased to report that last year alone, the president signed the largest increase in military spending in nearly 10 years," he said. "And, just a few weeks ago, with the strong support of Senator Dean Heller, President Trump signed legislation that will provide for one of the largest increases in military spending in American history."
Pence, Heller and Laxalt then spoke before a group of several hundred Air Force service members at Nellis Air Force base near North Las Vegas. The trio praised the base's nearly 600 deployed airmen and touted the Trump administration's foreign accomplishments.
Pence told the airmen that ISIS was "on the run" and said the administration had made it clear that all options were on the table when it came to dealing with North Korea and the country's weapon program.
"There's no greater threat to our people and way of life than the menace of radical Islamic terrorism," he said.
Heller called Pence a "real friend" and lauded the vice president and Trump as major champions for the military.
"The election of President Trump and Vice President Pence gave us a chance to get this country headed in the right direction, and together, we were able to do just that," he said. "Whether it's fighting to give our troops the largest pay raise in eight years, or working to make it easier for service members to transition back to civilian life, the vice president and President Trump are your champions."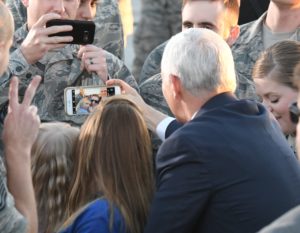 Pence, in turn, heaped praise on Heller, thanking him for advocating for Nellis Air Force base and for supporting a $700 billion defense spending bill approved by Congress in November.
"He is a tireless advocate for Nellis Air Force base and our armed forces, and we are all grateful for your outstanding leadership in our national defense," he said.
Heller, who last year called on the Senate to operate "24/7" to confirm conservative judges and fill judicial vacancies, missed two uncontroversial judicial nomination votes in the Senate on Thursday.
Though Heller kept his distance from Trump during the 2016 election, he praised the choice of Pence as a vice presidential pick, telling reporters in August 2016 that he wished he could just vote for Pence as vice president.
The trip is Pence's second time visiting the state since the 2016 general election. He last visited Southern Nevada in October, for a speech thanking first responders and others affected by the mass shooting in Las Vegas that left 58 dead and more than 500 people wounded.
Pence acknowledged that emotional visit and said the Las Vegas community remains in the "prayers and hearts" of the American people.
The vice president's trips alongside GOP candidates are expected to continue later this month when he visits Western Pennsylvania to support U.S. House candidate Rick Saccone, who's running in a special election scheduled for March 13.
INDY FAST FACTS
Dean Heller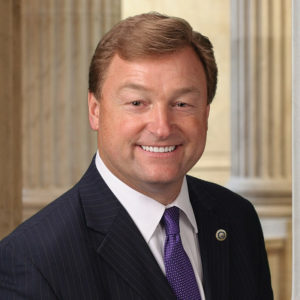 Job:
U.S. Senator
Party:
Republican
In current office:
2011-present
Birthdate:
May 10, 1960
Education:
University of Southern California (B.A.)
Other public offices held:
Member of the U.S. House of Representatives Nevada's 2nd Congressional District (2007-2011) Nevada Secretary of State (1995-2007) State Assemblyman (1990-1994)
Total donations: 
$24,223,634
 (1/1/05-5/23/18)
Top donors:
Station Casinos $117,900 Votesane PAC $92,000 MGM Resorts International $74,500 Blackstone Group $48,400 Capital Group $38,800 Credit: Center for Responsive Politics
INDY FAST FACTS
Adam Laxalt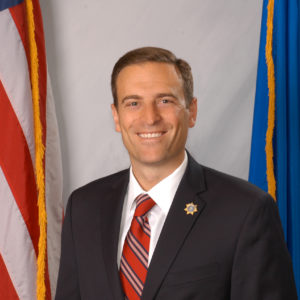 Job:
 Nevada State Attorney General
Party:
Republican
In current office:
2015-present
Birthdate:
August 31, 1978
Education:
Georgetown University (B.A.) Georgetown University Law Center (J.D.)
Other public offices held:
None
Total donations:
$8,262,050 (1/08/14 - 6/07/18)
Top donors:
Station Casinos/Zuffa/Fertitta $208,500 Las Vegas Sands $75,000 Marnell Properties LLC $42,500 Starpoint Resort Group/Partners $40,000 MGM Resorts $35,000
From the Editor
The Nevada Independent
is a 501(c)3 nonprofit. We have
generous corporate donors
, but we can't survive on those alone. We need support from our readers. I know you have many commitments. But if you would
support our work
(or bump up your current donation), we would be forever grateful.
Best,
Jon Ralston
get our morning newsletter,
The Daily Indy
Stars & Struggles
Take a peek into today's education world through the lens of Sunrise Acres Elementary School in Las Vegas.
INDYMATTERS
CAFECITO CON LUZ Y MICHELLE
@TheNVIndy ON TWITTER