In 2022 campaign, a picture worth a thousand headaches for Laxalt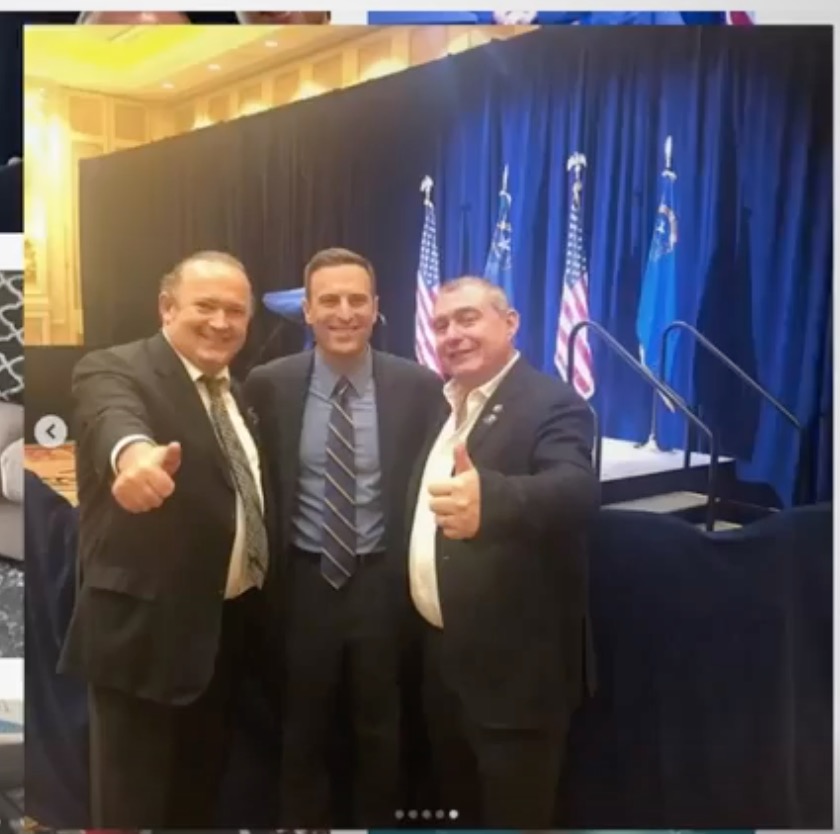 On the 2018 campaign's grip-and-grin circuit, Eastern European business hustlers Igor Fruman and Lev Parnas found new best friends inside Nevada's Trumpian Republican Party.
Although most notoriously known these days as the stocky associates of Donald Trump's attorney Rudy Giuliani in a scheme to gin up a scandal in Ukraine involving then-presidential candidate Joe Biden, back in 2018 Fruman and Parnas were partners in a plan to open retail marijuana businesses in Nevada and elsewhere.
But they needed some friends in high places to make up for lost time in a lucrative and rapidly expanding industry.
Their silly smiles and ever-ready thumbs-up for the camera faded in October 2019 when Fruman, Parnas, and two other men were indicted on federal charges that included laundering campaign contributions the previous year to Nevada GOP gubernatorial candidate Adam Laxalt and his friend, attorney general candidate Wes Duncan.
Laxalt and Duncan, who lost competitive races, weren't criminally implicated. They even denied knowledge of the business interests of Fruman and Parnas, in partnership with David Correia and pot entrepreneur Andrey Kukushkin, to use funds provided by an unnamed Russian national to make up to $2 million in political contributions in a multi-state marijuana licensing strategy that included Nevada.
Fruman and Parnas were tied to the virtual shell company Global Energy Producers LLC, the same company that in May 2018 made a $325,000 contribution to the pro-Trump Super PAC America First Action. According to the indictment, that unnamed Russian national stated that the group's Nevada business plan called for what appears to have been $500,000 in total contributions, "in order to obtain green light for licensing."
In materials provided by the Department of Justice, that portion of the case is titled "The Foreign Donor Scheme." Which, in itself, paints a less than flattering picture.
But the actual photos are much worse. After the scandal broke, images of Laxalt mugging with Fruman and Parnas were published in The Wall Street Journal and The Nevada Independent.
The mortifying "thumbs-up" pics remain as Laxalt gears up to run in 2022 against U.S. Senate incumbent Catherine Cortez Masto. Worse yet for the well-connected Laxalt, the criminal cases are again gaining steam as Fruman prepares to plead guilty and other legs of the alleged conspiracy head for trial. Laxalt's bound to be reminded of his passing proximity to political infamy.
The creepily chummy images would be easier to explain away had Laxalt put even a little daylight between himself and Trump, whose treachery has been well exposed. To date, Laxalt has continued to embrace and extol Trump's themes and Big Lie conspiracies. He has shown only fealty for the GOP's feckless fearless leader.
Following the 2019 indictment of donor Fruman and the rest, a Laxalt spokesman told the Las Vegas Review-Journal, "Adam doesn't know the man." He just accepted Fruman's pair of $5,000 contributions and posed for one of those "new best friends" photographs that politicians and their benefactors find so irresistible. Another Laxalt spokesman assured skeptics that the former attorney general "intends to return the donation."
Which must have come as a relief to Fruman, who needed the money. He had a defense attorney to pay.
Duncan, who also received $10,000, seemed more contrite in a personal statement to The Nevada Independent: "I was made aware of the story about the indictment this morning and immediately had the treasurer from my AG campaign refund Mr. Fruman's contribution. I had no idea Mr. Fruman was acting unlawfully."
In a world riddled with Super PACs and endless millions in dark money contributions, the donations of Fruman might sound like a trifle, but they were the maximum amount allowed by an individual donor. They were especially generous considering Fruman and Parnas were Florida residents with no public ties to Nevada.
As the fog of the investigation lifts, a perplexing question remains: What made the defendants think that two milk-drinking Republicans supposedly opposed to marijuana legalization would be helpful in securing Nevada cannabis licenses?
Although Fruman and Parnas pleaded not guilty in late 2019, they weren't interested in facing a judge and jury. At the time of their arrest at Dulles International Airport, they were in possession of one-way tickets to Frankfurt, Germany.
Just this week we learned that Fruman plans to change his plea in connection with the campaign finance fraud charges. Or, as the government calls it, "The Foreign Donor Scheme." A Wednesday hearing in the matter was delayed until early September, but the impending guilty plea in New York has been widely reported.
Correia pleaded guilty to the campaign funds charges in February and was sentenced to one year in prison. Parnas and Kukushkin are scheduled to go to trial in October. For his part, Parnas faces separate trials in connection with the political contribution scheme and a fraud case involving an aptly named company called "Fraud Guarantee."
Although Fruman has remained media-shy since the indictment, his running mate Parnas has given interviews. He's admitted Trump was integrally involved in the Ukraine-Biden snipe hunt, which he said wasn't about American foreign policy but about smearing a political opponent.
When Trump denied knowing Parnas, a funny thing happened next.
Parnas produced a photo.
Thumbs up!
John L. Smith is an author and longtime columnist. He was born in Henderson and his family's Nevada roots go back to 1881. His stories have appeared in Time, Readers Digest, The Daily Beast, Reuters, Ruralite and Desert Companion, among others. He also offers weekly commentary on Nevada Public Radio station KNPR. His newest book—a biography of iconic Nevada civil rights and political leader, Joe Neal— "Westside Slugger: Joe Neal's Lifelong Fight for Social Justice" is published by University of Nevada Press and is available at Amazon.com. He is also the author of a new book, "Saints, Sinners, and Sovereign Citizens: The Endless War Over the West's Public Lands." On Twitter: @jlnevadasmith.
Comment Policy (updated 4/20/2021): Please keep your comments civil. We reserve the right to delete comments or ban users who engage in personal attacks, use an excess of profanity, make verifiably false statements or are otherwise nasty. Comments that contain links must be approved by admin.