Program aims to raise awareness about cybersecurity, misinformation risks to elections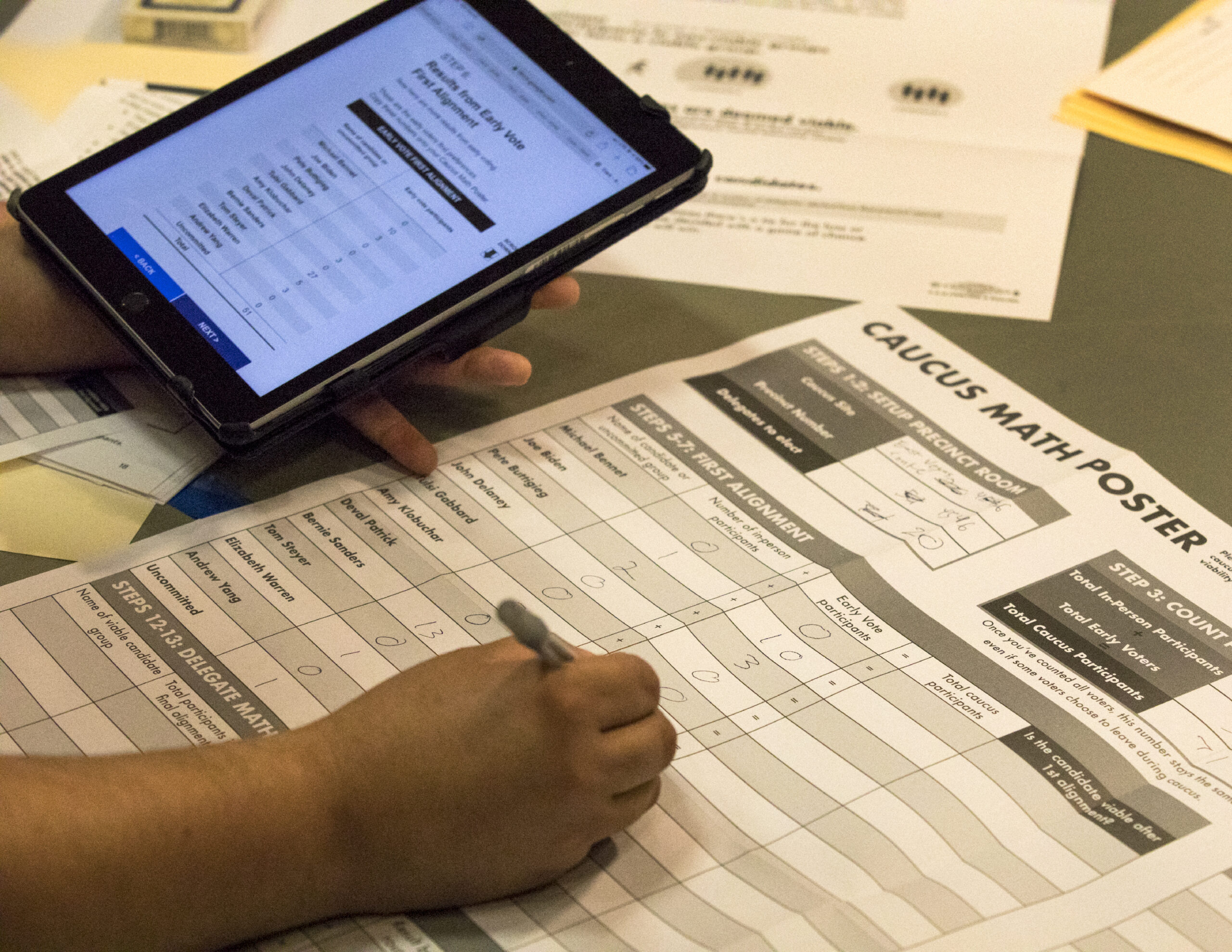 After the dysfunction in Iowa, and in the lead up to the caucus in Nevada, speculation about a potential breakdown in the process was endless, with anyone from everyday Twitter users to the president of the United States contributing to a narrative that the caucus was doomed to fail.
This narrative was a result of both very real issues in Iowa and a rampant spread of misinformation on the internet that party leaders were unable to control. Conspiracy theories flourished about the app used in Iowa, with many claiming that candidate Pete Buttigieg was involved in the delay and was attempting to manipulate the results to favor him, and state party leaders in Nevada were forced to abandon their app in favor of a new process.

While doomsday predictions about the Nevada caucus largely failed to materialize, Americans' faith in democracy has dwindled amid perceptions that elections are insecure and the speed at which falsehoods can spread over social media. According to a Gallup poll in 2019, 59 percent of Americans said they were not confident in the honesty of U.S. elections.
In this volatile climate, the University of Southern California has introduced their Election Cybersecurity Initiative, a program that teaches individuals who work on elections and campaigns how to secure their devices and accounts, combat misinformation, and prepare for and address a crisis in an effort to instill a "culture of cybersecurity" and restore faith in democracy.

The Annenberg School for Communication and Journalism at USC's Center on Communication Leadership and Policy designed the program, which they are bringing to all 50 states prior to the November 2020 general election. On Tuesday, the initiative made its stop in Nevada, where its panel of experts was joined on the UNLV campus by a state elections official who warned that a new Nevada law might delay election results.
"We like to say our candidate is democracy," said Adam Powell III, the executive director of the initiative, about the non-partisan program. Funding for the initiative comes largely from Google.
The program offers common sense advice about password security and the dangers of phishing, presented by Justin Griffin, the program's managing director. It's advice everyone's heard before — don't repeat passwords, don't click on links from people you don't know — but Griffin shines a light on the increased stakes faced by those working for campaigns or on elections.

Anyone, down to an intern working for a state party or the spouse of a candidate, is in danger of having a device hacked and personal information or conversations used to interfere in democratic processes.

"Our initiative's goal is to take common best practices that anyone can access and bring them to the forefront to help create that culture of cybersecurity," said Griffin.

The danger of disinformation

People don't necessarily need to gain access to a campaign staffer or candidate's device to digitally endanger the security and integrity of an election or campaign. Another portion of the program addressed the rampant issue of misinformation and disinformation on the internet.
The program emphasizes an important difference between the two. While misinformation refers to inaccurate information that may have been shared in error, disinformation is, specifically, inaccurate information that is shared deliberately, when the propagator is aware that the information is false.

The topic of election interference from Russia came up multiple times during the one-day conference. U.S. intelligence officials have testified to Russian interference in the 2016 election, and recently, Sen. Bernie Sanders was told that Russia is attempting to influence the Democratic race to secure the nomination for him.

Wayne Thorley, Nevada's deputy secretary of state for elections, explained the reality of Russian interference and its dangers.

"There was, like I said, an actual, unauthorized intrusion into the state of Illinois' voter registration database," said Thorley, referencing a 2016 breach in Illinois during which hackers were able to access the registration data of 76,000 voters.

"But what those reports really make clear is that Russia's meddling attempt was primarily on the information side," he said. "Russia hacked our minds, not our machines. They were able to use social media, divisive tactics to divide us and to cause all sorts of misinformation to spread. So, it's important to be aware of that."

The program provided attendees with guidelines on how to address misinformation and disinformation without amplifying the inaccuracies, whether that means correcting or simply not acknowledging it.

Preparation through education

Mindy Romero, a political sociologist who holds a Ph.D. in sociology from the University of California, Davis, offered advice during the program about effective crisis communication within an organization. She focuses on the importance of being prepared for a crisis before it happens and addressing it quickly and effectively when it occurs while remaining transparent.

Crisis communication preparedness is something Romero says Iowa Democrats lacked when it came to their caucus process. Issues were not reported quickly, and the organization lacked transparency in how they were handling the problems they faced. This lack of transparency led to a "void" of information that was then filled with conspiracies and conjecture from those without real knowledge of the situation.

Thorley spoke to the importance of transparency in preventing these conspiracies. He said public education and outreach by organizations and agencies that hold elections is vital to preventing that "void" from forming.

One example is how the Nevada Secretary of State's Office plans to explain the effects of AB345, a same-day voter registration bill that Nevada lawmakers passed in 2019. The new law extended the period through which absentee ballots can be received by the state and extended the time the state is given to count votes.

Because of these extensions, Thorley said there will most likely be a delay in receiving results during the June primary in Nevada and the general election in November and that the secretary of state's office is intent on making the public aware of this beforehand to lessen the potential spread of conspiracy theories about the delay.

"It's going to be an education campaign to let people know that that's not complete, and who's ahead on election night might not end up being ahead when all is said and done," Thorley said.

Thorley also described the efforts made by the secretary of state's office to keep voter registration secure and discussed the new challenges to that security with the addition of automatic voter registration through the DMV and same-day voter registration — both of which are new to Nevada following the 2019 legislative session.

Kristine Schachinger, 52, is a digital marketing consultant who chose to attend the program because of a personal interest in cybersecurity.

"One of the things I've been extra interested in is security in the election," said Schachinger. "I think the Nevada secretary of state representative ... he presented in a way that allowed me to feel so much more secure about our elections because of all the ways they're trying to protect the layers of vulnerability."

A diverse audience

Schachinger was one of a diverse crowd of attendees that also included campaign staff, students, and state legislators. While the program is intended to educate election and campaign staff, it is designed for a general audience and can be educational for anyone with a digital presence or an interest in how to address misinformation.

Sondra Cosgrove, the president of the League of Women Voters of Nevada, attended the conference as a part of her ongoing effort to stay up-to-date on elections and election security.

"People oftentimes email the League of Women Voters, or will call us, because they want information, so I need to make sure I have accurate information or at least know where I can point people to accurate information," she said, adding that the program gave her another tool for making sure that if she sees misinformation, she is using best practices to make sure it's corrected or taken down.

According to Griffin, broad public discussion of security issues and misinformation is what puts their initiative in a prime position to educate the public as awareness inspires people to get involved.

"I think the competitive advantage of our particular initiative is that a lot of people are talking about this complicated issue," said Griffin. "But our particular initiative is actually taking the time to go to every state across the country."

The problem with ensuring credibility in a democratic process, for Griffin, often comes from campaigns and elections being seen as competing entities, tearing down the credibility of each other rather than working together to establish a set of facts about the election process.

This phenomenon was seen recently in Nevada, when Buttigieg's campaign wrote a letter to the Nevada State Democratic Party alleging a lack of transparency and numerous errors in caucus data. The state party responded by advising the campaign that there is a formal recount process that it could have gone through.

"We're looking to become the connective tissue," Griffin said. "Between election workers and campaign workers, the public sector and the private sector, journalists and voters, to kind of get them reading off at least the same sheet music in terms of best practices to protect themselves and also protect democracy."
Featured Videos
Comment Policy (updated 4/20/2021): Please keep your comments civil. We reserve the right to delete comments or ban users who engage in personal attacks, use an excess of profanity, make verifiably false statements or are otherwise nasty. Comments that contain links must be approved by admin.