After Iowa, Nevada Democrats entirely redesigned their caucus process in two weeks — and it mostly worked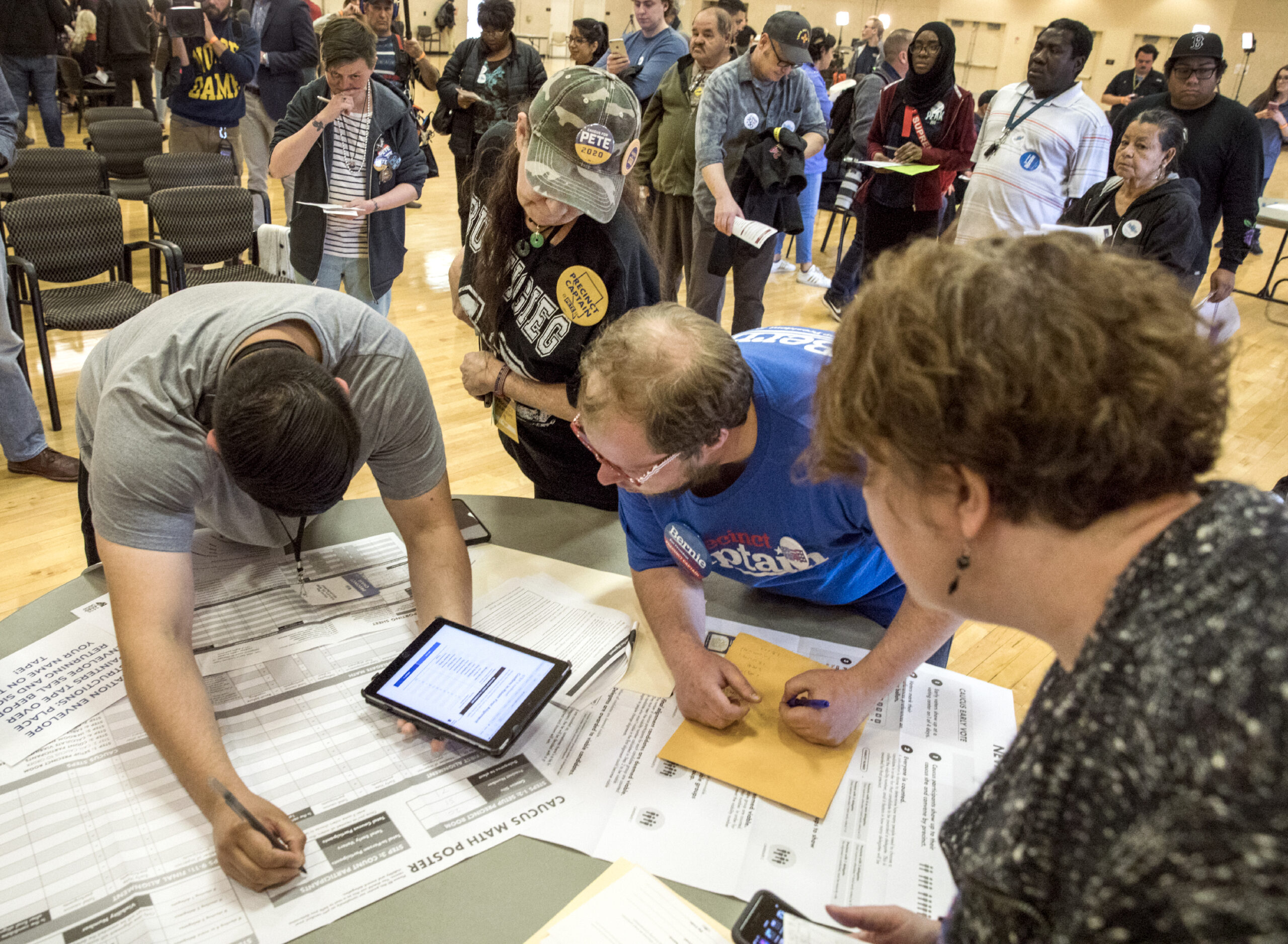 Early last spring, Nevada Democrats made a commitment to run the most accessible, expansive and transparent caucus in the state's history.
They planned to do that, in part, by offering for the first time four days of early voting for Democrats unable to show up on the day of the caucus to cast their presidential preference. Democrats were going to be able to early vote on an app on an iPad, which would tie in with a second phone-based app to be used by precinct chairs on Caucus Day to seamlessly fold in the presidential preferences of their precinct's early voters and report results back to the party.
And then Iowa happened. A coding error in an app designed to help precinct chairs report to the Iowa Democratic Party caused caucus results to be incorrectly transmitted, leaving candidates, voters and the general public in the dark on the night of the caucus about who had won. More than three weeks later, there is still no declared winner out of Iowa.
The problem for Nevada Democrats was that the company that had designed the app responsible for the Iowa fiasco had also designed their apps. They immediately decided to scrap the apps but had only 11 days to come up with a solution that would eventually allow nearly 75,000 Democrats to vote early at 80 sites and redistribute their presidential preferences back to their more than 2,000 home precincts to be counted on the day of the caucus, just as if they had been there to vote in person.
It wasn't just 75,000 presidential preferences either. Nevada Democrats allowed early voters to rank a minimum of three and up to five candidates on their ballots just in case their first-choice pick didn't receive enough support to be considered viable and qualify for delegates at their home precinct on the day of the caucus. Just as in-person caucusgoers are allowed to realign in support of a second candidate, the app was designed to automatically bump early caucusgoers to their next highest-ranked viable pick.
It was a process that was easy enough with the apps. It became a Herculean task without them.
But somehow, it worked.
On Caucus Day, precinct chairs opened the covers on the party-purchased iPads they had been assigned to reveal a browser-based Google Form tool, which they used to step-by-step report results from in-person attendees and reveal results from early voters. Precinct chairs who had been fretting for days about whether it was all going to work were pleasantly surprised.
"Oh man, we knocked it out of the park compared to Iowa. We kicked their butts," said Chris Erbe, a precinct chair at West Career and Technical Academy. "I was so down on the whole process. I was convinced it was going to be a frickin' nightmare, and I can't believe how well it turned out."
Of course, there were still issues with the process, and substantive ones at that. For one, the party didn't finish reporting data from 100 percent of precincts until a little after noon on Monday, more than 48 hours after caucuses were called to order. Party spokeswoman Molly Forgey, in an email on Monday, attributed the delay in reporting to the party's two-source verification process, which required double-checking results through some combination of paper caucus reporting sheets, phoned-in results from precinct chairs, texted in pictures of the reporting sheets and the backend of the Google Forms.
Forgey said that the verification process was followed by "several rounds of audits done by hand to ensure results reported correctly reflected the caucus reporting sheet."
However, Nevada Democrats did immediately start reporting partial results as individual caucuses concluded Saturday afternoon — unlike Iowa, which didn't report the first results out of its caucus until nearly 24 hours after voting concluded — and Vermont Sen. Bernie Sanders's early lead was so wide that the Associated Press was easily able to call the race early that evening. Though the party still faced some complaints over the slow release of results, the clear Sanders victory staved off the barrage that Iowa Democrats suffered from campaigns, media and the public desperate to know who, exactly, had won the state's caucus.
But Forgey said that the party would not have worked any more quickly to speed up the release of results had there not been a clear victor on Saturday.
"Our verification and audit process would have remained the same regardless of the outcome," she said. "Our number one priority was getting this right."
Still, the party has faced complaints of inaccuracies and discrepancies in their results, including from former South Bend Mayor Pete Buttigieg's campaign as well as other interested observers. The issues reported include claims of inaccurate allocation of delegates, awarding the wrong number of county convention delegates, viable delegates losing supporters during the realignment period and early voters being incorrectly realigned. (A New York Times analysis found errors and inconsistencies in at least 9 percent of precincts.)
Forgey said that the party conducted several rounds of audits to make sure the results reported matched the results on the paper caucus reporting sheets.
"As we've said previously, our source of truth and accuracy on results will be the paper record of the caucus reporting sheet from each precinct because it is the best indication of what took place in the room on Caucus Day and we ask representatives of each viable preference group to sign that document at the conclusion of their precinct caucus," Forgey said.
Party officials had previously indicated that they did not intend to correct any errors in caucus math on the reporting sheets unless they received a recount request, which were due by 5 p.m. on Monday. No campaigns submitted such a request by the deadline.
There were also some isolated reports of iPad glitches as caucus sites, including at Sparks High School where an iPad reported zero realigned early voters. In that case, the site lead was able to manually review a paper backup of early votes to correct the inaccurate iPad reporting, and campaign representatives signed off on the hand calculation of delegates.
In a couple of other cases, precinct chairs told The Nevada Independent that a paper list of voters from their precinct who cast their ballots early didn't arrive until late in the check-in process, and that they never ended up checking for double voters. But the party said that it had "internal processes in place to catch issues like this" and noted that caucusgoers were required to sign an affidavit at check in confirming they had not voted early.
"That's why we kept a paper record, had a robust data trail to determine and quickly flag problems, and a required check process where we could identify every participant," Forgey said.
Those issues aside, the general perception from site leads, precinct chairs and caucusgoers was that the caucus went much more smoothly than they had anticipated, particularly in the wake of Iowa.
"The tool was pretty amazing. I was skeptical, but it made it quite easier," said Laura Martin, the executive director of the Progressive Leadership Alliance of Nevada and a precinct chair at Mojave High School. "The fact that it was on an iPad, I was able to go through the process and everyone was able to see what we were doing every step of the way."
But behind the tool was an army of dozens of volunteers, including some who flew in from out of state, working behind the scenes and around the clock to hand scan and manually process nearly 75,000 ballots at the party's data processing hubs in Northern and Southern Nevada before Caucus Day. Forgey said that the massive early voting turnout, which included 39,000 people on the final day, led to "time-consuming data entry" but that the party was able to process every preference before Caucus Day.
"We got a call that we need you to come in to look at this, check that, verify, and everybody jumped in," said Clark County Democratic Party Chair Donna West, who volunteered at one of the hubs. "I'm really touched by how people from Washington and Oregon and California and the (Democratic National Committee) and people who had worked in Iowa came here to help us out to make sure that we got through this, that we were able to get the data, that we could report out results."
The party also had to entirely re-train roughly 3,000 volunteers on the new system before early voting and Caucus Day.
That immense sacrifice paid off. But it also has people wondering whether the caucus — which Nevada Democrats have long touted as critical to their party-building apparatus, particularly because of the same-day voter registration option they offer — is worth the trouble, particularly when it continues to prove inaccessible for so many.
Roughly 100,000 Democrats turned out to the caucus this year, more than the 84,000 who turned out in 2016 but fewer than the 118,000 who showed up in 2008. But looking at the percentages, only 16.4 percent of Democrats participated in the process this year, compared to 17.3 percent in 2016 and 27.1 percent in 2008.
On Sunday, former Senate Majority Leader Harry Reid, the architect of Nevada's early caucus, finally joined the chorus of voices calling for an end to the caucus. In a statement, he lauded the party for its work to put on the caucus this year, but said it was time for a change.
"We've made it easier for people to register to vote here in Nevada in recent years and now we should make it easier for people to vote in the presidential contests," Reid said. "That's why I believe it's time for the Democratic Party to move to primaries everywhere."
Reid also reiterated his calls for Nevada to be the first state in the nation to participate in the Democratic nominating contest.
And on Monday, Nevada State Democratic Party Chair Will McCurdy released a statement saying that it was time to "start having a serious conversation ahead of the next cycle about the limitations of the caucus process and the rules around it."
"If our goal is to bring as many Nevada Democrats as possible into the fold to select our presidential nominee, it's time for our State Party and elected leaders to look at shifting to a primary process moving forward," McCurdy said.
From interviews with caucusgoers, it appears that many Democrats are already on board with that plan.
Alexis Abreu, 40, tried twice to vote early at the Enterprise Library and once at Lucy Ethiopian Restaurant, but gave up because of the long lines. On Saturday, she showed up in person at her home precinct at Durango High School to caucus.
"It was easier with two candidates," Abreu said, referring to her experience caucusing in 2016. "I have to say that my opinion is that I hope we go toward just primary voting, with machines."

The Nevada Independent is raising $200,000 by Dec. 31 to support coverage of the 2024 election.
Tax-deductible donations from readers like you fund this critical work.
If you give today,your donation will be matched dollar-for-dollar.
Give + Get Matched
Featured Videos