Inaccurate abortion claims fill District 3 race as Susie Lee attacks Republican opponent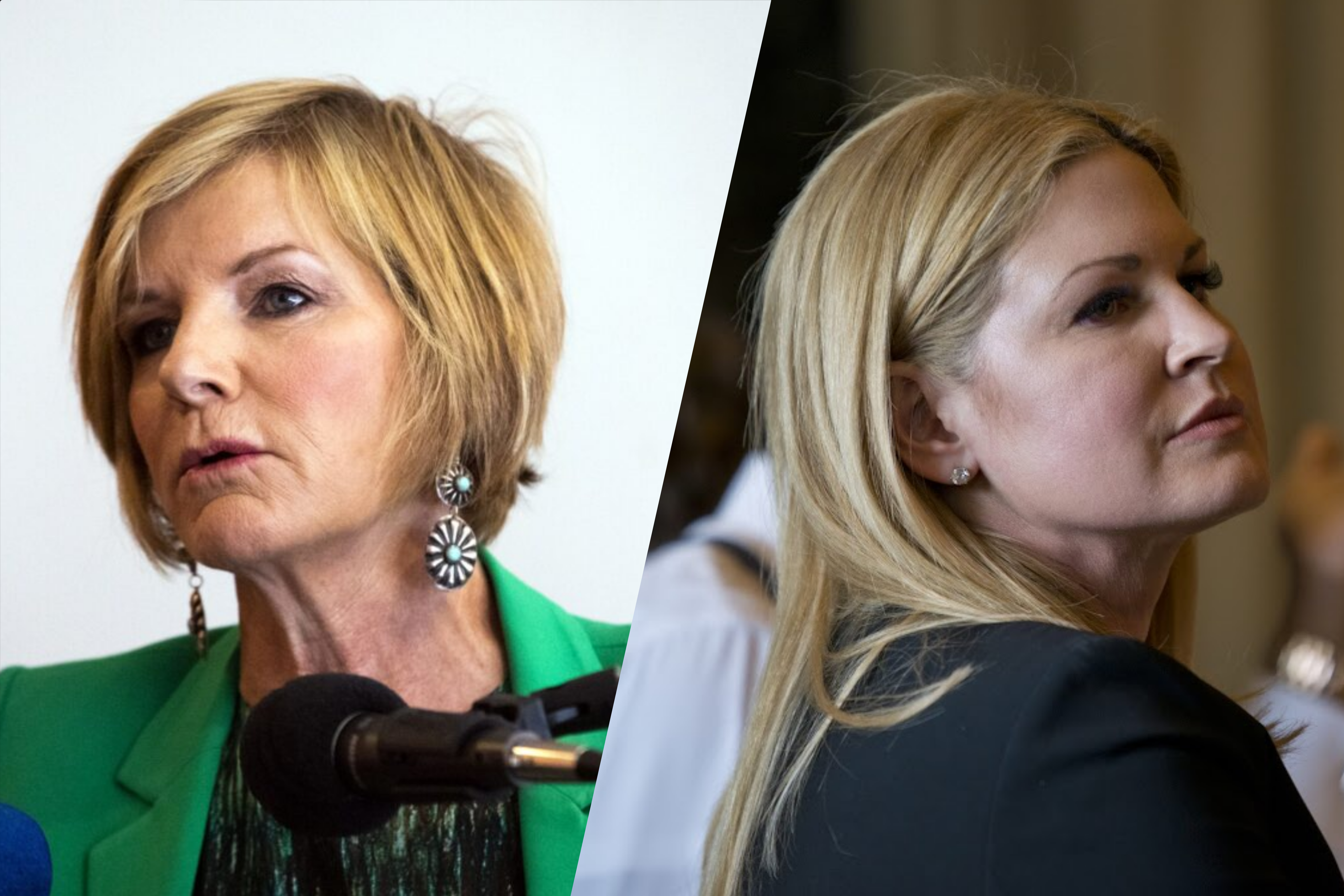 Since the U.S. Supreme Court overturned Roe v. Wade last month, Democratic Rep. Susie Lee has made abortion the focal point of her campaign, launching a half-million-dollar advertising effort that attacks her Republican opponent April Becker as "anti-choice."
Becker has brushed off the attacks from Lee, instead centering her messaging on inflation. The intensifying focus on abortion in the Congressional District 3 race, however, has sparked inaccurate messaging from both candidates on the issue.
Lee has, multiple times, tweeted that Becker "will vote for a nationwide abortion ban," though Becker does not appear to have ever said she will. A representative from Becker's campaign said she "does not support a nationwide abortion ban."
But Becker — who, on her campaign website, states she is "pro-life, with exceptions for rape, incest and the life of the mother" — has remained largely silent on the issue. In May, before the overturning of Roe, Becker did not respond to a list of abortion-focused questions from The Nevada Independent, instead providing a statement emphasizing that she believes states should decide abortion policy.
Her relative quietness on abortion has provided Lee's campaign with fodder to attack Becker. Last month, Lee's campaign announced a public "search party" for Becker in Las Vegas, digging her for not speaking up on the issue. Lee's new television ad links Becker with the Nevada affiliate of a national anti-abortion group.
"Becker's endorsed by Nevada Right to Life, who wants to make all abortion illegal, no exceptions," the ad's narrator states. "April Becker, threatening every woman's right to choose."
Nevada Right to Life endorsed Becker during her candidacy for state Senate in 2020, but Nevada endorsements listed by the National Right to Life group do not include Becker for the current election cycle.
Though the focus on abortion in the District 3 race has been mostly one-sided, a tweet posted by Lee earlier this month did prompt a response from Becker.
On July 6, Lee posted a list of "hard questions on abortion" to ask Republicans about whether they believe it would be okay for a pregnant person to seek an abortion in each of the three different situations — a mother battling cancer in need of chemotherapy, a young girl who has been raped and a woman facing a birth that would risk her own life.
In a statement to The Nevada Independent, Becker said she "believe[s] in a woman's ability to seek an abortion in all of these instances" listed by Lee. She also reiterated her stance that abortion law should be left to individual states to decide, noting that in 1990, Nevada voters approved a measure guaranteeing protections for abortion up to 24 weeks of pregnancy.
But Becker, for the second time, accused Lee of supporting a federal law that allows for "unrestricted abortion." In her May statement on abortion, she expressed a similar sentiment, saying Lee "believes in a federal law with no restrictions and would allow abortion until the moment of birth."
That statement appears to refer to the Women's Health Protection Act, a version of which House Democrats, including Lee, have voted to pass twice in the past year. Anti-abortion groups have described the measure as allowing for "abortion on demand until birth."
However, that description inaccurately interprets the content of the bill, which generally aligns with Nevada abortion law. The measure would have given health care providers the legal right to provide abortions, while prohibiting any bans on the practice prior to fetal viability (about 24 weeks). It would also prevent bans on abortion after that point, only when "continuation of the pregnancy would pose a risk to the pregnant patient's life or health."
But the bill has failed to pass out of the Senate, leaving congressional Democrats unable to protect abortion access at the national level. In turn, Lee has raised the alarm that the reverse could happen.
"While abortion rights are protected in Nevada for now, both Senate Minority Leader Mitch McConnell and House Minority Leader Kevin McCarthy have signaled that Republicans will vote to enact a national ban if their party takes control of Congress," Lee said in statement.
Though recent polls have generally indicated that the economy and inflation are top issues for Nevada voters, abortion will likely play an important role during the 2022 election. A New York Times/Siena College poll conducted earlier this month found that 61 percent of U.S. registered voters believe abortion is an "extremely important" issue, and 5 percent of voters listed abortion or women's rights as the top issue facing the country.
Editor's Note: This story appears in Indy 2022, The Nevada Independent's newsletter dedicated to comprehensive coverage of the 2022 election. Sign up for the newsletter here.
Editor's Note: To learn more about where Nevada candidates for federal office stand on abortion, read this story from May.
Updated: 7/19/22 at 10:50 a.m. - This story was updated to include results from a different poll about where voters stand on the importance of abortion.
Featured Videos
Comment Policy (updated 4/20/2021): Please keep your comments civil. We reserve the right to delete comments or ban users who engage in personal attacks, use an excess of profanity, make verifiably false statements or are otherwise nasty. Comments that contain links must be approved by admin.