The Independent Poll: Yucca, stadium taxes unpopular with voters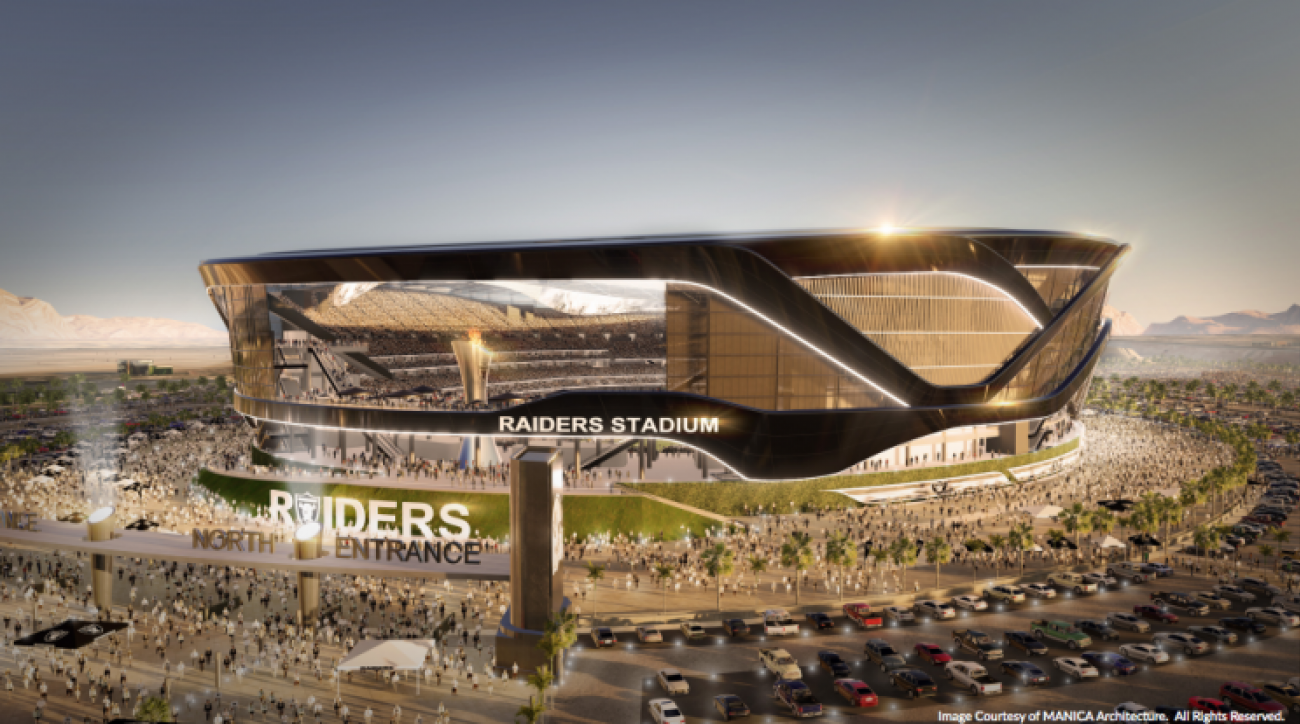 Nevada voters oppose renewed efforts to reopen the Yucca Mountain nuclear waste storage site and don't favor the recently approved hikes in hotel room taxes to help finance a possible NFL stadium in Las Vegas.
Both policies are opposed by large majorities of Nevada voters in the new Independent Poll, which was conducted by the Mellman Group between Jan. 12 and 15. Thirty-three percent of likely voters said they favored storing nuclear waste at Yucca to 58 percent opposed, and a similar 38 percent of voters favored increasing hotel room taxes to pay for an NFL stadium that could potentially house the Oakland Raiders with 55 percent opposed.
Nevada lawmakers narrowly approved raising Las Vegas hotel room taxes by 0.88 percent in a special session of the Legislature in October 2016. Room tax revenue is expected to generate $750 million in bond revenue over 30 years, with the rest of the projected $1.9 billion cost of the stadium covered by the Raiders and the family of billionaire casino magnate Sheldon Adelson.
Raiders owner Mark Davis has supported moving the team to Las Vegas, though any move must be approved by 24 other NFL team owners.
Poll respondents were asked the following question about the stadium:
"As you may know, the Nevada State Legislature recently passed a law to increase the Clark County hotel tax to raise $750 million dollars for a new stadium in Las Vegas to house the Raiders NFL football team. Do you favor or oppose this law?"
Clark County voters were split on the issue with 46 percent in support and 50 percent opposed. Washoe county voters strongly opposed the tax increase (19 to 71 percent) and voters outside those counties opposed it by a 21 point margin(32 to 53 percent.)
Voters under 50 were more likely to support the stadium (46 to 48 percent) than voters over 50 (33 to 59 percent.) Poll respondents across the political spectrum were generally opposed to the measure, including self-identified moderate voters (35 to 58 percent).
The Independent Poll also found Nevada voters opposed storing nuclear waste at the Yucca Mountain facility, which is about 100 miles north of Las Vegas. The facility has long been a sticking point between federal officials and Nevada political leaders, but talk of reviving the facility has festered since the retirement of Sen. Harry Reid and the unclear position of the incoming Donald Trump presidential administration.
Voters were given the following information about the facility, including rotated statements of support and opposition to the facility
"As you may know, there has been renewed discussion about government plans to store nuclear waste at Yucca Mountain in the Nevada desert. I am going to read you what some people are saying about this, and then ask whether you favor or oppose putting a nuclear storage facility at Yucca Mountain. Supporters say that the Yucca Mountain program can help develop Nevada's economy and create thousands of new jobs. Opponents say that transporting and storing nuclear waste is dangerous, and Nevada shouldn't be our country's nuclear waste dumping ground."
After hearing supporting and opposing arguments, 58 percent of voters said they opposed opening the facility including 51 percent "strongly" opposed.  opening the facility, compared to 23 percent "strongly" in favor of opening it. Only a third of poll respondents favor storing nuclear waste at Yucca Mountain, with 23% strongly favoring the plan."
Female voters were more likely to oppose the site (23 to 68 percent) than men (44 to 48 percent). Voters regardless of party identification opposed the site, but those who identified as Republican had a slightly more positive view (44 to 50 percent) than Democrats (23 to 68 percent.)
Mellman Group CEO Mark Mellman said in an email that Republican support could be explained by the economic argument for opening the site.
"It is possible that the economic development argument does blunt opposition to some extent among Republicans," he said.
Nevada political leaders largely oppose efforts to revisit Yucca — Republican Sen. Dean Heller and Democratic Rep. Dina Titus have introduced identical legislation designed to make it more difficult for the site to open without explicit approval from the state.
The poll of 600 likely voters was conducted with live interviewers between Jan. 12 and 15, and has a margin of error of 4 percent, with a 95 percent level of confidence.
The Nevada Independent will release more poll results throughout the week, including details on how Nevada voters feel about the pending repeal of the Affordable Care Act. Full poll results and crosstabs will be published on Sunday.

The Mellman Group is an opinion research firm that has done polling for former Sen. Harry Reid, Rep. Steny Hoyer and other political and corporate clients, including many in Nevada. FiveThirtyEight gives the group a "B" grade in their ranking of pollsters and says their polls historically tilt slightly Democratic.
Earlier poll stories:

The Independent Poll: Voters divided over ESAs, support more money for education
The Independent Poll: Sandoval popular, voters mixed on Heller, Laxalt
The Nevada Independent is raising $200,000 by Dec. 31 to support coverage of the 2024 election.
Tax-deductible donations from readers like you fund this critical work.
If you give today,your donation will be matched dollar-for-dollar.
Give + Get Matched
Featured Videos