Indy DC Download: Rosen calls for jets to Ukraine as Senate approves $1.5 trillion budget bill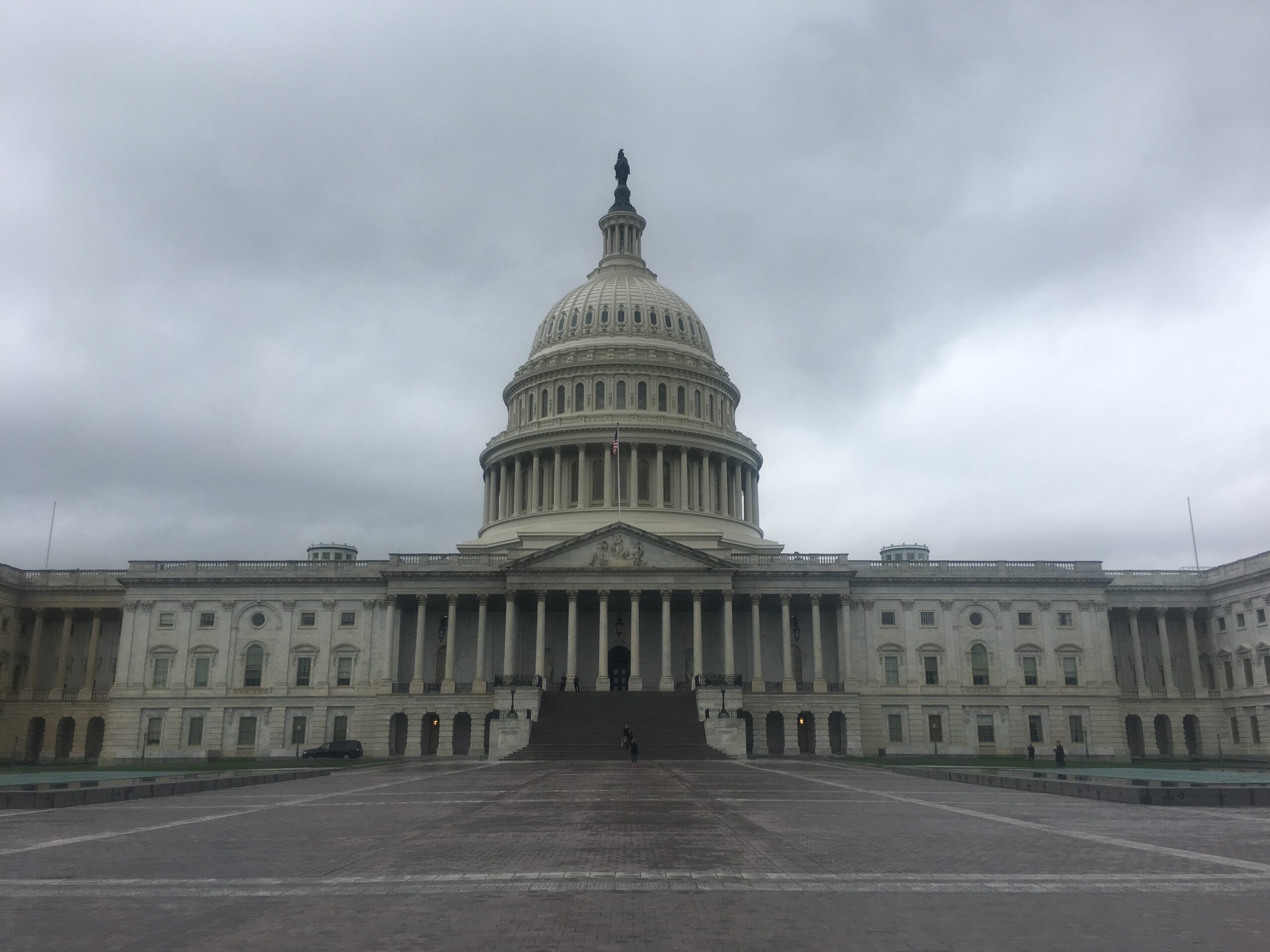 Good morning, and welcome to the Indy DC Download newsletter, a weekly look at what's going on in the nation's capital as it relates to Nevada.
If a colleague or associate emailed this newsletter to you, please click here to sign up and receive your own copy of Indy DC Download in your inbox.
---
The Senate this week sent President Joe Biden a far-reaching $1.5 trillion spending and Ukraine aid package, which included more than $104 million for 64 projects around the state and avoided a potential government shutdown.
The Senate also sent Biden two long-stalled pieces of legislation, including one that would shore up the finances of the U.S. Postal Service (USPS) and another that would make lynching a federal hate crime.
Action on those measures came as Sen. Jacky Rosen (D-NV), in a speech Thursday, called for the U.S. to facilitate the transfer of European fighter jets to Ukraine to help in the defense against the Russian invasion. The Pentagon blocked an offer of jets proposed by Poland, in part because Poland wanted to send the planes to a U.S. base in Germany to have the U.S. send the aircraft. That raised concerns about exacerbating tensions directly between the U.S. and Russia.
Rosen also called for revoking Russia's "most favored nation status" at the World Trade Organization (WTO), which would allow the U.S. to impose steep tariffs on Russian exports. Biden announced Friday that the U.S. would withdraw Russia's favored trade status, also known as "permanent normal trade relations." Congress will need to pass a bill to revoke the status and both Democratic and GOP leaders have signaled interest in sending Biden a measure. The rest of the bloc of industrialized western nations known as the Group of Seven would also follow suit, Biden said.
Meanwhile, Rep. Dina Titus (D-NV) introduced a bill that would authorize the U.S. Travel and Tourism Advisory Board to create an assistant secretary position within the Department of Commerce focused on coordinating America's travel and tourism industry across federal agencies. The Senate version of Titus' bill is part of a broader tourism package introduced by Rosen in December.
Titus said in a release that the bill would help the "community and families recover from" the downturn caused by the pandemic "and make us more resilient to future downturns."
In a statement from her office, Rosen welcomed the introduction of Titus' bill and called it "an important step" toward getting her tourism package to Biden's desk. Rosen's bill received more endorsements Monday, including from the ​​Reno Sparks Chamber of Commerce.
Omnibus
All delegation members supported the omnibus package, which included the 12 annual spending bills. The House divided the package into two tranches. One was security-related spending, including for the Department of Defense and Department of Homeland Security. The other was made up of domestic funding, including for the Department of Labor and Department of Education.
House Democratic leaders split the package to help ensure it would pass, with Republicans likely to back defense but not domestic funding — and with progressives disposed to do the opposite.
The House passed the defense portion 361 to 69 and the domestic-spending piece was approved 260 to 171.
Rep. Mark Amodei (R-NV), a member of the House Appropriations Committee, voted for both pieces and was one of just 39 GOP members who backed the domestic part of the package.
Amodei opposed the spending bills approved by the House in July but said in an interview Thursday that negotiations with the Senate improved the measures. But he was critical that process took place behind closed doors.
He cited restoring the Hyde amendment as one improvement, which House Democrats had removed but was brought back in talks with Senate Republicans. Named for former Rep. Henry Hyde (R-IL), it prevents spending federal funds on abortions.
Amodei also cited the bill's raft of "earmarks," or member-directed spending, for the state. The Nevada Republican helped secure nearly $11.5 million for 10 projects, including $1.4 million for first responders in Sparks, $376,000 for emergency communications in West Wendover and $2 million for the Quill Water Treatment Plant filtration upgrade in Carson City.
"Better emergency first responders communications in Wendover and Sparks, I'm not apologizing for that," Amodei said of any conservatives or budget hawks who may take issue with his vote.
"These aren't huge amounts of money, but better water treatment in Carson City and some other places," Amodei continued. "That's not sex and violence but listen, I'm not gonna vote for them at any cost, but, on balance here, this is a good thing."
The package included several other provisions, including a 2.7 percent pay increase for active-duty troops and more than $3 billion to help mitigate structural damages caused by wildfires, along with $49 million for the Bureau of Land Management's cultural resources protection efforts. Another $23.8 million would continue implementing restoration efforts at Lake Tahoe and the surrounding area. The bill also included language to provide $250 million to Brand USA to help promote U.S. travel and tourism abroad.
The omnibus measure also included the Violence Against Women Act (VAWA). Expired in 2019, VAWA provides grants to support training for law enforcement, prosecutors, judges, service providers and communities to provide comprehensive support to female victims of violent crimes.
Talks on reauthorizing the measure had been at a standstill over a Democratic push to include language to bar domestic partners, in addition to spouses, convicted of domestic abuse from buying guns. Ultimately, the language, known as the "boyfriend loophole," was dropped at the insistence of the GOP.
Ukraine
The omnibus includes $13.6 billion for Ukraine, including $2.65 billion through the U.S. Agency for International Development (USAID)'s International Disaster Assistance program to provide emergency food assistance, health care and other urgent support. More than $1.4 billion would go toward migration and refugee assistance.
The bill also includes loan guarantees that could be used to help Poland, or other NATO partners, replace fighter jets sent to Ukraine. The inclusion of the language comes as the White House is considering how to facilitate the transfer without enflaming tensions with Russia.
White House spokeswoman Jen Psaki told reporters Wednesday that it's a logistical issue. "[H]ow do you get planes into Ukraine in a way that is not escalatory, and what are the logistics and operational details of that?" she said.
In her speech on the Senate floor, Rosen recounted being on a video call with other members of Congress and Ukrainian President Volodymyr Zelenskyy last week when he asked for jets.
"Let's heed his call and work closely together with our European partners who have these jets, to provide Ukraine with the aircraft they desperately need, and find ways to compensate or backfill our allies' support," Rosen said.
The House also approved legislation to suspend the purchase of Russian oil, gas and other energy products. Nevada's House members supported the measure, which passed 414 to 17.
​​"Buying Russian energy subsidizes Putin's anti-democratic assault on Ukraine," said Rep. Susie Lee (D-NV). "By banning Russian oil imports, we reassert our nation's fundamental values."
Postal and Emmit Till bills
The Senate passed the Postal Service Reform Act on a 79 to 19 vote. Both Rosen and Sen. Catherine Cortez Masto (D-NV) supported the legislation, approved by the House last month, and it now goes to Biden for his signature.
The USPS has lost money since 2006 and the bill would save the USPS nearly $50 billion over 10 years, including $27 billion from repealing the requirement that the USPS annually prepay future retirement health benefits.
The bill would also require future postal worker retirees to enroll in Medicare. About a quarter of Medicare-eligible postal retirees do not enroll and remain on the Federal Employees Health Benefits Program, which provides insurance to about 8 million federal and postal workers, retirees and their families.
According to the House Oversight and Government Reform Committee, that means the USPS pays higher premiums than any other public or private sector employer. The provision would save USPS roughly $22.6 billion over 10 years.
The measure would also require USPS to provide six-day-a-week mail service and establish a public online dashboard that includes performance data.
The Senate also passed, by unanimous consent, legislation that would make lynching a federal hate crime with a maximum sentence of 30 years for those convicted under the soon-to-be law.
The measure, known as the Emmett Till Anti-Lynching Act, is named for the 14-year old from Chicago who was brutally murdered in 1955 while visiting relatives in Mississippi for allegedly whistling at a white woman. His devastated mother famously insisted on an open-casket funeral to show the world the violence suffered by her son.
Rep. Steven Horsford (D-NV), who serves in the number two leadership post of the Congressional Black Caucus, called the meausure "symbolic and important" but lamented that it had taken more than 200 tries since 1900 to pass an anti-lynching measure.
"It should never have taken this long to get done to begin with," he said after the House approved the measure last month.
For a full rundown of the measures the delegates supported or opposed this week, check out The Nevada Independent's congressional vote tracker and other information below.
SEN. JACKY ROSEN
Legislation co-sponsored:
S.3781 – A bill to amend the Food and Nutrition Act of 2008 to exclude a basic allowance for housing from income for purposes of eligibility for the supplemental nutrition assistance program.
REP. DINA TITUS
Legislation sponsored:
H.R. 7001 – To amend the Robert T. Stafford Disaster Relief and Emergency Assistance Act to provide certain employment rights to reservists of the Federal Emergency Management Agency, and for other purposes.
H.R. 6965 – Visit America Act
Legislation co-sponsored:
H.R. 7041 – To provide for a standard record of service on active duty for members of the reserve components of the Armed Forces, and for other purposes.
H.R. 7018 – To prohibit the United States Postal Service from carrying out a contract for the procurement of next generation vehicle fleet unless such fleet is at least 75 percent electric or zero emission vehicles, and for other purposes.
H.R. 6984 – To authorize humanitarian assistance to the people of Ukraine, and for other purposes.
REP. SUSIE LEE
Legislation co-sponsored:
H.R. 6951 – Ban Russian Energy Imports Act
REP. STEVEN HORSFORD
Legislation co-sponsored:
H.R. 7041 – To provide for a standard record of service on active duty for members of the reserve components of the Armed Forces, and for other purposes.
H.R. 6951 – Ban Russian Energy Imports Act
The Nevada Independent is raising $200,000 by Dec. 31 to support coverage of the 2024 election.
Tax-deductible donations from readers like you fund this critical work.
If you give today,your donation will be matched dollar-for-dollar.
Give + Get Matched
Featured Videos