Indy DC Download: Vegas resident takes landlord complaint to Senate; lawmakers want to pause gas tax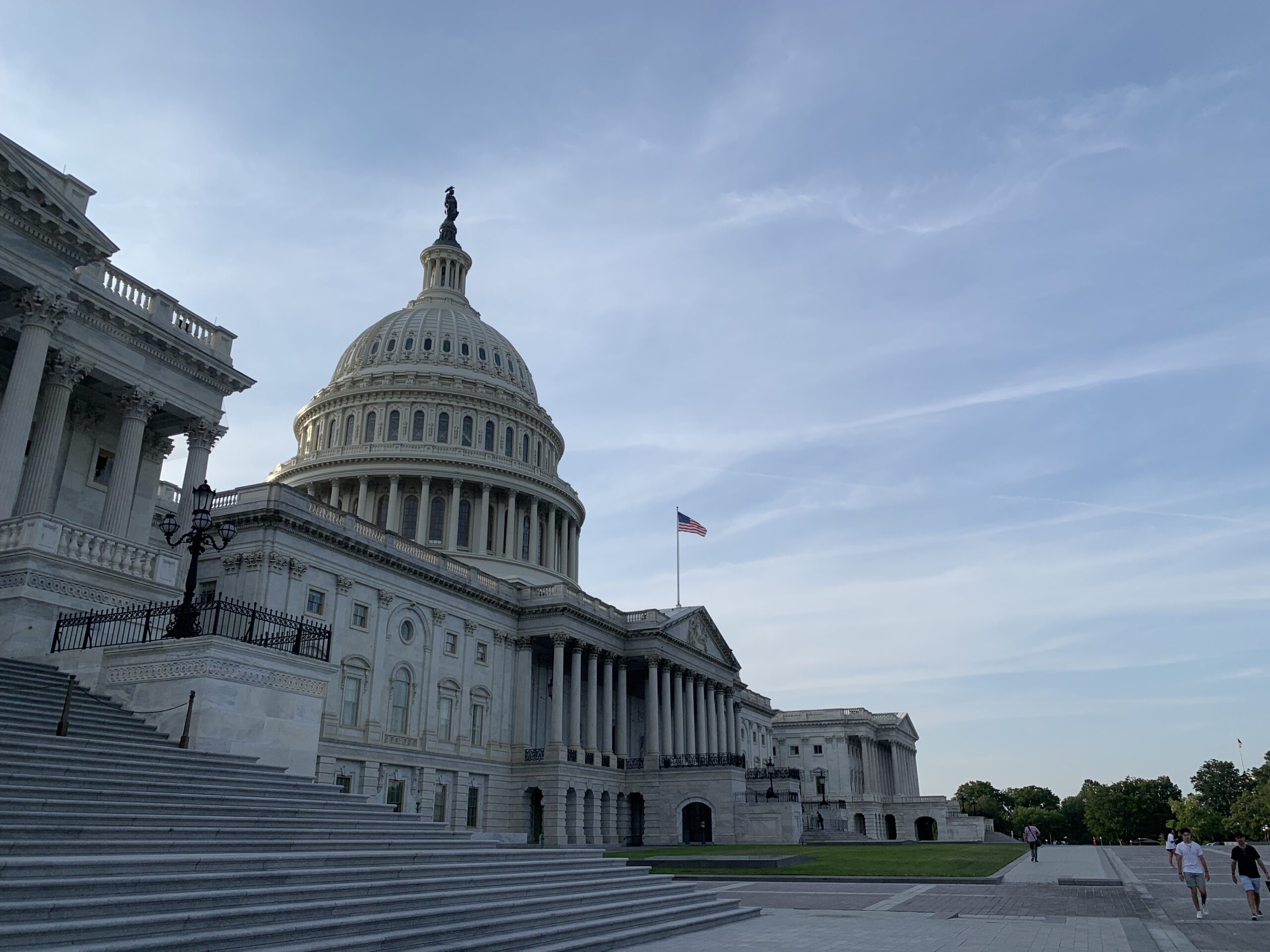 Good morning, and welcome to the Indy DC Download newsletter, a weekly look at what's going on in the nation's capital as it relates to Nevada.
If a colleague or associate emailed this newsletter to you, please click here to sign up and receive your own copy of Indy DC Download in your inbox.
A Las Vegas tenant raised concerns in Congress this week that large landlords were providing subpar service, and Sen. Catherine Cortez Masto (D-NV) and Sen. Jacky Rosen (D-NV) called for pausing the gas tax to help consumers cope with surging inflation.
At a briefing for members of the Senate Banking, Housing and Urban Affairs Committee Tuesday, Kathleen Hernandez, a Las Vegas renter and housing activist, joined six other renters who gave testimony about their experiences with rental properties owned by large corporate owners, including institutional investors and private equity owners.
Hernandez serves on the steering committee for Renters Rising, a national association for renters rights in corporate-owned properties. She is also a member of the progressive group Make the Road Nevada.
She claims that Progress Residential — an Arizona-based realty company that does business in Nevada and 14 other states — did not fix a sewage pipe clogged with tree roots, which led to her downstairs bathroom overflowing and flooding her house and yard.
"We contacted Progress to see if we could have someone fix that issue and were told that they would charge a service fee that was higher than the cost of hiring our own technicians," Hernandez said, adding that her rental contract stated that "large issues will be the responsibility of the rental company."
"My family and I deserve to live in a home that is safe and clean," she continued. "We deserve a property manager who is committed to keeping properties in good repair and not just squeezing one last dime out of tenants while providing substandard living conditions because that is a biohazard."
In an email, Progress Residential took issue with Hernandez's account.
"Ms. Hernandez's requests were addressed promptly and repeated and timely visits were made to Ms. Hernandez's home to address maintenance issues that required persistent work," the company said.
At a housing hearing Thursday, Cortez Masto, a banking panel member, asked housing officials what could be done to help Hernandez.
Sally Martin, director of building and housing for the City of Cleveland, recommended ensuring tenants have access to legal help to take bad landlords to court. She also recommended funding for organizations that educate tenants about their rights.
Gas tax
Cortez Masto and Rosen signed on to legislation this week that would suspend the 18.4 cents-per-gallon gas tax through the end of the year, a move they said would help consumers.
According to AAA, the national average for the cost of a gallon of gas is nearly one dollar higher than it was at the same time last year. Nevada is also one of the most expensive markets for gas prices. 
Their support for the bill comes as the Labor Department reported Thursday that inflation rose by 7.6 percent last year, the biggest jump since 1982.
Punchbowl News, a new daily congressional newsletter, caught up with Cortez Masto to discuss the inflation problem.
We asked Cortez Masto – at this moment, the most endangered Senate Democrat heading into the midterms – whether this issue could cost her the election. …
"My mother just went to the grocery store," Cortez Masto said. "It cost her eight dollars for a pound of ground round. I filled up my gas tank back home. Yes, we're seeing it. It needs to be addressed, no doubt about it. We've got to look at how we lower those costs for families. And there's way to do it, like I said, through health care, through continuing to put more money in their pocket through continuing and extending the Child Tax Credit. Subsidies for the Affordable Care Act. That helps them."
Appropriations
The House approved a stopgap spending bill to keep the federal government open through March 11, as congressional leaders near a deal on a top-line spending level, but need more time to finish the job.
The Senate will likely take up and pass the so-called "continuing resolution" (CR) next week. Congress needs to act before midnight on Feb. 18, when the existing temporary spending bill expires, or the federal government will shut down.
House approval of the CR is the third time Congress has given itself more time to draft an omnibus spending package to finish last year's appropriations bills. The federal fiscal year ended Sept. 30, but Congress passed a CR through Dec. 3, then another through Feb. 18 and now, probably, one through March 11.
The CR was approved 272 to 162, with 51 Republicans voting with all but one Democrat for passage. Most GOP members, 161, opposed the measure. All of Nevada's House lawmakers backed the CR.
Rep. Mark Amodei (R-NV), who sits on the House Appropriations Committee, said he voted for the measure because shutting down the government would not achieve anything.
"You vote 'no' and you hope 'yes,' because you don't want to shut it down," Amodei said of those that opposed the CR. "We've done that before and, quite frankly, you never got anything for it."
The CR provides additional time for lawmakers to pass an omnibus spending package that includes all 12 of the annual spending bills that fund the federal government.
One sticking point is how much to provide for defense programs versus non-defense spending.
The GOP — led in negotiations by Sen. Richard Shelby (R-AL), ranking member of the Senate Appropriations Committee — wants to ensure that defense spending is raised by an equal percentage as social spending being prioritized by House Speaker Nancy Pelosi (D-CA), an idea referred to as "parity:"
House Appropriations Committee Chair Rosa DeLauro (D-CT) announced Wednesday that negotiators have a framework for spending but did not provide any details. Shelby told reporters Wednesday that he believed that the defense spending increase would be on par with non-defense spending.
Another issue is whether to include "riders" in the omnibus that are typically included in spending bills depending on which party has the majority. One such rider is the Hyde amendment. Named for former Rep. Henry Hyde (R-IL), it prevents spending federal funds on abortions.
But with the Senate split 50 to 50 between the parties and 10 Republicans needed to overcome any filibuster to pass the bill, the GOP minority has considerable input in drafting the package. Pelosi can only lose four votes in the House and still pass legislation.
Shelby said that the riders would likely remain to win enough GOP support.
Amodei also noted he wants the Hyde language as part of the package.
Postal reform
Action on the CR came after the House also approved legislation designed to put the U.S. Postal Service (USPS) on a more stable financial footing, including repealing a requirement that the USPS prepay future retirement health benefits.
The House also approved legislation overhauling the USPS, which had its fourteenth consecutive net annual loss in 2020, on a 342 to 92 vote.
All of the state's House members voted on a postal reform bill, which the Senate will take up next week.
The measure would save the USPS nearly $50 billion over 10 years. Repealing the requirement that the USPS annually prepay future retirement would save it $27 billion over 10 years.
The bill would also require future postal worker retirees to enroll in Medicare. About a quarter of Medicare-eligible postal retirees do not enroll and remain on the Federal Employees Health Benefits Program, which provides insurance to about 8 million federal and postal workers, retirees and their families. According to the House Oversight and Government Reform Committee, that means the USPS pays higher premiums than any other public or private sector employer. The provision would save USPS roughly $22.6 billion over 10 years.
The measure would also require USPS provide six-day-a-week mail service, establish an online dashboard that publicly provides performance data, and allow post offices to provide non-postal services to increase revenue.
Miscellany
The House and Senate also sent President Joe Biden a far-reaching bill to ban the use of language in employment contracts requiring victims of sexual assault and harassment to settle their claims in arbitration. The state's entire delegation supported the bill, which would invalidate existing clauses preventing workers from suing employers over harassment.
The House passed the measure Monday on a 335 to 97 vote. The Senate approved the legislation on a voice vote Thursday.
According to the American Association for Justice, a trial lawyers organization that supports the bill, about 60 million workers have forced arbitration clauses — used to settle disputes instead of going to court — as part of their employment contracts. Many workers may not realize it with clauses often buried in the fine print of everything from employment contracts to everyday digital click-through agreements.
Nevada will receive $27 million in transit funding, including nearly $21 million for safety enhancements such as the acquisition of new buses, rail cars and track and station repairs, according to Rep. Susie Lee (D-NV). The funds come from the recently enacted bipartisan infrastructure law. The state is also getting another $5.6 million, also from that law, to build up its electric vehicle charging infrastructure.
Rosen introduced legislation to authorize the Substance Abuse and Mental Health Services Administration (SAMHSA), a division of the Department of Health and Human Services, ​​to provide direct funding assistance to K-12 school districts for student mental health promotion and suicide prevention. SAMHSA mental health funding is currently only available for colleges and universities.
Introduction of the measure comes after the Clark County School District (CCSD) reported an increase in student suicides during the 2020 the pandemic lockdown, more than double the rate in 2019.
The bill is backed by CCSD Superintendent Jesus Jara and Lyon County School District Superintendent Wayne Workman.
Rep. Dina Titus (D-NV) introduced legislation to ban the Bureau of Land Management (BLM) from using helicopters to capture wild free-roaming horses and burros. BLM is tasked with rounding up the animals and often contracts with helicopter operators that tend to injure them.
The bill would require BLM to "explore more humane alternatives to protect these icons of the American West which remain a source of pride for Nevada residents," Titus said in a tweet.
Rep. Steven Horsford (D-NV) supports a bill introduced recently by Cortez Masto that temporarily shields Cesar Silva from deportation. Cesar, an undocumented immigrant, is the father of nationally known immigrant rights advocate and Las Vegas resident Astrid Silva. Horsford introduced an identical bill for Cesar in 2020.
Horsford said in a statement from his office: "Everyday, one more person becomes the victim of immigration fraud in Nevada and across the nation. I hope that with Cesar Carlos Silva Rodriguez's courage to share his personal experience, others can learn from it and prevent more people falling as victims of fraud."
For a full rundown of the measures the delegates supported or opposed this week, check out The Nevada Independent's congressional vote tracker and other information below.
SEN. CATHERINE CORTEZ MASTO
Legislation sponsored:
S.3593 – Telehealth Extension and Evaluation Act
Legislation co-sponsored:
S.3623 – A bill to reauthorize the Violence Against Women Act of 1994, and for other purposes.
S.3609 – A bill to amend the Internal Revenue Code of 1986 to provide a gasoline tax holiday.
SEN. JACKY ROSEN
Legislation sponsored:
S.3628 – A bill to authorize the Secretary of Health and Human Services to establish a grant program to promote comprehensive mental health and suicide prevention efforts in schools, and for other purposes.
Legislation co-sponsored:
S.3609 – A bill to amend the Internal Revenue Code of 1986 to provide a gasoline tax holiday.
S.3600 – A bill to improve the cybersecurity of the Federal Government, and for other purposes.
REP. DINA TITUS
Legislation sponsored:
H.R.6635 – Wild Horse and Burro Protection Act of 2022
Legislation co-sponsored:
H.R.6683 – To establish an AmeriCorps Administration to carry out the national and volunteer service programs, to expand participation in such programs, and for other purposes.
H.R.6662 – To direct the Secretary of Energy to establish a grant program to facilitate electric vehicle sharing services operated at public housing projects, and for other purposes.
REP. SUSIE LEE
Legislation sponsored:
H.R.6684 – To amend the Internal Revenue Code of 1986 to provide the work opportunity tax credit with respect to hiring veterans who are receiving educational assistance under laws administered by the Secretary of Veterans Affairs or Defense.
REP. STEVEN HORSFORD
Legislation co-sponsored:
H.R.6683 – To establish an AmeriCorps Administration to carry out the national and volunteer service programs, to expand participation in such programs, and for other purposes.
The Nevada Independent is raising $200,000 by Dec. 31 to support coverage of the 2024 election.
Tax-deductible donations from readers like you fund this critical work.
If you give today,your donation will be matched dollar-for-dollar.
Give + Get Matched
Featured Videos