Indy DC Download: Voting rights bill fails in the U.S. Senate as Democrats scramble to reach a deal on their domestic agenda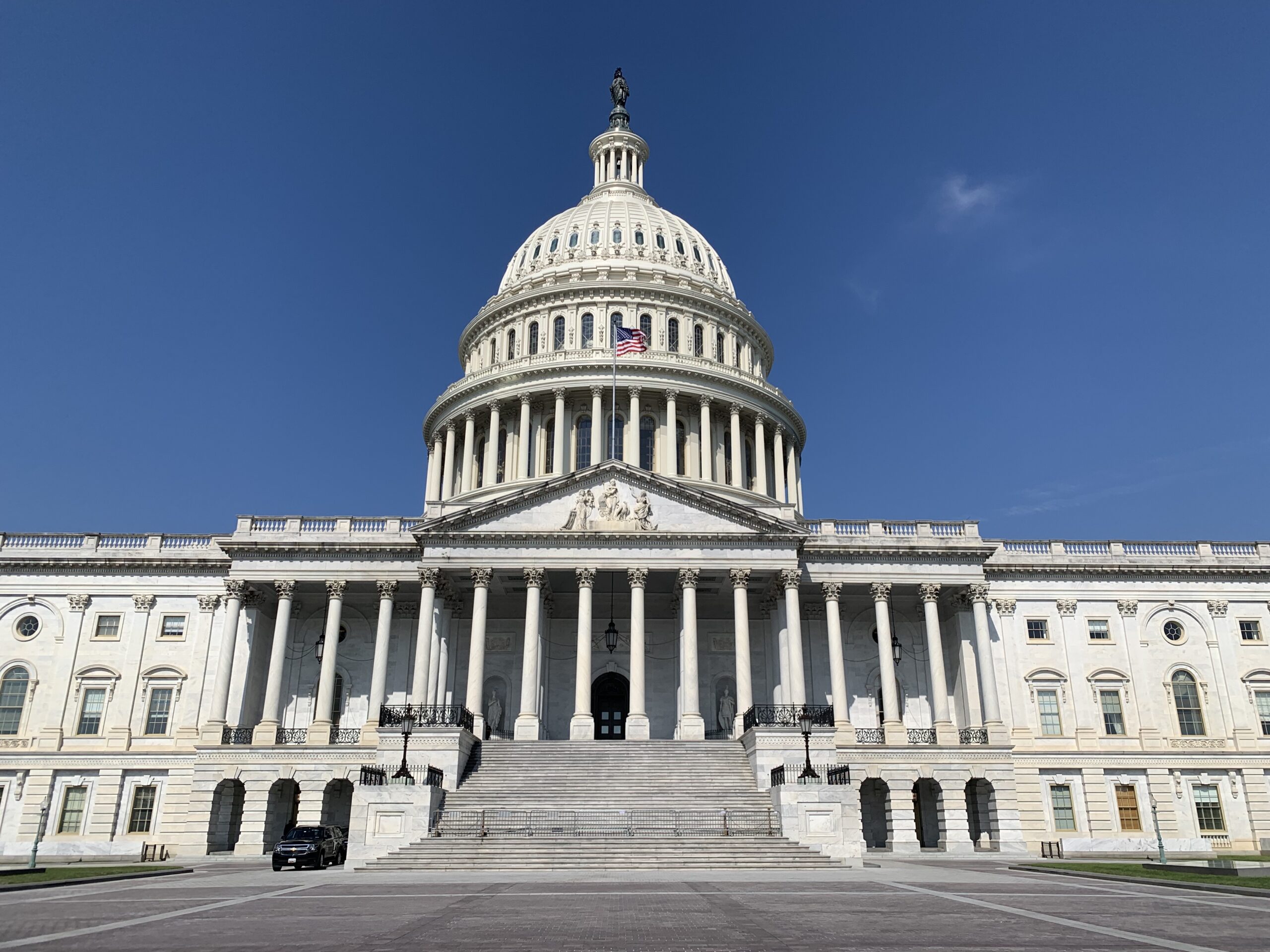 Good morning, and welcome to the Indy DC Download newsletter, a weekly look at what's going on in the nation's capitol as it relates to Nevada.If a colleague or associate emailed this newsletter to you, please click here to sign up and receive your own copy of Indy DC Download in your inbox.
After a meeting with President Joe Biden, Sen. Catherine Cortez Masto (D-NV) said she was pleased that talks intensified among Senate and House Democrats on what to include in their trillion-dollar-plus domestic agenda legislation.
"We're closer to finalizing it," Cortez Masto said in an interview, though she had no prediction when a final deal would be reached.
Speaker Nancy Pelosi (D-CA) told reporters Friday "there are many decisions that have to be made, but I would say that more than 90 percent of everything is agreed to and written."
She added that she was "hopeful" the legislation could be ready for consideration by the House next week.
Cortez Masto was among one of two groups of congressional lawmakers who met with Biden Tuesday.
"This is negotiation, this is what it's about," Cortez Masto said. "When you have negotiation on important issues that are needed for the country and for our families, this is how it works."
Her comments came as Senate Republicans blocked Democrats' latest voting rights package and a Senate panel, led by Cortez Masto, held a hearing on 14 public lands bills, including one introduced by Sen. Jacky Rosen (D-NV). Rosen's bill would transfer land to Lander County to improve its airports, access water infrastructure, and economic development, as well as designate more than 14,000 acres of wilderness.
Reconciliation
Biden also met with a group of House progressives and held a meeting with the Democratic chairmen of the Senate Finance Committee and the House Ways and Means Committee, which both oversee tax policy in Congress, this week.
The flurry of White House meetings comes as Pelosi and Senate Majority Leader Chuck Schumer (D-NY) press to get the reconciliation package finalized by the end of the month.
Democrats are frantically weighing what to cut or scale back from their initial $3.5 trillion proposal after Sen. Joe Manchin (D-WV) balked at the initial price tag. They are also dealing with how to offset the plan's cost after Sen. Kyrsten Sinema (D-AZ) took issue with a House-approved proposal to increase corporate and individual tax rates. She has, however, agreed to a minimum corporate tax, increased tax enforcement and certain other revenue raisers.
One idea backed by Biden is extending the enhanced child tax credit — much-touted by Democrats for reducing child poverty — for only one year rather than five. But Manchin has called for cutting costs further, including by setting income caps on those eligible to receive the tax credit and imposing work requirements.
Rep. Steven Horsford (D-NV), a Ways and Means Committee member, called those provisions "onerous," saying they would raise taxes on middle class families.
"What's more fundamental is not having a work requirement or some arbitrary number for a threshold," Horsford said in an interview Wednesday. "That's what I'm more worried about at this very moment. Ninety-seven percent of the families in my district with children currently benefit, and I am trying to make sure that whole benefit remains."
After a closed-door Ways and Means Committee meeting, Horsford implied the outcome of the issue could determine his support, telling reporters that he told the committee's chairman "it was do or die."
He later said he meant "it's do or die for families," clarifying he was not declaring an ultimatum.
In a CNN town hall meeting Thursday, Biden said he too does not support work requirements for the child tax credit.
Both Manchin's and Horsford's votes are crucial to passing the Democrats' agenda bill, known as the Build Back Better Act, and reflect the dilemma facing Biden and Democratic leaders. The measure will be passed using the budget reconciliation process, which allows the Senate to approve legislation with a simple majority. With the Senate split 50-50 between the parties, Manchin's vote is essential to approve the package.But that bill will also need to pass the House, where Pelosi can only lose three votes and still pass legislation.
Titus and Lee
Rep. Dina Titus (D-NV) weighed in on some of her priorities for the reconciliation package, including paid family leave and a pathway to citizenship for DREAMers, TPS holders, as well as farm workers and other essential employees. Titus was one of 105 House Democrats who signed an Oct. 19 letter to Biden calling on him to include paid family and medical leave in the final reconciliation package.
"Without universal paid leave, as our population ages, more and more workers will find themselves forced to choose between dealing with family and health challenges and staying in the workforce," the letter said.
The Build Back Better Act initially proposed 12 weeks of paid medical and family leave, but Biden said Thursday it's now down to four weeks.
Titus also signed on to an Oct. 20 letter with Horsford and more than 40 other House Democrats to Schumer calling on Senate Democrats to include an immigration proposal providing a pathway to citizenship in the reconciliation bill by ignoring the parliamentarian. So far, the parliamentarian has ruled that two immigration proposals put forward by Senate Democrats violate the so-called Byrd rule, which requires that the budget impact of any provision in the reconciliation bill be directly connected to and not merely incidental to the policy.
"In denying any possible pathway to citizenship or lawful permanent residents (LPRs) status, the Parliamentarian, an unelected official, is denying economic impact of such legislation and the tributes that millions of undocumented individuals have paid to this economy," the letter said.
While the Senate presiding officer typically accepts the advice of the parliamentarian, who is the arbiter of whether provisions in the reconciliation bill conform to Senate budget rules, they are allowed to ignore it under Senate rules. If the presiding officer ignores that advice, Republicans and others who oppose the move would have to find 60 votes to overturn it.
In the meantime, the parliamentarian is considering a third immigration proposal.
Rep. Susie Lee (D-NV) wrote an op-ed this week with five other House Democrats from swing districts urging passage of the bipartisan infrastructure bill and the Build Back Better Act.
"Last year, we were all re-elected by the slimmest of margins — 6 percentage points or less," the group said. "We may represent swing districts, but we are firm in our conviction that the passage of both of these bills is what's best for our constituents. We're not afraid. We're ready to get this done."
In a brief interview, Lee, who won her seat in 2020 by three percentage points, said the op-ed underscored that the lawmakers came to Congress to pass legislation, which means they need to compromise.
"I think most of us came to Congress because we knew it was going to be a situation where you've got to roll up your sleeves and compromise and work together and this is the case of doing that," Lee said. "Failure is not an option."
She also gave a speech Wednesday on the House floor, calling for action on both bills.
Public lands
Introduced in April, Rosen's Lander Country bill got the blessing of the Department of Interior (DOI) at a hearing Tuesday of the Senate Energy and Natural Resources Committee's Public Lands, Forests and Mining Subcommittee.
Steve Feldgus, the DOI's deputy assistant secretary for lands and minerals management, said the measure conforms with the administration's goal to conserve at least 30 percent of U.S. public lands and waters by 2030.
"The Department supports the conservation efforts of the bill, which align with the Administration's priorities, and we look forward to working with the sponsors and the Committee on the bill as it moves forward," Feldgus told the panel.
The bill follows the passage of a resolution by the Lander County Commission in 2019 calling on the congressional delegation to advance federal land conveyance legislation. Cortez Masto is a cosponsor of Rosen's measure.
The measure would transfer more than 1,000 acres to the county to improve Austin Airport, Kingston Airport and Battle Mountain Airport. It would transfer more than 4,500 acres to the county for water resources improvements throughout Austin, Kingston and Battle Mountain.
Another 16,500 acres would be transferred to the county — in the form of a park — for a racetrack and training facilities in Battle Mountain for the annual World Human Powered Speed Challenge. About 240 acres would also be ceded to the county for a museum, historic society, and artisan/business development.
The legislation would designate more than 14,000 acres as new wilderness areas, including nearly 8,000 acres in the Desatoya Mountain Wilderness and more than 6,300 acres in the Cain Mountain Wilderness. The bill would take more than 11,000 acres out of wilderness study areas, identifying tracts for possible wilderness classification. These include more than 10,000 acres in the Augusta Mountain Wilderness Study Area and nearly 2,000 acres in the Desatoya Mountain Wilderness Study Area (WSA).
The subcommittee, chaired by Cortez Masto, also discussed two bills she introduced, including a measure to require the Bureau of Land Management (BLM) to assess the oil and gas development potential before offering lands for lease. The measure would also prohibit the leasing of lands determined to have low or no potential development.
"This bill is a common sense, middle ground approach, as it allows lands to be periodically reassessed for their development potential should new data or technologies prove an area's development viability," Cortez Masto said.
Cortez Masto added that BLM leased 6.9 million acres of federal lands in Nevada between fiscal years 2006 and 2020, and only 39 wells were drilled during that period.
DOI's Feldgus agreed with Cortez Masto that the leasing practice impedes land management, calling speculative leasing a "hindrance to effective public land management." Feldgus added that he believes speculative leasing isn't an "effective use" of taxpayer dollars or "provide a good return to the American taxpayer."
Cortez Masto also introduced the Lake Tahoe Restoration Act, which authorized $300 million to improve Lake Tahoe and its surrounding basin, including wildfire risk reduction and forest management. Rosen is a cosponsor of the measure, proposed after a fire threatened the lake in September.
First signed into law in 2000, the authorization expires in 2024 and Cortez Masto's bill would extend it for 10 years. Christopher French of the Forest Service said at the hearing that the law has successfully helped the maintain and improve the lake and that a 10-year reauthorization would help ensure that their work continues uninterrupted.
"We've maintained the quality of the experience and of the water in the lake, as well as protecting the communities through a number of wildland fire risk reduction projects across Lake Tahoe," French said. "It's … a broad multi-jurisdictional strategy, and we've got another 10 or so years to go to fully implement that."
Voting rights
Making good on their threat, Senate Republicans blocked a voting rights bill Thursday despite Manchin's efforts to win over GOP votes by drafting a measure that was more narrow than the For the People Act, which the GOP blocked in June.
The Freedom to Vote Act would require all 50 states to offer early voting periods for at least two weeks before Election Day; allow universal mail-in voting; and allow a wide range of forms of identification and alternative options for states requiring voter identification.The measure also would allow same-day voter registration and make Election Day a holiday. But it does not include provisions for public financing of elections or requires nonpartisan redistricting and other more sweeping changes included in the For the People Act.
The bill needed 60 votes to open debate on the measure but failed 49 to 50, with Schumer changing his vote to "no" to preserve the ability to call the legislation up again, as required under Senate rules. Both Cortez Masto and Rosen voted for the measure, which includes a number of election-related provisions already in place in Nevada.
The state allows for two weeks of early voting before each election and permits same-day voter registration. Gov. Steve Sisolak signed into law this spring a permanent expansion of mail-in voting, which will require all county and city clerks to send every active registered voter a mail ballot before a primary or general election.
In response to the measure's defeat, Biden said at a town hall Thursday that he would entertain changing the filibuster, the Senate rule requiring 60 votes to advance most legislation.
He floated the idea of implementing a talking filibuster, requiring senators objecting to legislation to take to the Senate floor and talk to block a bill. Currently, senators may filibuster legislation without showing up on the floor and instead need only to register their opposition with the leadership.
Before the failed vote, Cortez Masto reiterated her support for making the talking filibuster a Senate rule.
"I'm about a talking filibuster already," Corte Masto said.
Miscellany
Members of the delegation celebrated a $1 million grant to the state from the Economic Development Administration (EDA), which provides funds to communities experiencing long-term economic distress or sudden economic dislocation.
"Our recovery is moving forward, and we must continue to see that Nevada has the federal resources needed to drive our economic success," said Rosen in a press release.
The funds were part of $3 billion for the EDA included in the American Rescue Plan (ARP). Enacted in March, the ARP was the last COVID-relief measure approved by Congress.
Titus, who chairs the House Transportation and Infrastructure Committee's Economic Development, Public Buildings, and Emergency Management Subcommittee, which oversees the EDA, also cheered the grant. .
Titus also announced the panel, which oversees the Federal Emergency Management Agency (FEMA), would hold a hearing on the agency's response to wildfires that ravaged Nevada and other western states. She has scheduled a hearing for Tuesday.
For a full rundown of the measures the delegates supported or opposed this week, check out The Nevada Independent's congressional vote tracker and other information below.
SEN. CATHERINE CORTEZ MASTO
Legislation sponsored:
S.3015 – A bill to require the Director of the Office of Science and Technology Policy to submit to Congress each year a national science and technology strategy, to require the Director to complete quadrennial science and technology reviews, and for other purposes.
S.3014 – A bill to establish the Next Generation Telecommunications Council, and for other purposes.
SEN. JACKY ROSEN
Legislation sponsored:
S.3036 – A bill to require the Administrator of the National Oceanic and Atmospheric Administration to maintain a program that improves wildfire forecasting and detection, and for other purposes.
S.2993 – CISA Cyber Exercise Act
Legislation co-sponsored:
S.3013 – A bill to require the evaluation and standardization of suicide prevention efforts by the Department of Defense, and for other purposes.
REP. DINA TITUS
Legislation sponsored:
H.R.5673 – To amend the Robert T. Stafford Disaster Relief and Emergency Assistance Act to make technical corrections to the hazard mitigation revolving loan fund program, and for other purposes.
Legislation co-sponsored:
H.R.5666 – To amend title 38, United States Code, to expand health care and benefits from the Department of Veterans Affairs for military sexual trauma, and for other purposes.
H.R.5641 – To amend the Robert T. Stafford Disaster Relief and Emergency Assistance Act to increase the threshold for eligibility for assistance under sections 403, 406, 407, and 502 of such Act, and for other purposes.
Comment Policy (updated 4/20/2021): Please keep your comments civil. We reserve the right to delete comments or ban users who engage in personal attacks, use an excess of profanity, make verifiably false statements or are otherwise nasty. Comments that contain links must be approved by admin.