Indy Gaming: G2E roundup finds optimistic CEOs, where the next Hard Rock LV isn't going and a push for non-smoking casinos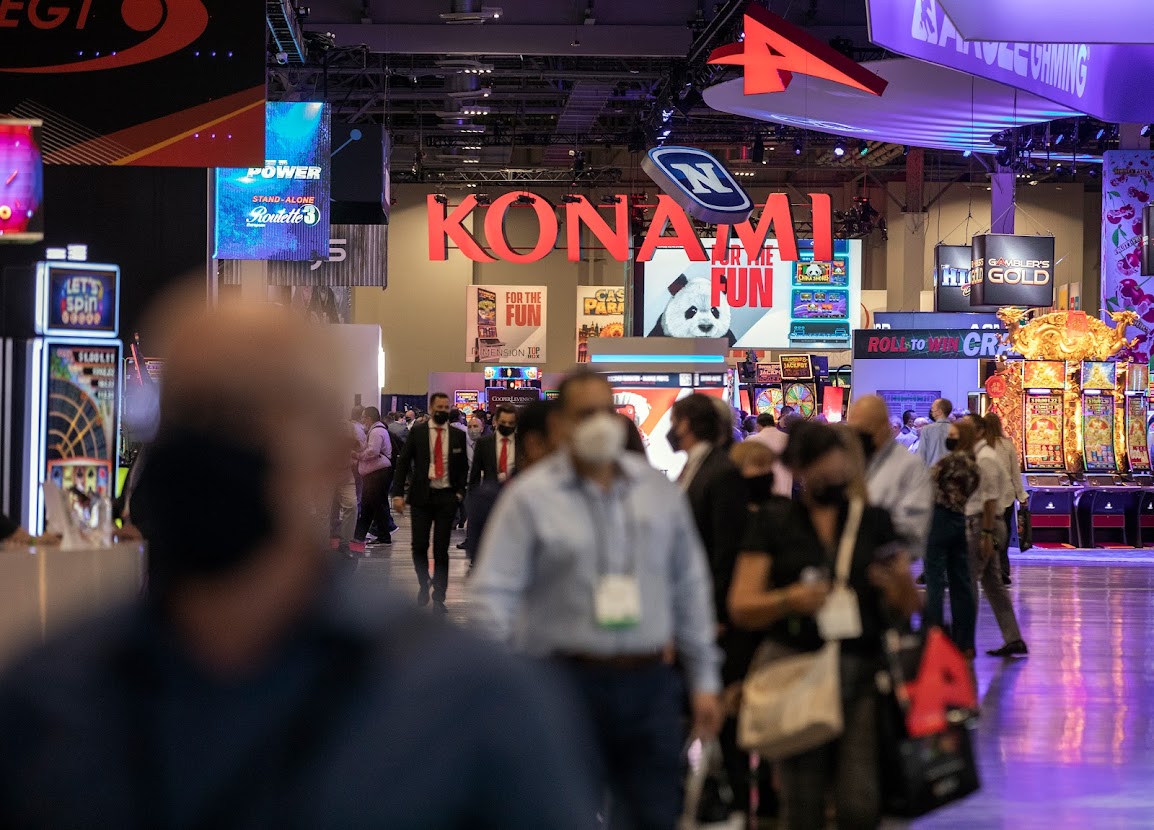 Good morning, and welcome to the Indy Gaming newsletter, a weekly look at gaming matters nationally and internationally and how they tie back to Nevada.
If a colleague or associate emailed this newsletter to you, please click here to sign up and receive your own copy of Indy Gaming in your inbox. — Howard Stutz
---
The word that was ubiquitous throughout the three-day Global Gaming Expo in Las Vegas was optimism.
Omnichannel and cashless were not far behind. Omnichannel describes the gaming industry's content flowing through multiple outlets – traditional casinos, social gaming, and online gaming. Cashless is how gaming consumers pay using new technology.
"We believe (the omnichannel) integration will become more important," Macquarie Securities gaming analyst Chad Beynon wrote in a post-G2E research note describing his meetings with representatives from more than 30 public and private gaming companies.
"The theme is finally gaining steam and deployments are growing," Beynon said.
But the gaming industry's top executives largely were focused on finishing 2021 on a high note, and moving toward more normalized operations in 2022 after many months of COVID-19-related business disruptions.
Just ask two of the CEOs who participated in G2E's keynote panel on Wednesday.
"I've never been more excited about the future of Las Vegas," Wynn Resorts' Matt Maddox said. "Our demographics have shifted so much. We've seen a 200 percent growth in people, 18 to 35, coming into our properties and actually gambling. I'm a big believer in Las Vegas in 2022. For us it's encouraging."
MGM Resorts' top executive, Bill Hornbuckle, echoed his competitor's remarks.
"Millennials have shown up," he said, noting that many older people are still somewhat hesitant about venturing out. He credited gaming's manufacturing sector with addressing the changing market.
"The product is becoming more and more relevant, but it can always be better and I'm going to continue to challenge them," Hornbuckle said. "As we stabilize, we are really excited about the future."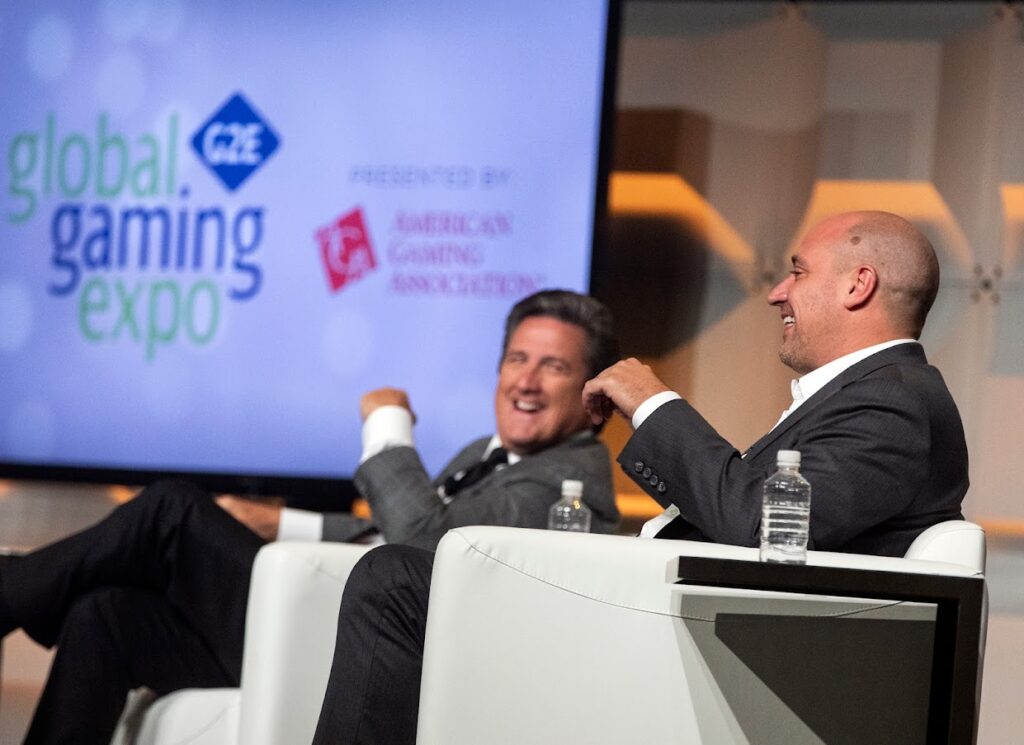 At the outset of G2E, the American Gaming Association (AGA) released a "CEO Outlook," in which the Washington, D.C.-based trade organization surveyed roughly 70 percent of the CEOs from casino companies and gaming equipment suppliers about their attitudes heading into 2022.
Forty-eight percent of those surveyed said they expect a better business situation over the next six months. Another 43 percent think the business atmosphere will remain unchanged. Fewer than 10 percent expect the business situation to worsen.
Roughly 71 percent of gaming industry CEOs said they expected a better-than-normal hiring pace over the next six months, and nearly half expect to increase capital investments over the next months, including improvements to hotel and restaurant operations and purchasing new gaming equipment.
David Forman, senior director of research for the AGA, said the survey provides a benchmark for the industry moving forward. He expects the organization to conduct follow-up surveys to gauge the confidence of the gaming industry as businesses nationwide attempt to move past COVID-19.
"We want to use this to talk about where the industry is headed," Forman said.
On Monday, G2E organizers said the 2021 tradeshow and conference at the Venetian Expo and Conference Center (renamed recently from Sands Expo and Conference Center) attracted more than 13,000 attendees, less than half of the 27,000 who attended the 2019 event. The 2020 G2E was canceled because of the pandemic, but show organizers held a virtual event.
Trade show booths — representing 233 companies — were noticeably smaller in size and scope from prior events. Show producers did not provide a figure for the number of 2019 exhibitors. Gaming manufacturer representatives said their booth sizes averaged 25 percent to 33 percent smaller than previous G2Es.
Still, G2E officials touted gaming's largest in-person event in nearly two years.
"After the hardest year in our history, G2E provided a robust marketplace to drive the global gaming industry's recovery forward," Aristocrat Technologies CEO Trevor Croker said in a statement. Croker is the current chairman of the AGA board.
---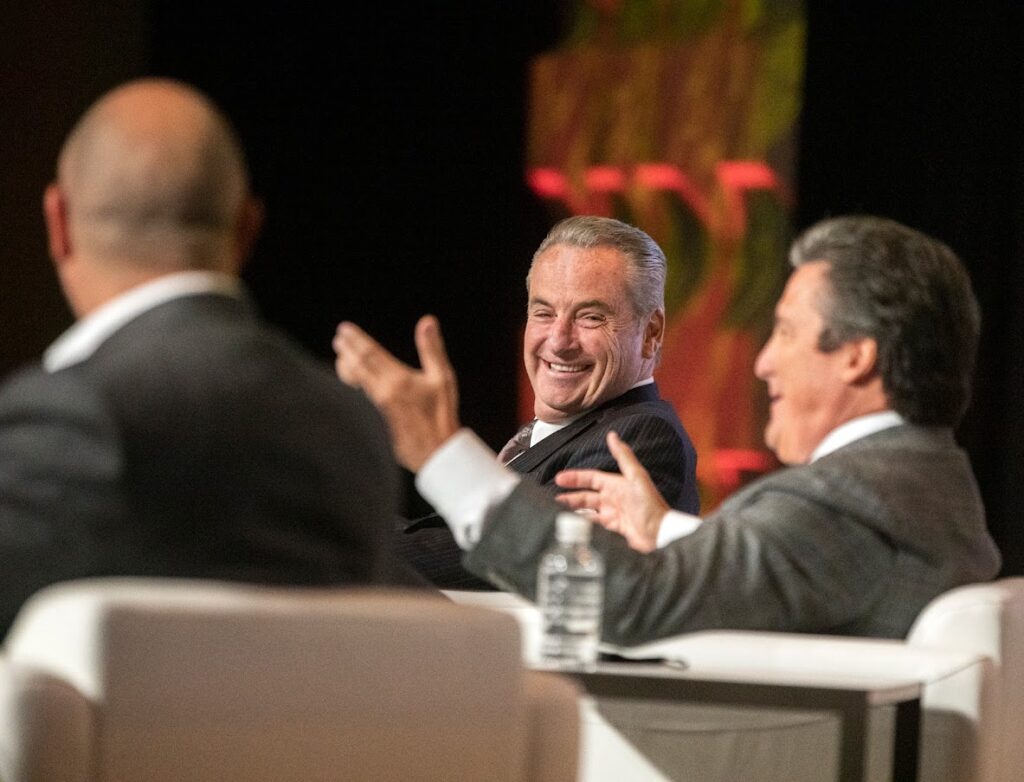 Jim Allen: Hard Rock/Seminoles interested in Las Vegas, but not Planet Hollywood
Scratch Planet Hollywood Las Vegas from Seminole Gaming's shopping list.
The Florida-based tribe has owned Hard Rock Entertainment, including intellectual property rights for affiliated restaurant and entertainment trademarks and website domain names, for 14 years. That portfolio used to include Hard Rock Hotel Casino Las Vegas, which has since been sold and rebranded as Virgin Hotels Las Vegas.
Seminole Gaming CEO Jim Allen, who is also Hard Rock's chairman, said at the Global Gaming Expo last week the tribe has an interest in landing a location on the Strip but is not eyeing the Caesars Entertainment-owned Planet Hollywood.
"We recognize Las Vegas is the entertainment capital," Allen said during a CEO keynote panel at the gaming industry tradeshow and conference. "If the opportunity comes up, yes, we would be interested."
Caesars CEO Tom Reeg has said the company, which operates eight resorts on or near the Strip, wants to sell at least one of the casinos. Analysts speculated Planet Hollywood might be on the market.
Allen wouldn't say if he had met with anyone from Caesars.
"That property (Planet Hollywood) will not be interesting to us," Allen said after being asked about Caesars' plans to divest itself from at least one Strip resort. He did not provide any reasons for rejecting the casino.
Hard Rock had lent its name and brand to an off-Strip property that went through several management changes over the course of more than two decades. The property has since been rebranded as Virgin Hotels Las Vegas.
Allen visited the property and was impressed with the changes and said it was "great to see some real capital dollars are working on that property, and hopefully they can do well."
Hard Rock announced it acquired the naming rights along with the former property's music memorabilia, signage and merchandise.
---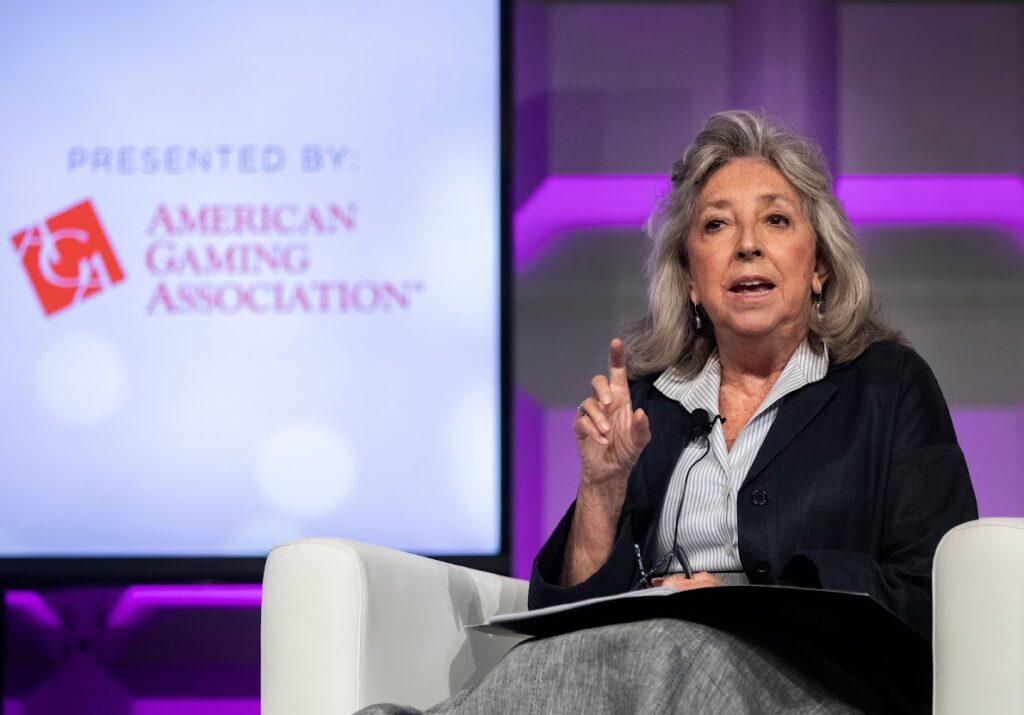 Titus tells industry that pushing gaming issues in Congress is tricky
Rep. Dina Titus (D-NV) said the gaming industry walks a delicate tightrope in engaging members of Congress.
For years, the primary mission of the American Gaming Association was to keep any hint of federal oversight away from the nation's commercial casino industry, which has grown to 25 states. On Capitol Hill, that growth led to the creation of the Congressional Gaming Caucus, which Titus co-chairs. The Las Vegas Democrat said the group has roughly 35 members across both parties.
While speaking at the Global Gaming Expo last week, Titus, whose district includes the Las Vegas Strip, said she is often approached by fellow members of Congress about gaming matters in their own districts.
"It's a very complex world, not only how it works, but how it's financed, how it's regulated and how it's governed," Titus said in a talk moderated by AGA CEO Bill Miller. "All of those are very complicated and if you have just one riverboat (casino) in your district, you don't delve into all the details. People tend to come to me to ask for advice and that's a role I like to play."
But pushing gaming matters in Washington, D.C., can be a "double-edged sword," Titus said. "We don't want a Congress that is getting too engaged … More regulation possibly means more taxation."
Titus said the Congressional Gaming Caucus has successfully navigated several key issues that benefitted the industry, including the inclusion of small casinos and operations that support gaming in the CARES Act last year. Rep. Mark Amodei, the only Republican in the Nevada delegation, used his connection with then-White House Chief of Staff Mark Meadows in the effort.
"We got that with a big thanks to the caucus's efforts," Titus said. "So you want to advocate to educate, but not to aggravate."
Titus said she continues to back the elimination of the handle tax, an antiquated 0.25 percent federal excise tax placed on all sports wagers. The fee was put into place in the 1950s to combat illegal gambling activities, yet the tax only penalizes legal sports betting operators. She said the IRS doesn't even track the funds.
Also, Titus continues to push for a change in the IRS jackpot reporting minimum, which has been set at $1,200 for federal income tax purposes since the 1970s. Titus and the gaming industry are seeking an increase to $5,000.
---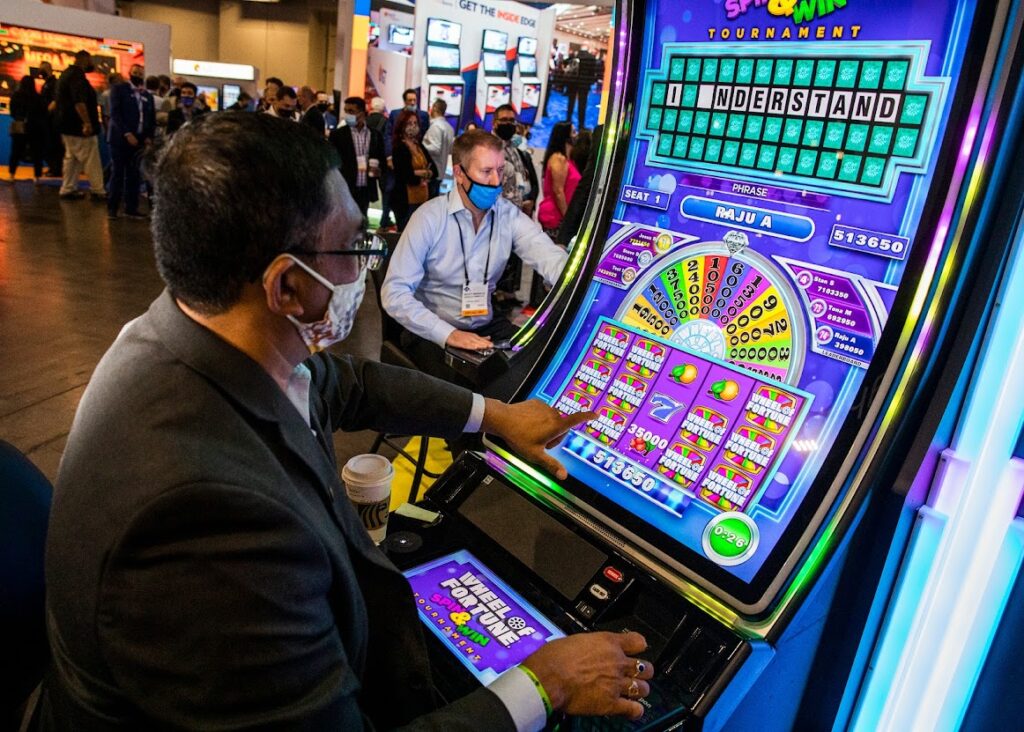 Advisory firm says slot machine routes will expand to another state next year
Advisory firm Eilers & Krejcik Gaming offered several predictions for 2022 during the Southern California-based company's annual G2E presentation on the conference's opening day.
Phil Bernard, who follows gaming equipment and technology for the firm, suggested a business with roots in Nevada – slot machine route operations – will continue to expand. Bernard said at least one new state will launch next year.
Slot machine route operators manage games for a non-casino location for either a fee to lease space or have a revenue sharing agreement with the location's owner.
Eight states – Nevada; Illinois, except for the Chicago area; Louisiana; Montana; Oregon; South Dakota; West Virginia and Pennsylvania – allow slot machines or video gaming terminals in non-casino businesses, including restaurants, bars, taverns, convenience stores, truck stops and other locations that sell alcohol.
As of July 21, Nevada had 2,000 restricted gaming locations with 17,870 slot machines.
"Suppliers have an obvious interest, traditional casino operators are now intimately involved, and state governments may be looking ahead to tap existing illegal markets for funds," Bernard said at the presentation.
Nevada is at the center of the pending merger between Illinois-based Accel Entertainment and Century Gaming, the state's No. 2 route operator, with nearly 400 locations and more than 2,400 games.
Analyst Chris Grove offered up several predictions for the sports betting market for next year. He expects FanDuel, DraftKings and BetMGM to continue to slug it out for the top tier, but Caesars Sports and Bally Bet could start gaining ground.
Grove also looked ahead to 2026, when he estimates 44 states will offer sports betting, 16 more than the current 28. Of the four most populous states, he predicts New York, which offers just retail sportsbooks, will add online sports betting. Florida, which doesn't have the activity, will legalize sports betting at its tribal casinos. California and Texas, he said, will still be on the sidelines.
Grove also believes online casino gaming, now in five states (six counting Nevada's poker-only business), will operate in 14 states by 2026. But none of the four major states will be included.
"In 2026, we project that sports betting, both retail and online, and online casino and poker will generate combined gross gaming revenue of $22.8 billion," he said.
---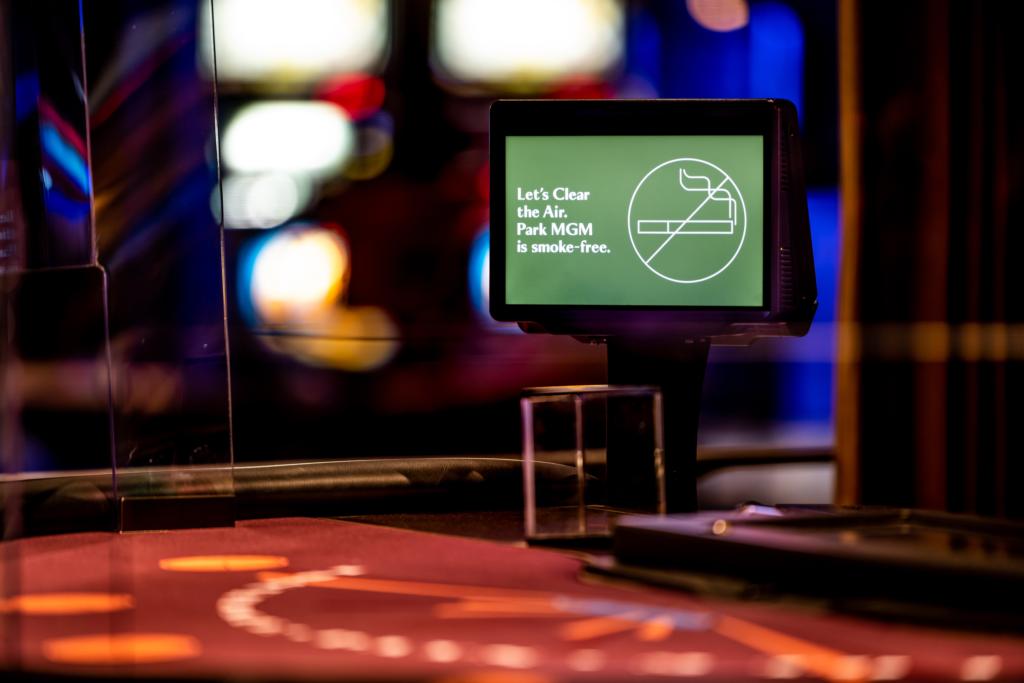 Non-smoking casino group brings its advocacy efforts to G2E
More than 20 states have either banned or limited smoking inside casinos with some of the actions taking place last year when COVID-19 health and safety guidelines were commonplace in the gaming industry.
A smoking ban never happened in Nevada, although MGM Resorts International prohibited smoking inside Park MGM on the Strip when the company reopened the resort in September 2020. The ban remains in place and Park MGM is the only smoke-free casino on the Strip.
Americans for Nonsmokers' Rights hopes Park MGM will have company.
The advocacy group brought its efforts to the Global Expo Gaming and enlisted several employees from the MGM Resorts-owned Borgata in Atlantic City to help. The casino workers, who are advocating for a smoke-free casino environment in the East Coast gaming market, want their peers in Las Vegas to join the effort.
Following a press briefing at the Venetian Expo and Convention Center, the employee group headed out to the Strip to meet with their fellow MGM Resorts workers.
"We're trying to build a grassroots effort here," Cynthia Hallett, CEO of Americans for Nonsmokers Rights said in an interview with The Nevada Independent. "We know it's a battle and we're pushing that big stone up the hill. But we don't believe that hill is that steep anymore."
Atlantic City casinos operated under a temporary smoking ban to mitigate the spread of COVID-19, but that ban ended during the Fourth of July holiday this year.
New Jersey Democratic Gov. Phil Murphy, however, has said he would sign legislation for a permanent casino smoking ban if it crossed his desk.
"I don't think there's ever been a governor that said that before," Hallett said. "The challenge is the Senate president. There's a lot of work being done and honestly there are thousands (of casino workers) that are speaking out. They're going to push this across."
Hallett is hopeful that if smoking is permanently banned inside Atlantic City casinos, Nevada might follow suit, though so far there has not been any push beyond Park MGM.
Hallett suggested MGM Resorts, which already operates state-mandated smoke-free casinos in Massachusetts (MGM Springfield) and Maryland (MGM National Harbor), could help lead a change in Nevada if it converted all its Strip properties into smoke-free casinos.
---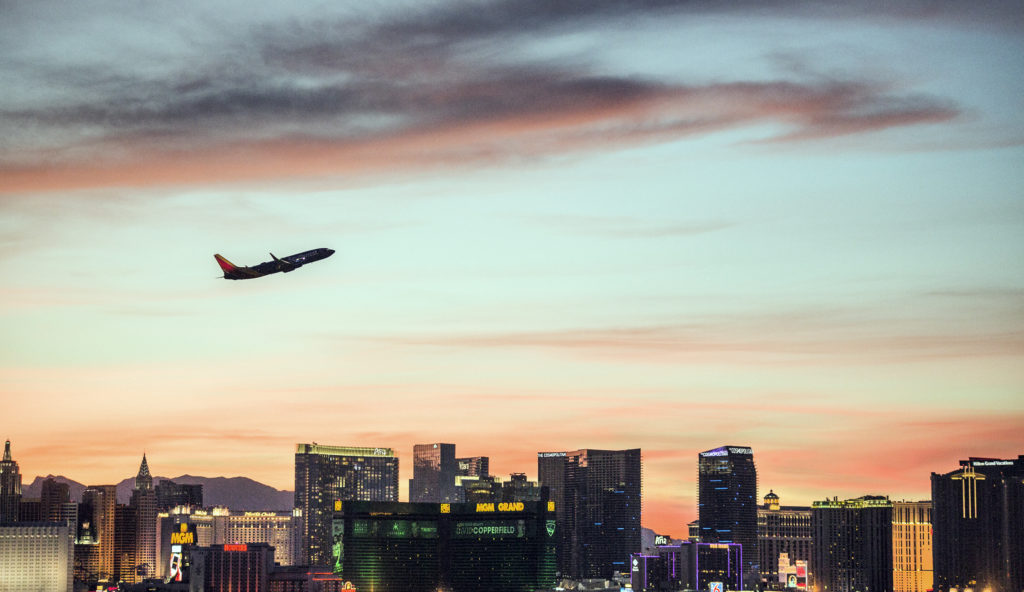 Non-G2E news
The cancellations of more than 2,000 flights by Southwest Airlines last weekend caught the attention of Deutsche Bank gaming analyst Carlo Santarelli. Southwest is McCarran International Airport's largest air carrier by volume, accounting for nearly 37 percent of all arriving and departing passengers during August, and almost 36 percent of the airport's total for the first eight months of 2021. "Despite the relative importance of Southwest as a carrier to Las Vegas, we do not believe this situation is likely to have a material impact on the market," Santarelli told investors in a brief research note.
Las Vegas hosted the heavyweight championship fight between Tyson Fury and Deontay Wilder, on Saturday and an NFL game between the Las Vegas Raiders and Chicago Bears on Sunday. Santarelli said visitors experienced "little to no issues with arrivals, though departures were likely to be a bit more challenged."
He said inbound airline passengers account for roughly 55 percent of Las Vegas Strip pedestrian volume on most normal weekends.
Golden Entertainment announced an agreement with Dallas-based Flite Golf & Entertainment to bring Atomic Range, a $70 million, 92,000-square-foot golf entertainment attraction, to The STRAT Hotel, Casino & SkyPod.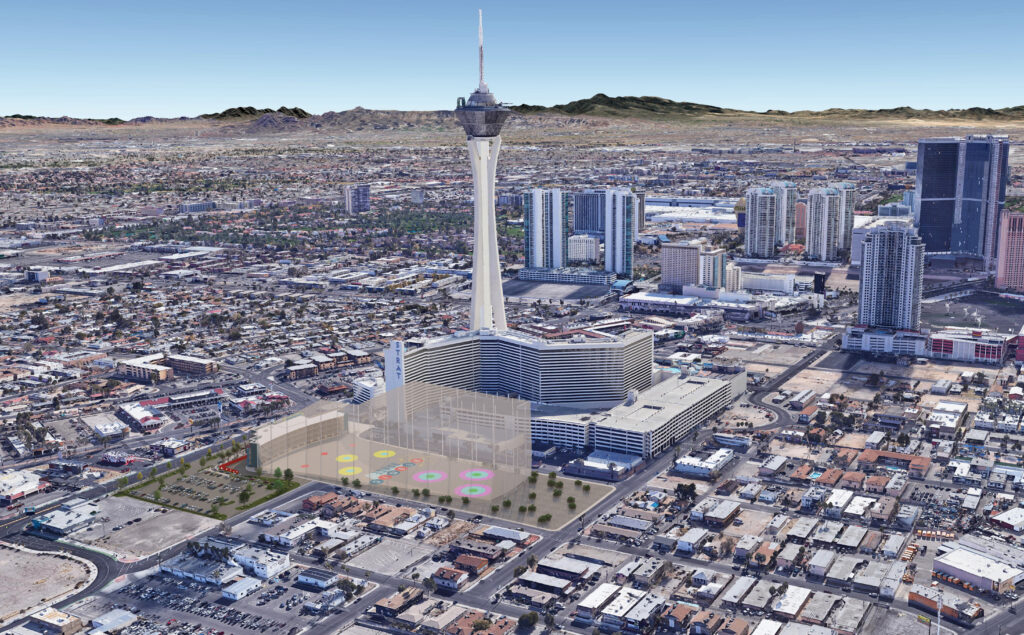 The four-story facility will be built on seven acres of a vacant 15-acre parcel owned by Golden that is next to The STRAT. The land was once designated as a potential convention and meeting expansion.
The new Atomic Range will be located on Las Vegas Boulevard. Golden, which has invested $100 million into The STRAT since acquiring the resort in 2017, will contribute the real estate to Flite Golf and will share in the revenue generated by the golf attraction under a lease arrangement. Flite Golf will be responsible for all Atomic Range development and operating costs. The company is partnering with Century Golf, which has managed more than 500 golf facilities worldwide, to operate Atomic Range.
The project is expected to begin construction in the second quarter of 2022, with completion slated for the end of 2023.
Clark County Commissioners, by a 6-1 vote, gave Station Casinos approval to move forward on a new hotel-casino in southwestern Las Vegas. The property, dubbed, "Durango, A Station Casinos Resort," will be built on 71 acres near the 215 Beltway and Durango Drive.
The company has not disclosed a cost for the new resort, which will feature 200 rooms, an 83,000-square-foot casino, four restaurants and additional amenities.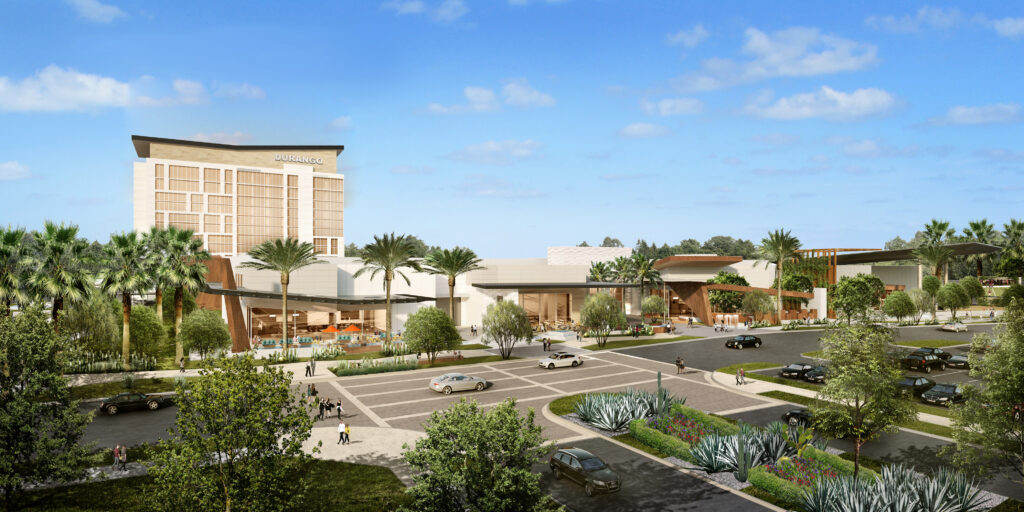 The company is expected to provide additional details during its third-quarter earnings conference call on Nov. 2.
Culinary Workers Local 226, which has been in a decades-long dispute with Station Casinos, expressed opposition to the development, questioning the proximity of the property to neighborhoods and an elementary school. The union also raised questions about why the company would open a new resort when three of its casinos have remained closed since the shutdown order in March 2020 at the outset of the pandemic. Commissioner Richard "Tick" Segerblom, a longtime Culinary supporter, was the lone no vote against the property.
The Association of Gaming Equipment Manufacturers (AGEM) said during G2E that Daron Dorsey will take over as the trade organization's executive director on March 1, 2022. Dorsey, currently general counsel at Ainsworth Game Technology, will take over from Marcus Prater, who announced earlier this year that he was retiring after more than a decade overseeing the group that includes manufacturers and suppliers of gaming products, systems and services to the casino industry.
"Daron's broad knowledge base, diverse skill set, and experience will be tremendous assets as he assumes this new role," said AGEM President David Lucchese, who is the executive vice president of sales, marketing and digital for Everi Holdings. "While we're sad to see Marcus step away, Daron's manufacturer background and familiarity with AGEM make him a perfect fit to step in." Dorsey has been an officer and general counsel for AGEM since 2016. Prior to joining Ainsworth, Dorsey served as general counsel for William Hill US and worked for two law firms, Snell & Wilmer and Jolley Urga Wirth & Woodbury.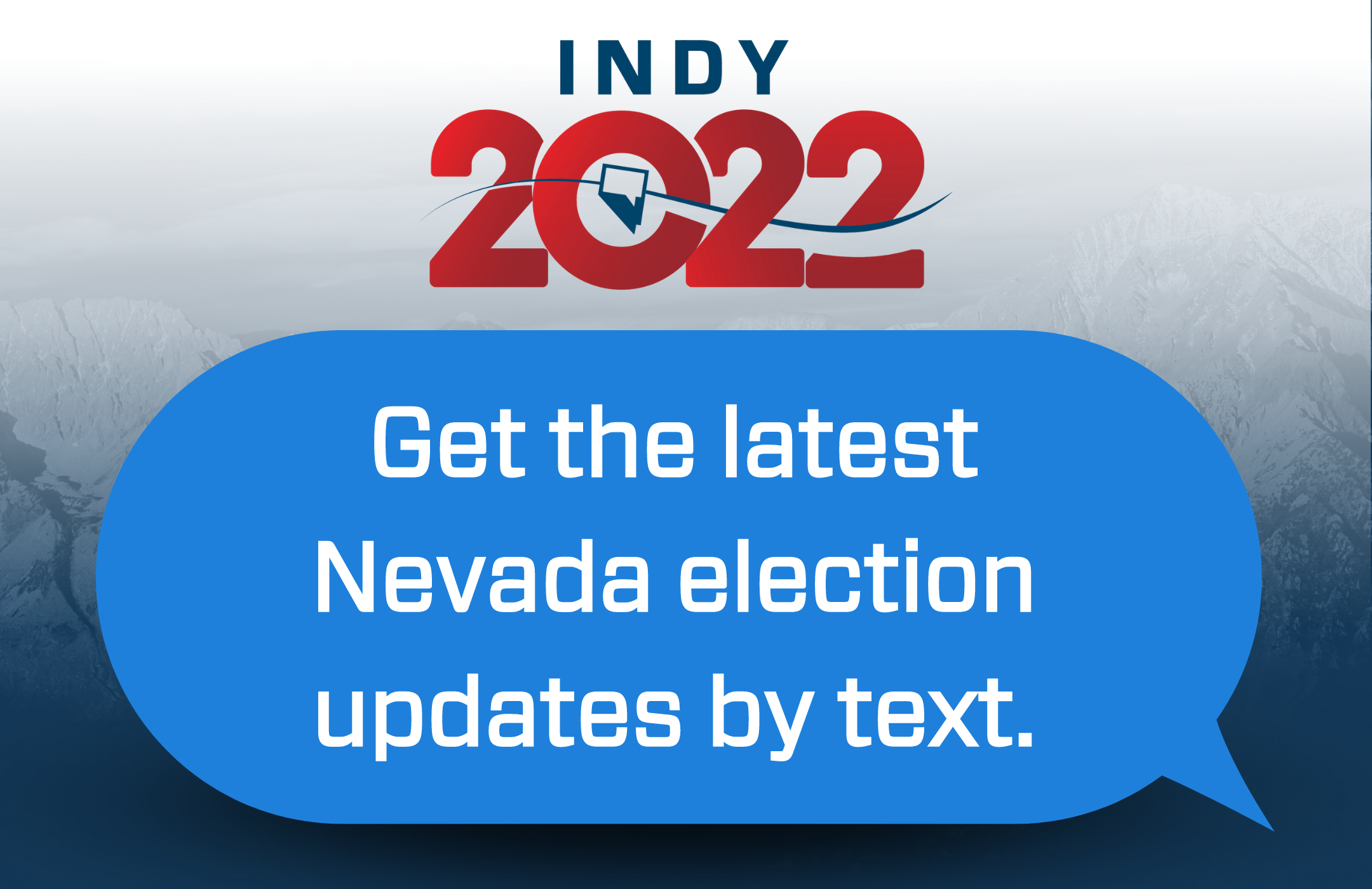 Featured Videos
Comment Policy (updated 4/20/2021): Please keep your comments civil. We reserve the right to delete comments or ban users who engage in personal attacks, use an excess of profanity, make verifiably false statements or are otherwise nasty. Comments that contain links must be approved by admin.