Indy Gaming: Slot company booths teeming with activity at G2E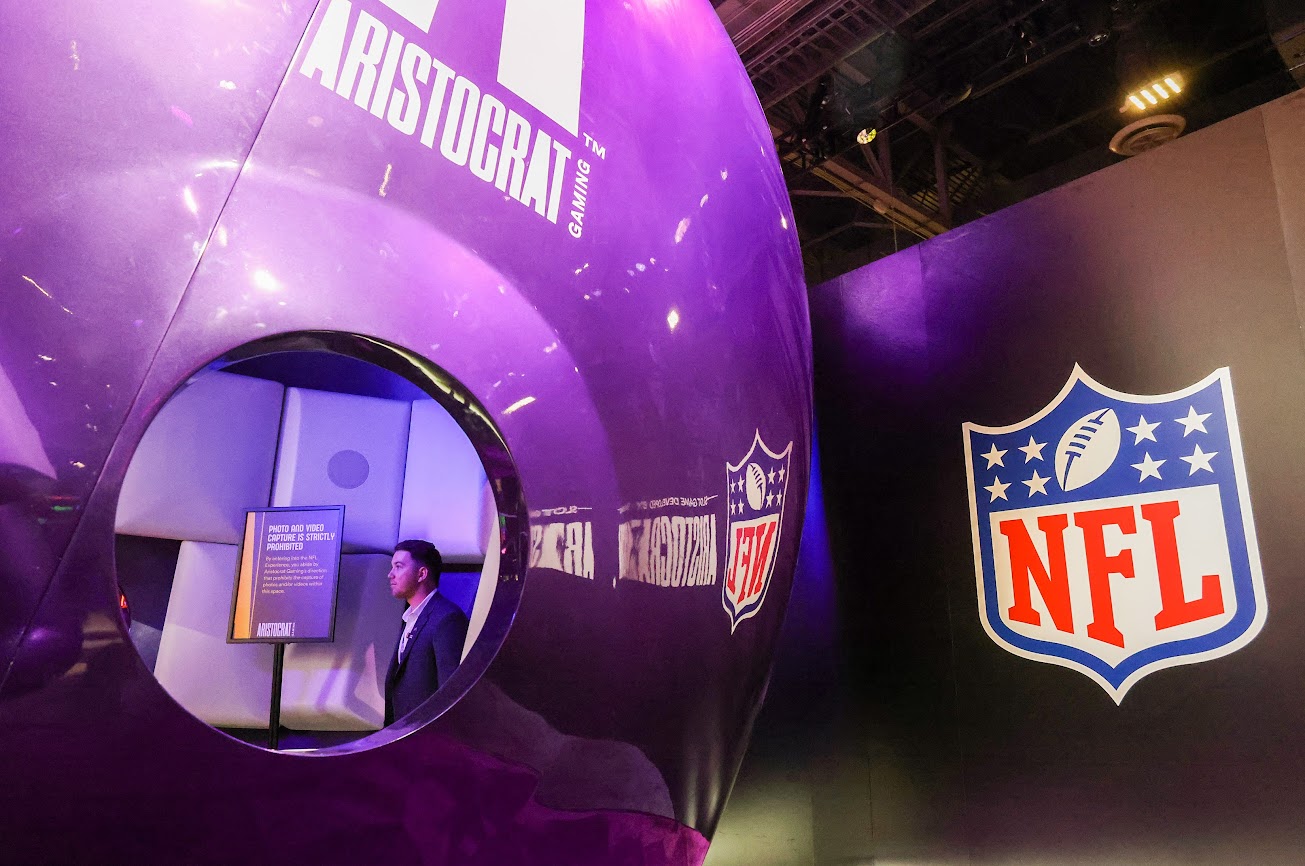 Good morning, and welcome to the Indy Gaming newsletter, a weekly look at gaming matters nationally and internationally and how the events tie back to Nevada.
If a colleague or associate emailed this newsletter to you, please click here to sign up and receive your own copy of Indy Gaming in your inbox. - Howard Stutz
---
The giant football helmet adorned with the Aristocrat Gaming logo served two purposes at last week's Global Gaming Expo.
The large display was the entrance to an invitation-only area where Aristocrat kept the prototype of the company's NFL-themed slot machines under wraps. Aristocrat signed an agreement with the NFL in April for the exclusive rights to use the logos of the 32 teams on slot machines in casinos worldwide.
But the over-the-top entrance also served as a sign that gaming equipment manufacturers are finally moving past more than two years of business interruptions caused by the pandemic.
Gaming analysts, after touring the trade show floor inside the Venetian Expo and meeting with representatives from the gaming equipment manufacturing sector, came away with a general belief that 2023 could be a good year for slot machine companies.
Macquarie Securities gaming analyst Chad Beynon told investors slot manufacturers were feeling confident in ongoing business trends.
"In terms of slot purchases, budgetary constraints appear to be easing and many expect for 2023 total unit sales to exceed 2019 (pre-pandemic) levels," Beynon said.
Deutsche Bank gaming analyst Carlo Santarelli expressed a similar view.
"Equipment suppliers remain confident around the capital deployment plans of operators, despite the uncertain (economic) backdrop," he wrote in a research note.
Truist Securities gaming analyst Barry Jonas told investors there was "positive commentary" surrounding the three major providers – Aristocrat, Light & Wonder and International Game Technology. The triumvirate accounts for roughly 73 percent of the total international slot machine market, according to casino industry advisor Eilers & Krejcik Gaming.
"Aristocrat remains the clear leader, but there was positive commentary across the board," Jonas said.
Curiosity around the NFL-themed slot machines drew attendees to Aristocrat's large trade show space, but only a handful of visitors were allowed to see the prototype games. Hector Fernandez, CEO of Aristocrat's games division, said he didn't mind the exclusion process. It allowed customers to focus on the company's other games in the area.
He said 100 percent of the company's products were new or updated, such as the long-standing slot machine game that features charging buffaloes.
"I can't remember the last time that happened," Fernandez said. "We think about creating successful (slot machine) franchises. I don't think anybody has done that better than us."
That was one of the selling points the company brought to the NFL. The final versions of the planned slot machines, which will be displayed at next year's G2E, will allow players to change out the logos to focus on their favorite team.
"We first had to convince them that we are the right partner to commercialize their very prestigious NFL logo onto the casino floor," Fernandez said during an interview in a sitting area near the NFL display. He pointed to a couple of couches where several NFL representatives were seated.
"The other thing we had to demonstrate was our core competency and strategic focus on responsible game play," Fernandez said. "The last thing was around innovation. There is a lot involved with having 32 different games inside of (a slot machine)."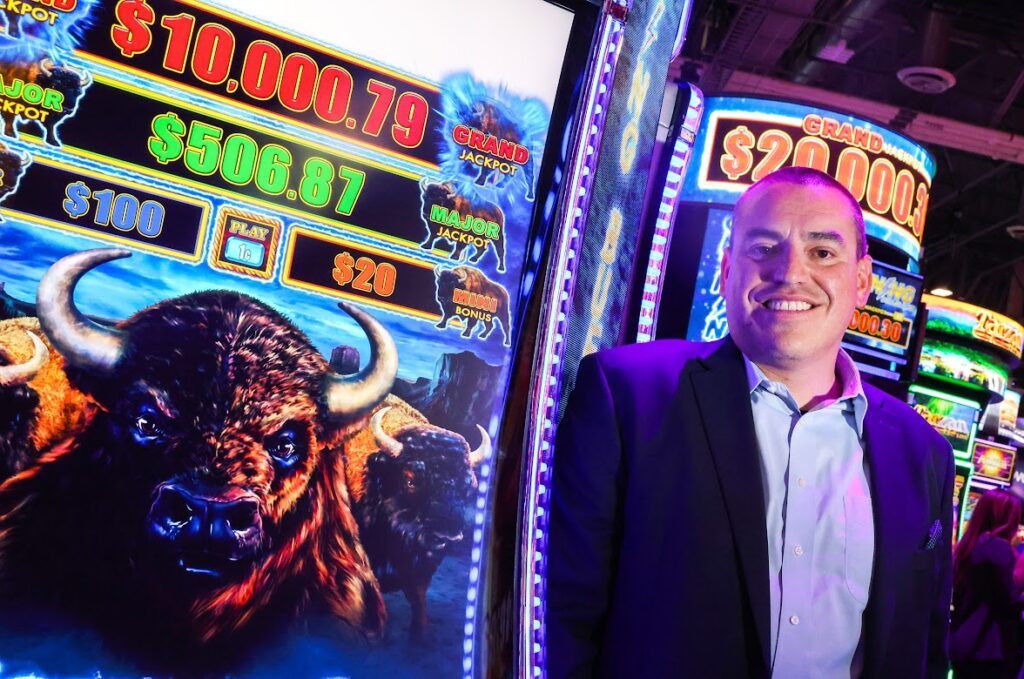 He said Aristocrat is also focused on bringing games across multiple platforms, including traditional casino floors, legal online gaming sites and free-play social gaming products.
A similar effort is on the agenda for other slot machine developers.
Light & Wonder CEO Matt Wilson, whose interim title was removed on the opening day of G2E, said the company's strategic realignment — which included the sales of its lottery and sports betting divisions and the removal of the name Scientific Games — allowed the sales team to focus on specific products.
"Last year at G2E, we were Scientific Games and this weird collection of gaming assets, everything from scratch lottery tickets to social casino and everything in between," Wilson said. "Importantly, we have these three businesses that fit together in the portfolio that are all driven off this idea of content and technologies at the center of our universe."
Light & Wonder is now a combination of the former WMS Gaming, Bally Technologies and SHFL, which were all purchased by the former Scientific Games between 2013 and 2015. Wilson said the combined companies spent more than $1 billion on research and development over the last year, "which means there were tons and tons of fresh ideas."
As an example, Wilson said Light & Wonder revived "Goldfish," a game first developed by WMS. The theme was given a new look and was re-launched last year. On the same day, a Goldfish-themed slot machine was placed at a tribal casino in Northern California and digital versions were placed on SciPlay – Light & Wonder's social gaming product – and on Michigan's iGaming platform.
Two versions of Goldfish are already in the top 10 of Eilers & Krejcik's database for new video reel slot machines.
Using all three different channels, Wilson said Light & Wonder, "put the game in front of millions of potential players."
Jonas, with Truist Securities, told investors that Light & Wonder shared data points during meetings at G2E that bolstered the company's approach.
"Ninety-five percent of social players have visited a land-based casino, with 84 percent more than one time," Jonas said. "In addition, two-thirds of social casino players have visited a land-based casino over 20 times."
---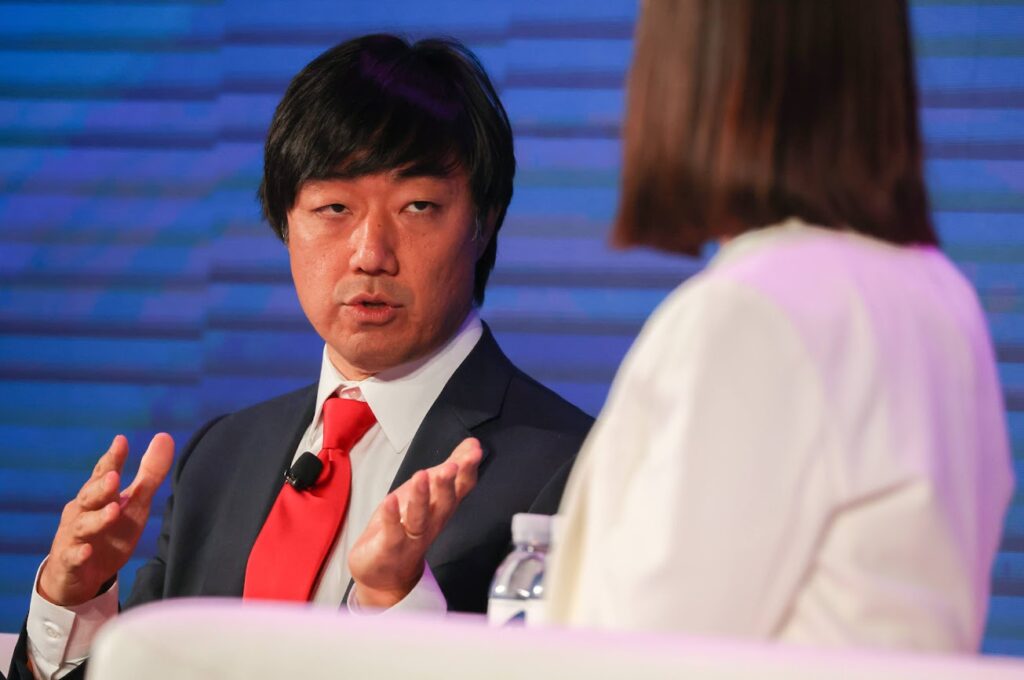 Bally's chairman talks omnichannel and Chicago, not Tropicana purchase
During his keynote appearance at the Global Gaming Expo, Bally's Corp Chairman Soo Kim happily discussed the company's omnichannel approach to sports betting and a $1.7 billion casino project planned for downtown Chicago.
What didn't come up was the Tropicana Las Vegas.
Bally's closed its $308 million acquisition of the south Strip casino in late September. Company executives told Nevada gaming regulators last month that the Rat Pack-era resort would be Bally's "western flagship."
Kim, who appeared alongside Penn Entertainment CEO Jay Snowden, was at G2E to discuss regional gaming markets. Bally's owns and manages 15 casinos across 10 states, including the Tropicana and Bally's Lake Tahoe in Northern Nevada.
His New York-based Standard General hedge fund owns more than 20 percent of Bally's and the business was unsuccessful in taking the casino operator private earlier this year.
The Chicago project is Bally's most ambitious venture. The 30-acre site along the Chicago River once housed the Chicago Tribune's Publishing Center and will include a casino with 3,400 slot machines, 170 table games and a variety of restaurants, convention space and indoor and outdoor entertainment venues.
Bally's is expected to open a temporary casino in downtown Chicago next summer while the permanent resort is constructed over a three-year period.
As for the Tropicana, company executives told Wells Fargo gaming analyst Daniel Politzer that it will take at least a year for Bally's to come up with development plans for the site, which could include one or two partners.
Kim directed Bally's name change from Twin River Worldwide Holdings and acquisitions in the regional casino markets. He also spearheaded Bally's push into online gaming through the purchase of United Kingdom-based Gamesys Group.
As for sports betting, Bally's developed the platform Bally Bet and acquired the naming rights to Sinclair Broadcasting's regional sports network, which carries the name Bally's Sports.
"The way we look at it, omnichannel gaming is not online gaming. It's not land-based gaming. It's just gaming," Kim told CNBC reporter Contessa Brewer, who moderated the discussion with him and Snowden. "We look at gaming as a service. Why not expand the pie and deliver gaming and go to where the customer is?"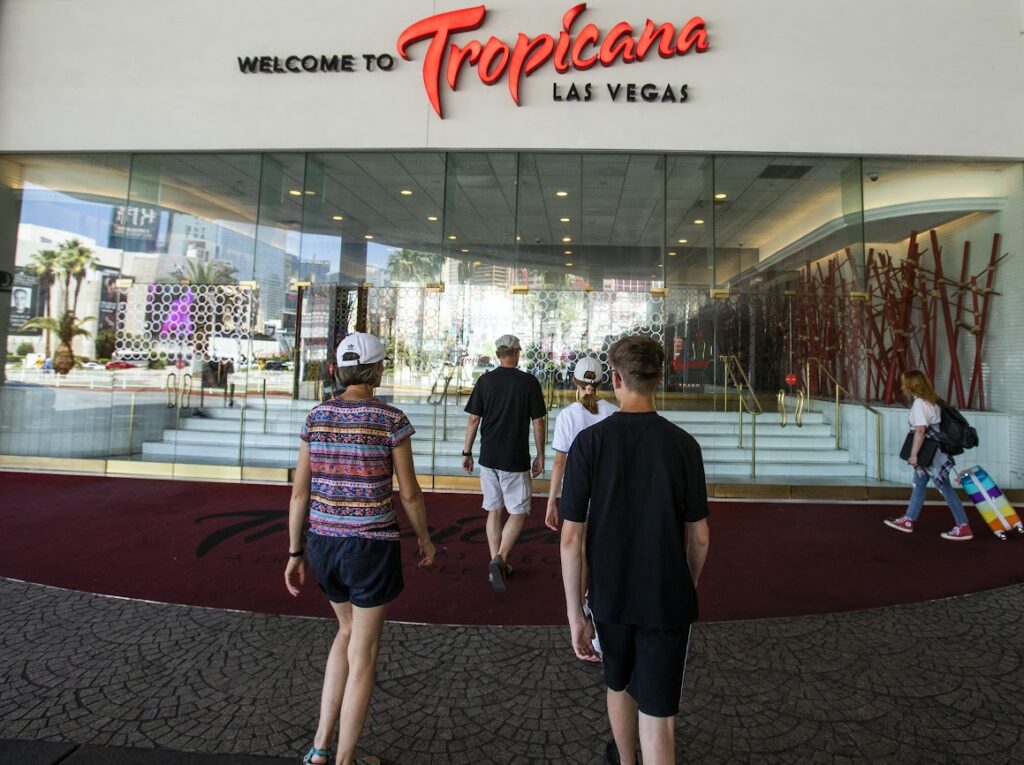 Despite being active in the mergers and acquisitions front over the past few years, Kim said the current economic environment has left access to capital somewhat scarce. He said Bally's current cash flow is limited to investments in digital gaming and building the Chicago casino.
On the Strip, the largest acquisition question surrounds the plans by Caesars Entertainment to sell one of its Strip casinos. Most analysts believe Planet Hollywood is on the auction block.
"Although it has become increasingly unlikely that capital markets will allow a large-scale deal through the pipeline, there does appear to be some appetite for mid-sized, single assets," CBRE gaming analyst John DeCree told investors. "Given the episodic nature of strategic mergers and acquisitions, and the number of well-capitalized potential buyers, we expect a couple more transactions to get done over the next couple of quarters."
Caesars executives hinted a sale could be announced when the company reports its third-quarter earnings on Nov. 1.
J.P. Morgan gaming analyst Joe Greff said Caesars executives told him in a meeting during G2E that the financing market has been challenging.
However, he said "given strong trends, the last 12 months of cash flow at (the property in question) continues to grow, and (Caesars) happy to hold onto the asset and continue to clip the cash flow."
---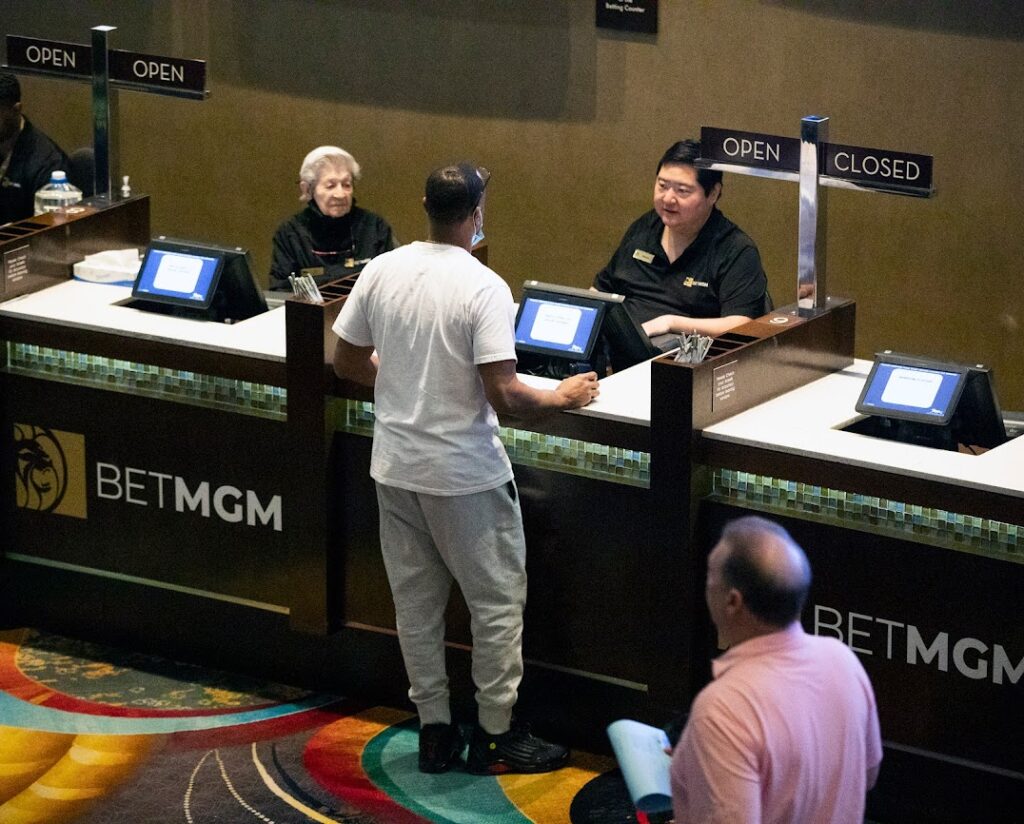 IAC executive to oversee MGM Resorts' interactive gaming division
A top-level executive from IAC/Interactive Corp., MGM Resorts International's largest stockholder, will oversee the gaming company's expanding interactive gaming division, which includes BetMGM, one of the nation's leading sports betting providers.
In a brief announcement last week, MGM Resorts said Gary Fritz was named president of MGM Resorts Interactive. Fritz had previously overseen the gaming business for IAC, which is controlled by billionaire media mogul Barry Diller.
IAC owns 14 percent of MGM Resorts, and Diller and IAC CEO Joey Levin are members of the MGM Resorts board. In May, Diller was approved for a two-year limited license by the Nevada Gaming Commission, which regulators said would give the billionaire investor time to comply with a federal investigation involving stock purchases.
Diller cited the potential of MGM's interactive gaming business when IAC spent $1 billion to acquire its initial 12 percent stake in MGM Resorts in August 2020.
At the time of the initial investment, BetMGM – the 50-50 sports betting and online gaming joint venture between MGM and Entain plc – was in its early stages, and Diller said the company's revenue from online gaming was "so small that it rounds down to zero."
Today, BetMGM ranks among the top four online sports betting operators in the U.S., which combined controls roughly 86 percent of the overall wagers and revenue, according to advisory firm Eilers & Krejcik Gaming. BetMGM operates sports betting in 19 states, Washington, D.C., and Ontario, Canada. The company also has an online casino presence in four states.
In a statement, the company credited Fritz with leading MGM's $604 million acquisition in September of LeoVegas, a Swedish online gaming company that has access to several global jurisdictions.
"Enhancing and growing our digital businesses is one of MGM Resorts' top priorities, and Gary is uniquely positioned to help the company build on successes and seize new opportunities," MGM Resorts CEO Bill Hornbuckle said in a statement. "Gary will play a vital role in MGM Resorts' diversification strategy and drive our investment in digital innovations."
With IAC, Fritz oversaw global strategy and expansion plans for the company and two of its subsidiaries, TripAdvisor and Expedia. In his new role, Fritz is responsible for the company's growth strategies in digital gaming, including potential mergers and acquisition activities. Fritz will be a member of MGM's executive committee, a member of the board for BetMGM and chairman of LeoVegas.
In a statement, Fritz said his goal is to "accelerate" MGM's growth in digital gaming. "I look forward to continuing to drive our strategy around global expansion and digital innovation," he added.
---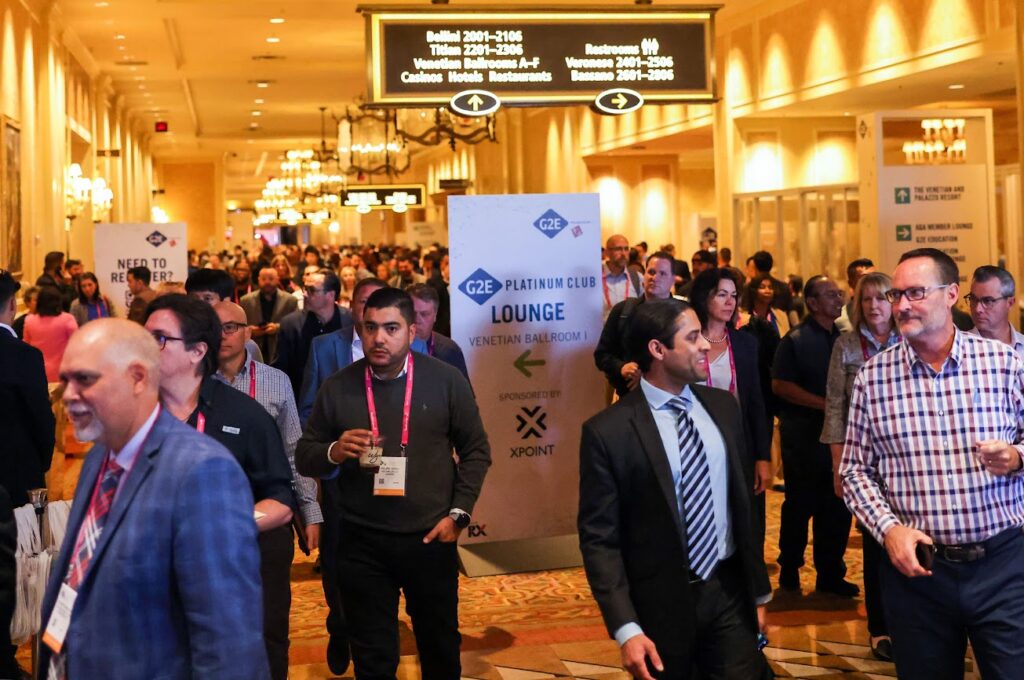 Quotable
Via press release from the Global Gaming Expo
Attendance at last week's Global Gaming Expo (G2E) at the Venetian Expo was an estimated 25,000, according to the show's organizers, nearly double last year's scaled-down version of the gaming industry's largest annual conference. G2E was held virtually in 2020 due to the pandemic, while 2019's conference drew 27,000 attendees.
"It was fantastic to bring the full global gaming community back together to reconnect and drive business. The energy and excitement at this year's show announced that gaming is all the way back and made it the most impactful G2E yet."
- Korbi Carrison, vice president, G2E
"Our industry is experiencing record-setting growth because of the innovation and technology that is fueling our world-class entertainment offerings."
- Bill Miller, CEO, American Gaming Association
Via press release from PlayStudios
Las Vegas-based social gaming company PlayStudios is buying rival game developer Brainium for $70 million as part of a contingent consideration tied to the performance of the company's games through the end of the year. The purchase gives PlayStudios access to such titles as popular casual games, such as Solitaire, Spider Solitaire, Sudoku and Mahjong.
"Brainium checks all the boxes on our growth strategy: it's accretive to earnings, it more than doubles our average daily active users, expands our portfolio of games in new genres, diversifies our revenue streams and advances our (rewards) platform."
- Jason Hahn, executive vice president, PlayStudios
Via press release from MGM Resorts International
The 2.1 million-square-foot convention center at Mandalay Bay will be the beneficiary of a $100 million remodeling effort, MGM Resorts International announced last week. The facility, one of the Strip's largest spaces attached to a hotel-casino, will receive technological enhancements, a remodel of all pre-function spaces, meeting rooms and ballrooms, and fine art features. Mandalay Bay Convention Center will remain open and operational throughout the remodel, which is expected to be complete by the end of 2024.
"We listened to feedback from meeting planners over recent years and are confident this refreshed and upgraded space will exceed their needs and expectations in every way."
- Ernest Stovall, vice president of sales, Mandalay Bay
The Nevada Independent is raising $200,000 by Dec. 31 to support coverage of the 2024 election.
Tax-deductible donations from readers like you fund this critical work.
If you give today,your donation will be matched dollar-for-dollar.
Give + Get Matched
Featured Videos