Indy Gaming: Are California's two sports betting efforts on life support?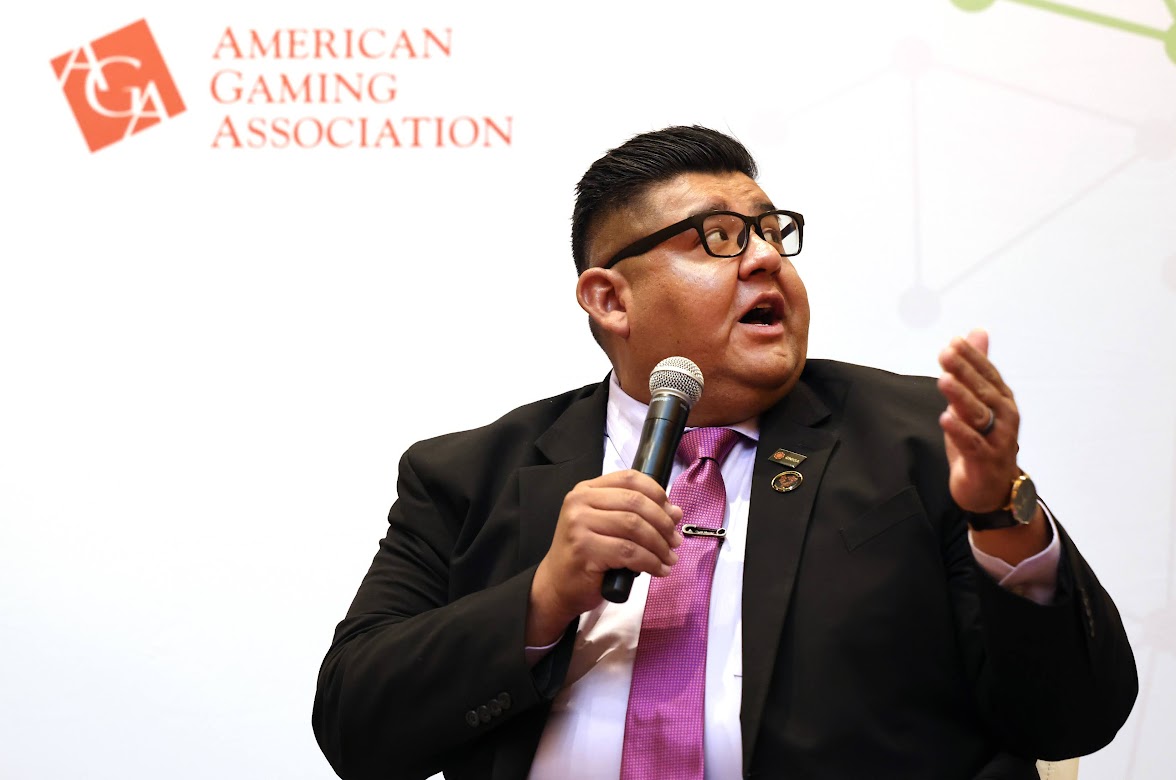 Good morning, and welcome to the Indy Gaming newsletter, a weekly look at gaming matters nationally and internationally and how the events tie back to Nevada.
If a colleague or associate emailed this newsletter to you, please click here to sign up and receive your own copy of Indy Gaming in your inbox. - Howard Stutz
---
With four weeks until Election Day, backers of the two most costly ballot questions in California history are already tossing dirt on the graves of their own sports betting propositions.
The blame game has started.
Several panel discussions at this year's Global Gaming Expo turned into an airing of grievances over tribal gaming-backed Proposition 26, which would allow Indian casinos and several horse racing tracks to open retail sportsbooks, and Proposition 27, which is backed by national sports betting operators and would legalize mobile wagering.
Last week, the Los Angeles Times released the results of a poll the newspaper co-sponsored with the UC Berkeley Institute of Governmental Studies showing neither measure has the support to pass. Proposition 26 had just 31 percent support, while Proposition 27 had an even worse showing with just 27 percent support.
The poll results confirmed what analysts at Eilers & Krejcik Gaming warned in September: "The political power and deep pockets of interests with dogs in this hunt … have us leaning negative on California's sports betting legalization prospects this fall."
G2E at the Venetian Expo provided the perfect setting for a pre-election postmortem.
James Siva, vice chairman of Southern California's Morongo Band of Mission Indians, said during a Monday discussion that tribes "haven't even spent $1" on ads promoting retail sportsbooks. Instead, they focused efforts on killing the mobile sports betting referendum.
"The tribes had to shift focus to defeating [Proposition] 27," said Siva, who is also chairman of the California Nations Indian Gaming Association, which came out against the mobile sports betting effort.
"There was so much more at stake," Siva said. "If Prop 27 was successful, not only would it undermine our gaming exclusivity, but it would also directly undermine our sovereignty. For us, that was the bigger issue."
Last week, Ballotpedia reported the two sports betting ballot measures raised a combined $427 million, nearly double the most expensive ballot question in California history since a 2020 ballot question to exempt certain workers from California labor law.
"That's like a (U.S.) Senate race in most states, maybe more than a Senate race," said James Giles, executive director of the Washington, D.C.-based National Indian Gaming Association.
The slew of negative advertising populating California's airwaves turned off voters.
On Monday, The Wall Street Journal reported sports betting operators, including DraftKings, FanDuel and BetMGM, decided to scale back their advertising efforts in the final weeks of the campaign. The advertisements favoring Proposition 27 focused on the portion of the tax revenue from sports betting that would be used to fund solutions for homelessness and support mental health services.
Siva wasn't impressed.
"Nowhere did their ads mention sports betting," Siva said. "[The ads claimed] this is going to give hundreds and hundreds of millions of dollars back to the state to provide services for homelessness. That's not true. This is purely a [public relations] stunt."
California's tribal casinos account for an estimated $9 billion in gaming revenue, almost one fourth of the $39 billion produced in fiscal year 2021 by a combined 29 states with Indian casinos. Eilers & Krejcik has predicted legal sports betting in California could be worth as much as $3.1 billion in annual sports betting revenue.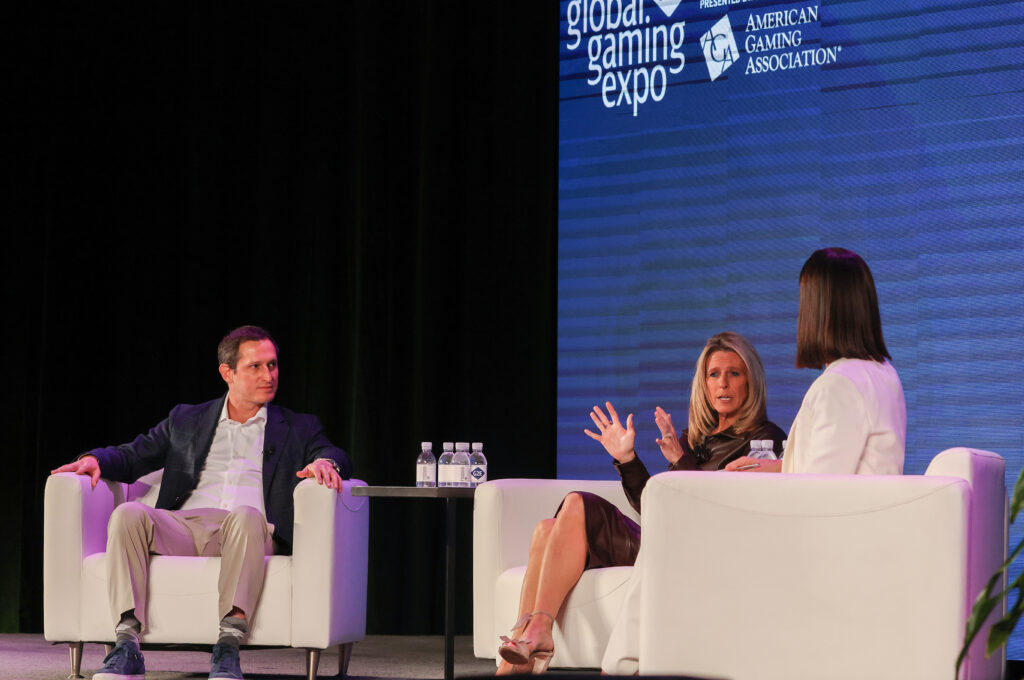 DraftKings CEO Jason Robins said Tuesday "when the opposition side is going to spend over $100 million, it's just tough to beat." He called the ads run against Proposition 27, "false and misleading," adding that it wouldn't have mattered what message the proponents of mobile sports betting were trying to convey.
Robins and FanDuel CEO Amy Howe participated in a chief executive keynote session to address the growth of legal sports betting.
Operators see California as the potential Holy Grail of the 14 states that have yet to enact legal sports betting, including Florida and Texas. Howe said she couldn't imagine a legal sports betting universe not including California.
"Nine out of 10 sports bettors said they want to be betting on a safe and legal regulated platform," Howe said. "If Proposition 27 doesn't pass this time around, we will live to fight another day."
The sports betting operators qualified for the ballot initiative in July, which Robins said didn't leave much time for messaging.
"I think the more time people in California get exposed to the messages and the more they're able to sift through what's true and what's not, I think you'll see more momentum toward (passage), hopefully in 2024," he said.
According to Ballotpedia, both DraftKings and FanDuel have donated $35 million to the Proposition 27 effort. Barstool Sports owner Penn Entertainment has contributed $25 million.
DraftKings was not alone in support of Proposition 27, but until Howe's remarks Tuesday, Robins was the only CEO who openly talked about the prospects in California — making him and his company a target by the tribes.
Mark Macarro, tribal chairman for Southern California's Pechanga Band of Mission Indians, said he has one question for DraftKings' stockholders.
"Do they realize how management is blowing their money?" Macarro said following a Monday panel discussion by tribal leaders. "Had they done their research, they would have learned their message was wrong."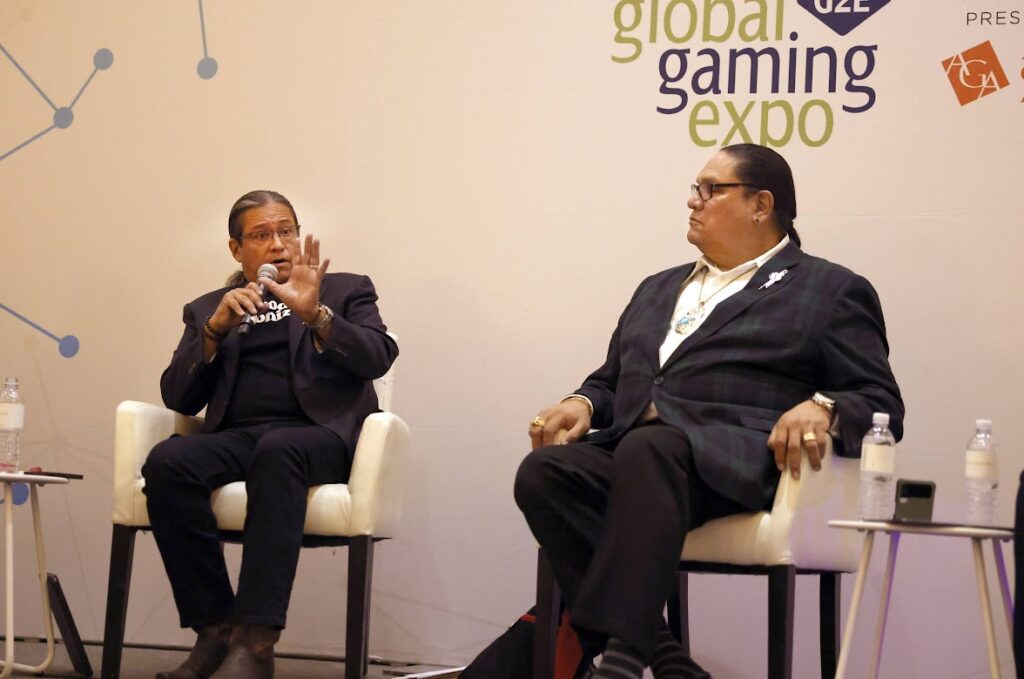 Pechanga, which has donated $25 million to the Proposition 26 effort, was one of nearly two dozen tribal casino operators that qualified the measures for the ballot, a signature-gathering effort successful despite being slowed by the pandemic.
Macarro said the goal was to get retail sportsbooks at tribal casinos approved by voters and then, two years later, qualify and pass a referendum to legalize mobile sports wagering, also operated by tribal casinos. He said DraftKings and other sports betting operators "messed up the timeline."
Shortly after Labor Day, Truist Securities gaming analyst Barry Jonas joined gaming equipment provider Everi Holdings in hosting investors on a three-day bus tour of six Southern California tribal casinos between Los Angeles and San Diego.
The participants not only got an insight into tribal casino operations, but an earful on the sports betting conundrum.
"The tribes we met with noted the expectation that the financial upside from sports betting would be modest," Jonas wrote in an investor note. "But the wider issue for them lies around tribal sovereignty."
Jonas said the mobile sports betting referendum would allow out-of-state companies to engage in sports betting. He said the tribes worried the structure "could define how iGaming could one day be introduced in California, which many see as an inevitability."
---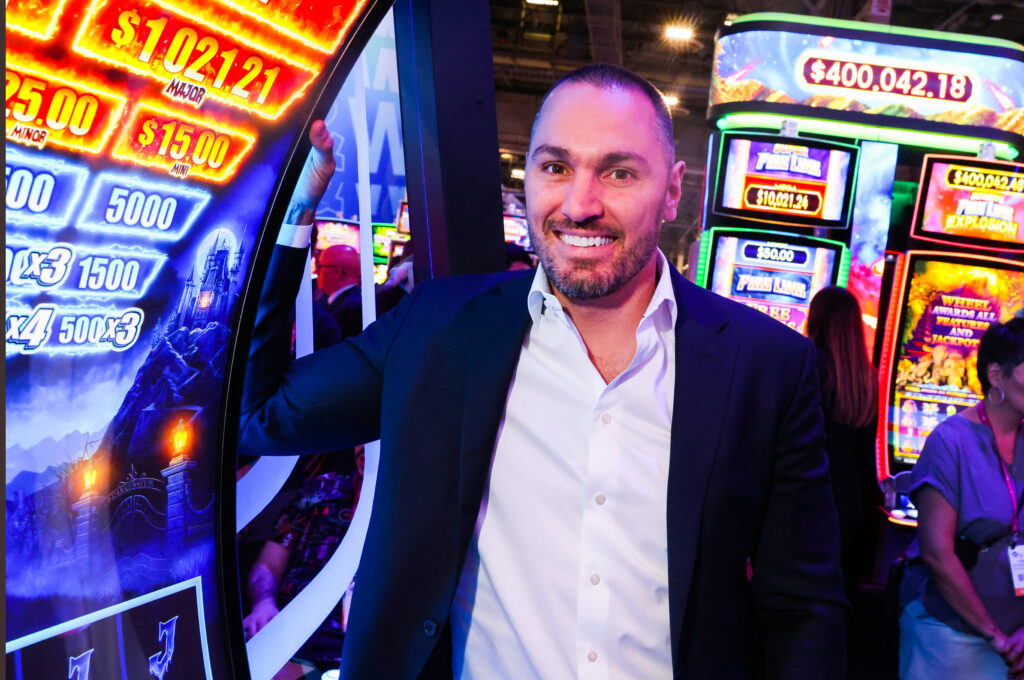 Interim title removed: Matt Wilson named permanent CEO of Light & Wonder
Gaming equipment provider Light & Wonder used Monday — the opening day of the Global Gaming Expo — to remove the interim title from CEO Matt Wilson, handing the 20-year gaming veteran the top leadership role on a permanent basis.
Wilson, previously the Las Vegas-based company's CEO of the Gaming Division, was named interim CEO in August following the sudden departure of former CEO Barry Cottle.
"Matt has demonstrated impressive leadership, strategic vision and a passion for our business," Light & Wonder Executive Chairman Jamie Odell said in a statement. "The Board is confident in Matt's ability to unlock the full potential of Light & Wonder as we enter this exciting next chapter."
Wilson, who joined the former Scientific Games in 2020, previously held several top executive roles with rival gaming equipment developer Aristocrat Technologies in Las Vegas.
In addition to Wilson's appointment, Light & Wonder named Siobhan Lane as Gaming Division CEO. Lane joined Aristocrat with Wilson in 2020 as chief commercial officer.
"Siobhan has been critical to our efforts to reposition the business and is one of the most strategic and capable leaders I have had the pleasure of working alongside," Wilson said.
---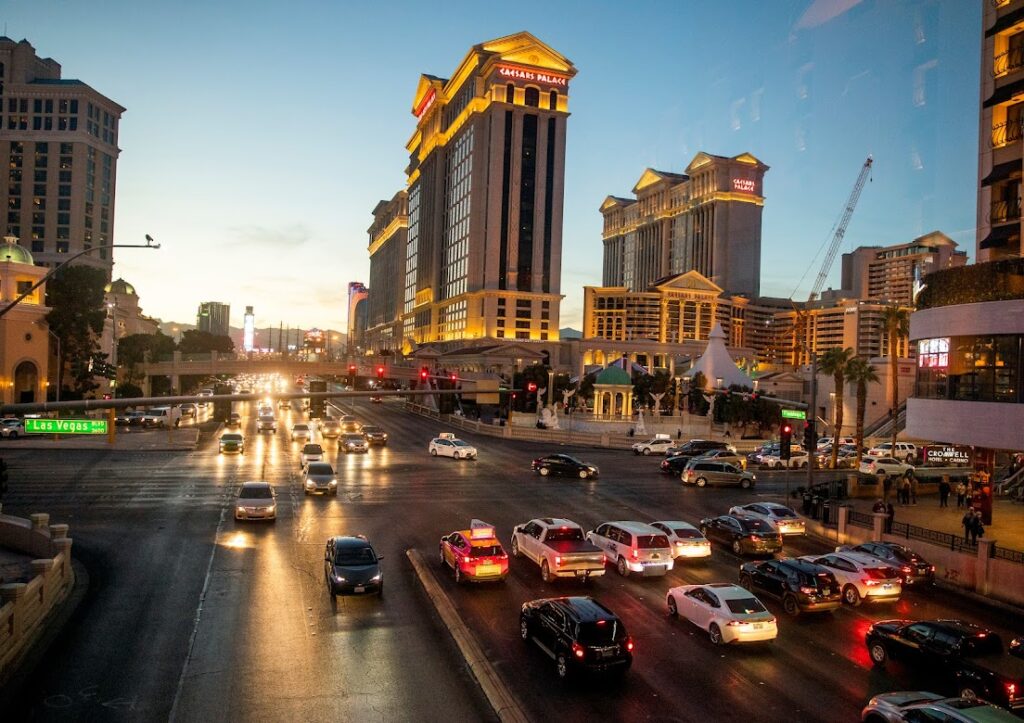 Caesars refinances $3 billion of debt, 'simplifies' its capital structure
Caesars Entertainment refinanced $3 billion of the casino company's long-term debt last week, extending the maturity date by four years until 2028.
In a statement, Caesars said it secured two credit agreements – one for $750 million and a second for $2.25 billion – that allowed the company to retire several existing loans.
Caesars had $14.2 billion in total long-term debt at the end of June.
In a statement, Chief Financial Officer Bret Yunker said the refinancing transaction would reduce interest expenses in addition to extending the debt maturity dates.
"We are excited to complete this new financing and greatly appreciate the support of our 16 domestic and international banking partners," Yunker said.
Deutsche Bank gaming analyst Carlo Santarelli told investors the transaction "further simplifies (Caesars) debt capital structure, while also providing some modest cash interest expense relief."
Caesars, which is in the process of selling one of its Strip casinos, is expected to announce third-quarter financial results on Nov. 1.
Jefferies Gaming analyst David Katz called the sale "the one major overhang" facing Caesars.
"While we believe there should be multiple potential buyers interested, with the debt market being less supportive today, valuation could be hindered," Katz told investors in a research note. "We expect management to provide more commentaries in upcoming events and earnings."
---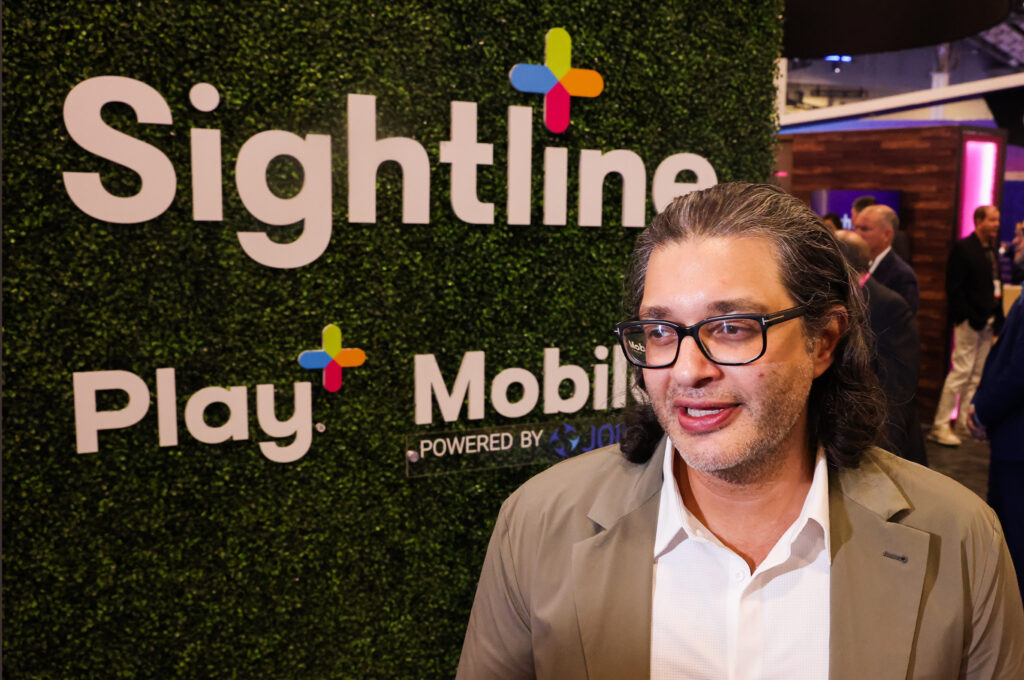 Sightline puts up $300 million to advance cashless wagering across the U.S.
Sightline Payments, in partnership with Acres Manufacturing, is investing $300 million in an effort to implement cashless wagering on 250,000 slot machines in casinos across the U.S.
The company made the announcement ahead of this week's Global Gaming Expo in Las Vegas with the objective of expanding digital payment technology on casino floors over the next 36 months. The company is using G2E to demonstrate its capabilities and sign up potential casinos.
Sightline said it would upgrade existing slot machines using the "Foundation" system created by Acres. Company officials said casinos could be offering cashless wagering to their customers within 16 weeks.
In a statement, Sightline co-CEO Omer Sattar said the spread of payment innovation would accelerate only when there is widespread consumer adoption of the technology. Sightline's digital payment system is being used by the four major casino management systems in the U.S.
However, casinos in just 10 of the 44 states that offer legal gaming have launched cashless options for their customers.
"It's the hardware and associated capital expenditures [that] are often the impediment to the large-scale deployment of cashless payments for gaming operators," Sattar said in a statement.
He added that Sightline's investment could provide a decades-long positive change in the gaming landscape.
He likened the effort to the adoption of microchip technology in credit cards that are used at point-of-sale devices in retail stores around the country. Once retailers invested in new technology, customers quickly saw the safety and speed benefits.
Sightline said the cost to upgrade outdated technology is a significant hurdle in the journey to implement cashless wagering.
"Ubiquity of availability is often critical in broad-scale consumer adoption, especially in payments and this investment will drive the whole industry towards the apex of the adoption inflection curve," Sattar said.
Foundation is a slot machine technology product by Acres that is packaged in a red box resembling a wireless router used for a home Wi-Fi set-up. It acts as a server collecting information from games, tracking real-time player behavior and data that allows casinos to send personalized bonuses to players on their mobile devices.
"We pride ourselves on our ability to provide operators with a scalable option to offer easy-to-implement cashless gaming," said Noah Acres of Acres Manufacturing Company. "Cashless gaming is a great way for casino operators of all sizes to optimize customer relationships and drive enhanced profitability."
---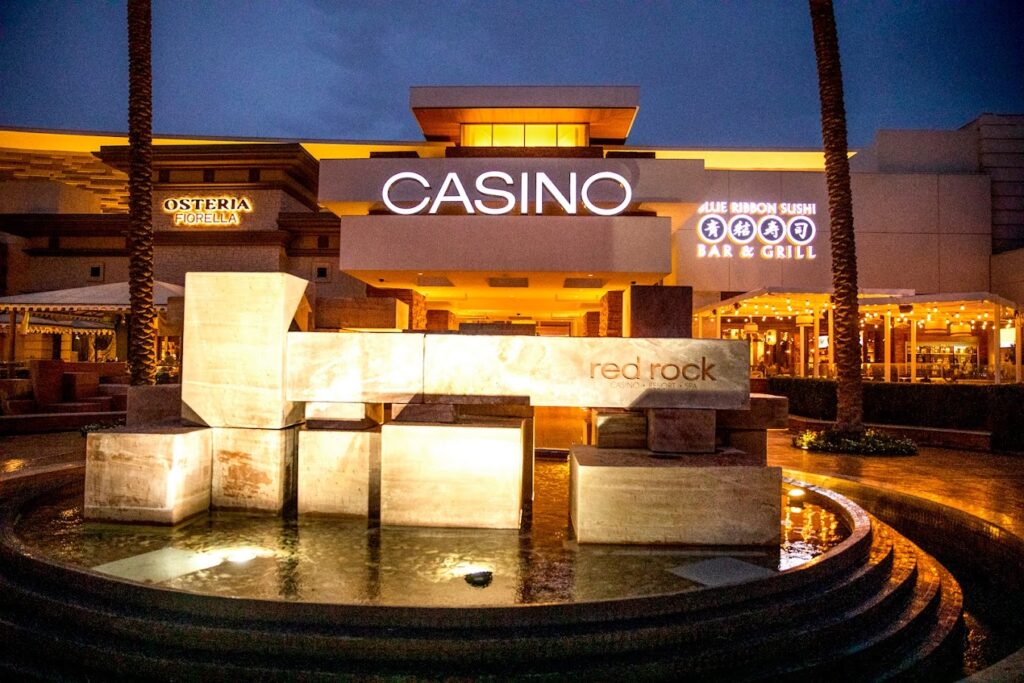 IGT rolling out cashless wagering at Station Casinos' properties in Las Vegas
Gaming equipment developer International Gaming Technology reached a multi-year agreement with Station Casinos to provide a cashless gaming platform for the casino management system used at the company's resorts in Las Vegas.
The system, which includes the technology for a mobile wallet that allows cashless wagering on slot machines, will be connected to Station Casinos' STN cash app, which allows customers to transfer money from credit cards, debit cards, bank accounts and other e-wallets.
Station Casinos plans to introduce its STN Cash app at Barley's Casino & Brewery in Henderson and locals-focused Wildfire Casinos throughout Las Vegas before rolling out the product company-wide.
Station Casinos Senior Vice President of Innovation Tom Mikulich said in a statement the STN cash app will no longer require customers to use a physical company loyalty card during slot play, because the mobile wallet is connected to the rewards program.
Customers will simply "tap in" with their smartphone and will accumulate and redeem reward points during carded play sessions.
"It's exciting to see Station Casinos at the forefront of the on-premises cashless gaming revolution," IGT Chief Operating Officer Nick Khin said in a statement.
In addition to the agreement with Station Casinos, IGT struck a similar deal for cashless gaming with the Indigo Sky Casino in Wyandotte, Oklahoma.
---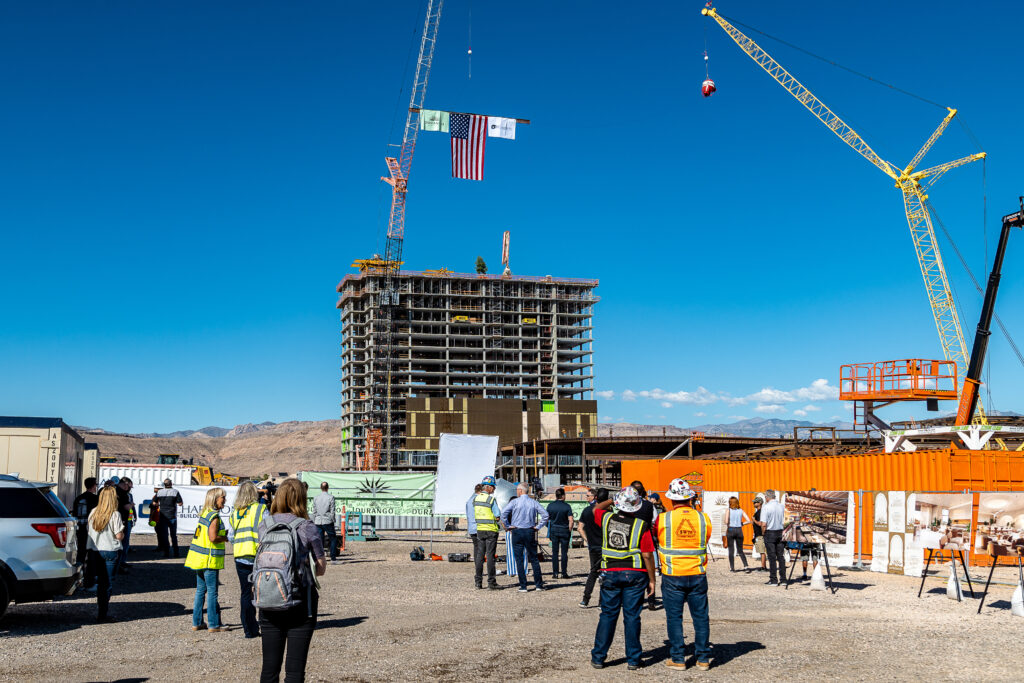 Quotable
Via press release from Station Casinos
Station Casinos topped off the tower of the $750 million Durango Casino & Resort in Las Vegas last week, adding the final beam to the 15-story hotel tower. The 200-room hotel-casino is expected to be completed in late 2023. Several hundred construction workers signed the final beam before it was lowered into place.
"Today is an exciting day in the 46-year history of Station Casinos as we top off the tower of Durango and usher in the next generation of our casino and resort properties."
- Scott Kreeger, President of Station Casinos
Via a statement from Henderson on the expansion of M Resort
"We are thrilled that the resort plans to double down on their investment in Henderson with an expansion that promises to build upon the upscale amenities it provides to locals and expose even more business leaders to the vibrant community of Henderson."
- Henderson Mayor Debra March
The Nevada Independent is raising $200,000 by Dec. 31 to support coverage of the 2024 election.
Tax-deductible donations from readers like you fund this critical work.
If you give today,your donation will be matched dollar-for-dollar.
Give + Get Matched
Featured Videos