Indy Q&A: Everi CEO sees opportunity through slot machine and cashless gaming deals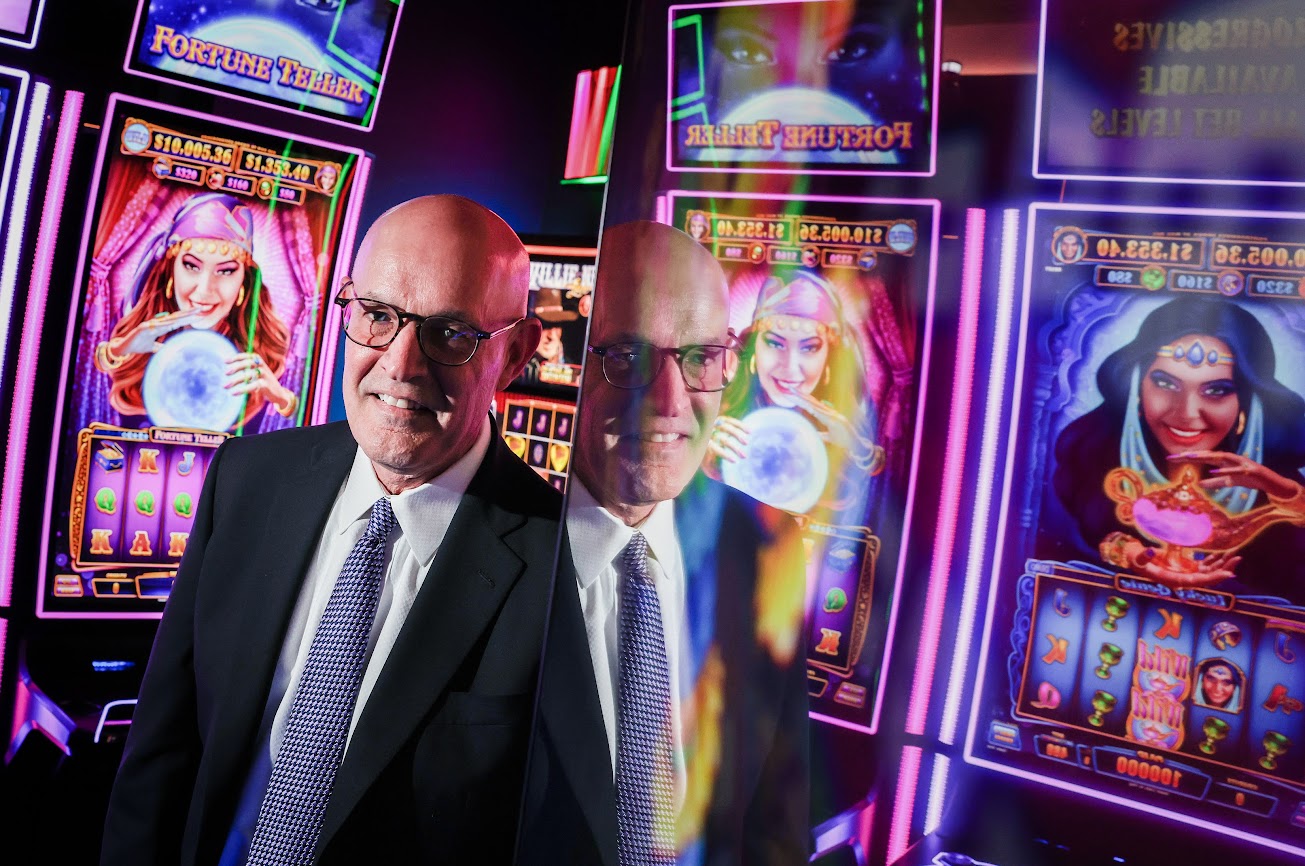 Three years after joining financial technology company Global Cash Access, Randy Taylor saw his role expand in 2014 when the payment processing provider acquired slot machine developer Multimedia Games in a $1.2 billion deal.
Taylor, who had been Global Cash's controller, moved into the chief financial officer's position as the merged companies rebranded into Everi Holdings.
It wasn't the first transition for Taylor, nor his last.
In April, Taylor took over as CEO of Everi following the retirement of Mike Rumbolz, who became the Las Vegas-based company's executive chairman.
In many ways, Rumbolz prepared Taylor for overseeing a company that is somewhat of an industry hybrid – one of the leading providers of cashless gaming technology, but also a slot machine manufacturer that is expanding its footprint inside casinos nationwide.
"On the FinTech [financial technology] side, we're one of the bigger players," Taylor said. "On the games side, we're a smaller player. But if we can get to 15 percent [of the market], that's big growth for us and that's where we are headed."
In the third quarter that ended Sept. 30, Everi had more than 17,700 slot machines in commercial and tribal casinos, an increase of more than 1,300 games from the 2021 third quarter. Meanwhile, Everi's mobile wallet, which facilitates cashless transactions, was either being used or being readied for deployment through seven casino companies operating at 38 properties in 14 states.
During the company's quarterly conference call with analysts, Taylor said Everi launched its mobile wallet at the Sky River Casino near Sacramento, California in partnership with Boyd Gaming, which operates the casino for the Wilton Rancheria Tribe. He said Everi's games make up 15 percent of the newly opened casino's slot machine floor.
Taylor, a Las Vegas native, held financial positions with casino operators Showboat and Aladdin, and gaming equipment provider Bally Technologies – all of which have merged into other companies.
He also spent 10 years in various finance roles, including chief financial officer, with Citadel Broadcasting Corp., which owned 243 radio stations across the U.S. – the third largest in the country – before Cumulus Media bought the company in 2011.
"I actually started my career in public accounting and then went into gaming before I went into broadcasting," Taylor said. "As a finance person, it really didn't make any difference what industry you are working in."
With Everi evolving, Taylor said Rumbolz gave him more exposure to the gaming side by moving him into the chief operating officer position in 2020, where he had the opportunity to oversee the operations of slot machines and ancillary gaming equipment.
Taylor said he learned much about the amount of capital a company puts into placing slot machines onto casino floors, managing the capital expenses versus revenue, and understanding the win-per-day and win-per-unit.
"It was really a good introduction," he said.
Rumbolz announced his retirement plans four months before Taylor took over, allowing for a seamless transition.
This interview has been edited for clarity and length.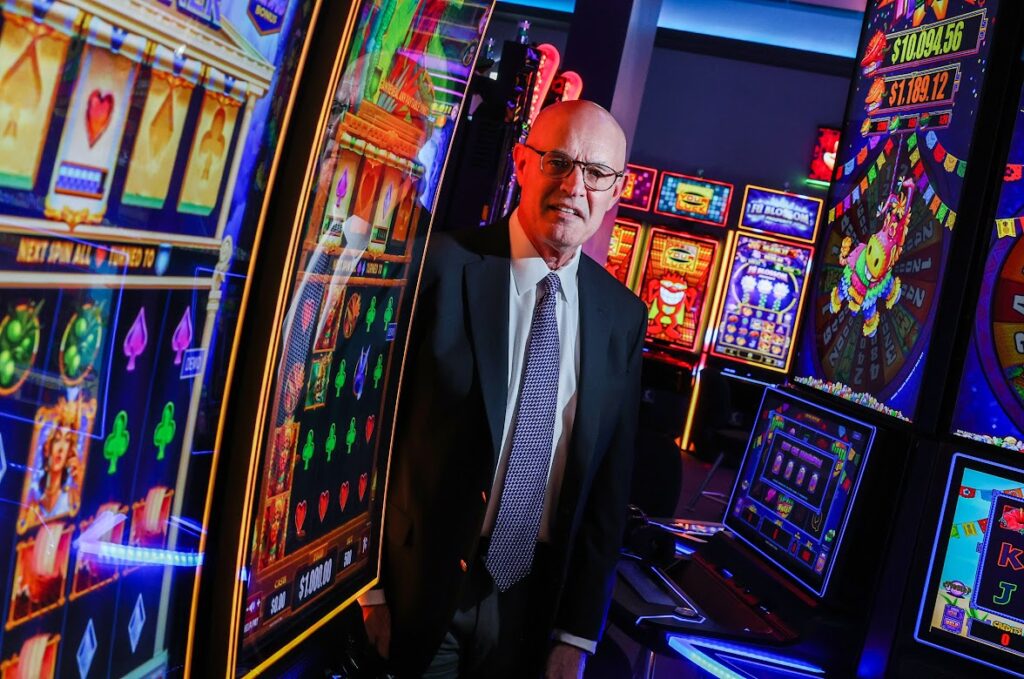 How has the use of cashless technology and mobile wallets in the gaming industry expanded in the last few years?
We were working on the FinTech side to improve our mobile wallets before 2019 and well before the pandemic. COVID hit in 2020 and everybody thought casinos would go cashless because nobody wanted to touch cash. We've always looked at cashless as an extension of our bricks and mortar casino customers. I don't believe cash will ever completely go away in the casino because people like anonymity.
But casino customers are doing more transactions through a mobile wallet. People like it and it's more convenient. You don't have to go to a casino cage or a machine to get your funds. We think it's additive to the financial transaction process. We also believe it's more evolutionary than revolutionary.
How do you compare Everi's financial figures when you view gaming versus FinTech?
It depends on how you look at it. If it's EBITDA (earnings before interest, taxes, depreciation, and amortization), then the gaming side provides about 60 percent [of the quarterly total] with 40 percent from FinTech. But there is a higher figure in development costs from the gaming side. So, if you use cash flow (which factors in working capital) then it's closer to 50-50. We've always kind of looked at them as fairly comparable business segments.
How has the company's slot machine mix changed from tribal casinos (Class 2) to commercial casinos (Class 3)?
We're still more heavily in Class 2 but we have more growth in Class 3. It's probably about 60 percent to 40 percent favoring Class 2. That's why I believe we have a lot more room to grow in the Class 3 markets.
What sets Everi's FinTech services apart from other providers?
Within the wallet, we offer the (customer) loyalty pieces and handle the cash transactions. The wallet is really an FDIC (Federal Deposit Insurance Corporation) account. We do it all as Everi. The loyalty piece is us and whether it's a debit or credit transaction, we don't have to partner with any other company.
Everi has been active in the past couple of years in acquiring several small businesses. How do they factor into the company's operations?
We picked up two companies that have customer loyalty programs, which is something we've actively worked to pull together to offer to casinos. We continue to try and improve on that. We also picked up an Australian company that will help us get into the Historical Horse Racing machine market (games that look and operate like slot machines but the winners are determined based on previously run horse races).
We just picked up another company, Venuetize, which has a mobile application for hospitality and sports venues. This is something that potentially gets us outside of gaming and allows us to leverage the mobile wallet for other areas of the property. We did that for the Sky River mobile app. We think there's going to be the continued growth of mobile applications on the FinTech side.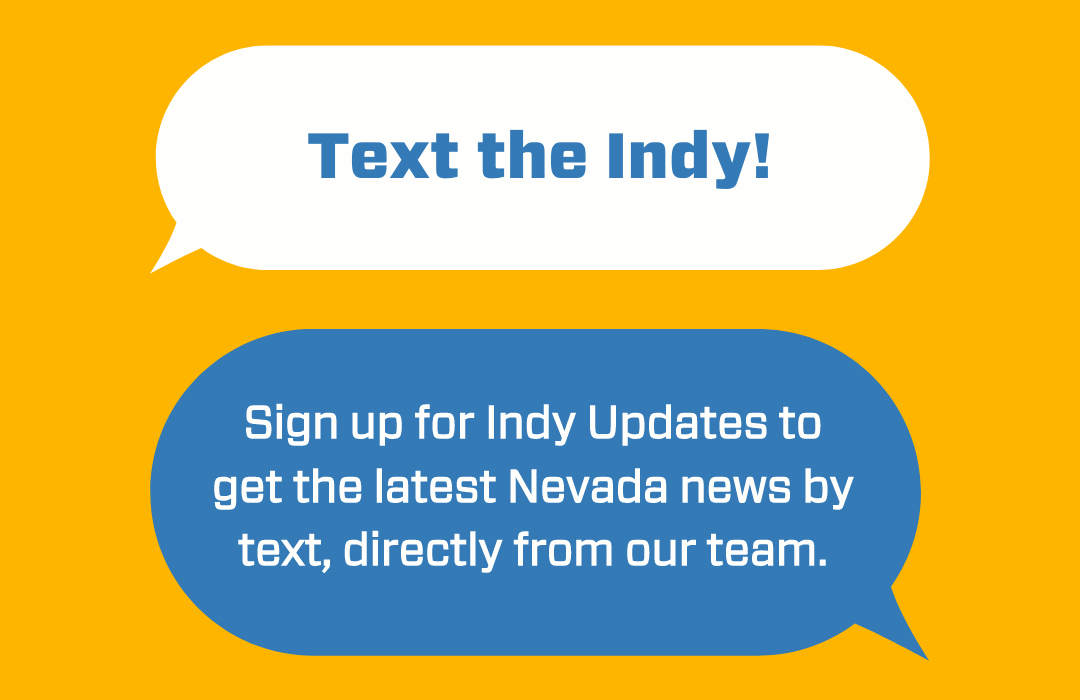 Featured Videos
Comment Policy (updated 4/20/2021): Please keep your comments civil. We reserve the right to delete comments or ban users who engage in personal attacks, use an excess of profanity, make verifiably false statements or are otherwise nasty. Comments that contain links must be approved by admin.