Indy Q&A: Renee Wilm goes 200 mph in overseeing first Las Vegas Grand Prix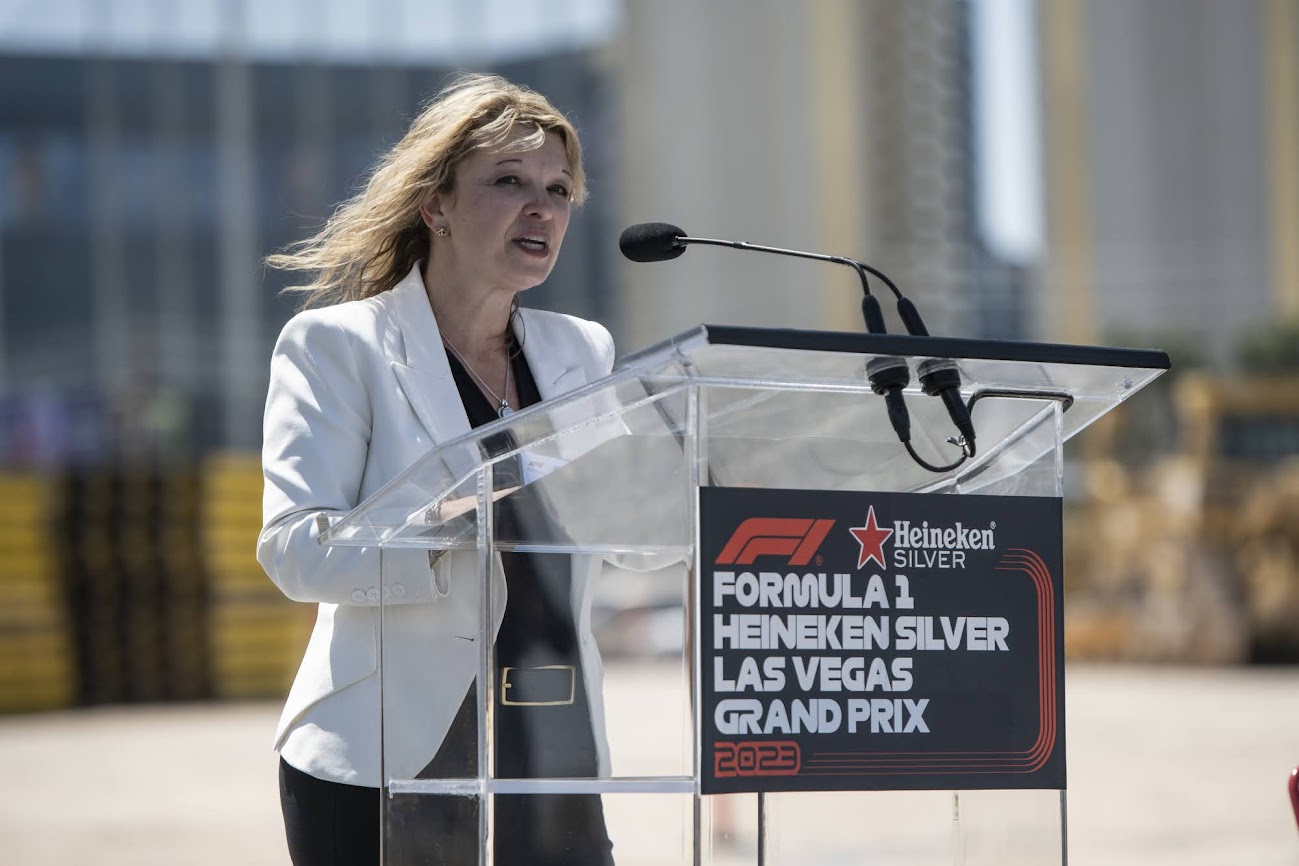 As a child, Renee Wilm loved fast cars.
She recalled bouncing around the back seat of her parent's roadster "long before seat belts were mandatory."
Eventually, Wilm traded fast cars for a legal career after earning her bachelor of business administration in finance degree from Hofstra University on Long Island and her Juris Doctor degree from St. John's University School of Law in Queens.
Wilm joined the New York City office of the global law firm Baker Botts, eventually rising to a senior partnership level where she specialized in mergers and acquisitions and other complex matters covering securities law and corporate governance.
It was in that role that she was able to combine law with racing.
Wilm represented Liberty Media Corp. when the Colorado-based media, communications and entertainment conglomerate acquired the Formula One racing organization in 2017 for an enterprise value of $8 billion.
She soon joined Liberty Media full time as the company's chief legal officer.
Last summer, when Liberty Media announced it was partnering with the Las Vegas tourism industry to bring an F1 race to the Strip, the company asked Wilm to oversee what would become just the third U.S.-based event for the international racing circuit and the fourth held in North America.
"When my colleagues in London called to ask for help in putting together the first F1 race on the Las Vegas Strip, I couldn't hop on a plane fast enough," Wilm said.
The Las Vegas Grand Prix joins races in Austin, Texas, and Miami as the only U.S. stops on F1's 23-race circuit when it takes place Nov. 16-18. The event is the first of 10 planned Las Vegas Grand Prix races.
The Strip will provide a large backdrop for the 3.8-mile, 14-turn course.
While continuing in her corporate legal role for Liberty Media, Wilm is overseeing all aspects of the Las Vegas Grand Prix, including development of the racecourse, which involves resurfacing Las Vegas Boulevard and other streets, community partnerships and local outreach.She also is overseeing the development of the $500 million, 300,000-square-foot paddock building at the northeast corner of Harmon Avenue and Koval Lane that will be the central feature for Formula One's Las Vegas Grand Prix.
The four-level paddock includes the race's start-finish line with grandstands lining several locations along the track area. The ground floor includes the pit row and adjoining garages while the upper levels include high-end luxury suites and a rooftop area for race viewing.
In the past few months, Wilm oversaw the topping-off ceremony for the paddock with F1 and Liberty Media executives, led a media tour of the structure and joined Liberty Media CEO Greg Maffei and Formula One CEO Stefano Domenicali at several public events.
Wilm has been on a whirlwind schedule since last summer's announcement to balance her expanding job titles.
This interview was conducted through email because of Wilm's schedule. The responses have been edited for clarity and length. 
What amount of your time is spent as CEO of the Las Vegas Grand Prix?
I have an ever-increasing denominator for work so any percentage I give would be skewed. Having said that, I can honestly say that I love all of my jobs. Liberty Media is a complex, dynamic conglomerate of media and entertainment companies, which creates bespoke legal and commercial issues.
I cannot thank Stefano Domenicali and Greg Maffei enough for entrusting me to oversee the development from scratch of, what we hope will be, the best sports and entertainment event on the planet.
Las Vegas has seen women rise into sports leadership roles (Las Vegas Aces President Nikki Fargas and Las Vegas Raiders President Sandra Douglass Morgan). Are women increasing their presence in motorsports leadership?
Absolutely. Early in my career as a corporate lawyer, I was often the only woman in the room. I could not be happier to see women breaking barriers across industries. Sports have been uniquely male-denominated for many years, but experiencing the sea change occurring in sports is all the more exciting.
What has Formula One learned from other events in similar cities that it hopes can be translated to the Las Vegas race?
As the owner of the sport, we have been able to learn so much from our promoters across the calendar, from top-notch security protocols to the highest-end hospitality offerings. We are all working together to raise the quality of the F1 experience across the ecosystem.
We intend the race [to be] in Las Vegas for decades to come. We cannot thank the Clark County Commission enough for their faith in approving a 10-year permit.
Is there a race on the F1 circuit that is similar or comparable to the Las Vegas Grand Prix?
There are certainly some logistical similarities to other street circuits, such as Singapore and Monaco, in that roads will be closed to create a racetrack. However, we believe the Las Vegas Grand Prix will create an unparalleled visual spectacle with the iconic Las Vegas Strip serving as the backdrop to a world-class evening race.
F1 is one of the highest-priced sports tickets ever in Las Vegas and recent sales reports and hotel room reservations show interest in the Las Vegas Grand Prix as one of the most high-profile events in Las Vegas tourism history. Does that aspect add any additional pressure on you and your team?
F1 fans are expecting the pinnacle of fan experience, and we are committed to delivering against their expectations. I would argue we put more pressure on ourselves than any third party could.
(Wilm addressed potential access issues on the Strip during the race weekend in a presentation in January at Preview Las Vegas 2023, an event focused on economic development sponsored by the Vegas Chamber of Commerce.)
We do have plans for vehicular bridges, [and] pedestrian walkways for access points. We are working very closely with [the police and fire departments] to ensure that we are mitigating traffic and working with our local partners to try to mitigate the inconvenience.
We know it is going to be a difficult, challenging traffic weekend but we think that the value we're bringing to the city and the experience we are creating will far outweigh the convenience factor.
How many full-time and part-time positions will be filled by the Las Vegas Grand Prix?
Currently, we have upwards of 80 full-time employees across commercial, event operations and race operations, and we will engage thousands of temporary staff by the time of the race. It's pretty amazing when you consider that we started the business with five people working out of temporary space at Wynn Las Vegas on Memorial Day weekend 2022.
What are some of the planned uses for the Las Vegas Grand Prix Paddock Building when the race is not taking place? Will it become an attraction for locals and tourists?
We are still developing our plans for the year-round activation of the Las Vegas Grand Prix Paddock Building. But there is no question that we intend this state-of-the-art, LEED-certified building to be an attraction for fans, locals and tourists. More information will be forthcoming.
Where do you plan to be during the three-day event? Will you be able to visit other parts of the racecourse?
I will be clocking countless steps throughout the race weekend. There is not an area of the track for which I don't feel personally responsible. I am fortunate to have an incredibly talented and dedicated team who shares that sense of responsibility. Sneakers will be a must-have for us all.
The Nevada Independent is raising $200,000 by Dec. 31 to support coverage of the 2024 election.
Tax-deductible donations from readers like you fund this critical work.
If you give today,your donation will be matched dollar-for-dollar.
Give + Get Matched
Featured Videos