Indy Q&A: Tourism boss Steve Hill on Vegas hitting new highs in sporting events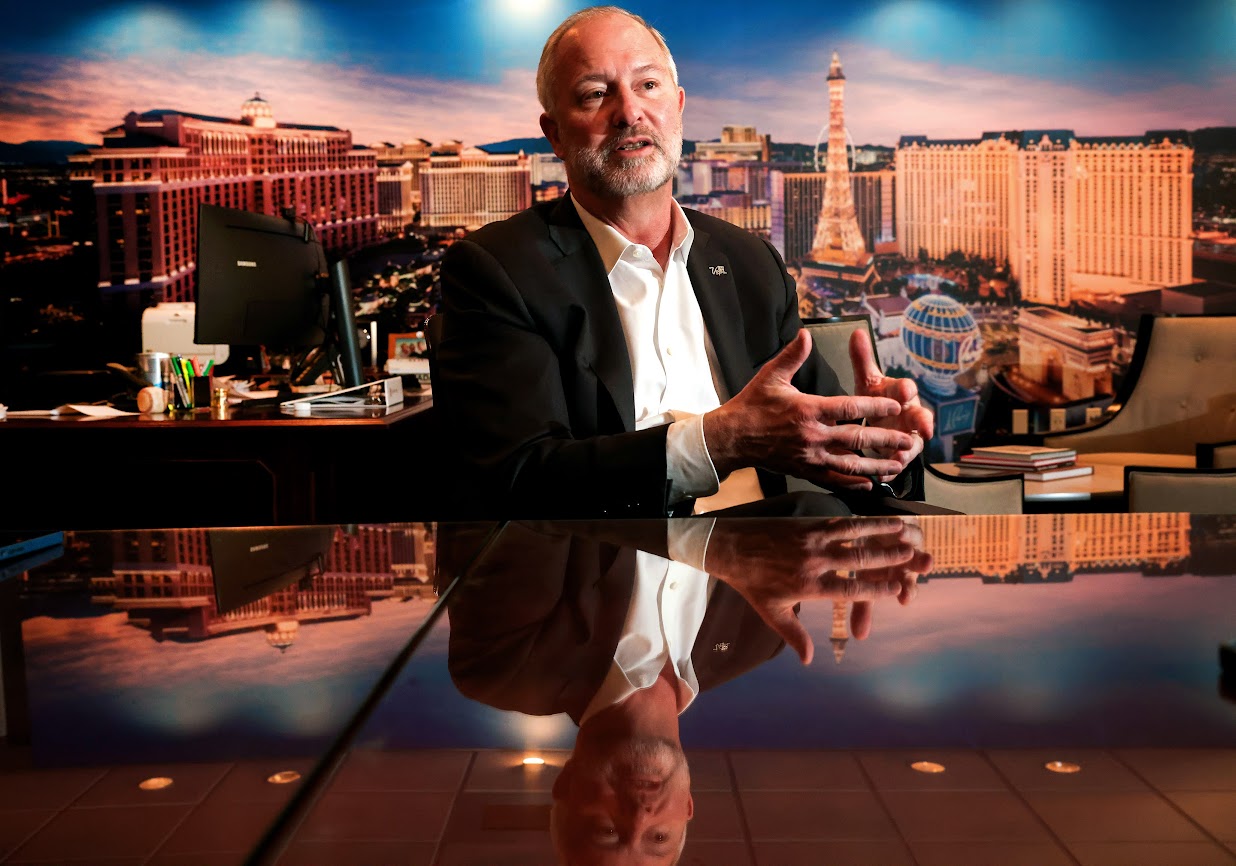 As he addressed the National Football Foundation (NFF) Annual Awards Dinner at Bellagio in early December, it dawned on Las Vegas Convention and Visitors Authority (LVCVA) CEO Steve Hill the group might be useful in helping him attract the one major sporting event eluding the market.
In a span of 11 months, Las Vegas landed 2024's Super Bowl LVIII, a three-year deal to host a Formula One race starting in November 2023 and the 2028 NCAA Final Four college basketball championship.
The one high-profile sporting event remaining on Hill's wish list is the College Football National Championship Game. This year's contest between Georgia and Texas Christian University will be played Monday at SoFi Stadium in Los Angeles.
"That's the fourth one and I think we'll end up being able to get that as well," Hill said in a December interview after he told the NFF audience about the three massive events booked in the months since he last spoke to the group.
"You guys can help with that."
He noted that Formula One's Las Vegas Grand Prix and Super Bowl LVIII will take place less than three months apart – and Las Vegas will only get one chance to "do them right" and make a solid impression.
"They're the two biggest events we could possibly host and the entire world is going to be watching," Hill said. "If we get it right, people are going to say, 'yeah, we knew Vegas can do that.' It will also lead to confidence and everything else, so it's super important here."
Hill, the former head of the Governor's Office of Economic Development who became CEO of Southern Nevada's leading tourism organization in September 2018, credited the opening of the 65,000-seat, $1.9 billion Allegiant Stadium with boosting Las Vegas visitation following the pandemic. Hill serves as chairman of the Las Vegas Stadium Authority.
According to Billboard, the home of the Las Vegas Raiders drew more than 1 million customers to 24 concerts and non-sporting events and grossed $182.5 million in 2022 — the highest figure of any stadium venue last year.
"We found there's a much broader set of musicians who can fill that stadium," Hill said. "That's worked really well and that was a surprise if you compare what we originally projected."
Hill said more than 40 percent of the personal seat licenses (PSL) — which were sold to Raiders season ticket holders and provided early access to purchase tickets to other events — were purchased by fans with ZIP codes from outside Southern Nevada.
"We expected that ratio to be in the 25 percent to 27 percent range," Hill said. "I think it's largely because the Raiders had fan bases in the Bay Area and Los Angeles and those fan bases are close enough to commute."
Special events boosted Las Vegas visitation to roughly 25 percent above 2021's figures. However, visitor volume is still 9 percent below 2019's pre-pandemic total. Hill said convention business and international visitor travel trail the totals produced before COVID.
"Group business for the properties, which is largely corporate, is coming back strongly," Hill said. "But the tech industry has lagged, partly because they're using technology in place of those meetings."
He believes the nationwide expansion of legal sports betting that began in 2018 changed the perception of Las Vegas, leading both the NFL and NCAA to place marquee events in a stadium where the Strip serves as a backdrop.
"Sports betting and casinos are in everybody's backyard. That whole dynamic has changed," Hill said. "When we started pushing for the stadium in 2015, we had no idea how great and successful it would be. Then things just really started falling into place."
This interview has been edited for clarity and length.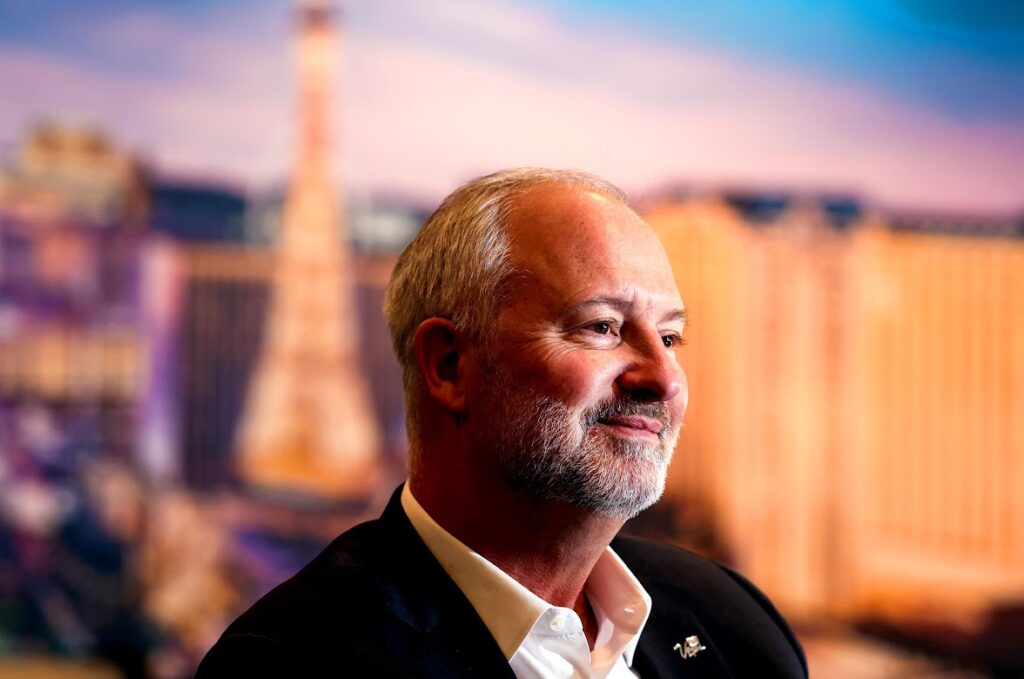 Was landing a Super Bowl inevitable once Allegiant Stadium opened?
We need a venue the size of Allegiant Stadium to host these types of events. There's no place like Vegas, which has 150,000 hotel rooms and a stadium that seats 65,000. It's a pairing that doesn't exist anywhere else. In some Super Bowl cities, people stay 75 miles away from the stadium. We're the only city in the world that has a chance to treat 65,000 people like VIPs.
Formula One is expected to draw a large international audience. Strip hotels are already booking hotel rooms at upward of $1,500 per night. Did you expect this type of response?
Formula One is about as popular as anything you can find in the world right now. Vegas is really separating itself from other cities from a tourism standpoint. It's the toughest event by far to plan for and we're doing it on a relatively compact timeline. We have to construct the circuit and work on all the temporary structures for the race itself. But it's going to be the best international marketing we could possibly do.
Looking at Las Vegas visitation, average daily hotel room rates set records in September and October and were up 19.6 percent in November. Why has that happened?
[Room rates] are 28 percent ahead of where we were in 2019, but it's not just Las Vegas. We're ahead of the trend nationally. If you look at Orlando or New York or Chicago or anyplace else, their rates are up 15 percent to 18 percent on average. So it's partially a national phenomenon.
From a stimulus standpoint, people were feeling pretty well off for a while and they're willing to pay a little higher rate if that's what everybody is charging. There's an inflation aspect to this because costs have gone up and it's a more difficult environment to operate.
Allegiant Stadium puts a demand on rooms when you have a venue that's bringing in 65,000 people for an event. We've squeezed the demand on the properties and the room rates go up.
Is the Las Vegas convention business rebounding in 2023?
We built 3.5 million square feet of new convention space during the pandemic. We now have 15 million square feet in Las Vegas, so we can do more than just recover. It gives us an opportunity to sell that additional space, and I think we will.
What can be done to boost international visitation?
A year ago, [the U.S] was making people take [COVID] tests before they could show up. In terms of trade shows, [the Consumer Electronics Show] is typically about 30 percent international. That huge obstacle has been eliminated. During the pandemic, visas were hard to get. That is starting to get fixed as well.
Asia is in a different situation. I was in Singapore a couple of months ago and they're still talking about recovering, and who can and can't travel. China is a big part of that also. So Asia needs to get recovered and get opened back up before we are going to get all of our international travelers back. Other than the steps that we're taking, there is not much else we can do.
The convention center's $1 billion West Hall, a 1.4 million-square-foot expansion, opened in 2021. Are there plans to expand the rest of the campus?
We have to renovate the current buildings. We'll start in the second quarter and move our offices to the South Hall to make way for a new entry [in the North Hall]. It will have an atrium feel to it [similar to the West Hall]. We'll come back in 2024 and do a full renovation here.
Are you concerned about the $305 million redevelopment of the Tropicana Avenue interchange with Interstate 15 disrupting Formula One or Super Bowl LVIII?
We're in a conversation right now to pause that construction and allow that intersection to be used during the race and Super Bowl. Those events are hugely important and they're beneficial to both local governments and the state. That intersection is going to be pretty critical for both of those events. Everyone has been really cooperative and helpful.
Speculation over Major League Baseball's Oakland A's moving to Las Vegas continued during 2022. Where is the process as we head into 2023?
I don't think there's anything new at this point. I think the time that has passed since it was first discussed has allowed people to think about what it would mean for Vegas. There has been more interest over the last couple of months, but it's still in the "how would this work?" phase. I think there still needs to be a better understanding from a visitation standpoint and what it would do for tourism.
I think Major League Baseball really sees the value in Las Vegas and wants to be here and it would be beneficial for Las Vegas. The commissioner said he would waive the relocation fee if the A's moved to Las Vegas. Things that ought to work out don't always happen, but it just seems to me that there should be a way to figure it out.
What has surprised you in the nearly five years since you joined the LVCVA?
One is how broad the job can be and how many different things the LVCVA is a part of. I knew it was an important organization, but I didn't realize the extent of that when I started. We've expanded and obviously got involved in transportation and the big sporting events. We have the flexibility from a budget standpoint and an initiative standpoint to respond to what's best for Las Vegas. Other agencies or organizations are really confined. Our board is willing to step out there and do things that are different if we can convince them that it's a good idea.
The Nevada Independent is raising $200,000 by Dec. 31 to support coverage of the 2024 election.
Tax-deductible donations from readers like you fund this critical work.
If you give today,your donation will be matched dollar-for-dollar.
Give + Get Matched
Featured Videos