Nevada Independent Editor Jon Ralston interviews Washoe County School District interim Superintendent Kristen McNeil (middle) and Board of Trustees President Kathy Simon Holland (right) at an IndyTalks event at the Grand Sierra Resort in Reno on Oct. 30, 2019. (David Calvert/The Nevada Independent)
IndyTalks: Washoe school district leaders on district challenges, Traci Davis firing
October 31st, 2019 - 4:25pm
Despite rising graduation rates and other positive indicators, Washoe County School District leaders say the district has to "do better" on issues ranging from low ACT test scores to rebuilding trust after an acrimonious, public firing of the district's former superintendent earlier this year.
At an IndyTalks forum hosted at the Grand Sierra Resort on Wednesday, Nevada Independent editor Jon Ralston questioned Washoe County School District Board of Trustees President Katy Simon Holland and interim Superintendent Kristen McNeil on issues facing the school district, from the termination of former superintendent Traci Davis last summer to plans to reduce class sizes and its relationship with local charter schools. McNeill also disclosed during the event that she plans to "throw her name in the ring" and seek the permanent superintendent position (the board plans to conduct a national search for superintendent candidates.)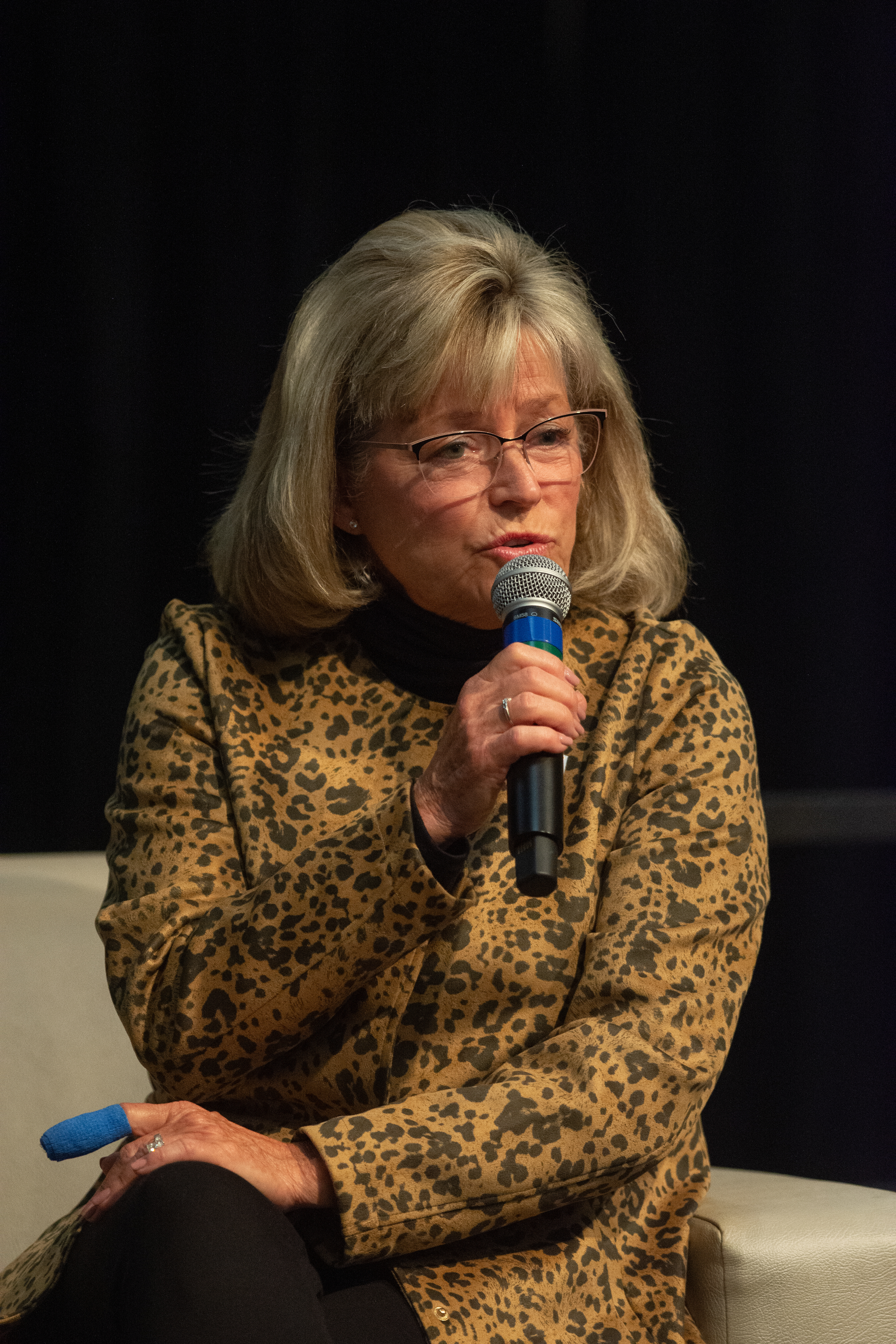 Simon Holland, elected to the school board in 2016 and made president in 2018, cited numerous examples of the district's successes — an 84 percent high school graduation rate, high Advanced Placement test passage rates and favorable marks from outside educational ranking entities — but nonetheless acknowledged several areas of possible improvement, pointing to recently released data showing the district and state below the national averages on ACT scores.
McNeill, a former teacher, principal and deputy superintendent who took the interim role over summer, said the low college-readiness scores and other disappointing metrics — plus low teacher morale, an issue raised by teachers who attended the event — meant the district was starting to look beyond its goal of a 90 percent graduation rate by 2020 (a campaign dubbed "90 by 20").
"We are not pleased with where that is," she said. "We have to do better. We have to do better as a district. We have to do better as a state, we absolutely do. Our focus has been for quite a while, around a decade or so, on graduation. But there are other points that we need to put our emphasis and our resources in."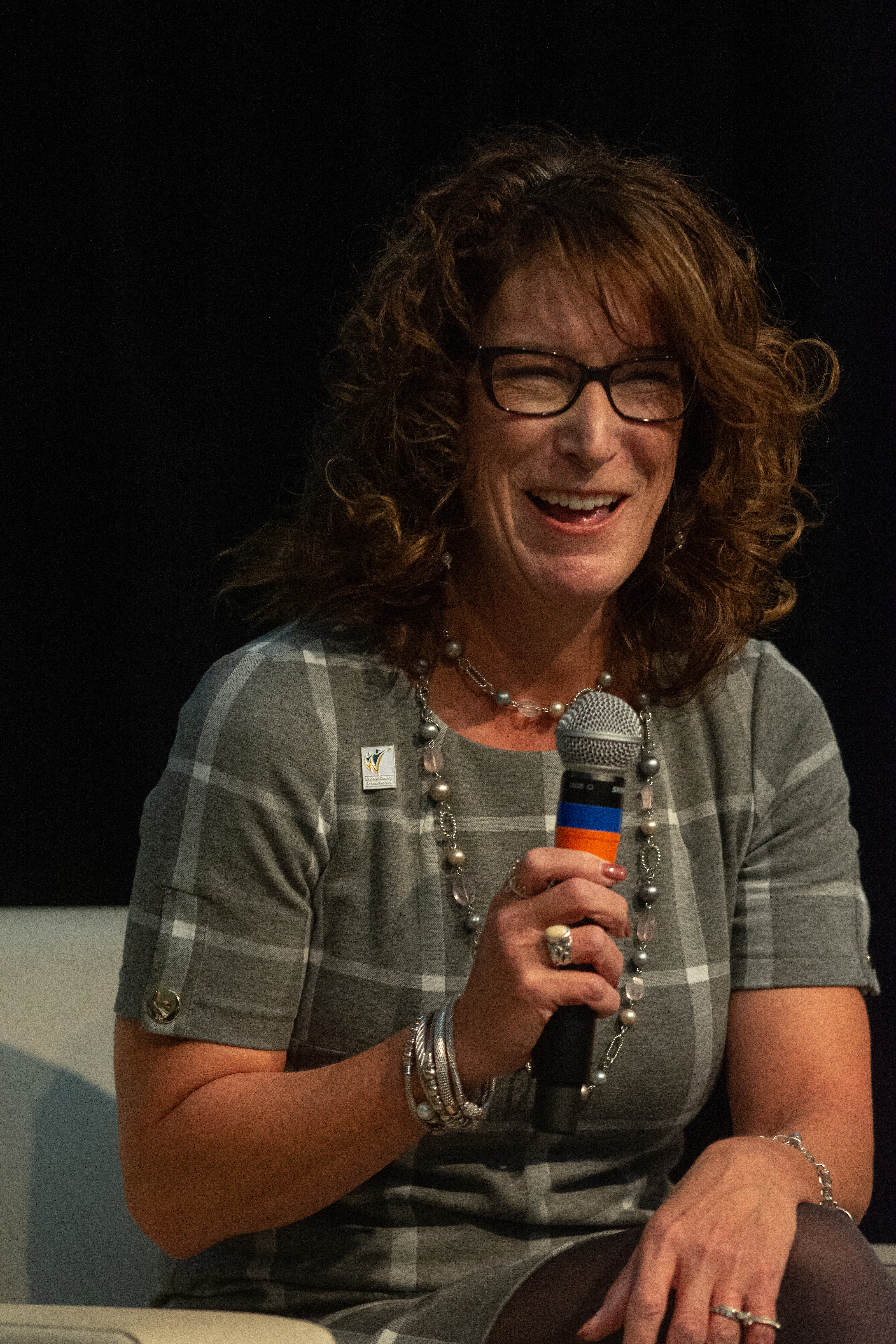 Here's what else McNeill and Simon Holland had to say during the IndyTalks event. A video of the event is posted below this story.
Traci Davis
After leading the district for five years, Davis took an "indefinite" leave of absence in mid-June, kicking off a public feud between the then-superintendent and school board members including Simon Holland. District officials alleged that Davis showed "recklessly negligent supervision" and "gross misconduct" in leaking confidential information, while Davis said that "racial issues" played a role in the ouster.
Ultimately, the school board voted 6-1 to terminate Davis at a special board meeting in July. In turn, she filed a wrongful termination lawsuit against the district in late August, challenging the district's reasons for firing her and saying no investigation occurred to prove that she leaked confidential information.
Simon Holland said she had "no doubts" about her and the board's decisions that led to the firing of Davis, saying that her only regret was in the balancing of the public's right to know what was going on with personnel matters that, under law, had to be kept confidential. She brushed away questions of whether the board reached a preordained conclusion prior to its July meeting to fire Davis, saying that there were "no decisions made behind closed doors."
"I certainly wish it could have been done differently—and I don't see a lot of ways it could have been done differently," Simon Holland said.
For her part, McNeil said that she was focused on building a sense of trust, acknowledging that "it's not going to turn the corner in one year" but that a sustained effort of listening to teachers and district employees would over time help improve morale.
"I have, unfortunately, the reputation to be answering emails at midnight and a little bit later in the evening, but it's getting back to people," she said. "It's making that courtesy that I may not be able to solve your issue, but at least I'm listening to your issue. And so establishing that trust was extremely important to me as an individual, and it was important to me as a superintendent."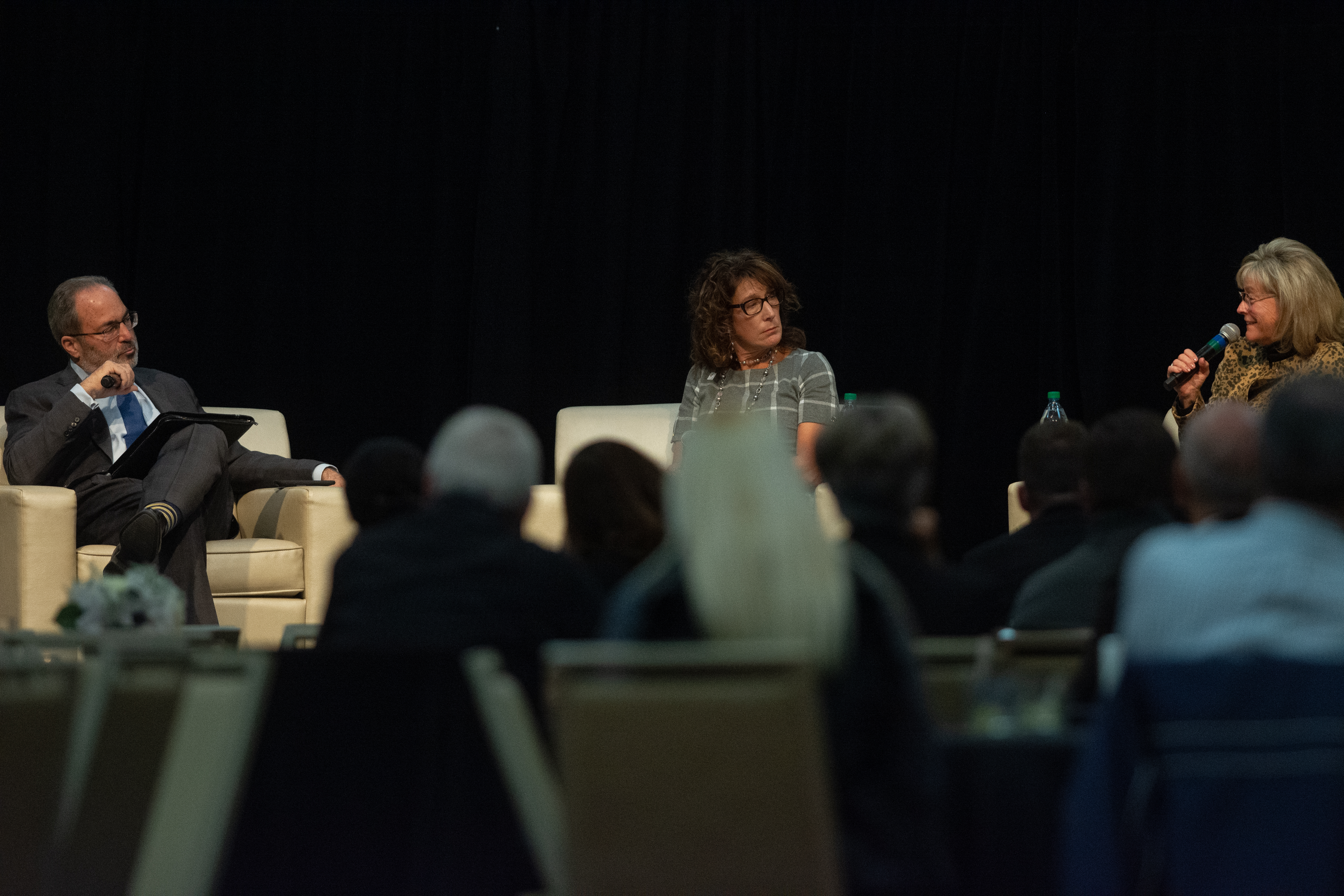 Education funding
Although Washoe County voted in 2016 to raise the county's sales tax to provide an estimated $781 million in bonding capacity for new school construction, both Simon Holland and McNeil said that the answer to many of the district's woes, from high student-to-teacher ratios to difficulties with English Language Learner populations, would come in the form of new funding.
Without discussing a specific tax proposal or plan, McNeil said that it was clear from her position that the state needs to get serious about education funding.
"We need to raise more dollars in the state of Nevada for education," she said. "We're talking about our future. We're talking about the future of our state and by gosh, if we want to be the state that's going to take education head-on, then let's get the money in the room. Let's start doing it. Let's start having those talks. Let's start putting it out there on the table. We need to start making this a statewide issue."
McNeil said she was looking forward to seeing the work of the technical committee guiding implementation of the state's new funding formula, the latest attempt to overhaul the confusing and oft-criticized 52-year-old education funding formula. Under a bill approved in the waning moments of the 2019 Legislature, the committee is charged with implementing the new formula — which places all revenue in a single pot and moves toward a "weighted" system, where student groups with more needs receive extra money — in tandem with the existing formula, with instructions to have recommendations on implementing the new formula in place by 2020.
McNeil offered cautious praise for the funding formula committee, saying that its members were an "amazing team" but that the "proof is going to be in the pudding" in terms of its recommendations. Asked on what she was hoping for out of the committee, McNeil said she hoped the results would be "equitable" and take student diversity into the equation, but reiterated that real change would require additional funding.
"At the end of the day, we need more resources," she said.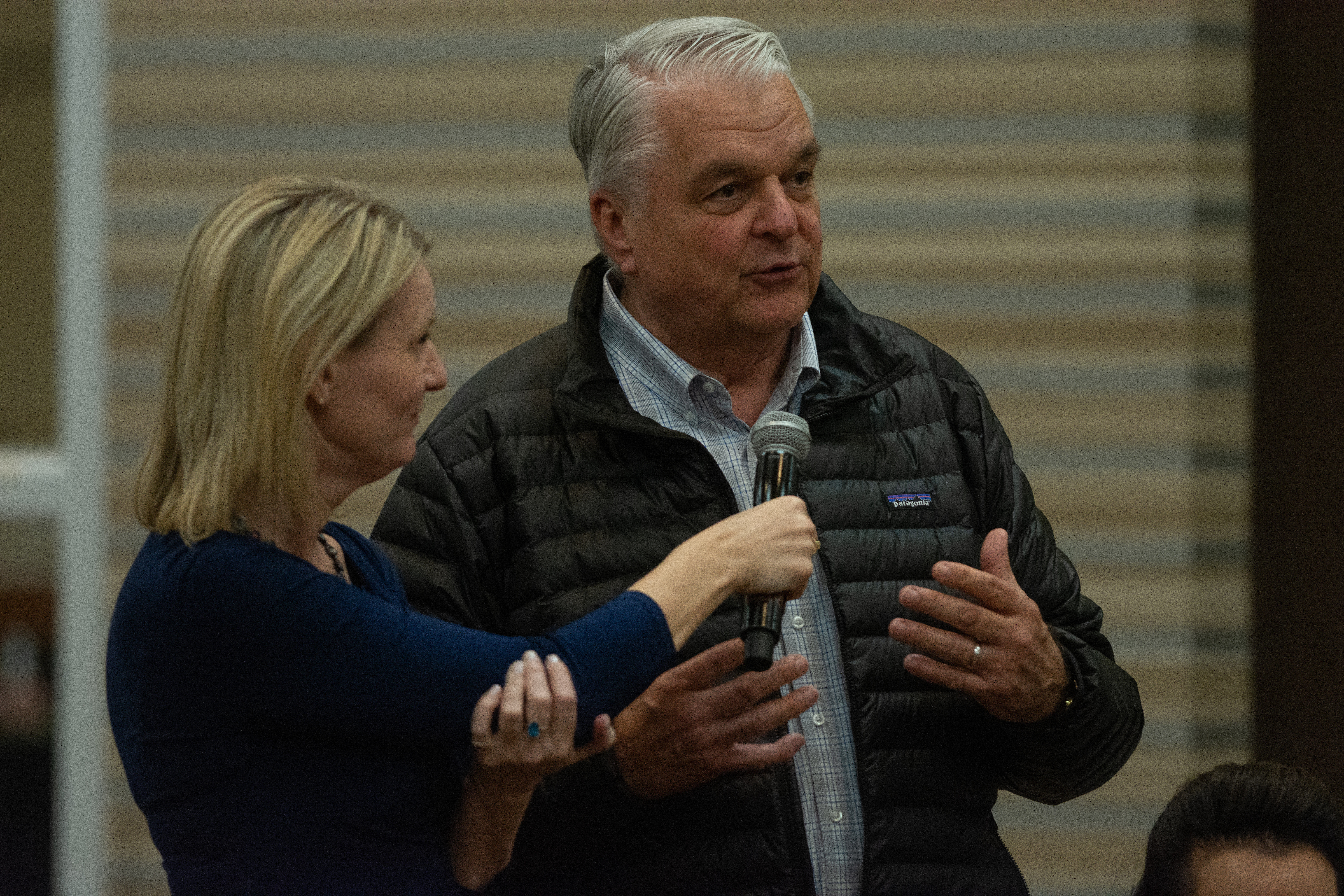 Charter Schools and unions
A burgeoning school choice movement and the rise of charter and other alternatives to public schools (seven public charter schools in Washoe County) doesn't necessarily worry McNeil or Simon Holland, each of whom said they view charters as complementary to the district's goals.
"We absolutely value choice and we also know that education is really hard work. It's really hard work for a charter school, it's really hard work for a private school and it's really hard work for a public school," Simon Holland said. "Many of our charters lost ground this year in the state and actually were downgraded in their star rating and that's a huge blow for them. It's a huge blow for us when any of our schools are downgraded."
Simon Holland also avoided any criticism of public school unions, saying that she and McNeil both had excellent relationships with union leaders and that they were not an "impediment" to their goals for the district.
"I think in our, in our situation, they are good for employees and they're good for the district," she said.
Stories
Candidate Trackers
Endorsements, Ads, Policies, Visits
& More
visit now
Comment Policy (updated 10/4/19): Please keep your comments civil. We reserve the right to delete comments or ban users who engage in personal attacks, use an excess of profanity, make verifiably false statements or are otherwise nasty.