Candidates for Las Vegas City Council Ward 3 listen to a moderator during a candidate forum on Thursday, March 21, 2019. (Checko Salgado/The Nevada Independent)
Kihuen's shadow hangs over seven-way City Council race
March 22nd, 2019 - 2:20am
Though seven candidates are in the race to replace outgoing Las Vegas City Councilman Bob Coffin, just one has become the center of attention: Former Democratic Congressman Ruben Kihuen, who is looking to stage a political comeback just months after leaving office following allegations of sexual harassment and unwanted advances during the 2016 campaign.
Kihuen has become an outsized force in an off-year municipal election that would normally see little interest as he looks to resurrect his career while his critics look to stop him.
Starting with a youth mariachi band to set the mood, all seven candidates took prepared questions from a pair of moderators in a tightly controlled, hour-long forum Thursday at Reformation Lutheran Church,  tucked just east of the Stratosphere. Put on by Ward 3 residents in collaboration with the group Nevadans for the Common Good, the forum drew more than a hundred voters from more than a dozen neighborhoods in the ward. 
Each question was prefaced by the personal story of a Ward 3 constituent, and while those ran the gamut — from safety to parks to zoning — they all stuck closely to a single theme: Will you commit to improving Ward 3?
There was little daylight between the candidates; each answered every question with a point-blank "yes." Even as each used his or her 30-second responses to break free from the pack, answers relied on the smaller details as each new candidate looked to carve their own niche among the voters.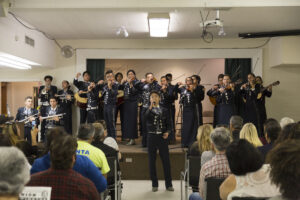 Former Assemblywoman Olivia Diaz promised to "listen, work hard and make sure that we're working on the things that I'm hearing" while she pressed the importance of solving public safety, homelessness and business licensing issues.
In contrast, Kihuen stuck to his credentials, touting the fact that he'd represented much of Ward 3 in the Legislature or in Congress for 10 years.
"You know, I am the son of a housekeeper and a former farm worker. My family came to America with absolutely nothing. No money, no contacts, no family, no friends, no job, no place to live, and less than 30 years later, I went on to become a United States representative. That is the American Dream."
The seven candidates for Ward 3, which encompasses much of Las Vegas' urban core, include both Kihuen and Diaz, in addition to Aaron Bautista, Melissa Clary, Mingo Collaso, David Lopez and Shawn Mooneyham.
Because municipal races are nonpartisan, all seven are vying to be among the top two to advance to the general election in June. If one of them can win a majority of the vote, then the race ends in the primary.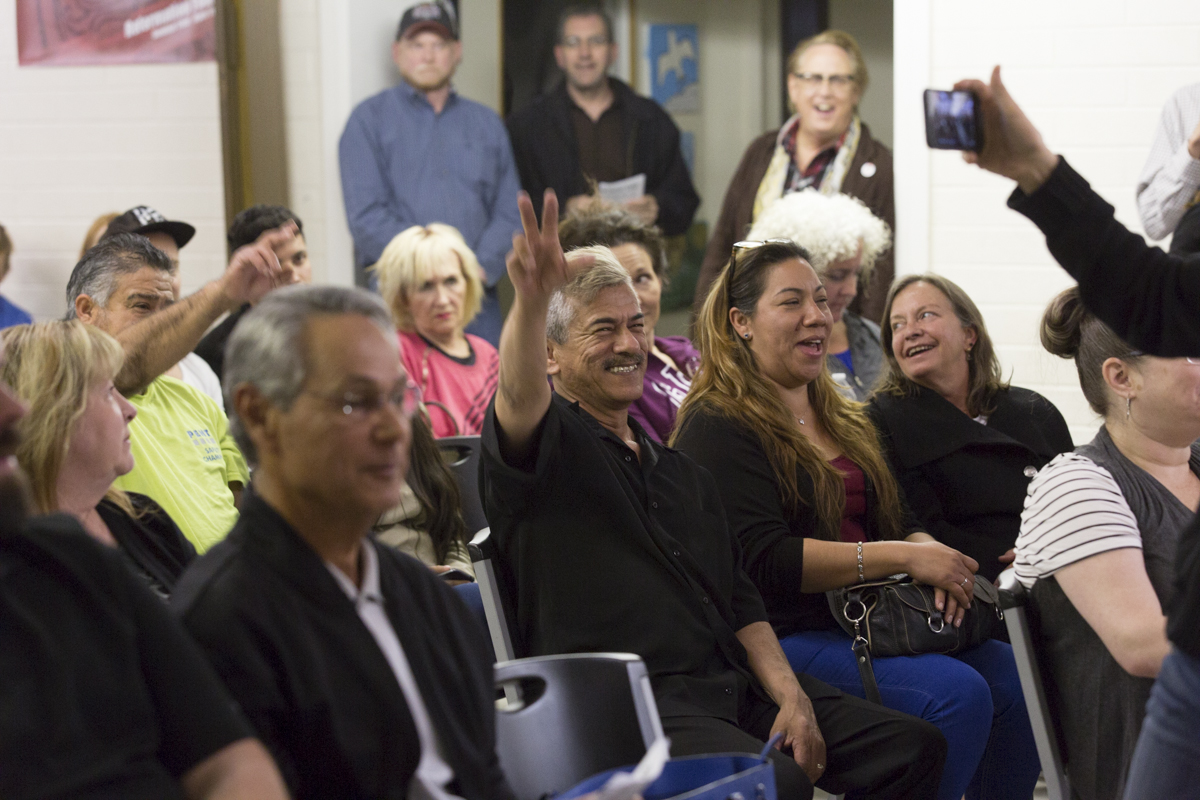 For some voters in the room, the forum proved to be something of a litmus test ahead of the April 2 primary vote.
"I've been in the neighborhood for 21 years, and I've seen only two councilpeople in that time," Lance Kirk, a Ward 3 voter, said. "A lot of the time it becomes the same old thing where they don't have time to take care of neighborhood issues. We want to make sure to hold people accountable; we're gonna choose to do that and I think that message was clear tonight."
Kirk said he was glad candidates were being open about their plans to work with community members and that he would look forward to more accessibility and accountability within the City Council.
The accusations against Kihuen lingered as an elephant in the room, as cheers and scattered boos for the former congressman had to be quelled early by moderators. For Ward 3 voter Betty Buehler, the accusations made Kihuen a nonstarter.
"That's the one person I certainly wouldn't vote for," Buehler said. "I think he's been very hurt by that. A lot of people are not going to vote for him, as far as I can tell."
But for other voters, the accusations aren't what matters most. For his part, Kirk said he's yet to make up his mind.
"I'm not for or against him right now, but if people can give what our community needs, and advocate for us and bring the resources, I'm open to it," Kirk said. "I haven't really made my decision, but it's probably there on everybody's mind. He's come to my door knocking on it."
After spending time in both chambers of the Legislature, Kihuen was eventually elected to Congress in 2016. Allegations surfaced in December 2017 that the freshman congressman had sexually harassed a campaign staffer. The story was first reported by Buzzfeed News.
A nine-month long inquiry into the allegations by the House Ethics Committee ultimately found Kihuen's content "violated the spirit" of House sexual harassment rules, though it stopped short of actually defining it as harassment or taking any more serious action.
Kihuen has denied any wrongdoing, saying in a Spanish-language radio interview last month that the committee had given him a "slap on the wrist" for flirting.
"What I want to clarify out of all of this, is that nobody accused me of raping anyone, they didn't accuse me of … sexual assault," Kihuen said in the interview. "They accused me of paying a compliment to a woman."
Earlier this month, a website appeared online that attacked the credibility of the three women who accused him of harassment, casting them as "false accusers." Kihuen denied involvement in the site, tweeting a day later that he had been unaware of the site before being told of it by Clark County Commissioner Justin Jones.
When Kihuen entered the race, his critics coalesced under #NoMeansNoRuben, a group that is both PAC and hashtag. They charge the allegations surrounding Kihuen are disqualifying, and have been using social media to remind voters of the allegations against him.
Though Kihuen mingled with voters after the forum, a spokesman for Kihuen denied an interview request from The Nevada Independent.  
Updated 3-22-19 at 7:11 a.m. to include additional details on the forum itself. 
Stories
Candidate Trackers
Endorsements, Ads, Policies, Visits
& More
visit now
Comment Policy (updated 10/4/19): Please keep your comments civil. We reserve the right to delete comments or ban users who engage in personal attacks, use an excess of profanity, make verifiably false statements or are otherwise nasty.