Las Vegas City Council OKs controversial homeless ordinance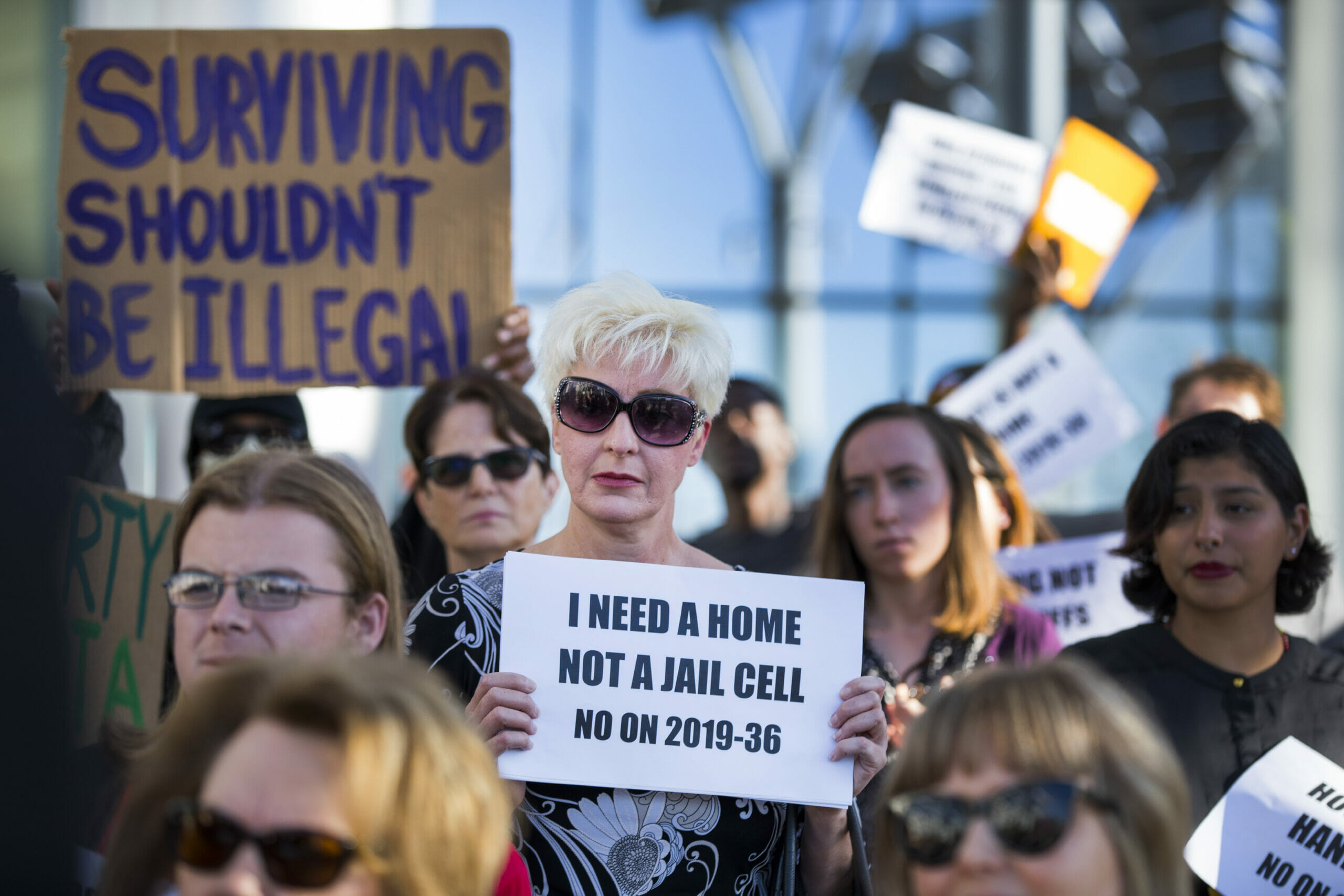 The Las Vegas City Council passed a controversial ordinance Wednesday that makes sleeping or camping in downtown Las Vegas a misdemeanor crime, capping a weeks-long debate over a law that critics have charged would effectively criminalize homelessness in the city's urban core — and that became a cause célèbre among Democratic candidates for the White House. 
The council approved the measure by a vote of 5-2, with councilmembers Michele Fiore, Victoria Seaman, Stavros Anthony and Cedric Crear joining Mayor Carolyn Goodman in favor, and Olivia Diaz and Brian Knudsen voting against.
City leaders have described the ordinance as a necessary step in addressing homelessness as a public health problem, but the introduction of the law sparked a fierce backlash among advocates for the homeless in Las Vegas and nationwide.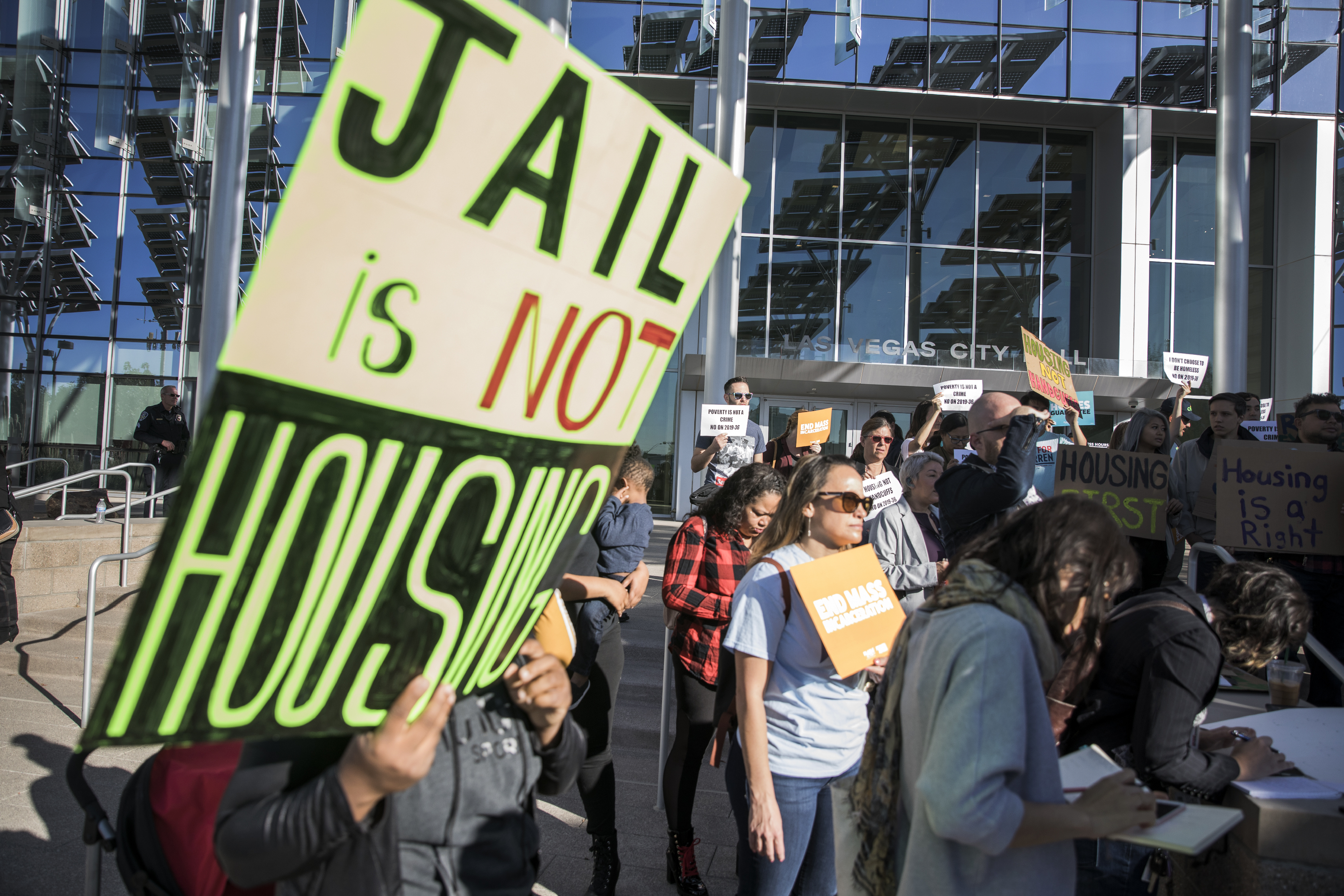 Ahead of Wednesday's marathon meeting, dozens of protesters rallied outside City Hall with chants of "Help not handcuffs" and "Poverty is not a crime." Those protesters eventually filtered inside the council chambers, where several went on to spar with the mayor over decorum.
"If you care, and I mean really care, you will sit down and observe the decorum of this body who is taking everything in earnest and with dignity," Goodman said, briefly quelling early chants. "I expect the same from each of you."
In several instances, Goodman asked marshals to escort out a handful of protesters after a number of disruptions, in addition to a repeated threat to recess the meeting altogether.
But for more than three hours, activists and residents — including some of Las Vegas' homeless population — railed against the proposal in public comment periods.
"Homelessness is not a crisis because the homeless exist, homelessness is a crisis because the homeless suffer," said Ron Moore, a Las Vegas resident who said he was once homeless himself. "We can do better than empty gestures such as this bill."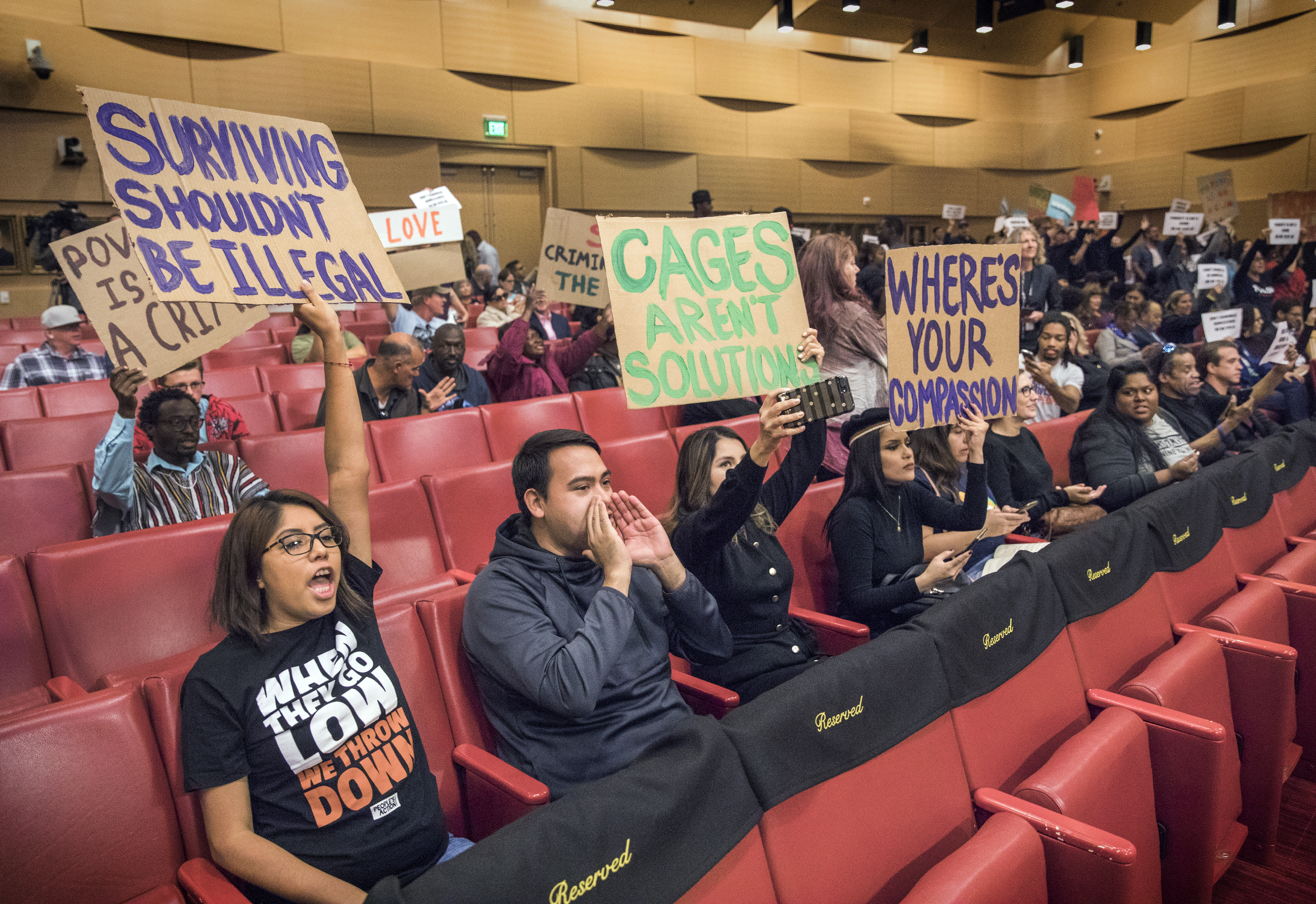 Assemblyman Howard Watts, Clark County Commissioner Justin Jones and County Commission hopeful Hunter Cain showed up to testify in opposition to the ordinance. Jones led his comment with the fact that the commission recently devoted $12 million in marijuana fee revenue to address homelessness.
"As has been referenced before, the Legislature asked that the jurisdictions work together under AB73 on a working group for homelessness," Jones said, adding that city officials had "shut down" certain questions and comments in regard to the ordinance in a meeting with county officials last month.
By early this week, the ordinance had grown so outwardly unpopular — especially among those on the political left — that it had drawn a national spotlight, prompting a number of Democratic presidential campaigns to decry the move in public statements.
After the vote, Massachusetts Sen. Elizabeth Warren called the measure "a band-aid that caters to the interests of powerful business groups while doing real harm to Southern Nevadans" and concluded "this fight isn't over." Vermont Sen. Bernie Sanders said "criminalizing poverty is not the solution" and pledged that "when we win we are going to take on the greed creating the [housing] crisis."
But not all responses to the measure were negative; many lined up to praise the ordinance as the meeting stretched into the late afternoon, especially as it related to homelessness as a hindrance to local businesses.
That included testimony from both Patrick Hughes, president and CEO of the Fremont Street Experience, and David Dazlich, director of governmental affairs with the Las Vegas Metro Chamber of Commerce, who told the council homelessness would drive away business from downtown. Hughes said he believed that the ordinance focuses on "those not willing to get help" and that homeless individuals blocked patrons from doorways.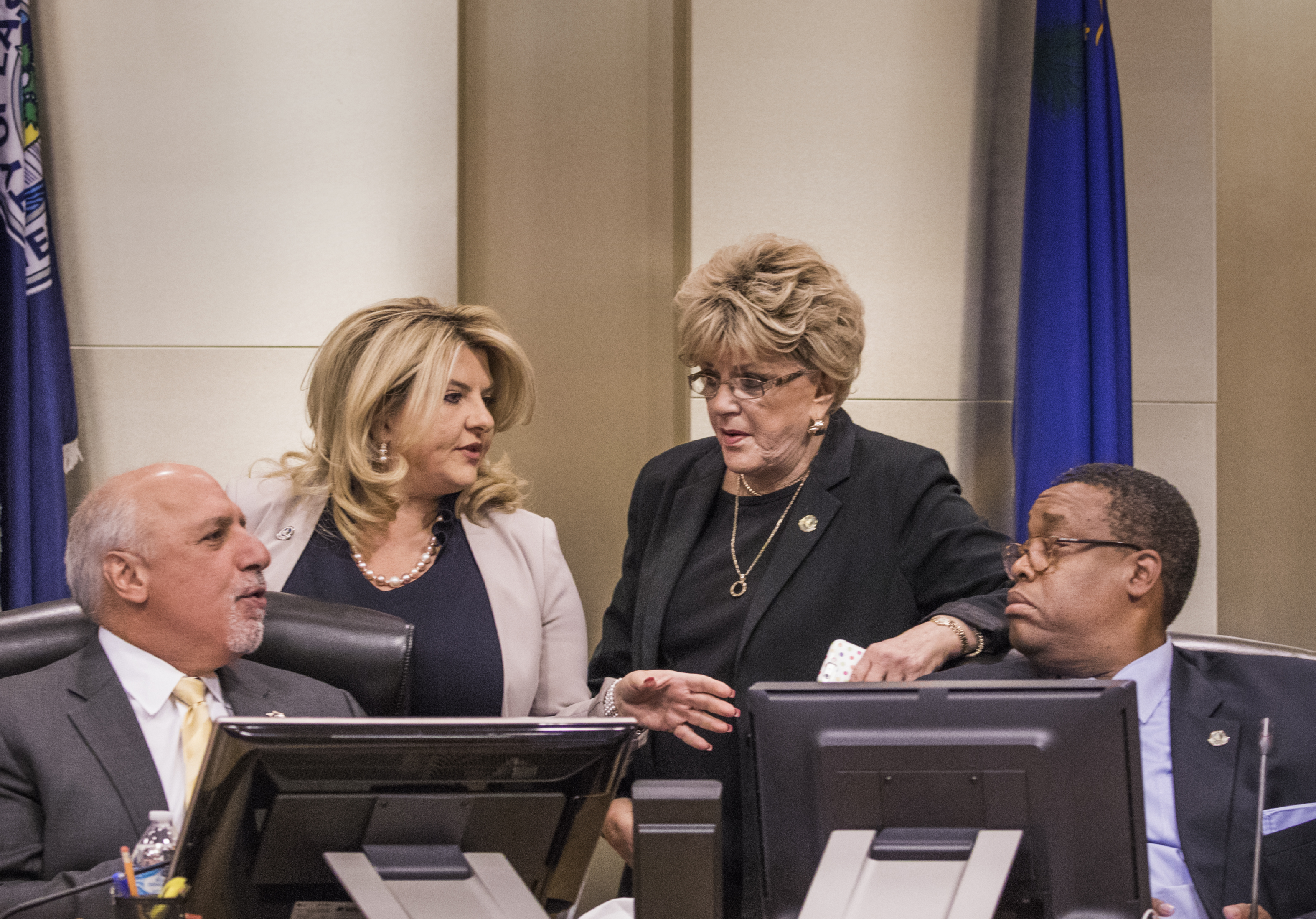 Council members who supported the ordinance argued that the measure was more nuanced than opponents made it out to be.
"Many people have bad info — either they have bad info or you just don't want to recognize that the ordinance is not picking people up and throwing them in jail," said Councilman Cedric Crear.
Councilwoman Michele Fiore agreed, adding that comments saying the ordinance criminalized homeless people "is just plain false." She shared an account of seeing a homeless man when she was downtown with her grandchildren.
"There was a homeless individual laying on a cardboard box. It was 5 o'clock and maybe he just didn't realize that his pants were undone. But my two young grandchildren got to see all of his anatomy," Fiore said.
She said the measure balanced the rights of people who are homeless and other residents.
"Under this proposed ordinance, the authorities discover homeless encampments. They have the options to ask the homeless person to move on and not stop their encampment. And we've even taken it a step further — we'll help you get to a place where you can lay your head safely," Fiore said. "Homeless individuals have rights, and you know what, so do the business owners, citizens and residents."
The ordinance will be enforced in all downtown master-planned districts including the Historic Westside. According to Deputy City Attorney Jeff Dorocak, although the ordinance will be effective on Sunday, an amendment to the ordinance says that the criminal penalty provision will not go into effect until January 2020.
The Nevada Independent is raising $200,000 by Dec. 31 to support coverage of the 2024 election.
Tax-deductible donations from readers like you fund this critical work.
If you give today,your donation will be matched dollar-for-dollar.
Give + Get Matched
Featured Videos