Indy 2020: Democratic presidential hopefuls try to out-Nevada each other on controversial 287(g) program, homeless ordinance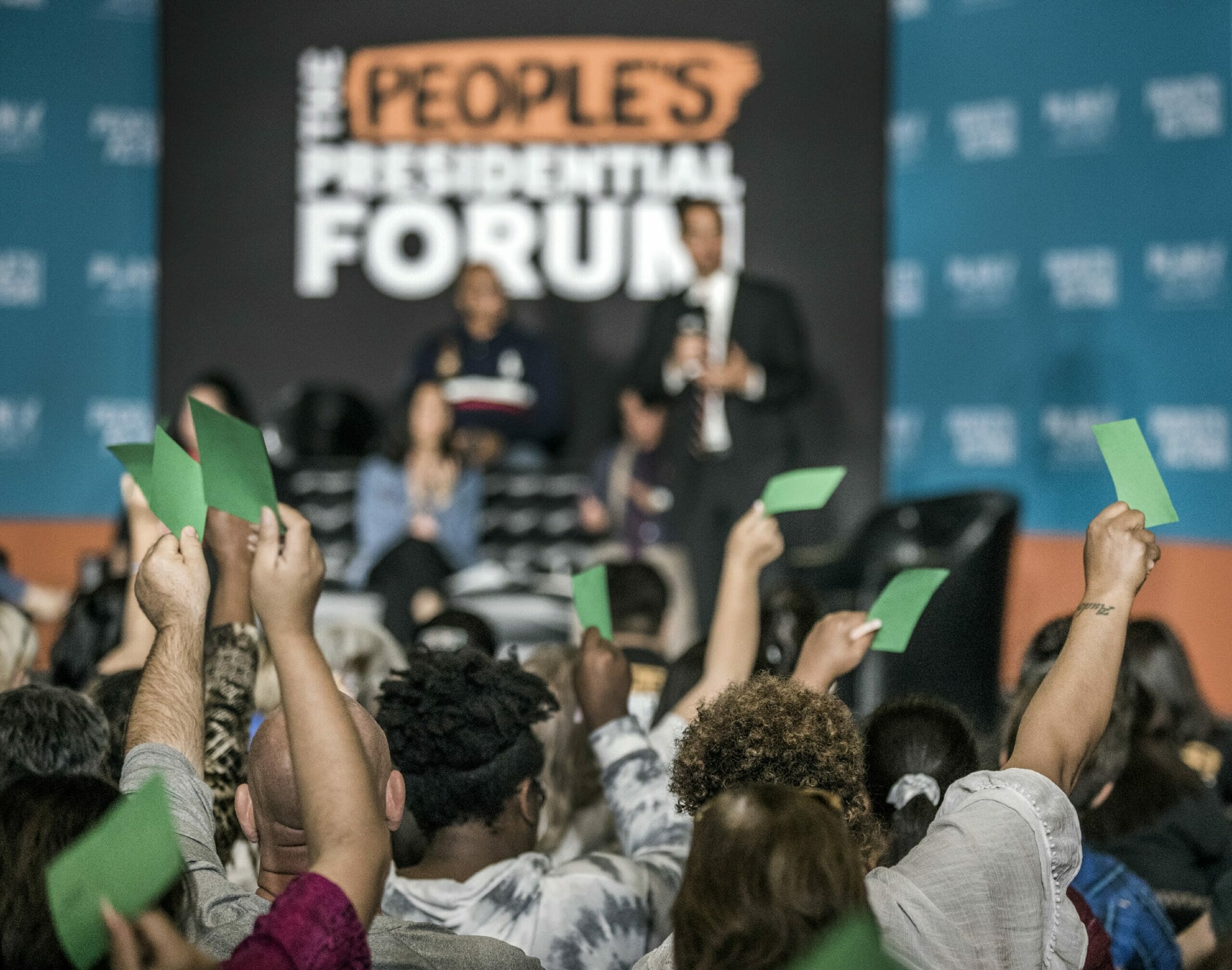 Your Nevada 2020 election newsletter. Please read, forward and subscribe.
---
Good morning, and welcome to Indy 2020, a biweekly newsletter focused on the 2020 presidential election in Nevada. A reminder that email subscribers get early access to this newsletter, so be sure to subscribe and tell your friends. It'll be peachy.
There are 97 days until the Iowa caucus, 116 days until Nevada's first-in-the-West caucus, and 258 days until the start of the Democratic National Convention, where the winner takes it all.
Until then, the Democratic presidential hopefuls are continuing to voyage out west asking Nevadans voulez-vous support their campaigns in the hope that the state's Feb. 22 caucus won't be their Waterloo. The Super Trouper beams were trained over the last two weeks here on South Bend Mayor Pete Buttigieg, tech entrepreneur Andrew Yang and former Housing and Urban Development Secretary Julian Castro — who has continued to ask Nevadans to take a chance on him despite sending out an SOS last week. (Sorry, Fernando, one non-ABBA song link with more details on that here.)
At least 12 candidates will ask Nevada Democrats to lay all their love on them when they return to the state on Nov. 17 for the state party's First in the West dinner. ("Gimme! Gimme! Gimme!" would be a little demanding, honestly.)
But it really won't all be said and done until the general election, which is a year from this Sunday. Until then, not a lot of sleep for political operatives or journalists. But that's just the name of the game.
As always, a reminder to reach out to me with any tips, story ideas, comments, suggestions, and your favorite ABBA song (or just an eye roll emoji) at [email protected].
Without further ado, a download of the recent 2020 happenings in Nevada.
---
TOP OF MIND
Knowing me, knowing you: Eager to prove themselves to Nevadans, several Democratic presidential hopefuls have been weighing in on a number of Nevada-specific issues. In no particular order, they are:
The Las Vegas homeless ordinance: Following in the footsteps of former Housing and Urban Development Secretary Julián Castro, Massachusetts Sen. Elizabeth Warren came out last week against a proposed Las Vegas ordinance that would effectively criminalize homelessness. "We should be fighting back against measures that criminalize homelessness – not proposing ones that will only perpetuate it," she said in a statement. "I strongly oppose this proposed ordinance, which caters to the interests of business groups rather than our families and our communities." (Her campaign also gave a nod to Castro when releasing the statement, which earned plaudits from his team on Twitter.)
Two days later, billionaire Tom Steyer came out against the ordinance too. "It is immoral and counterproductive to criminalize homelessness. I stand in solidarity with those in Las Vegas who oppose a proposed ordinance that would make it illegal for homeless residents to encamp or sleep in certain areas of the city," he said in a statement.
The 287(g) program: A few candidates weighed in last week on the announcement that the Las Vegas Metropolitan Police Department had decided to end its controversial 287(g) program with U.S. Immigration and Customs Enforcement. The agreement had allowed Las Vegas Metro police officers to carry out certain immigration-related functions.
Castro, in a tweet, lauded the "tireless advocacy" of the ACLU of Nevada, the Progressive Leadership Alliance of Nevada and others. Vermont Sen. Bernie Sanders congratulated advocates. South Bend Mayor Pete Buttigieg called having local law enforcement officers serve as immigration officials "just plain wrong" and applauded the police department for ending its 287(g) agreement. California Sen. Kamala Harris also praised the department's decision, saying using local law enforcement to carry out immigration duties "erodes trust between law enforcement and those they serve." (New Jersey Sen. Cory Booker tweeted about the issue one day later, saying that state and local law enforcement "should be focused on keeping their communities safe & pursuing serious threats.")
A proposed military expansion into Desert National Wildlife Refuge: I reported last week that Buttigieg was against the proposal, which would would remove nearly 300,000 acres from the largest wildlife refuge in the contiguous United States. But he officially addressed the subject while in town this week, promising to appoint an Interior secretary who "believes in protecting public lands, including the Desert National Wildlife Refuge." (If you read that article, you'll see the South Bend mayor peppered his speech at Battle Born Progress's dinner with quite a few Nevada-specific details.)
Steyer also came out against the proposal on Monday. "It is imperative that Congress hear the voices of Nevadans and reject the proposal to expand the Nevada Test and Training Range," Steyer said in a statement. "It is critical for our government to protect public lands that belong to the American people and refrain from policy decisions that could impact local communities."
Others against it: Booker, Castro, Sanders and Warren.
The Anaconda Copper Mine: Castro weighed in on groundwater contamination issues related to the Anaconda Copper Mine near Yerington while discussing the issue of tribal consultation at a progressive forum over the weekend. Castro promised to require local governments to seek not just consultation but consent from tribes, including on future mining projects with the potential to contaminate local groundwater.
One candidate who struggled with Nevada-specific issues this weekend: tech entrepreneur Andrew Yang. While at the same progressive forum on Saturday, he struggled to answer a question on building a long-term, high-level nuclear waste repository at Yucca Mountain and wasn't familiar with the 287(g) program. (He did, however, tweet his support for online gaming over the weekend.)
Organizing in the Latino community: Harris is today announcing her "Latinos Para Kamala" committee here in Nevada. The committee will, according to early details I obtained, focus on recruiting new members, offering guidance on how to mobilize Nevada's Latinx community, developing caucus education tools and participating in Latino-focused trainings. This comes on the heels of other Latino-focused outreach efforts by the campaign, including its Camp Kamala en Español program. Harris even made waves earlier this year when she offered headsets with real-time Spanish-language translation at a townhall in Las Vegas.
The steering committee includes previously announced Harris supporters, including Assemblywoman Sandra Jauregui and Washoe County Recorder Kalie Work. Harris is also receiving a few new endorsements from the Latino community, including Rhina Moreno, president of Amigos Salvadoreños de Las Vegas, Saúl Guizar Galvan, president of Federación de Clubes Michoacanos Unidos de Nevada, and Latinx community leaders Fermin Ramirez and Maria Reyes.
But Harris isn't the only one trying to make inroads within the Latino community, a key Democratic constituency in Nevada. Cristóbal Alex, former president of the Latino Victory Fund and a senior advisor to former Vice President Joe Biden, attended a Latinx community event at Biden's East Las Vegas office last week to launch the campaign's "Todos con Biden" program, and Sanders Latino Press Secretary Belén Sisa was in Las Vegas this weekend, attending a happy hour Saturday night at Hop Nuts.
Castro has also been heavily investing in direct outreach to the Latino community while visiting the state. When he was here two weekends ago, he toured Broadacres Marketplace, a gathering place for members of Las Vegas' Latino community, who come to the open-air market for food, entertainment and shopping.
My colleague Luz Gray and I will be bringing you more coverage of Latino-focused outreach efforts soon, so stay tuned.
Update on Biden ad reservations: It's still unclear exactly how big Biden's pre-caucus TV ad reservations are. I told you in the last newsletter that KTNV was the only station in Las Vegas to have filed its paperwork with the Federal Communications Commission, showing a $14,275 buy. Only one more Las Vegas station has filed paperwork since then, KVCW, showing two $75 buys for one spot each on Feb. 14 and Feb. 21.
Nothing has changed on the Reno front either, with KRXI showing a $2,430 buy and KOLO showing a $23,755 buy. Will keep you updated as I learn more.
---
ON THE INDY
All quiet on the Labor front? Listening to presidential candidates talk about their myriad health care proposals as they came through Las Vegas, I noticed a common thread — lots of talk about how their proposals would help unions, whether they were pitching a single-payer Medicare for all plan or a public option. But the unions themselves here on the ground haven't been that publicly vocal on the issue (even as it's been raised in closed door discussions with presidential hopefuls.)
So, I called many of them up to ask their thoughts. Many of them — particularly those with their own health trusts — are opposed to or have significant concerns with Medicare for all. Others voiced openness to a single payer plan if it could somehow take into account the needs of unions or outright support it.
One interesting detail: The Culinary Union wouldn't rule out endorsing a candidate who supports single-payer, but Geoconda Arguello-Kline, the union's secretary treasurer, told me how hard it would be to sell a candidate like that to her union members. (Buttigieg, who favors a public option plan, met with the union while in town last week.) More from me here.
Money, money, money: Democratic presidential candidates received more than half a million dollars in itemized contributions from Nevadans in the third quarter. Biden raised the largest total sum, while Sanders received the most individual itemized donations. If you missed it, I would recommend exploring the graphic I put together that shows which candidate had the most individual donors in each zip code in the quarter.
Mayor Pete + me: I sat down with Buttigieg on our podcast this week to talk about Medicare for all, his relationship with Big Tech, and how he's positioning himself in the 2020 race. Come for the politics, stay for me asking him his favorite movie with a Nevada scene and what casino game he'd be. Article here and direct link to the podcast here.
Steyer + me: The California billionaire and I also chatted on the phone recently about his debate performance and criticisms that his money would be better spent elsewhere helping Democrats.
Amodei blames 'fake news' for Trump campaign snub: Rep. Mark Amodei, the lone Republican member of Nevada's congressional delegation, blamed a "fake news story from a few weeks ago" on why he was passed over as President Donald Trump's Nevada campaign chair — a position he held in 2016. It is unclear which story Amodei was referring to, though he did come out in support of Congress exercising its oversight authority through the ongoing impeachment inquiry.
---
CAMPAIGN NUGGETS
Staffing changes and office openings
Harris's campaign opened its North Las Vegas office on Friday — attended by former Assemblyman Gene Collins, who endorsed Harris this week — and its Henderson office on Monday with Harris supporters and state Sens. Melanie Scheible and Joyce Woodhouse. The campaign now has a total of four offices in the state.
Booker's campaign is hosting its Reno office opening with Campaign Manager Addisu Demissie. This brings the campaign to a total of two offices in the state. (Demissie is also expected to take a walking motel tour in Reno and attend a roundtable discussion on housing and homelessness.)
Trump's campaign opened its first Nevada office last week in Reno. Republican National Committee Co-Chair Tommy Hicks was there, as was Nevada Republican Party Chairman Michael McDonald, former Attorney General Adam Laxalt and other local elected officials.
Warren will open her seventh campaign office in the state in Southwest Las Vegas on Nov. 2 and her eighth office in Elko on Nov. 9. Former Clark County Commissioner Chris Giunchigliani will at the Southwest office opening, which will also kick off a weekend of action one year out from the general election. The campaign has plans to open a total of nine offices.
New endorsements
Warren was endorsed by Assemblyman Howard Watts on Friday.
In addition to Collins, Harris received several more endorsements last week, including from former Assemblyman Wendell Williams and North Tahoe Dems Chair Coralin Glerum.
Biden also announced "Nevada Educators for Biden," which included a number of names of leaders who had already voiced support for the former vice president, including former Nevada State Education Association President Ruben Murillo, former Nevada System of Higher Education Chancellor Dan Klaich and Regent Sam Lieberman, among others.
Sanders released a list of 11 educators, health care workers and others supporting his campaign.
For the latest on presidential candidate endorsements, check out our endorsement tracker.
Upcoming candidate visits
Colorado Sen. Michael Bennet, who has only been to Nevada once this cycle, is returning Wednesday to speak at a health care conference at the MGM Grand.
Steyer will be back in Nevada on Sunday to open his Nevada headquarters.
At least 12 Democratic hopefuls will attend the Nevada State Democratic Party's First in the West event at the Bellagio on Nov. 17 — Bennet, Biden, Booker, Buttigieg, Castro, former Maryland Rep. John Delaney, Harris, Minnesota Sen. Amy Klobuchar, Texas Rep. Beto O'Rourke, Steyer, Warren, and Yang. (Biden has also announced that he will also be in town on Nov. 16 and Nov. 18.)
For all the details of upcoming presidential candidate visits, check out our candidate tracker.
Surrogate stops
Olympian Michelle Kwan returned to Las Vegas on Saturday to launch "AAPIs for Biden."
Co-founder of the Dream Defenders Phillip Agnew was in Las Vegas on Monday for Sanders attending a panel discussion at Masterpiece Barber College. He's also slated to attend a student-focused event at UNLV tonight.
Actor and comedian Cristela Alonzo is doing a standup show on Thursday (Halloween) benefitting Castro. It'll be at Champagne's.
Another attendee has RSVP'd to the Elko Democrats Roosevelt/Kennedy Dinner on Nov. 9 — Carolyn Booker, mother of Cory Booker. Doug Emhoff, Harris's husband, will also be there as I reported last week.
Other election news
The Nevada State Democratic Party announced five additional early voting sites for the caucus last week. There are three in the south — at the Las Vegas Indian Center, Cheyenne High School and Steelworkers Local 4856 — and two in the north, at the Washoe Housing Authority and Hungry Valley Recreation Center.
Sanders recently launched a series of caucus education videos in English and Spanish. The videos include "the Basics," "Early Voting" and "Caucus Day."
O'Rourke's campaign plans to hold a weekend of action starting Nov. 3 to get out the vote for elections in the state of Virginia on Nov. 5.
---
DOWN BALLOT NEWS
The biennial legislative reshuffling: Five Assembly members are foregoing re-election bids and setting their sights on higher office. Three are running for state Senate, one is running for County Commission and one is running for a seat on the Nevada Supreme Court. All you need to know from Indyterns Shannon Miller and Mark Hernandez and my colleague Michelle Rindels here.
Laxalt beats Amodei in hypothetical head to head: As I mentioned above, it's been tough sailing for Amodei after he came out in support of the process of the impeachment inquiry. Now, the conservative Club for Growth is out with a poll that shows Laxalt beating Amodei in a matchup by four percentage points. (Laxalt told the Las Vegas Review-Journal that he's not interested in Amodei's seat.)
Money, money, money (part two): My colleague Jacob Solis and Indyterns Shannon Miller and Mark Hernandez break down the congressional campaign finance reports.
---
OTHER REQUIRED READING
Updated 10-29-19 at 11:17 a.m. to include details of a tweet from New Jersey Sen. Cory Booker about the Las Vegas Metropolitan Police Department ending its 287(g) agreement with U.S. Immigration and Customs Enforcement.
The Nevada Independent is raising $200,000 by Dec. 31 to support coverage of the 2024 election.
Tax-deductible donations from readers like you fund this critical work.
If you give today,your donation will be matched dollar-for-dollar.
Give + Get Matched
Featured Videos