Participants cheer during the People's Forum, hosted by People's Action and the Progressive Leadership Alliance of Nevada, in Las Vegas on Saturday Oct. 26, 2019. (Jeff Scheid/The Nevada Independent)
Three Democratic presidential hopefuls face off on Yucca Mountain, housing, immigration at progressive forum
October 27th, 2019 - 2:00am
Tech entrepreneur Andrew Yang surpassed fellow Democratic presidential hopeful Julián Castro in two Nevada polls last month. But at a progressive forum in East Las Vegas on Saturday, it was Castro whom the crowd warmed to with his Nevada-specific answers while Yang struggled to answer questions, including on Yucca Mountain.
Yang framed long-stalled plans to build a high level nuclear waste repository at Yucca Mountain — a project opposed for decades by top elected officials in Nevada and something every presidential hopeful gets asked about when visiting the Silver State — as a national issue and said that it should not be left to Nevada alone to decide. But he didn't firmly voice his opposition to the project.
"This is an issue that obviously has existed for years. The question is how do we actually find a solution that will work for you all and for the fact that there's this waste that exists that is not originated here but is originated around the country," Yang said, as members of the crowd booed and waved red flags provided to the audience as a way of indicating their disapproval or if they thought the candidate was dodging a question.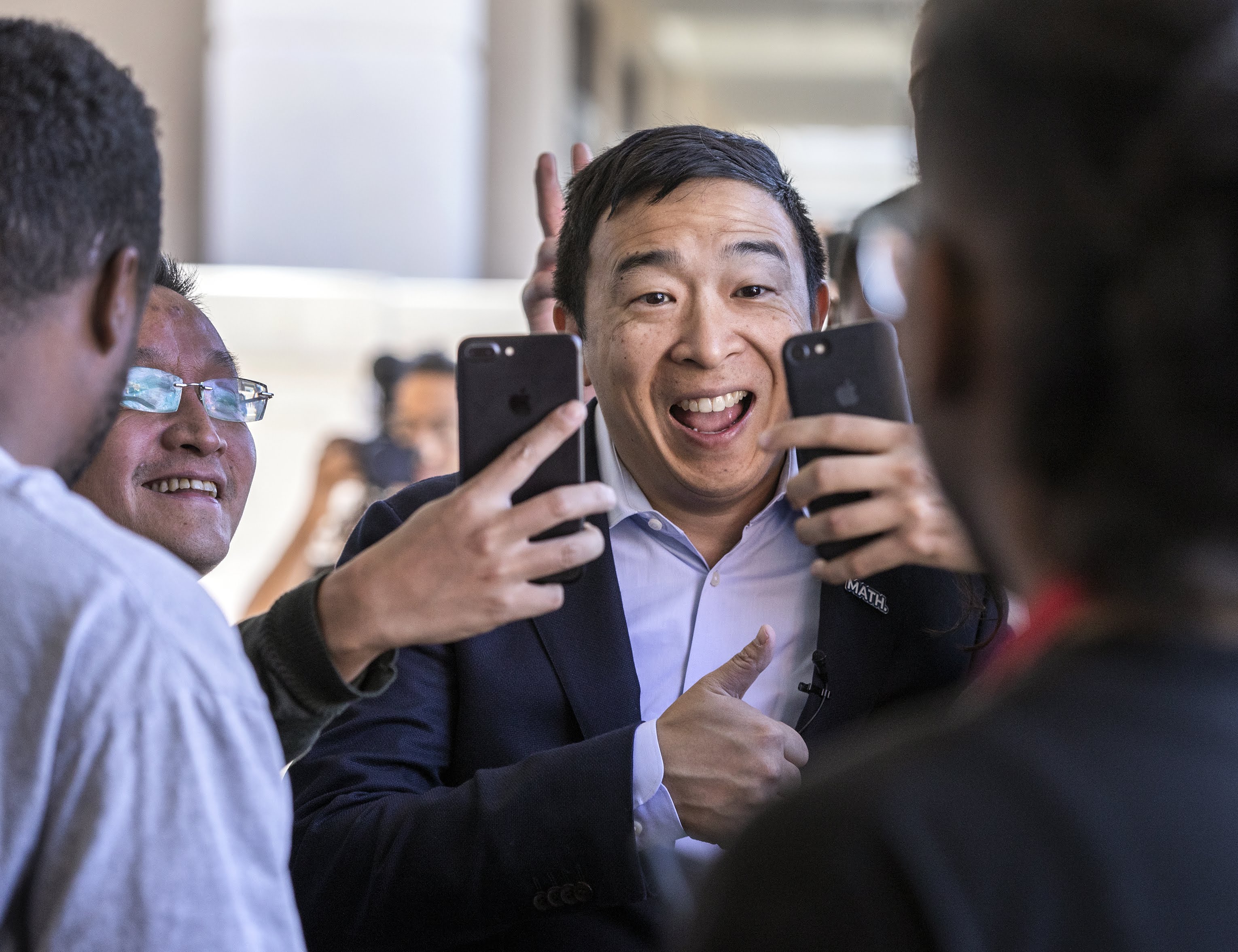 Every other Democratic hopeful who has been asked about Yucca Mountain while visiting the state has promised to not allocate funding toward the project if elected president or otherwise indicated their opposition. But Yang said he didn't have a "terrific answer" on the issue.
"For me, this is an issue we have to come together and face," added Yang, committing to meeting with Nevadans on the issue. "The fact that you are bearing the brunt of it I agree is not appropriate."
Yang's reception at the forum stood in stark contrast to the one that Castro received earlier in the day. The former Housing and Urban Development secretary won applause from the crowd by promising to require local governments to seek not just consultation but consent from tribes, including on mining projects with the potential to contaminate local groundwater, such as with the Anaconda Copper Mine in Yerington.
"I would strengthen the requirement for consultation with Native communities when there are projects or issues on their land that are affecting their quality of life," Castro said. "And I would call for not only consultation but consent to be required for certain types of projects."
The afternoon forum, hosted by the Progressive Leadership Alliance of Nevada (PLAN) and People's Action at the East Las Vegas Community Center, touched on a number of issues — including immigration, affordable housing, gender justice and reproductive health. Vermont Sen. Bernie Sanders also joined the forum via livestream from South Carolina.
Yang's appearance at the forum had appeared to initially generate excitement from the crowd as he shook hands and took selfies with audience members. But that excitement fizzled with his responses on Yucca Mountain and a later question on how Yang's proposed $1,000 a month "freedom dividend" would affect public housing benefits.
"What guarantee can you give us that we'll be able to keep public housing while using Section 8 vouchers?" said Sandra Obando, an advocate for public housing tenants for 40 years.
Federal Section 8 Housing Choice Vouchers (HCVs) provide rental assistance while allowing families to choose from rentals managed by approved public housing agencies. One of those agencies, Southern Nevada Regional Housing Authority, says that there are 11,500 active HCVs in Southern Nevada.
Obando's concern was that the freedom dividend would affect eligibility for these vouchers for applicants whose income might rise just above the minimum required to obtain an HCV. But Yang maintained that a guaranteed $1,000 per month would address the larger housing crisis.
"My flagship proposal is to put $1,000 a month in the hands of every single American, which is going to be a game changer in the housing market and [for] everybody. It also helps address the homelessness crisis in this country right now. If you find a homeless person, [what] they do is they try to figure out whether there are any government programs," Yang said, receiving more red flags from the crowd.
"If everyone entitled to $1,000 a month, then all of a sudden we all have the power to make sure that there's housing that actually provides for the needs of the community — not from the top down but [from] the bottom up," he continued.
Before the forum, Castro reiterated his concerns about a proposed Las Vegas city ordinance that would make camping or sleeping in public spaces a misdemeanor crime.
"I've laid out investments we need to make to end youth homelessness, family homelessness, chronic homelessness. I was disappointed in the ordinance that Las Vegas is considering that they would criminalize homelessness," Castro said.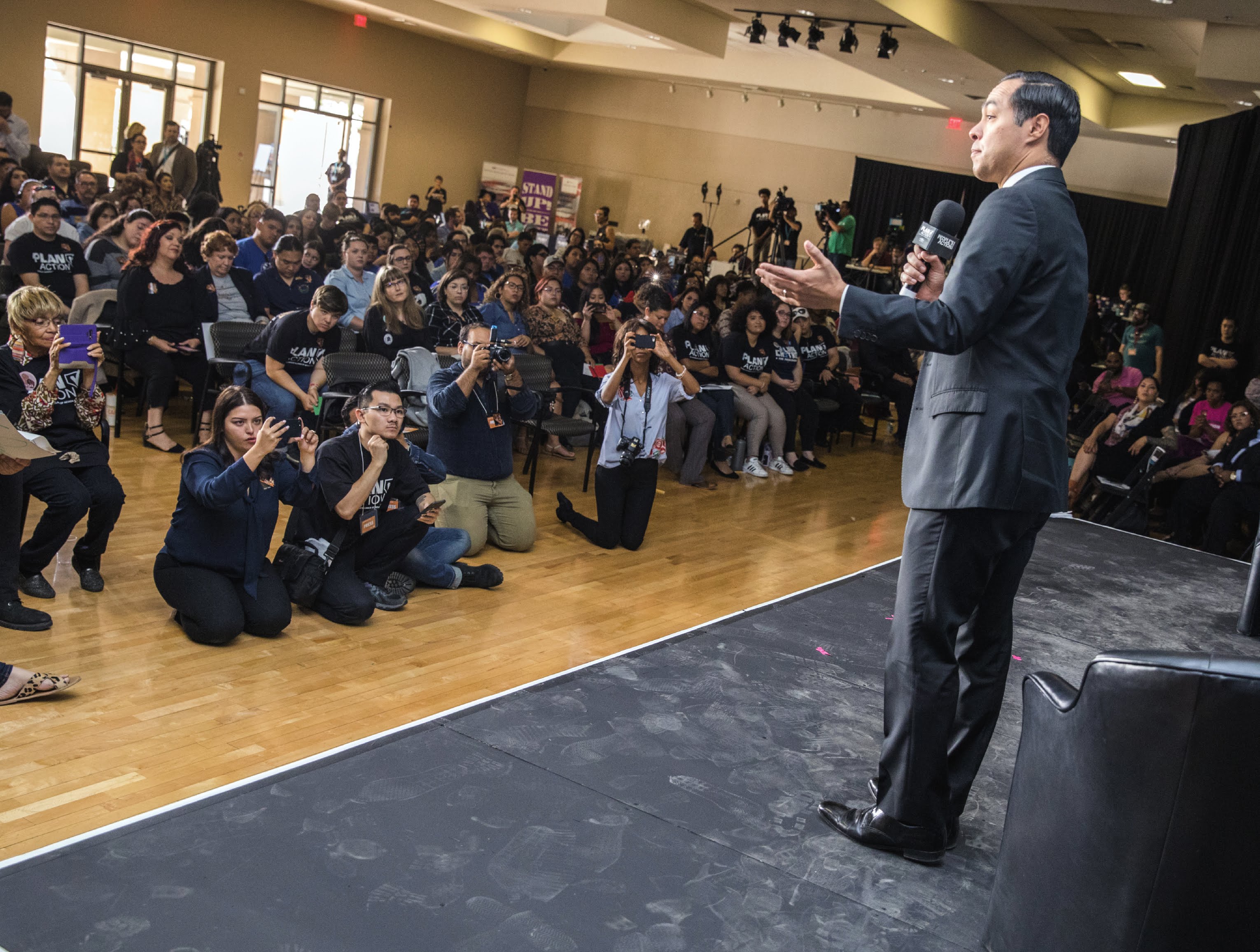 Castro was the first Democratic presidential hopeful to come out against the ordinance, joining protesters outside Las Vegas City Hall earlier this month, and has since been joined in his opposition by Massachusetts Sen. Elizabeth Warren and billionaire Tom Steyer.
Despite his intense focus on Nevada, Castro has failed to make any headway in polls here in the Silver State. A recent CNN poll of Nevada voters found Yang with 3 percent support here, while Castro did not garner enough support to earn even a single percentage point.
Sanders, via livestream, answered questions directly from the panel in Las Vegas, including one from activist Jordyn Warren who asked how the Vermont senator planned to protect abortion access from "ideologically extreme policies," such as the Trump administration's Title X "gag rule" preventing organizations that receive federal family planning dollars from providing abortion services or referring patients to abortion providers.
Sanders told the crowd that he would increase funding for Planned Parenthood — which decided to forego its Title X funding in the wake of the rule — and other family-planning services that respect women's rights to get an abortion. On immigration, he maintained that he would end ICE raids and provide a path to citizenship for 11 million undocumented people.
"As part of our newborn policy, we are going to create a policy that is unique. And that means we will not snatch babies away from their mothers," Sanders said. "We are going to end the demonization of the undocumented in this country and develop the immigration policies that the vast majority of [Americans] want to see."
When asked about the Las Vegas Metropolitan Police Department's recent decision to end their so-called 287(g) agreement with U.S. Immigration and Customs Enforcement (ICE), Yang seemed to have little familiarity with the issue. The program allows local police enter into an agreement with federal immigration authorities to perform certain immigration enforcement duties, including detaining individuals to transfer them to ICE.
"I think the other candidates have the right idea ... I confess, I actually don't know much about the program. Is it specific to Las Vegas?" Yang asked.
Though the goal of the program is to allow law enforcement to apprehend immigrants who are convicted of high-level crimes, advocates have raised concerns of immigrants being detained for traffic violations and turned over to ICE with no other crime, simply for being undocumented. Metro, however, announced this week that it was ending its partnership with ICE following a recent court decision and questions over whether the program leads to unconstitutional, warrantless arrests.
Yang told reporters that he would have to look into the 287(g) program.
"I'm sure — the other candidates and I tend to be aligned on many of these issues so I'm pretty confident if they're excited about it, I will be, too," Yang said.
The forum marked Yang's fourth visit to the Silver State and Castro's 11th. Yang, Castro and several other Democratic presidential hopefuls are slated to return to Nevada on Nov. 17 to speak at the Nevada State Democratic Party's First in the West event at the Bellagio.
Comment Policy (updated 4/20/2021): Please keep your comments civil. We reserve the right to delete comments or ban users who engage in personal attacks, use an excess of profanity, make verifiably false statements or are otherwise nasty. Comments that contain links must be approved by admin.