Las Vegas groups rally against the separation of immigrant family members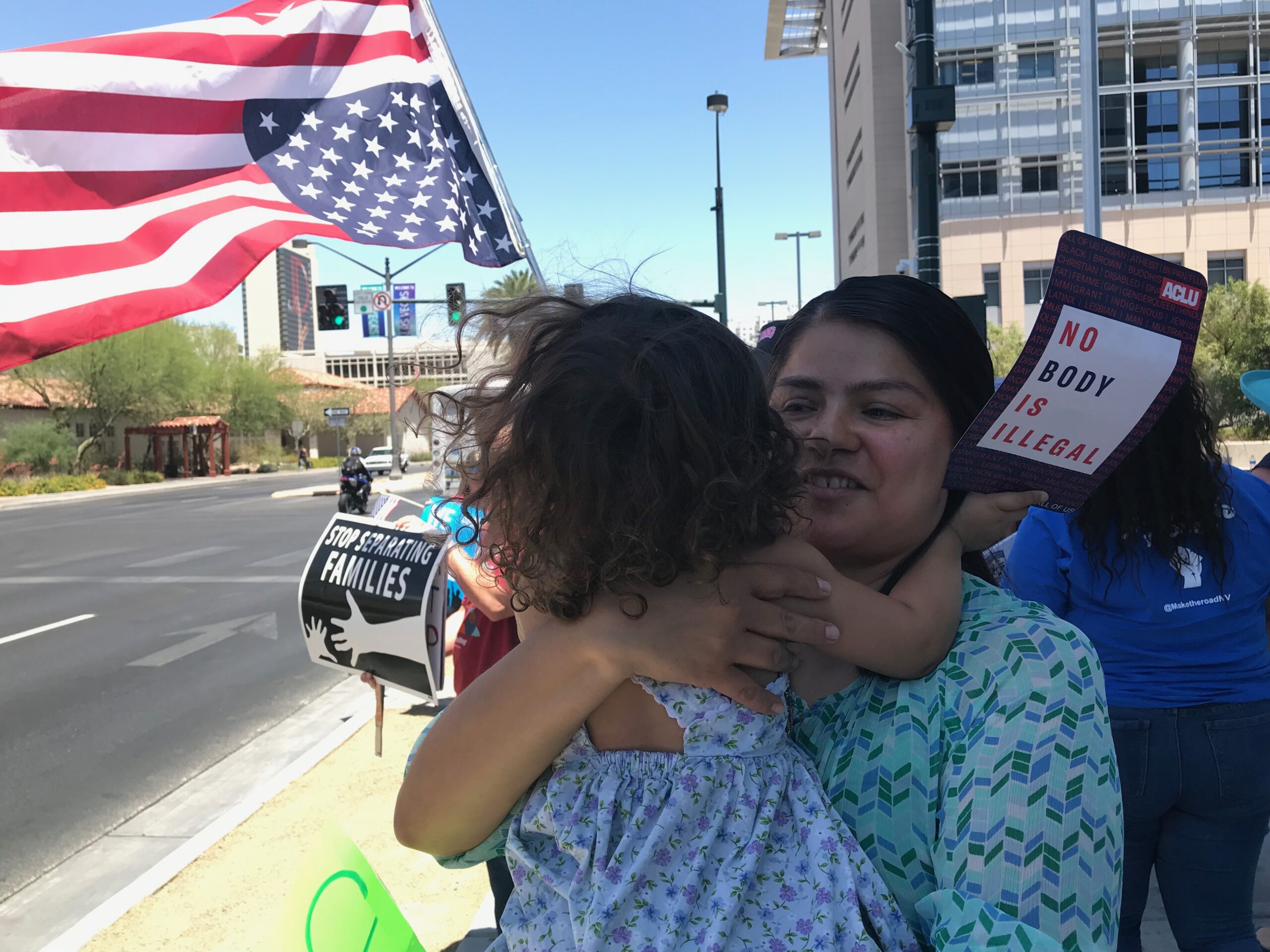 This story has been translated and edited from its original Spanish version.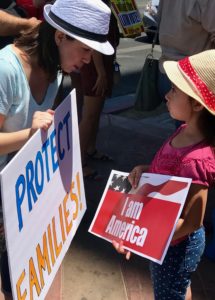 "Stop these policies of hatred!" and "Where are the children?" were some of the banners that progressive groups in Las Vegas carried during a recent demonstration against the policy of separating immigrant parents and their children at the border.
Last Friday afternoon, organizations including Make the Road Nevada, the Human Rights Campaign (HRC) America's Voice and the American Civil Liberties Union (ACLU) gathered outside the Immigration and Customs Enforcement (ICE) offices in downtown Las Vegas to take part in the "National Day of Action," a series of demonstrations held all over the country and sponsored by the National Domestic Workers Alliance.
The groups were also responding to news that the U.S. government doesn't know the whereabouts of more than a thousand children who have crossed the border alone in search of asylum.
The issue of family separation remains in the spotlight, especially as President Donald Trump continues to tweet about the practice and say Democrats are to blame — a claim that fact checkers at Politifact and The Associated Press have said isn't true.
Concern for the children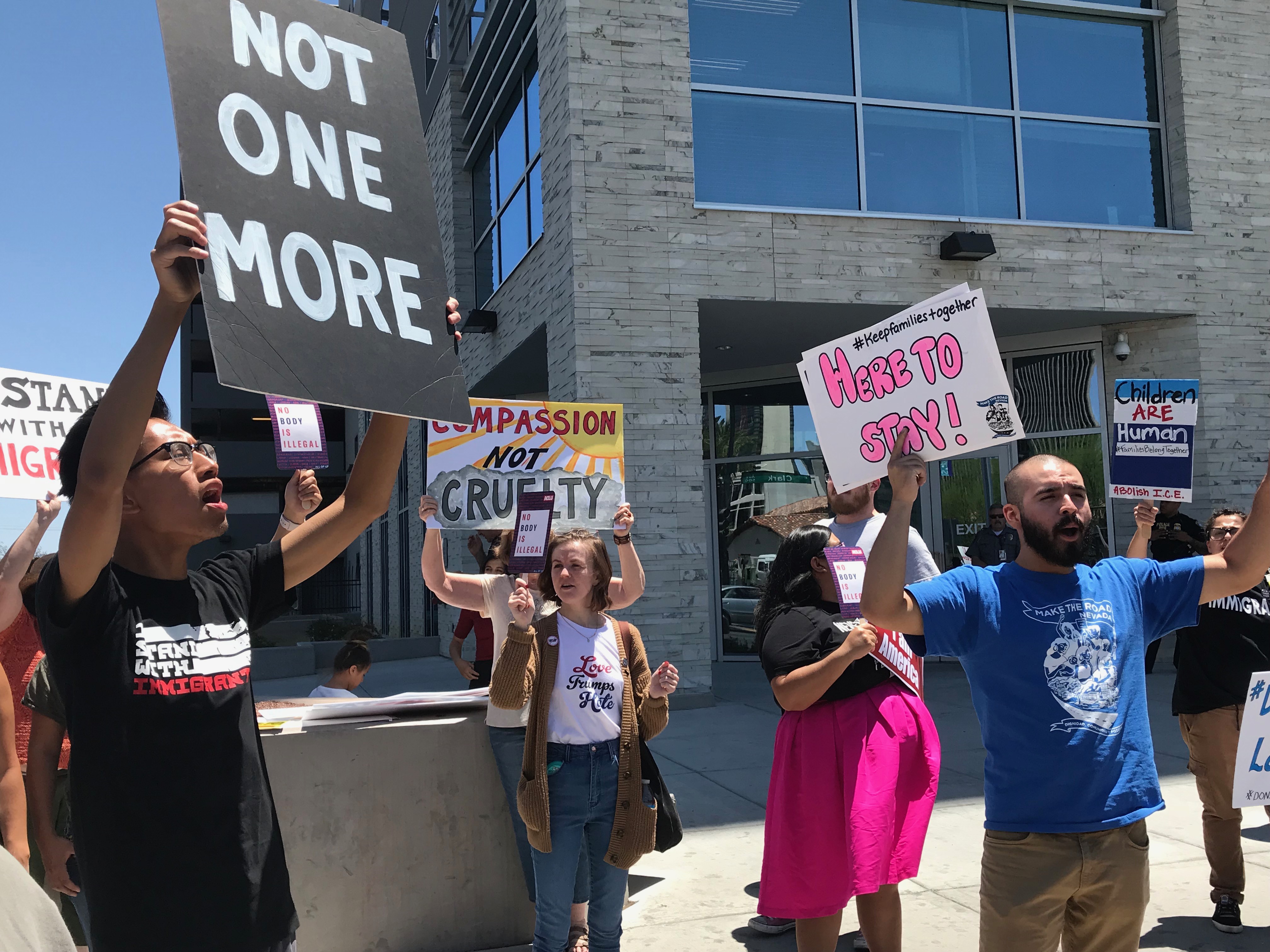 Penny James, who shielded herself from the sun with a small hat and carried a banner with the colors of the rainbow and the message "resist," said she attended the event as an HRC volunteer to support immigrant minors and to say that the LGBTQ community is against Trump's policies.
"We're here for the Human Rights Campaign and we want these children to be found," James said. "We want this to stop."
The activist was referring to 1,475 unaccompanied minors, mostly from Central America, who were taken into custody by the authorities and placed in guest family homes. During a hearing in April, it was revealed that a government agency lost track of them.
Steve Wagner, acting assistant secretary with the Department of Health and Human Services (HHS), indicated to Congress that in the last three months of 2017, the Office of Refugee Resettlement (ORR) — responsible for the care and placement of unaccompanied alien children (UAC) — reached out voluntarily to 7,635 families of these children to follow up on their well-being. But the agency "was unable to determine with certainty the whereabouts of 1,475" of them.
Wagner said the follow-up calls concluded 6,075 children remained with their assigned families, 28 fled, five were removed from the country and 52 were living with people who were not initially responsible for them.
"Once these children are handed over to HHS, immigration no longer monitors their case. Who is keeping record of where those children are?" immigrant activist Ireri Bravo said in an interview at the protest, while carrying her daughter Elena. "How are you going to find their children if you have already made a statement saying that you don't know where they are? They may be with family members, or they may not be there. That's the problem."
Bravo, a member of the pro-immigrant organization We Belong Together, said that families who crossed the U.S. border in search of political asylum are not in violation of any law, and that as a mother of a 2-year-old, she couldn't imagine the pain the parents of minors whom the government lost track of are now facing.
"It breaks my soul. This morning I woke up crying, because I woke up next to my baby, and these mothers don't know if they're going to see their children again," Bravo said. "Where are these children? How are we treating them? Who is taking care of them?" 
"They are not lost"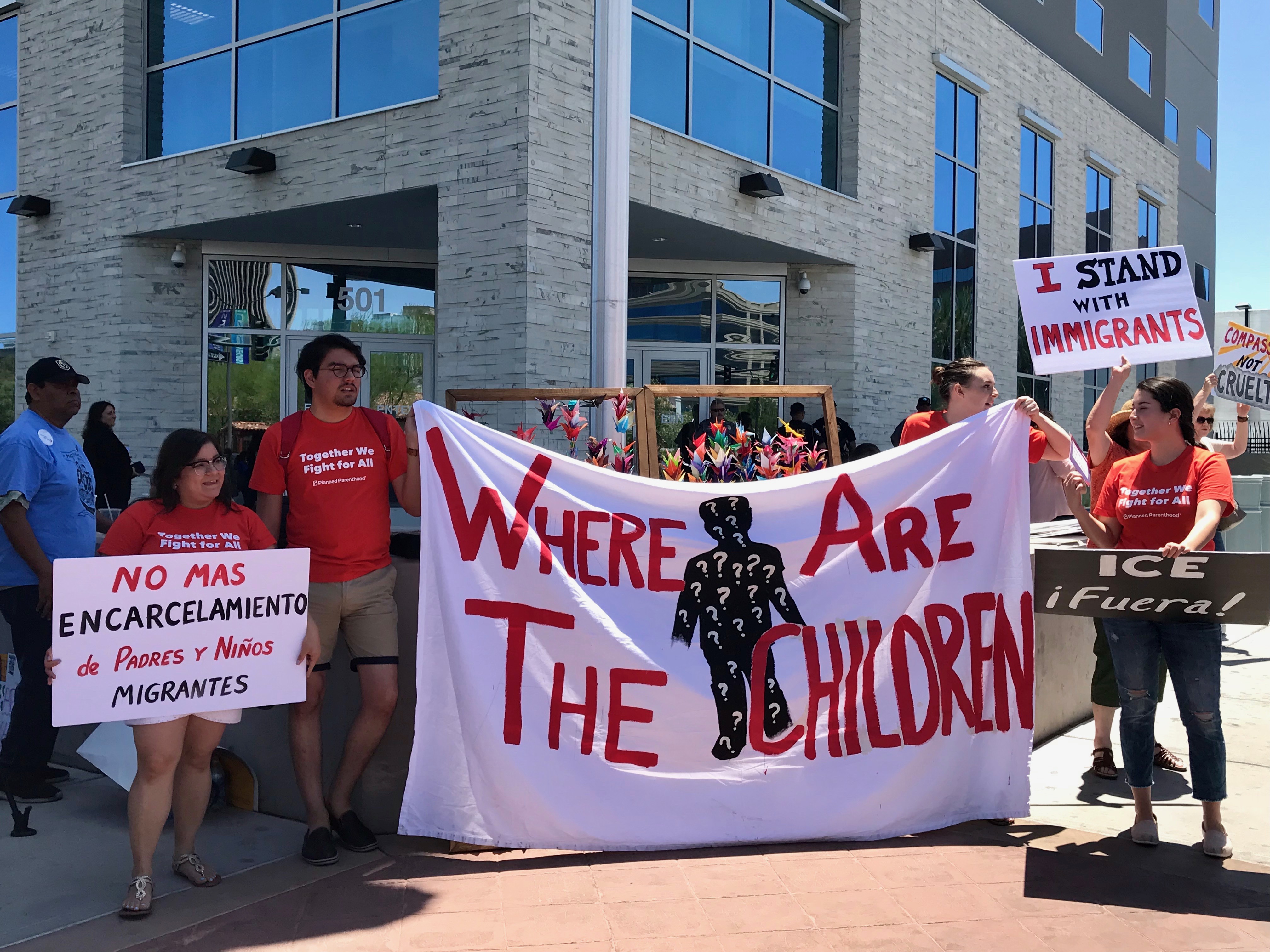 That is what Health and Human Services Deputy Secretary Eric Hargan said in a statement on May 28, adding that some of those who are responsible for the custody of minors have not returned the calls the ORR has made, so he considers it a false assertion to call them "lost."
Hargan reiterated that the refugee resettlement agency began to call guardians on a voluntary basis in 2016, as a 30-day follow up after releasing the children to make sure that both they and their sponsors would not require additional services.
The official added that in many cases, they are unable to locate the sponsors because they are undocumented and do not want to be contacted by federal authorities.
"That extra step, which isn't mandatory and hadn't been taken before, is now used to confuse and spread misinformation," Hargan said. "These children are not 'lost'; their sponsors—who are usually parents or family members and in all cases have been vetted for criminality and ability to provide for them—simply did not respond or could not be reached when this voluntary call was made."
Families and tolerance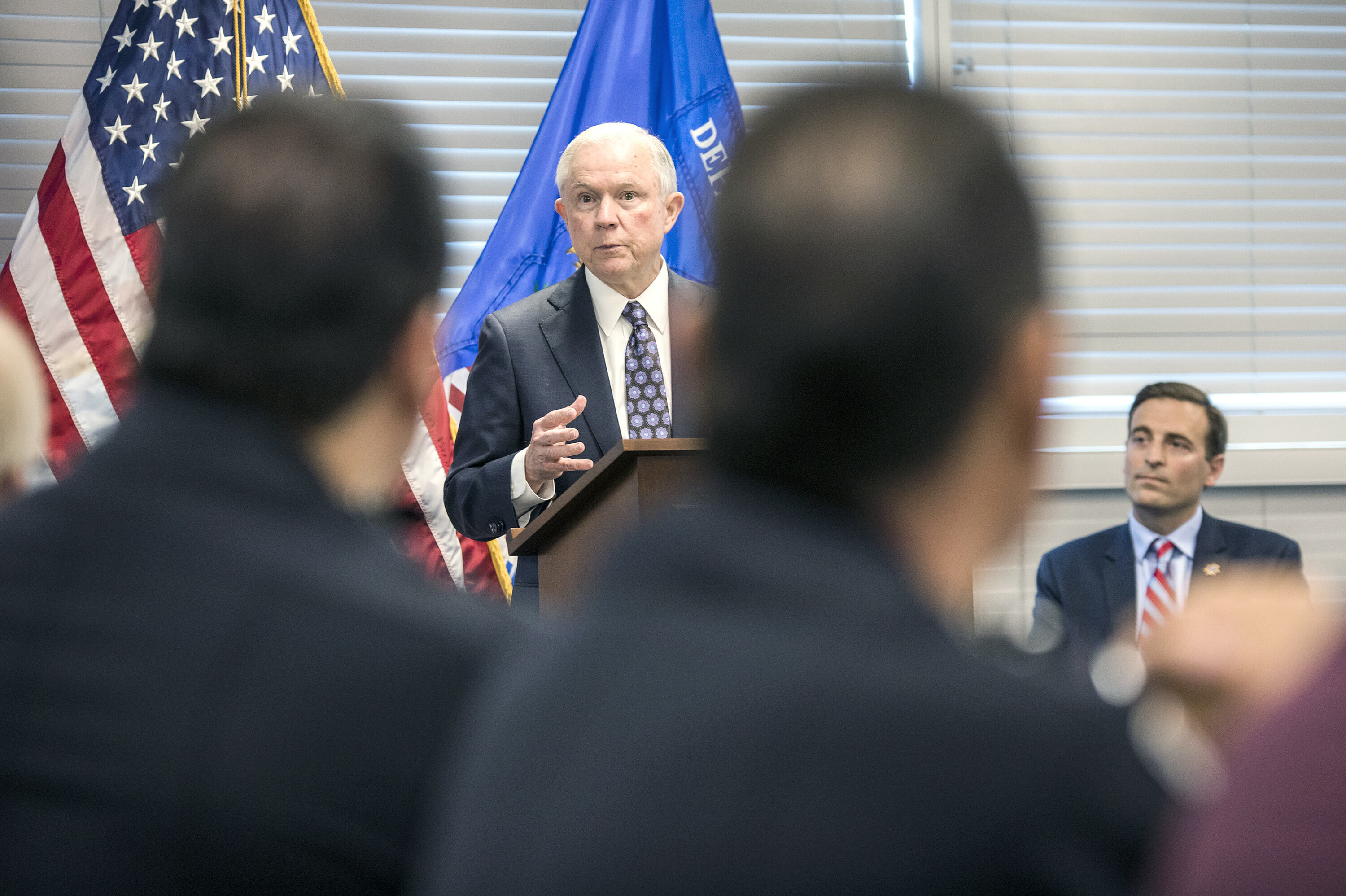 Hargan argued that the flaws in the country's immigration system are being ignored, adding in his statement that Trump has asked Congress to put an end to "dangerous loopholes in immigration laws," such as the practice of "catch and release," in which federal authorities release undocumented immigrants into the community to await hearings for which few show up.
"In the worst cases, these loopholes are being exploited by human traffickers and violent gangs like MS-13." Hargan said. "Until these laws are fixed, the American taxpayer is paying the bill for costly programs that aggravate the problem and put children in dangerous situations."
Last month U.S. Attorney General Jeff Sessions announced in a press conference at the border with Mexico that there would be a "zero tolerance" policy against immigrants who illegally cross the border, and he added they will be accused of a criminal offense.
"If you cross this border unlawfully, then we will prosecute you. It's that simple. If you smuggle illegal aliens across our border, then we will prosecute you," said Sessions. "If you are smuggling a child, then we will prosecute you and that child will be separated from you as required by law. If you don't like that, then don't smuggle children over our border."
Experts say that's a departure from past practice, in which families that crossed the border illegally were rarely prosecuted and were often sent to family detention centers to await an immigration court appearance or be deported. The choice to prosecute them criminally, sending their parents to detention centers and leaving their children to be categorized as "unaccompanied minors," is what's causing the separations.
Trump has blamed others for the policy, tweeting Tuesday that it was the fault of bad legislation passed by Democrats. Politifact rated the claim false, saying that while one can argue certain Democratic policies encourage illegal immigration, there's no law mandating the children and their parents are separated.
Protesters called for an immediate policy change.
"I am here because I am demanding that we stop separating families," attendee Maria Rebolledo told fellow demonstrators while holding a small child. "We are afraid that one day we might be here with our children, and the next day we won't be able to see them again."
The issue of separating families has also been on the radar for Nevada's U.S. senators.
Although Republican Senator Dean Heller did not respond to a Nevada Independent reporter early last week when asked about the separation of families at the border, he later said in an interview with the Reno Gazette Journal that he did not agree with the policy, and that there was a bipartisan legislation that was being developed that he would review on Monday.
During a press conference in Washington, D.C. late last month, Sen. Catherine Cortez Masto, highlighting her immigrant roots, said she would not remain on the sidelines while the Trump administration continues attacking families like hers.
"Separating parents from their children is unacceptable. It is inhumane," Cortez Masto said.
Comment Policy (updated 4/20/2021): Please keep your comments civil. We reserve the right to delete comments or ban users who engage in personal attacks, use an excess of profanity, make verifiably false statements or are otherwise nasty. Comments that contain links must be approved by admin.