People gather at the Welcome to Las Vegas sign Thursday, Oct. 6, 2017, near a memorial for the 58 homicide victims of the Route 91 Harvest Festival concert. (Jeff Scheid/The Nevada Independent)
Las Vegas recruits national help to begin difficult process of dividing donations among victims, their families
October 10th, 2017 - 4:25pm
Putting a dollar amount on the grief and suffering experienced by a victim or family member in the wake of a mass shooting or other tragedy is no simple task.
For Las Vegas, it's a long and difficult process that is only just beginning. Two national partners have agreed to help with the both arduous and sensitive process of figuring out how exactly to compensate victims and their families in the wake of a mass shooting at a country music festival on the Strip on Oct. 1 that claimed the lives of 58, injured another 500 and forever changed the lives of thousands more.
In the wake of the shooting, several different funds have already collected millions of dollars of donations on behalf of victims. The question is whether all the funds will agree to pool their resources and operate under a universal protocol about who will be eligible for awards and how much money will be distributed to each claimant.
Washington D.C. lawyer Kenneth Feinberg, whose firm is known for its disaster compensation work and handled victim claims for 9/11, the Pulse nightclub shooting in Orlando and the Boston Marathon bombing, has agreed to help guide the process of handing out compensation awards to victims and their family. The National Center for Victims of Crime will be responsible for interacting with the victims and their families and verifying their eligibility to make a claim.
There are two recent models for victim compensation, a Boston model and an Orlando model, Feinberg said. One Fund Boston, a nonprofit hurriedly set up less than 24 hours after the Boston Marathon bombing, was a single pool to which all money was donated and from which all money was awarded. In Orlando, several different funds collected donations on the behalf of victims but agreed to pool them at the very end of the donation collecting process into OneOrlando Fund to make the donations.
A little more than a week after the shooting, it seems Las Vegas will likely go the way of Orlando. The goal would be to try and hand out awards in 90 days, Feinberg said.
"It may be a little bit muddled right now, but I think everybody is well-intentioned, everyone seemed to want to help," said Feinberg, who participated in a Thursday phone meeting with interested donors. "I think at the end of the day there will probably be a few different funds but everybody will agree like Orlando to follow the same rules and at the end of the day transfer the money into one place for distribution."
Most of the donations for victims of the shooting have poured into the Las Vegas Victims' Fund, a crowdsourcing effort started by Clark County Commissioner Steve Sisolak and Las Vegas Metro Sheriff Joe Lombardo that has raised $10.5 million to date. But other organizations, including MGM Resorts and Zappos, have also set up their own funds, both specifically for victims and to more broadly help first responders and others involved in the response to the shooting.
Sisolak said Tuesday that the Las Vegas Victims' Fund will continue to accept donations on its own but Feinberg and the National Center for Victims of Crime will be responsible for allocating those donations to victims. He was unclear whether any of the other funds would pool their resources into the same fund for allocation.
"Our fund, unlike all these other funds, ours is focused strictly on the victims and their families, not subsidizing the fire department, the police department or hospitals," Sisolak said.
Asked whether they planned to pool their funds, Zappos's head of charity said only that they are focusing on collecting donations, which will go into a 501(c)(3) nonprofit and couldn't speak to any "overlap" at this time. MGM Resorts did not respond to a request for comment about whether they would pool their funds.
Julie Murray, CEO of the philanthropy advising firm Moonridge Group, said that philanthropists in the community have approached her about where to direct their funds in the wake of the shooting and that she's "so grateful" to the funds that have been established for victims. She said the most important thing is to take care of victims now, but that there will be plenty of other needs to address within the community — such as helping out UNLV's psychiatry program, blood banks and UMC's trauma center — long term.
Murray said that her organization's nonprofit arm, the Moonridge Foundation, is expecting two donations to come in soon to help with long-term relief efforts.
"Moving forward over the next few years there's going to be a lot of healing that will need to be done, and that's where it's important for our nonprofit to make sure they have what they need to provide their healing and recovery," Murray said.
In the meantime, Feinberg has been tasked with putting together a draft protocol to be circulated among the various funds collecting donations on behalf of victims, which will contain specifics about who is eligible for compensation. Once the funds are on the same page, the protocol will likely be taken to a couple of townhall meetings in Las Vegas to receive input from victims and the general public to put together a final version that will be used to distribute the money.
Though the protocol will spell out the categories of individuals eligible for awards, the total amount of each disbursement won't be calculated until the very end when the funds stop collecting and know how much money collectively they have raised. Even then, there may be lingering questions to solve about how to hand the donations out, such as which family member is eligible to collect the award on behalf of someone they lost.
While all those protocols are being figured out and last minute donations roll in, it will be the responsibility of the National Center for Victims of Crime to work with victims to get the information and documentation they need to put together a list of eligible recipients.
In Orlando, the National Center for Victims of Crime collected initial applications, followed up for any necessary information from the victim or their family and vetted eligibility through the FBI before sending it to Feinberg's office for final review, a process that the center's deputy executive director Jeff Dion said would likely be replicated in Las Vegas. After Pulse, if a victim wasn't on the FBI's list, they would send an agent out to interview them and verify their story. If they can't, the person is ruled ineligible.
Dion acknowledged the daunting task ahead in processing the applications of those who were affected by the shooting at the Route 91 Harvest country music festival. More than 300 awards were handed out in Orlando, including many to individuals who weren't injured but were present at the nightclub when the shooting broke out; 22,000 were in attendance at the Las Vegas concert Sunday night.
"That is something we are absolutely having conversations about — what's possible for us to do and how we would go about doing that," Dion said. "Those are questions we are trying to tackle right now."
Until they actually begin accepting applications, Dion urged victims and their families to fill out the victim and family member contact form on the National Compassion Fund's website to stay up to date on the latest details about the application process. The organization isn't allowed to ask for a list of victims directly from the government, so it relies on community outreach to let victims and their families know assistance is available.
For people who need immediate assistance, Dion recommended victims contact Nevada's crime victim compensation program, which might be able to help with mental health expenses, funeral costs and other out-of-pocket payments more immediately.
Disclosure: MGM Resorts International has donated to The Nevada Independent. You can see a full list of donors here.
INDY FAST FACTS
Steve Sisolak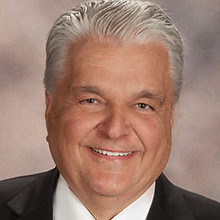 Job:
Clark County commission chairman
Party:
Democrat
In current office:
2009-present Commission chairman since 2013
Birthdate:
December 26, 1953
Education:
University of Wisconsin—Milwaukee (B.S.) University of Nevada, Las Vegas (M.B.A.)
Other public offices held:
Nevada System of Higher Education Regent (1999-2009)
Total donations:
$9,647,261 (1/12/11-6/7/18)
Top donors:
MGM Resorts International $174,359 Station Casinos/Zuffa: $90,000 Las Vegas Sands $75,000 Fidelity National $61,600 Marnell Companies LLC $55,000
From the Editor
The Nevada Independent
is a 501(c)3 nonprofit. We need help to attain the elusive goal of sustainability. We depend on recurring donations from you, the readers who believe in our mission of nonpartisan, transparent journalism. I know you are busy. I know you have many commitments. But if you would take a moment to
support our work
or bump up your current donation, I would be forever grateful.
Thanks for all of your support.
Best,
Jon Ralston
get our morning newsletter,
The Daily Indy
Stars & Struggles
Take a peek into today's education world through the lens of Sunrise Acres Elementary School in Las Vegas.
@TheNVIndy ON TWITTER