Latinos favor Cortez Masto, Sisolak, but poll finds races still neck-to-neck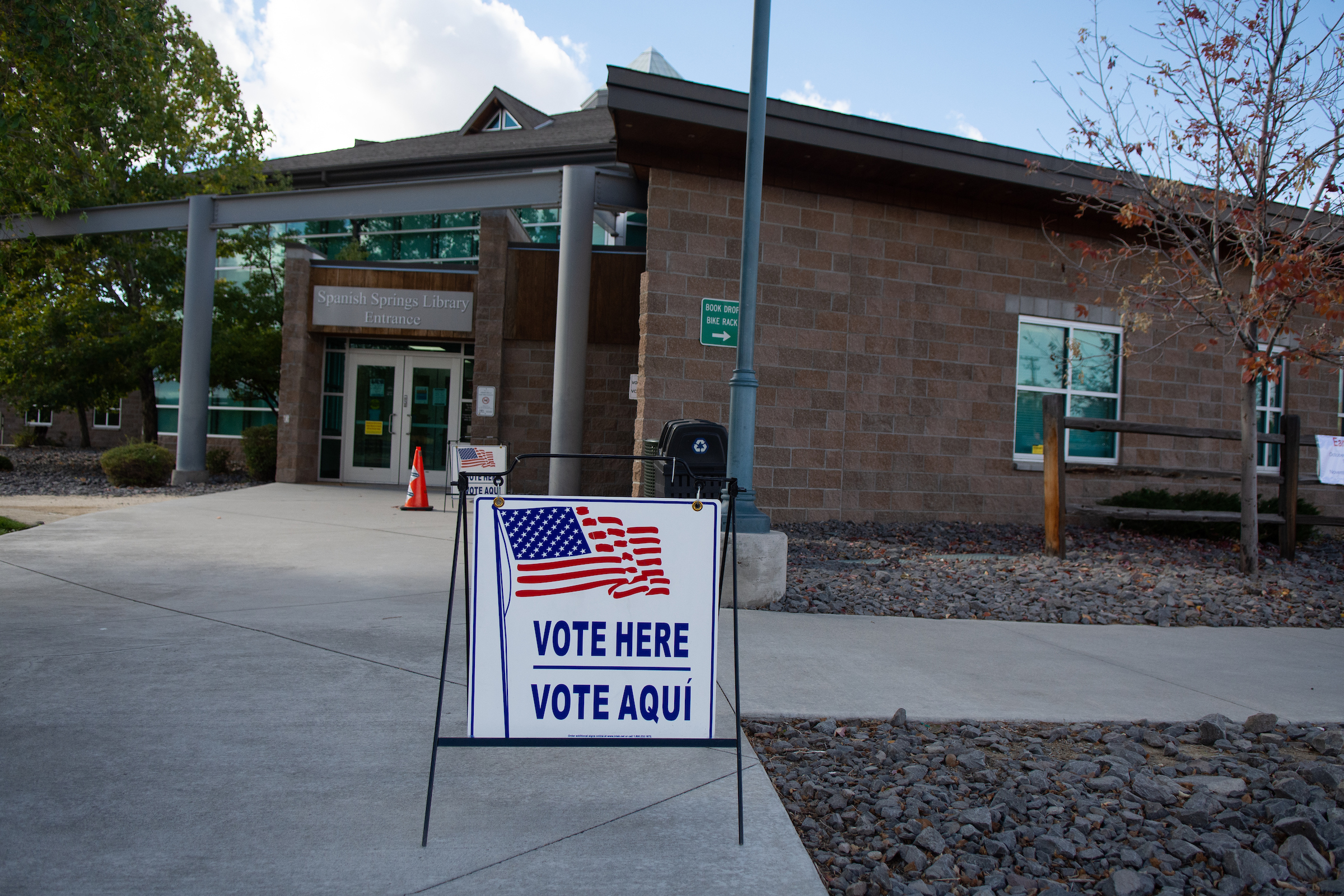 A new poll released Tuesday by Univision Noticias shows Nevada's U.S. Senate and gubernatorial races in a "statistical tie," with Latino voters likely to ultimately play a major role in determining the winner. 
In the state's highly competitive Senate race, the poll showed that incumbent Sen. Catherine Cortez Masto has a 34-point lead among Latino respondents over Republican challenger Adam Laxalt, with 60 percent in favor of Cortez Masto and 27 percent for Laxalt.
But among all respondents, Cortez Masto has just a 2-point lead, with 44 percent support to Laxalt's 42 percent support, falling within the poll's margin of error (3.1 percent).
The poll also showed incumbent Gov. Steve Sisolak with a similarly slim 2-point advantage over Republican challenger Joe Lombardo, with 43 percent of respondents in favor of Sisolak versus 41 percent. Sixty percent of Latino respondents favored Sisolak, while 26 percent favored Lombardo.
The poll was conducted by BSP Research, which surveyed 1,000 registered voters in Nevada from Oct. 11 to 18, including an oversample of 400 Latinos.
Although the findings show that Latino voters could be a deciding factor in these races and have shown up in record-breaking numbers in the last few election cycles, midterm elections typically result in lower turnout rates across all voting groups. In 2018, 62 percent of Nevada voters turned out to the polls, compared to 78 percent in 2020. Latinos also have historically lower turnout rates compared to other demographic groups.
"Latinos are motivated to vote, but not at the same rate as other groups," said Sergio Garcia-Rios, associate director of research at the Center for the Study of Race and Democracy at the University of Texas in a virtual press conference. "There's a gap in the certainty of voting."
Sixty-eight percent of poll respondents in Nevada said they are certain they will vote in this election. Specifically, 71 percent of white voters said they will certainly vote, compared to 59 percent of Latinos — the lowest among any demographic group in the survey.
The poll found that inflation and the cost of living were the top issues for voters, but half of Latinos believe Democrats can handle it better than Republicans. However, 39 percent of combined poll respondents believed Republicans would do a better job, while 30 percent said Democrats.
Latinos surveyed said they trusted Democrats with most issues, such as gas prices, protecting immigrant rights and border security.
Garcia-Rios, who helped conduct the poll with BSP Research, said the findings also attest to historical party trust and loyalty as well as the importance of outreach in the Latino community. Thirty percent of Latinos said Democrats don't care about issues affecting them, compared to 58 percent stating that Republicans don't care about Latino issues.
"I think there's a lot of disappointment from both parties — and … perhaps from the system," Garcia-Rios said. "Latinos don't exactly feel like their issues are being discussed at the table."
As with other groups of voters, a growing number of Latinos have switched their registrations to nonpartisan, which is in part attributable to when Nevada DMV began automatic voter registration in 2020. In the 2020 election, a segment of Hispanic/Latino voters shifted toward supporting former President Donald Trump, even as Biden held on to a majority of Hispanic voters.
But there's no guarantee on where Latino voters will land this election cycle.
"Just because we might see an increase or a shift in Republican affiliation doesn't mean that those Latino voters are actually switching, but it could be that they're just new voters," said Angela Ocampo, an assistant professor of Mexican American and Latino studies at the University of Texas at Austin. "These new voters are convinced about something that the party is presenting to them that they might find enticing."
The Nevada Independent is raising $200,000 by Dec. 31 to support coverage of the 2024 election.
Tax-deductible donations from readers like you fund this critical work.
If you give today,your donation will be matched dollar-for-dollar.
Give + Get Matched
Featured Videos