Nevada Latinos take center stage in midterms as electorate grows, shifts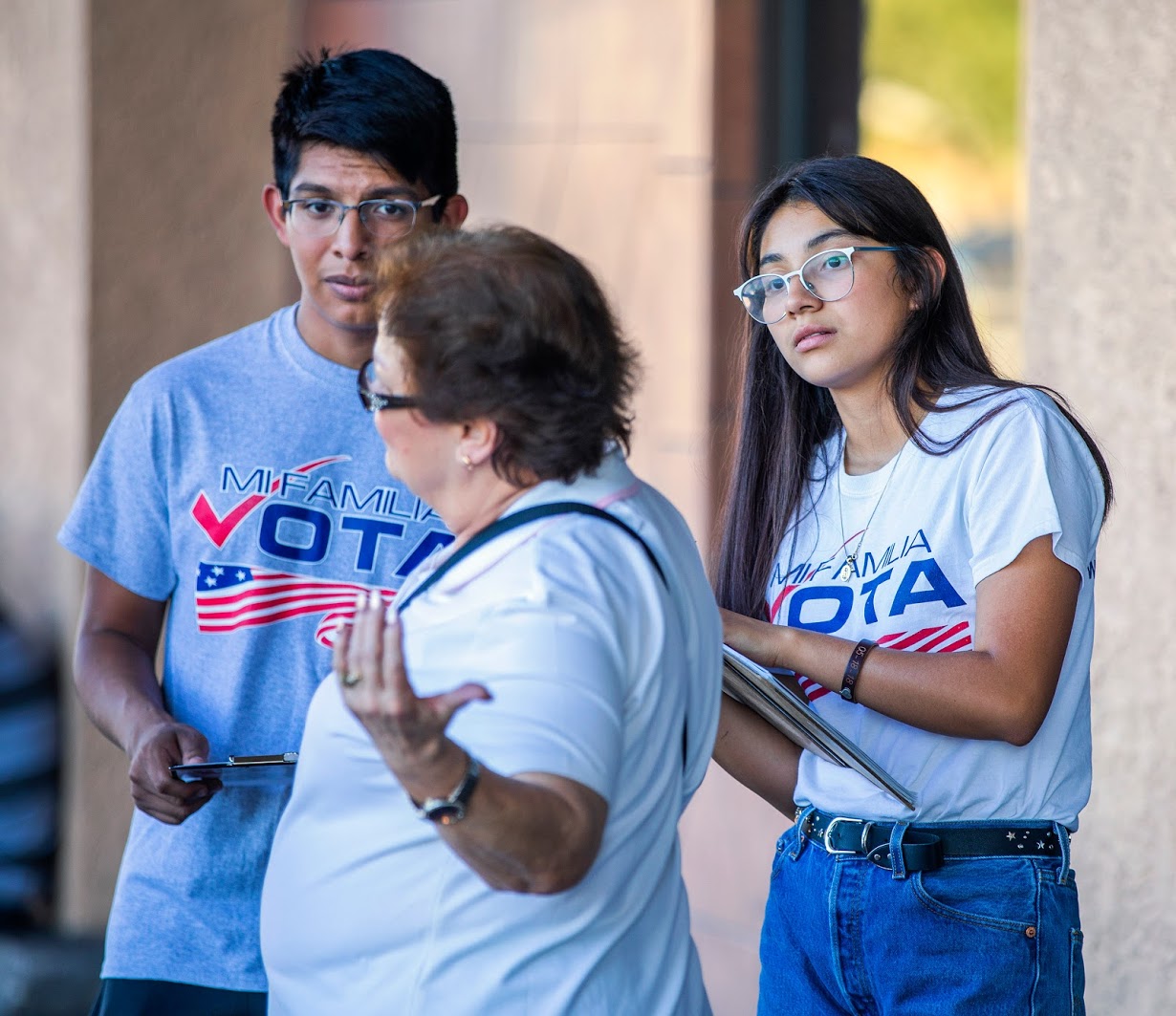 Esmeralda Villeda, born and raised in Las Vegas, has been politically engaged since high school, using her position as president of Rancho High School's Hispanic Student Union to remind others of the importance of municipal elections and voting.
But, now 28, her political values have evolved.
A few years ago, she changed her voter registration to nonpartisan, preferring to support candidates based on policy and not political party.
"I make the conscious effort to educate myself and support the candidates that make decisions with scientific facts, not just, 'Oh, this is what people want,' or 'This is what social media wants,'" Villeda said.
Villeda is part of Nevada's growing Latino electorate that has shaken up the status quo during the last few election cycles, demonstrating its diversity and defying longstanding narratives that it's a reliable stronghold for Democrats, who have relied on Latinos in past elections as a buffer in tight races.
Amid shifting demographics and a move to the Republican Party in states such as Florida and Texas, Latino voters and their political preferences are less predictable than ever before, and could play a major role in Nevada's 2022 midterms, including heated re-election chances for Democrat incumbents Gov. Steve Sisolak and Sen. Catherine Cortez Masto.
Latinos made up nearly 20 percent of Nevada's electorate in 2020, according to the Pew Research Center, with more than 400,000 eligible voters. The Silver State was ranked just behind Florida, where Latinos made up 17 percent of the electorate in 2020 and were key to securing the state's vote for Trump in 2020, according to its proportion of Latino electorate.
Democrats are re-evaluating their messaging and approach to Latinos while Republicans are doubling down on strategies that appeared successful after the 2020 election saw a substantial vote shift, with 63 percent of Latinos voting for President Joe Biden, down from 71 percent of Latinos voting for Hillary Clinton in 2016. Though Biden won Nevada in 2020, the Democratic ticket lost ground from 2016 to 2020.
The question vexing election analysts and frightening Democratic campaigns is whether those margins will continue to shrink in November, propelling a red wave in Nevada.
Jessica Padron, civic engagement director for Make the Road Nevada, a left-leaning organization focused on the immigrant community, put the situation more bluntly: She said political parties often engage in half-hearted attempts to engage with the community, calling them "tokenizing photo exchanges" complete with taco trucks and mariachi bands.
"I think the big message for 2022 to Democrats in particular is, 'It's time to deliver,'" Padron said. "It's not time to play around. It's time to … have real conversations with the Latino community."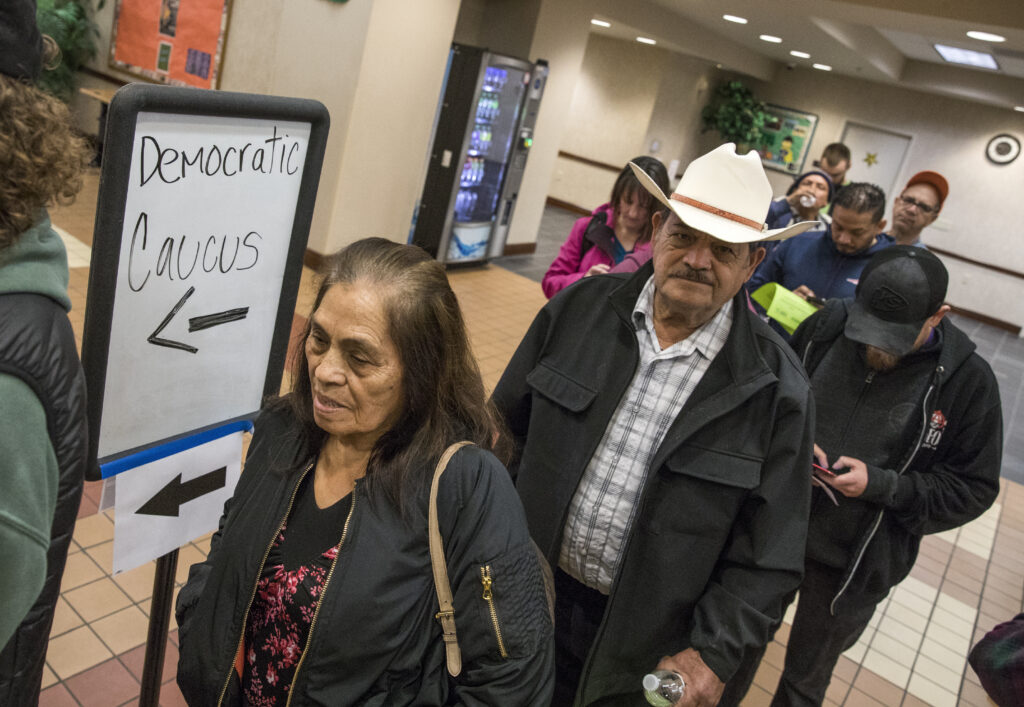 Party confidence
Top Democrat organizers in Nevada said it's not a definitive doom-and-gloom situation, though.
In 2010, the late Democrat Sen. Harry Reid won re-election over Republican Sharron Angle in a victory that Reid and others attributed to a special focus on Latino voters, including bringing the DREAM Act to a Senate vote. By 2020, then-President Donald Trump had gained ground with Latino voters in the state, but Biden still received the majority of Latino votes.
Heading into 2022, Sisolak and Cortez Masto have hired seasoned Latino political operatives to lead their re-election campaigns, in addition to holding targeted get-out-the-vote efforts.
Andy Orellana, a spokesperson for Nevada Democratic Victory, an initiative of former state party leaders focused on electing Democrats, highlighted the trend of Latinos continuing to back Democrats despite narrower margins.
"We built long standing relationships with Latino community leaders," he wrote in an email to The Nevada Independent. "Democrats know they can't take Nevada and the Latino electorate for granted this election cycle, and that's why they haven't in elections past, winning and turning out Latino voters in 2010, 2012, 2016, 2018 and 2020."
Republicans are also taking an active role in an attempt to nurture Latino support. Nationally, party leaders have opened Hispanic Community Centers across the U.S., including one in East Las Vegas opened late last year. Local party leaders hold monthly meetings with Hispanic business owners to talk about their priority issues, according to Republican National Committee spokesman Keith Schipper.
"This community sees that the Republican Party has their backs on the economy, securing our border, and educating their children, and by working with the Nevada Republican Party and investing in a community center in East Las Vegas, the RNC has created a greater opportunity to make inroads with Hispanic voters to take back the House and Senate in 2022," Schipper wrote in an email to The Nevada Independent.
Reaching the growing Latino electorate will be important for candidates and political parties this year and moving forward, but it won't be an easy task given the electorate's diversity and complexity, especially as younger generations come into the fold and bring fresh perspectives and priorities.
"I get sick and tired of … 'mariachi politics,'" Padron said. "The lede gets buried when we talk about Latino vote. Not all Latinos are extremely progressive in the first place."
For example, she said there's no one-size-fits-all message for Latinos from Cuba or Venezuela, escaping from persecution in communist countries, as compared to someone from Mexico with a different story.
"When I look at Latino outreach from within the political parties, it doesn't always capture that," Padron said. "Not everybody eats tacos and listens to mariachi music."
Republicans are focusing their messaging to Latinos on strengthening the economy and jobs, religious and conservative values and identifying Democrats as socialist or communist, stoking fears among immigrants who have fled communist governments.
Four in 10 Latinos who voted in 2020 expressed concern about rising socialism in the U.S., according to a 2020 Equis Research report, including 70 percent of those who voted for Trump.
Democrats are continuing to back immigration reform, though meaningful efforts for change on the federal level have consistently failed, as hundreds of thousands of people face persistent threat of deportation because of their fragile immigration status through programs such as Deferred Action for Childhood Arrivals (DACA) or Temporary Protection Status (TPS).
But immigration fell as a policy priority among Latinos in 2020, when voters listed COVID-19 and the economy as top issues. Ongoing obstacles and a lack of progress on the issue concern analysts, who say Latinos may no longer see Democrats as champions for immigration.
But the Democrats have another advantage in Nevada, which is the mobilizing strength of the Culinary Workers Union, which represents 60,000 casino and hospitality workers mostly in the Las Vegas area. The union has received national attention for its focus on turning out Latino voters for Democrats.
Ted Pappageorge, secretary-treasurer of the union, said he's not worried about turning out Latino voters this cycle, but the union plans to do it in a "bigger way than we ever have."
Pappageorge told The Nevada Independent that Republicans might have traction on social media, but Democrats have an advantage on the ground.
"That's a very common sense, kitchen table approach to us talking to voters and demanding accountability from politicians about issues that are important to folks every day," he said.
The union's strategy in focusing on broad issues that affect all voters, not just Latinos, including health care, job security and benefits, is the path to victory this year, he added. He predicted that it'll be an active election cycle with high turnout.
"If Democrats follow the path of Nevada Democrats, and stay focused about what they've delivered and what working families need, they're going to win," Pappageorge said. "We're not going to support Democrats that don't do that. We plan to be out in force."
As political parties court Latino voters, some of them are moving to a political middle ground by switching their registrations to nonpartisan, which is a quickly growing group of voters in the state since Nevada DMV began automatic voter registration in 2020.
Valeria Becerra Hall, a medical social worker in Washoe County, said she made the switch recently, as a result of not feeling fully aligned with the Democratic Party's values. She still leans toward Democrats because their stances more closely reflect her beliefs and morals, but she needed to take a step out of the political binary.
"I started to register as an independent, just to see if I can have a different perspective and maybe look at policies rather than just political parties," she said.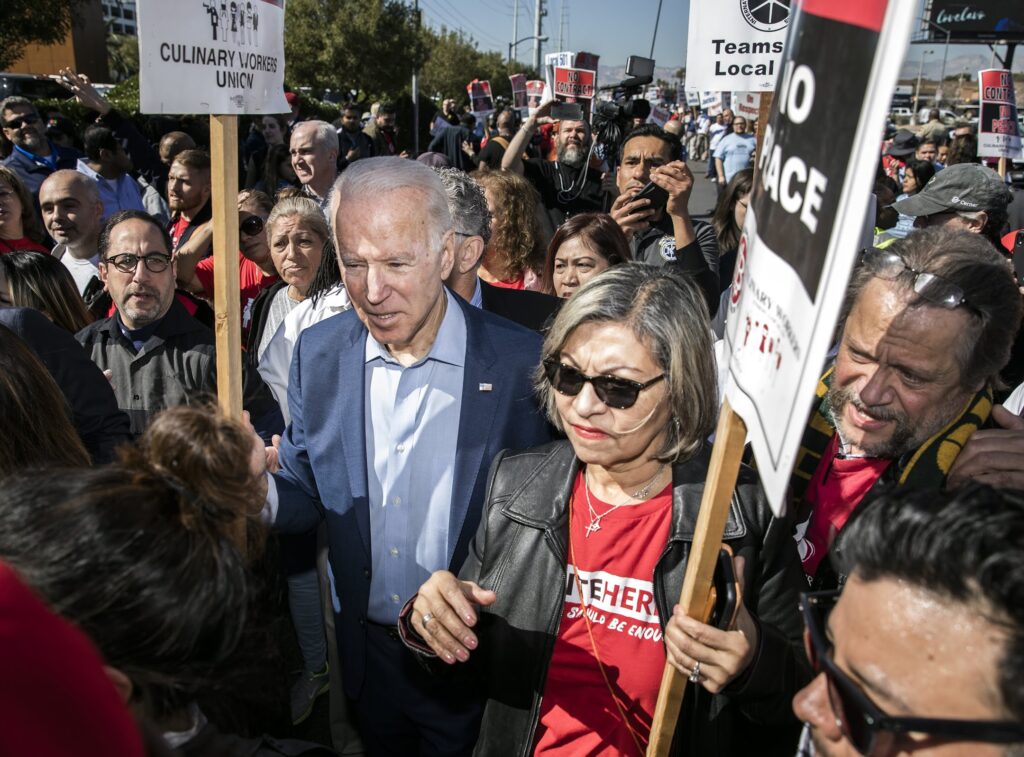 Breaking down the trends
In February, leaders with the NALEO Education Fund, a nonprofit and nonpartisan national organization focused on boosting civic engagement among Latinos, told reporters they expect a 5.8 percent increase among Nevada Latino voters in turnout this year compared to 2018. Drivers of the trend include changes in voting laws, naturalization patterns and efforts to mobilize Latino voters.
While Latino voters have been casting ballots in record-breaking numbers during the last few election cycles, midterm elections typically result in lower turnout rates across all voting groups. In 2018, 62 percent of Nevada voters turned out to the polls, compared to 78 percent in 2020. Latinos also have historically lower turnout rates compared to other demographic groups.
According to NALEO Education Fund leaders, a variety of factors helped push more Latinos to the polls in 2018 than in 2014, including intensity of political dialogue (for instance, a migrant caravan crisis and a rise in anti-immigrant rhetoric from then-President Donald Trump) and an increase in Latinos running for elected positions across the U.S.
But many experts say the changing margins of support for Republicans and Democrats in 2020 can be attributed more to mobilization — an increased share of voters overall — versus conversion, which refers to voters actually change their political values.
"My sense is that this is a mobilization effect as opposed to a conversion effect," David Damore, professor and UNLV political science department chair, told The Nevada Independent. "Meaning that new voters came into the fold who probably hadn't voted before, as opposed to voters in the past who might have voted Democratic."
Trump's campaign was successful in mobilizing conservative Latinos in 2020, he said, and that turnout helped slim the margins. Democrats also weren't as aggressive in their get-out-the-vote efforts and largely avoided in-person campaigning and door-to-door efforts in 2020, he added, which worked to Republicans' advantage given that Trump and others continued to hold in-person events throughout the pandemic.
As November approaches, Damore said there's still room to grow the Latino electorate in Nevada, which sees a lower voter participation rate than other states. In a state with a transient population and growing number of nonpartisan voters, he said the electorate has the potential to change significantly every two to four years.
"That's the big question, always, about Nevada — what's it going to look like this year?" he said.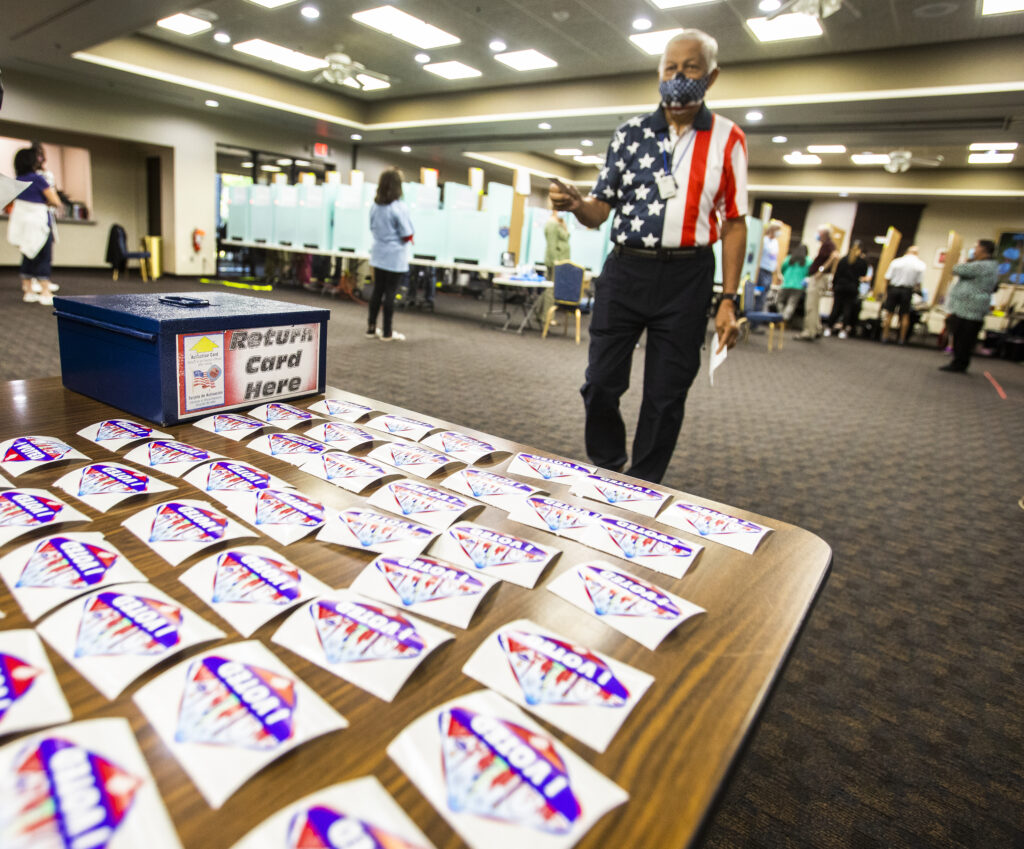 Latino candidates
Though most Latinos in elected office in Nevada are Democrats, at least two high-profile Republican Latinos are running this year to represent Nevada in Congress.
Carolina Serrano, a former Trump campaign staffer, is a candidate for the state's 1st Congressional District, currently held by incumbent Democrat Rep. Dina Titus. Jessie Vargas, a world champion boxer who grew up in Las Vegas, joined the race for the state's 4th Congressional District, currently held by incumbent Democrat Rep. Steven Horsford.
In a campaign video, Vargas enthusiastically highlighted his roots in the Latino community, driving through the Las Vegas neighborhood he grew up in, past the Catholic Church he attended with his family to the boxing gym where he trains. In one scene, he's shown holding two boxing championship belts over his shoulders.
Vargas told The Nevada Independent he switched parties "out of frustration" with the Biden administration. He said he was brought up on strong family values from parents who immigrated from Mexico, and following a successful boxing career, Vargas' new passion is representing his community.
"I need to fight for America because I feel like our direction in our country is going in the wrong path," he said. "And this is not the future we want for our children … or grandchildren."
He said he's focused on education and school choice, is against defunding the police, but in support of small businesses and defending the American dream.
The value of the American dream resonates with Latinos, who start businesses at a faster rate than the national average and are the fastest-growing segment of the U.S. business population, according to the State of Latino Entrepreneurship 2020 research study. During the last decade, Latino business ownership has increased by 34 percent across the country.
Vargas said the Republican Party can appeal better to Latinos with a shared set of values — hard work, family values, religion, pro-life, pro-Second Amendment, pro-business and legal immigration.
"Not only will an immigrant contribute to our country, and actually be part of the workforce paying taxes … they want to be Americans," Vargas said. "This country was founded on immigrants, and I don't believe anyone is against that idea."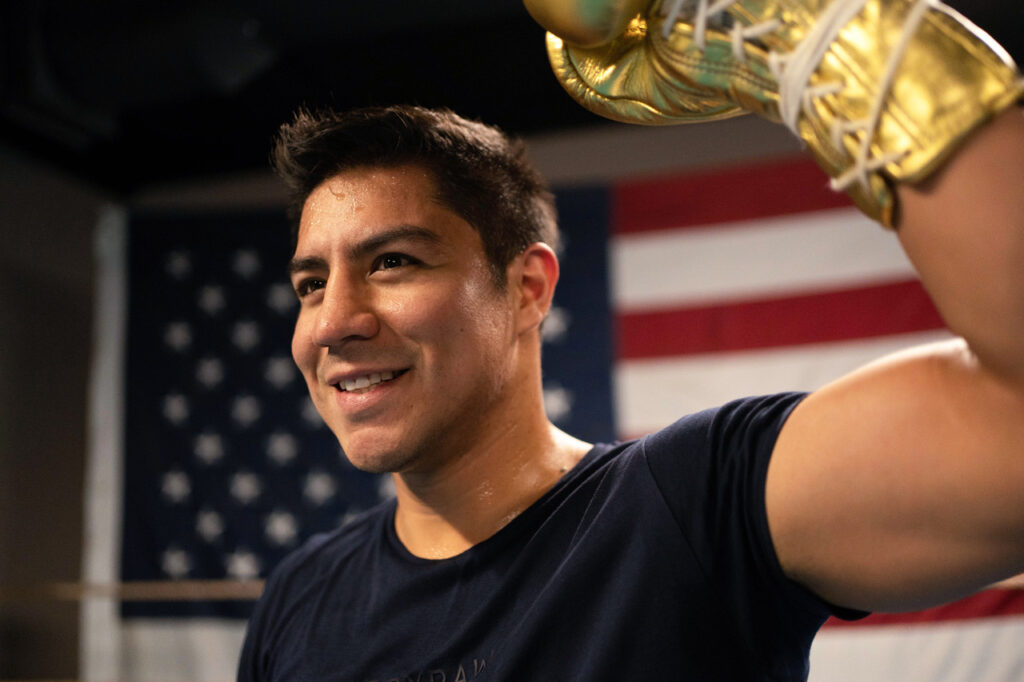 Senate candidate Adam Laxalt, who is challenging Cortez Masto, is another Republican courting Latino voters, hosting a recent campaign at an evangelical Christian church that included a taco truck outside and a mariachi band inside.
Speakers at the event, including Las Vegas City Councilwoman Victoria Seaman and Laxalt campaign advisor Jesus Marquez, focused on issues such as the economy, the U.S.-Mexico border, crime, law enforcement and education.
The tough-on-crime message may have traction among Latinos. According to a 2021 poll from The Nevada Independent, 59 percent of Hispanic respondents in the state prioritize deterring crime over reforming law enforcement, only slightly below the 64 percent of white respondents.
Laxalt also told attendees not to trust Cortez Masto to work on behalf of Latinos.
"Sen. Catherine Cortez Masto will claim that she's supposed to have the Hispanic vote," he said. "She's a Democrat, she's a Latina, she feels entitled to that vote. Well, we need to ask her, what has she done to support the Latino community in Nevada?"
Laxalt told attendees that Cortez Masto wasn't there for Latino voters when they needed her because she didn't speak out against the COVID-19 lockdowns or demand that schools reopen amid the pandemic.
A spokesperson for Cortez Masto's campaign said her record marked a "stark contrast" from Laxalt, criticizing the Republican for opposing the American Rescue Plan and for his comments on a right-wing podcast implying that it was "good news" that pandemic-related business closures came under Democratic leaders.
Attendees who spoke with The Nevada Independent at the event expressed frustration at the way Democrats handled the COVID-19 pandemic, school closures and concerns about the economy.
Patricia Flores, another attendee who moved from California to Las Vegas, said she has always been a Republican, following in the footsteps of her parents.
"You have to go with your morals, you have to go with your conservative values," Flores said. "Democrats are liberal, progressive, socialist. A lot of people in the Latino community left those types of countries to come to the American dream. So it makes more sense that we are Republicans."
But that messaging doesn't work for all Latinos.
Maria Elena Castro, a longtime Las Vegas resident and member of the Culinary Union, was shocked to hear Latinos are running for office as Republicans.
"Wow," she told The Nevada Independent. "We will not support them … If I have them in front of me, I will say, 'How dare you?' No way. I don't think they will represent us in Congress."
Castro, 49, a Democrat, became a citizen in 2015 after immigrating from Tijuana, Baja California.
Her hope for immigration reform continues to hold fast to the Democratic Party. Asked about Biden's unfulfilled promises to create paths to citizenship for undocumented immigrants and DACA and TPS holders, Castro said she's continues to hold out hope.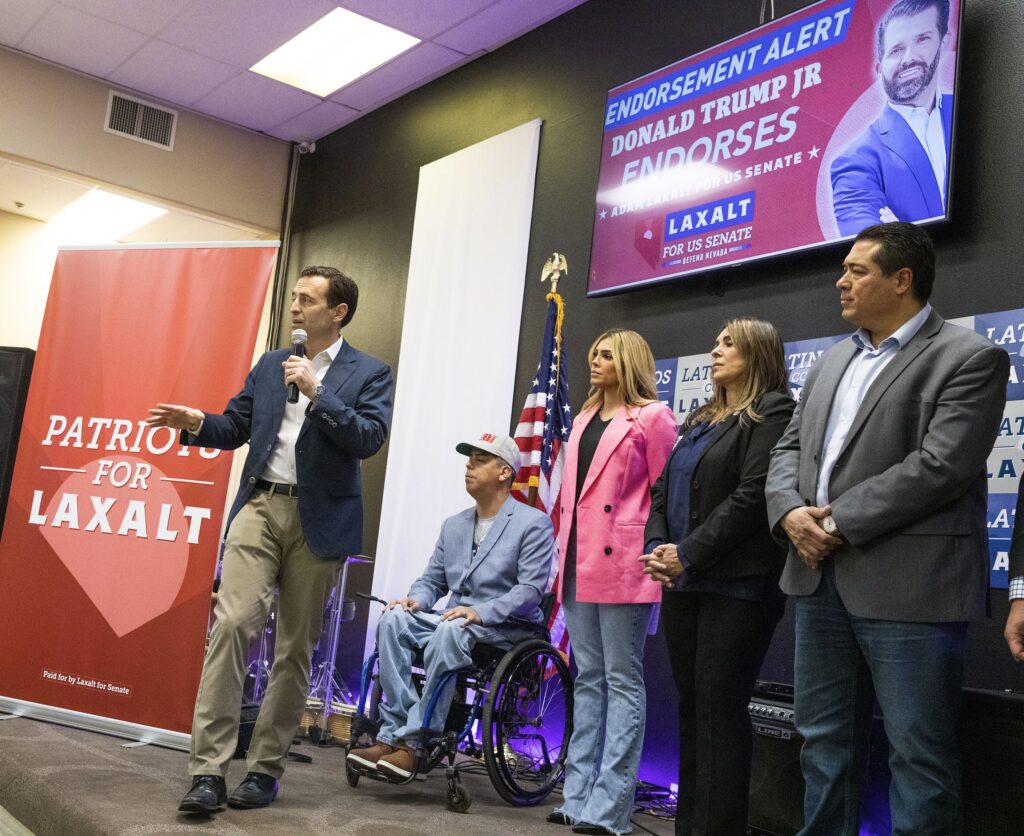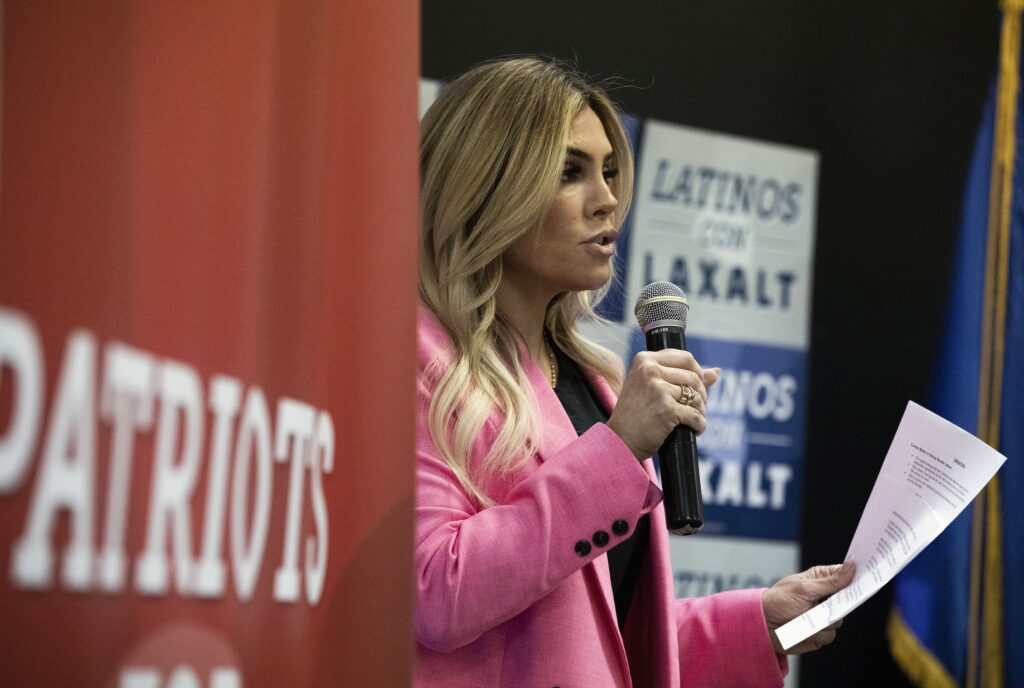 Reaching voters
Community organizers with organizations such as Faith in Action, the LIBRE Initiative, Make the Road Nevada and the Culinary Union are taking the lead in mobilizing Latino voters in Clark and Washoe counties. Their greatest advantage is their consistent outreach, organization leaders said, in contrast to the cyclical efforts on behalf of the political parties during election years.
"What I want folks to realize is that it's not just the election cycle," said Ben Challinor, state director for Faith in Action, a faith-based community organization in Washoe County. "[Latinos are not] just a voting bloc. They should continue to engage them as they start making policy changes."
Some local elections are decided by less than a few hundred votes, he added, so it's in everyone's — political parties and candidates — best interest to engage Latinos.
"Because it's an important election cycle, [we're] making sure that we're at places where we know our folks are," Challinor said. "The grocery stores, the little shops they go shop at, the panaderias, even within congregations."
The LIBRE Initiative, a right-leaning nonprofit civic engagement organization and Make the Road Nevada, which is left-leaning, want to hold in-person conversations with Latinos in addition to phone banking and door-to-door canvassing.
Eddie Diaz, with the LIBRE Initiative, said he thinks messaging from the "far-left" is turning Latinos off from the Democrats, specifically calls to defund the police and to have open borders.
"They don't believe in big governments," he said. "We have people fleeing Cuba, fleeing Venezuela, Nicaragua … and they understand how damaging and hurtful having big government, more government outreach in people's lives. So they come here, to the land of the free."
Becerra Hall, a nonpartisan voter and social worker in Washoe County, thinks candidates and political parties need to immerse themselves in the Latino community more as they court voters. Seeing Latinos in elected positions will also bring out more voters, she said, as it makes the experience more personal and community-oriented.
Villeda, a nonpartisan voter living in Las Vegas, said she's concerned voters will express their frustrations at the ballot, placing blame for unpopular pandemic mitigation measures on people who didn't have control over the health situation.
"The reality is, nobody saw that coming," Villeda said. "[Elected officials] did as best as they could with the information that was being provided, which was always developing."
As for the candidates running for office now, Becerra Hall is concerned they're turning too far right, turning off her community.
"They're zoned in on a particular population that they want to attract," she said. "That's definitely not my circle."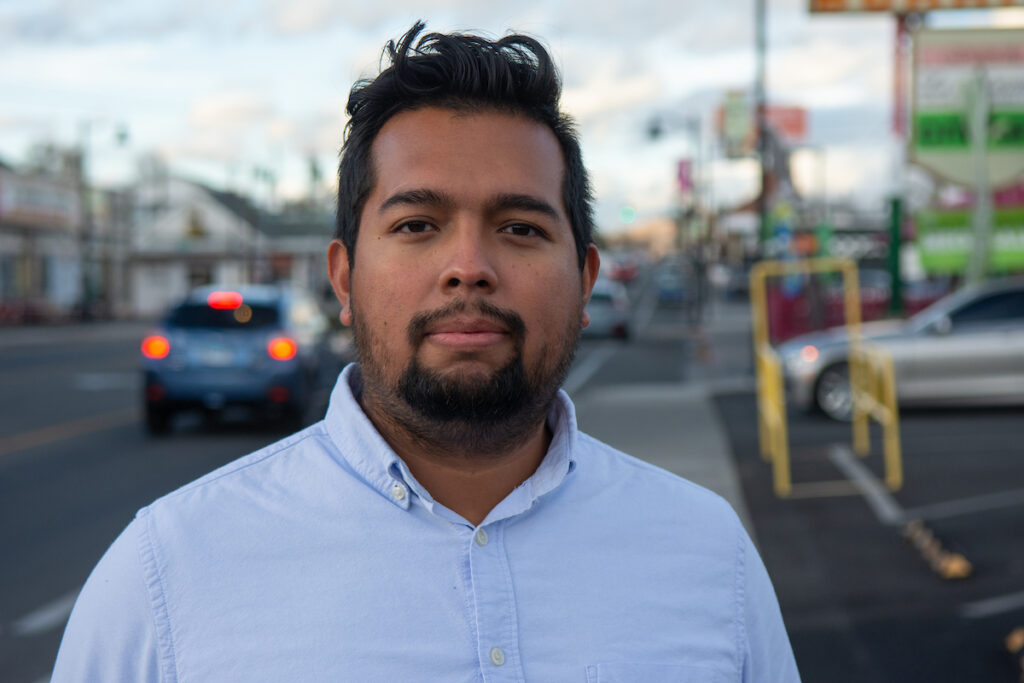 The Nevada Independent is raising $200,000 by Dec. 31 to support coverage of the 2024 election.
Tax-deductible donations from readers like you fund this critical work.
If you give today,your donation will be matched dollar-for-dollar.
Give + Get Matched
Featured Videos