Report: Latino voter shift toward Trump in 2020 driven by economy concerns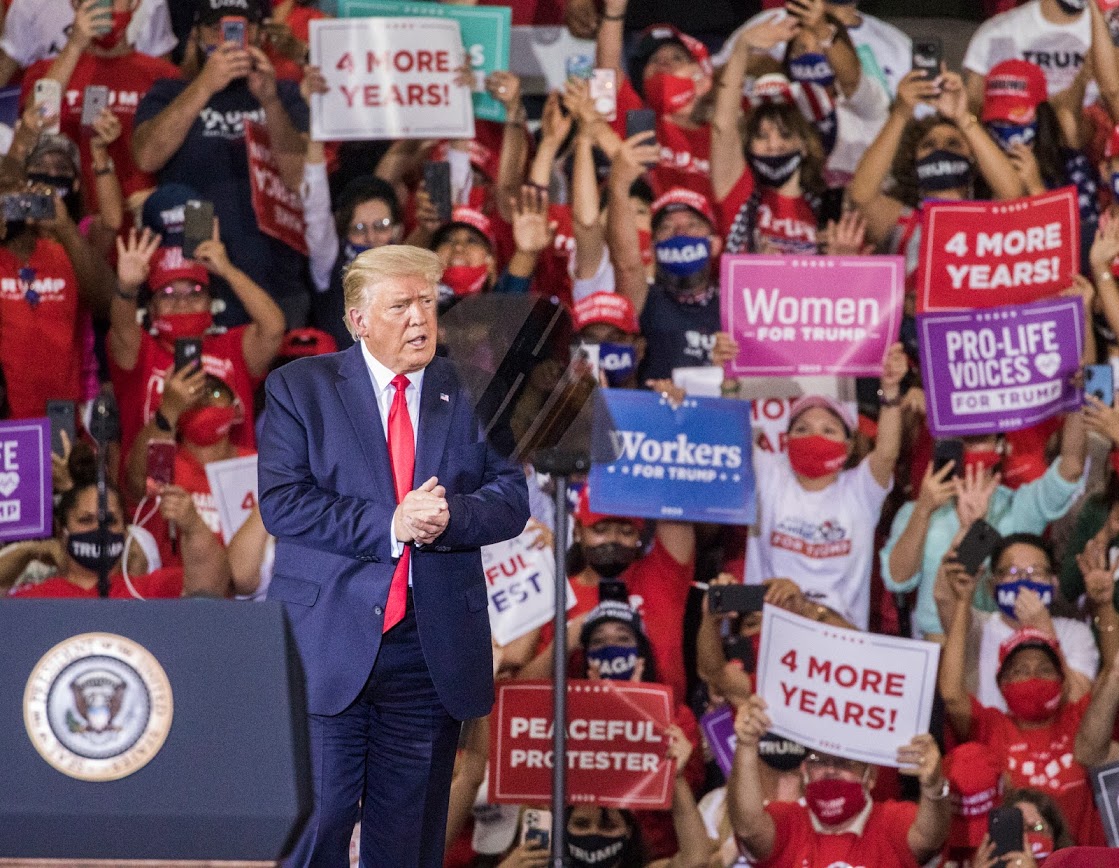 A sharp drop in how Latinos prioritized immigration issues and a steep climb in their emphasis on the economy helped drive a shift toward President Donald Trump in the 2020 election, even though Joe Biden won majorities among those voters, according to a new analysis from Equis Research.
The election postmortem report, released on Tuesday, found that immigration was the top issue for 53 percent of Latinos in Nevada in 2016, but the top issue for only 21 percent in 2020. By contrast, the economy was preeminent for 33 percent of Nevada Latino voters in 2016, and 51 percent in 2020.
The report has lessons for both parties "in terms of the value of hard work for Latino voters, and who is owning debates over hard work," said Carlos Odio, senior vice president at Equis, a polling firm focused on understanding the Latino electorate. "I think part of what the 2020 election shows — the danger, where in spots, among some voters, one party or one candidate is entirely owning that debate."
The report also detailed an increase in concern about socialism, more commonly from people who get their news through the international text messaging app Whatsapp, the pro-Trump One America News Network (OANN) or Fox News. The term evokes a variety of concerns for voters, including that people are becoming lazy and dependent on the government.
"So you got people who say they value hard work a lot, saying there will be government policies that undermine hard work, that reward people who don't want to work hard, the way that me and my family do," Odio said.
That sentiment could explain why Biden's approval numbers remain relatively low in spite of massive COVID aid packages that have created everything from monthly tax credit payments to families with children to expanded food stamps, broader unemployment benefits and stimulus checks.
"It is being filtered through this lens," Odio said.
Both parties have often used the American Dream in their outreach to immigrant communities, but frame it differently. Instead of describing socialism as the opposite of capitalism, the right has framed socialism as the opposite of the American Dream itself, the analysts say.
Democrats could address that in how they communicate about legislation such as the newly passed infrastructure bill, which puts $1.2 trillion toward improving roads, bridges, broadband and more. When he signed it, Biden described the bill as a "once-in-a-generation investment that's going to create millions of jobs."
The party has "got to make up some lost ground and redefine themselves as it relates to work and workers in the American Dream," said Stephanie Valencia, president of Equis. "There's a huge opportunity to do that with the infrastructure deal, and with Build Back Better."
Immigration as a priority
While supporting fellow members of the Latino community was the top concern for more than 40 percent of Latino voters in 2016, the Equis analysis found that number receded to a little more than 20 percent in the 2020 election.
"COVID and the economy end up swapping a lot of priorities, regardless of what people are doing," Odio said. "Part of what we have shown in the past, though, is that that is made possible in part because there isn't as much differentiation between the parties."
Odio said that Harry Reid's leadership on the DREAM Act in 2010 was likely enough to convince many Latino voters that Democrats were supporting immigrants. But 11 years later, it's become less clear which party is getting things done on the issue.
That could change if Democrats manage to secure immigration reform provisions in the massive Build Back Better spending package under consideration. One proposal would allow undocumented people who meet specific criteria, such as being in the country before 2011, to receive "parole," or protection from deportation and work authorization that lasts for five years.
"Any kind of legalization package that happens or could happen, or is being considered in the Senate right now would be bigger than anything that's been done in the last at least 20 to maybe even 50 years," Valencia said. "So it is a huge opportunity for Democrats to make that progress. And absent that, I think they will have a lot harder of a case to make."
It's too early to tell whether the economy will remain the dominant concern in the next cycle, or whether metrics such as inflation and unemployment will subside to the point that the cards will reshuffle, Odio said. Another variable is that Nevada Latinos voters are known to make their voting decisions late.
"They're holding back on who they're gonna vote for. They're gonna hold back on whether they're gonna vote at all," Odio said. "And so I think a lot of that vote choice is gonna end up getting shaped starting now. But we won't see its full form until kind of late in the cycle."
A "permission structure"
Equis researchers identified several reasons they believe Latino voters who were more coalesced against Trump in 2016 broke more frequently for the incumbent in 2020. One is that Hispanics were experiencing historically low unemployment and accelerating growth in wealth before the pandemic, not necessarily because of Trump's actions but amid broader, favorable economic trends that started after the Great Recession.
"That gives those voters a way to say, … 'I don't like him. I don't like how he treats my people. I don't agree with him on a lot of things. But he's gonna do better on the economy. And that is the biggest priority for my family right now.' And that opens a gateway to embracing his candidacy for a variety of other reasons as well," Odio said.
Another rationale for voters changing sides was the debate about whether to prioritize the economy or public health during the pandemic. Analysts say the debate, for some, became a referendum on hard work and the American Dream and "created a permission structure for formerly hesitant Latinos to embrace Trump's candidacy."
Authors acknowledged their report leaves some key questions unanswered, including whether the fact that Trump was the incumbent and people had become more familiar with him drove a shift, and why only about 50 percent of eligible Latino voters cast a ballot in the 2020 election. That abstention rate is higher than for other racial and ethnic groups, and adds further uncertainty to predictions.
"The churn between elections, shapes so much of the vote choice. We just assume it's 10 voters this election, 10 voters that election, a few of them changed our minds," Odio said. "But in reality, you're talking about a third or more of Latino voters who wouldn't have voted in the previous election."
See the analysis below:
The Nevada Independent is raising $200,000 by Dec. 31 to support coverage of the 2024 election.
Tax-deductible donations from readers like you fund this critical work.
If you give today,your donation will be matched dollar-for-dollar.
Give + Get Matched
Featured Videos