Laxalt releases economic development plan focused on reducing regulations, opposing tax increases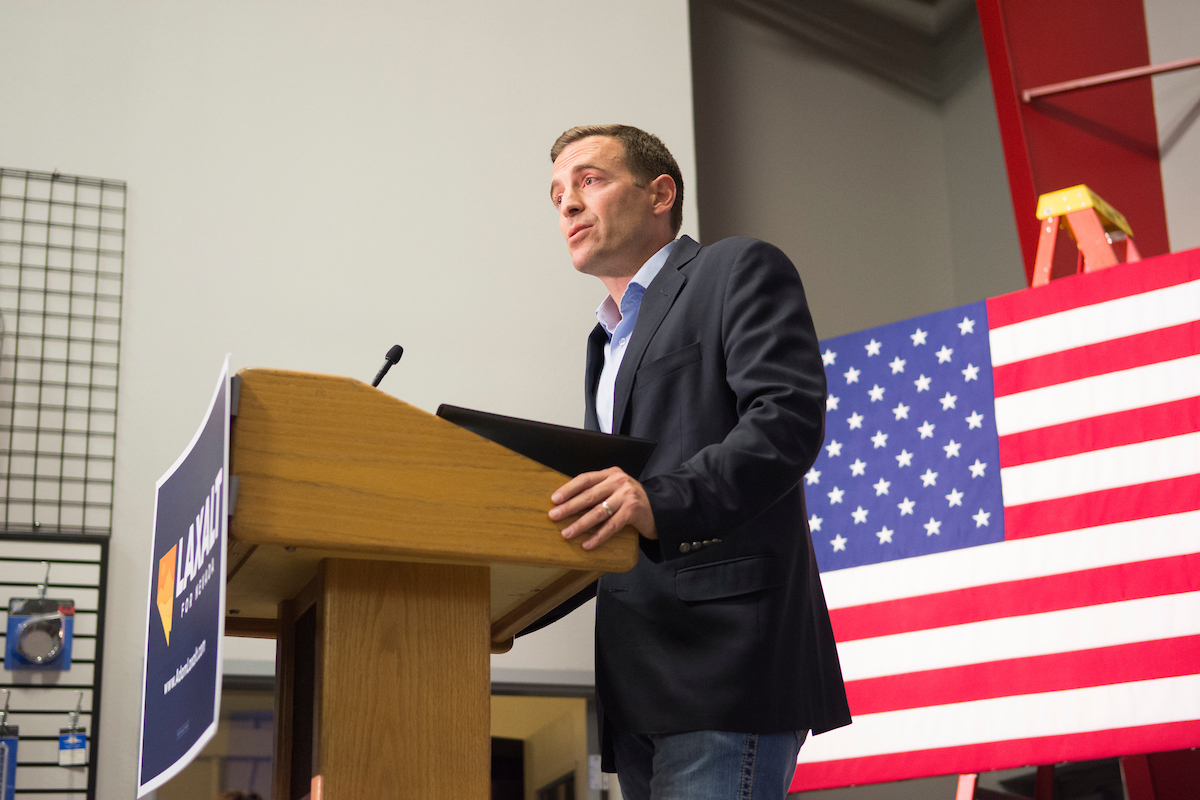 Republican gubernatorial candidate Adam Laxalt has unveiled an economic development plan that includes opposing any tax increases and implementing ideas from other Republican governor-led states to cut regulations.
The plan, released Monday at an event in Sparks, takes aim at barriers to getting occupational licenses and higher business license fees that discourage non-resident business entities from incorporating in the state. Laxalt's focus on cutting regulations as a means to boosting the economy is a different approach than that of Gov. Brian Sandoval, whose economic development strategy centered on attracting more jobs to Nevada through tax incentives and international trade missions.
"Nevada's economy has made incredible strides in recent years, and I believe we have the potential to enter a new period of sustained prosperity and opportunity — if we take an effective, forward-looking approach to developing our economy," Laxalt states in the platform, adding that "while a better education system will empower Nevadans with the skills to succeed, it will ultimately have little positive effect if the road to success is blocked by too many barriers."
The seven-point plan includes echoes of his previously released proposals on education reform and career and technical education as Laxalt, the state's attorney general, attempts to strike a more moderate posture in his race against Democrat Steve Sisolak. Both are vying to replace termed-out Republican Gov. Brian Sandoval.
Although the plan includes Laxalt's oft-stated pledge to not raise taxes, it omits an earlier promise to repeal the state's "Commerce Tax," a levy on businesses that make more than $4 million a year in Nevada revenue. The measure was a cornerstone of Sandoval's $1.1 billion package of new and extended taxes that lawmakers passed in 2015 and that coincided with boosts in K-12 education funding.
Laxalt's plan also includes a proposed "freeze" and possible readjustment of business licensee fees in the state, which range from $200 to $500 depending on the type of business. Increasing those fees was a Sandoval proposal from 2015.
It also does not mention any proposed changes to the state's wide array of tax credits offered to new and expanding businesses through the Governor's Office of Economic Development.
Additionally, the policy outline includes ideas and proposals to address the state's lack of affordable housing, prisoner rehabilitation and expanding rural broadband infrastructure through tax credits and reduced regulations.
Sisolak, his general election opponent, has not released a similarly detailed economic development plan, but his website includes mentions of "diversifying" the state economy through promotion of companies in the clean energy, technology, manufacturing, and medical research sectors.
Highlights of Laxalt's plan include:
Maintaining low taxes:

Laxalt says his first priority is to "protect Nevada's status as a safe haven from high taxes," something he says is "a big reason why Nevada has been such an attractive destination for businesses that are looking to relocate from higher-tax states like California that stifle growth and innovation."
"As Governor, I will oppose any and all efforts to raise taxes on hard-working Nevadans," he says in the platform, although he doesn't mention reducing taxes or repealing the Commerce Tax — two goals that are listed on his campaign website.
Easing occupational license rules:

Laxalt's plan echoed calls from other groups that have sought to reduce the state's occupational licensing requirements, long criticized by many — including a

2015 White House study

— as some of the most burdensome in the country, with around 31 percent of workers required to obtain a license from a state board. Although lawmakers approved a

Sandoval-backed measure in 2017

that sought to ease several regulatory hurdles for occupational licensing, Laxalt said he would establish a licensing review commission to review or eliminate existing requirements for professions to be licensed. He also promised to promote an act that would allow rejected license applicants to appeal to a court if the occupation poses no risk to public safety, and to adopt "pro-worker reforms" including "streamlining" requirements for skilled trades licenses and requiring licensing boards to use the least restrictive means possible to regulate professions.
Freeze business license fees:

Laxalt promised to propose an immediate "freeze" on the cost of business license fees at all levels, until completing a full assessment of the revenue and determine if any of the fees were burdensome for small businesses. Raising the state's annual business licensing fee was a

key part of the $1.1 billion in new and extended taxes

approved by Sandoval during the 2015 Legislature. Laxalt said he would also seek to exempt home-based businesses that do not have to file a return with the IRS from having to pay for a state business license.
Focus on businesses in Nevada:

Laxalt proposed expanding the focus of Nevada's economic development efforts from "attracting big, out-of-state firms to locate some offices in Nevada by providing large, targeted tax breaks or grants" to helping Nevada's current businesses and entrepreneurs "get a foothold in the marketplace while removing obstacles to their growth and success."
Soliciting ideas on cutting regulations:

He suggested a website similar to one in Arizona where businesses can submit suggestions to end regulations they find burdensome, and a measure similar to Wisconsin's REINS (Regulations from the Executive in Need of Scrutiny) rule that requires specific legislation to authorize any regulation that will result in at least $10 million in compliance and implementation costs over two years.
Allowing businesses to operate outside of regulations:

Laxalt wants to adopt the idea of a "regulatory sandbox," a concept in place in Arizona in which certain businesses are allowed to "operate outside the traditional regulatory frameworks for their new products" as long as they apply with regulators and disclose the risks involved with their products.
Crowdfunding for capital:

The attorney general wants to allow small businesses to conduct a "local public offering" registered with the state securities division so they can advertise and raise small amounts of money from in-state sources, essentially "crowdfunding" their projects. The concept is in place in North Carolina.
Business leaders suggesting changes to local government:

Laxalt wants to mimic an idea in South Carolina in which a competitiveness task force made up of business leaders "surveyed the differences among local governments in the state to determine the optimal mix of public infrastructure balanced against taxes and regulation."

More technical education:

His plan reiterates an earlier pledge to increase funding for Career and Technical Education, while also promising to look at granting the state's community colleges "greater autonomy" from the Nevada System of Higher Education, which oversees all universities and colleges in the state. He also proposed more teaching of entrepreneurship, expanding and offering tax credits for companies that offer apprenticeship programs, and creating grants that assign "mentors" to families living in poverty.
Assist former inmates in finding jobs: Laxalt also included a plan to reduce recidivism and help former inmates get back to work, citing a plan in Arizona where Uber provides free rides to job interviews and a pilot program in Illinois that he believes "can serve as a model for our state."

Expanding broadband: Citing Wisconsin and Tennessee, Laxalt said he would look for ways to extend broadband access in the state's rural areas, including reducing "regulatory barriers" and giving tax credits or grants for broadband development.

Reducing permitting fees:

Laxalt also said he would "actively engage" state and local agencies to determine any potential reduction in licensing or construction fees charged to homebuilders as a way to tackle the state's shrinking affordable housing market.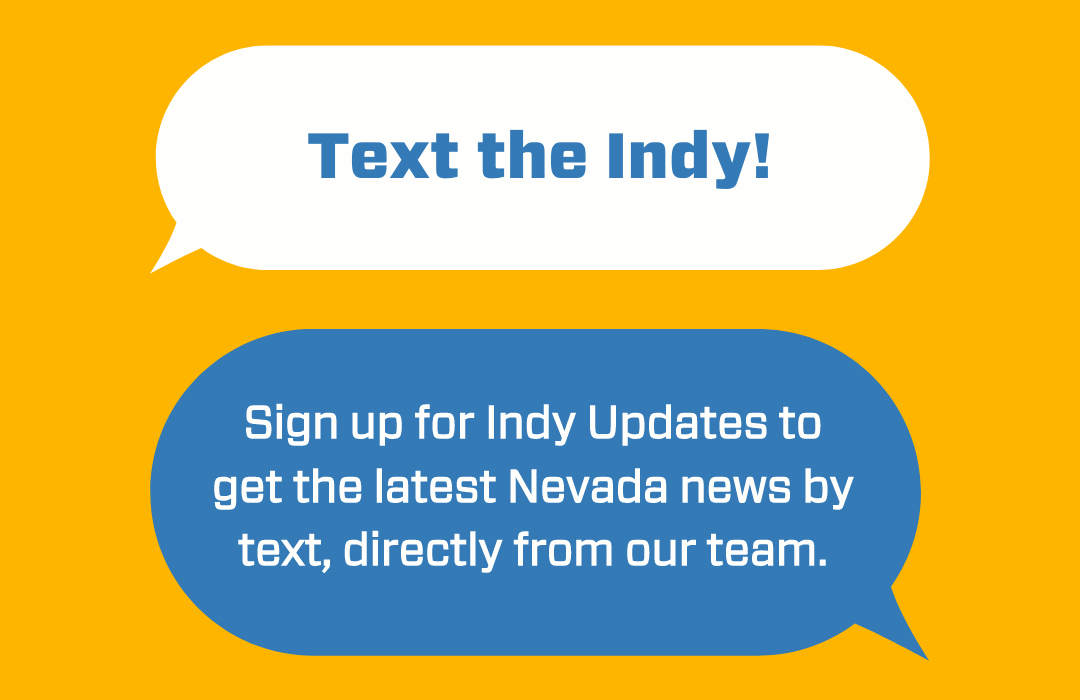 Featured Videos
Comment Policy (updated 4/20/2021): Please keep your comments civil. We reserve the right to delete comments or ban users who engage in personal attacks, use an excess of profanity, make verifiably false statements or are otherwise nasty. Comments that contain links must be approved by admin.