Laxalt's California scaring and budget ignorance raise serious questions about his campaign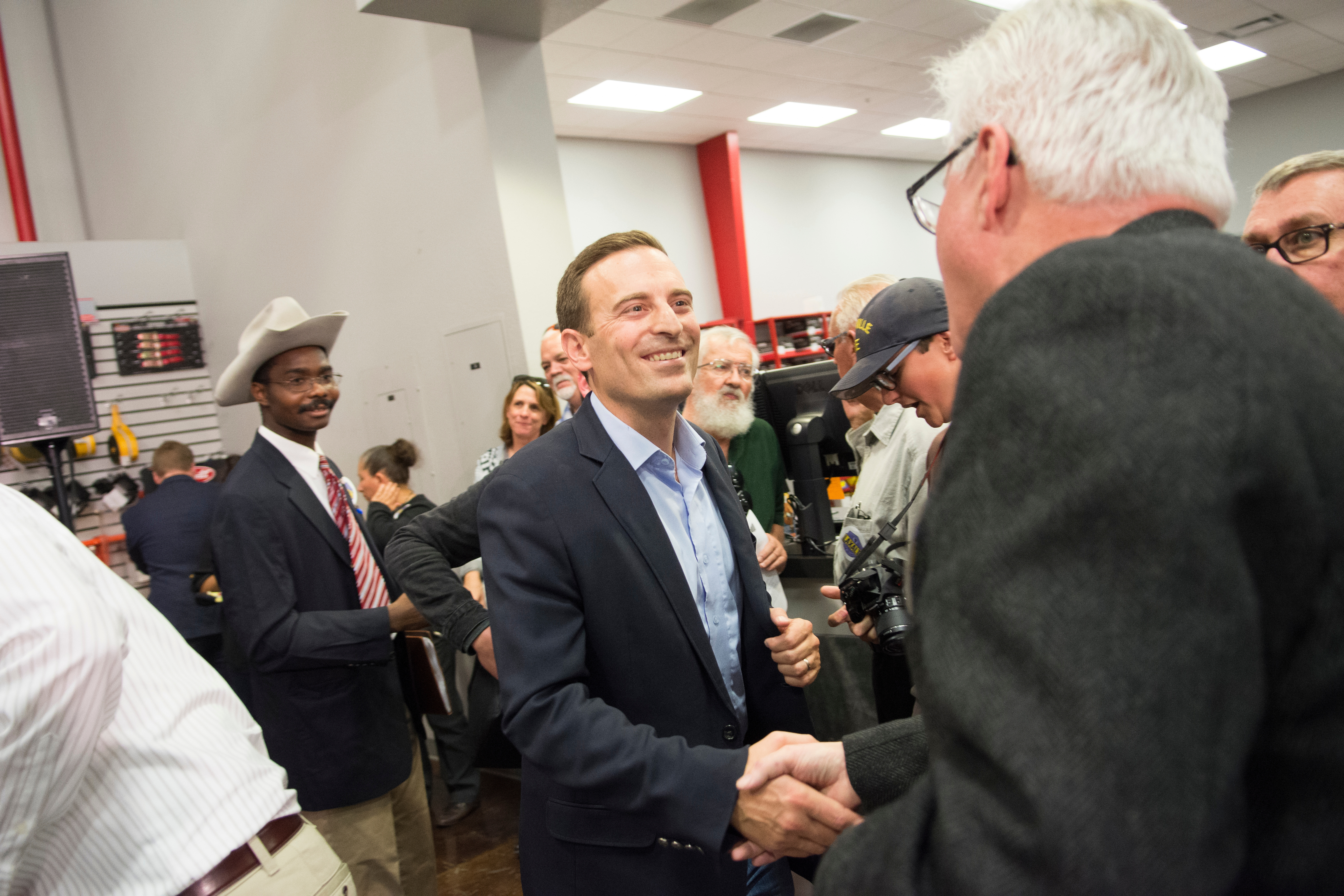 "I'm concerned we're heading in the wrong direction. A consistent theme I hear is we are turning into California. Does anyone want to turn into California?"
—Attorney General/gubernatorial candidate Adam Laxalt, 3/20/18
Mindless rhetoric is de rigueur in campaigns.
But the level of hollowness and mendacity in Laxalt's words is breathtaking, and they also contain an oblique broadside at a popular Republican governor he hopes to succeed. Maybe the attorney general thinks the people of Fernley, where he made these remarks last week, are too dumb to know better, to realize that what he said is both false in substance (that Nevada has too-high taxes and too many regulations) and disconnected from reality (his claims of concern over a "consistent theme" cannot possibly represent what he mostly hears from people on the campaign trail unless most people he talks to don't have a clue).
What's most disturbing, though, is that Laxalt's remarks about Nevada being too much like California are synecdoche for his campaign for the state's most important office, the emptiness therein revealing an overly-scripted candidate who may know less about the state than any serious contender in modern history. He also made patently inaccurate comments in Fernley about the Commerce Tax and some bizarre ones about federal lands, revealing a willingness to either lie or be willfully ignorant.
Make no mistake: I have predicted – and continue to believe – that Laxalt is the favorite to succeed Gov. Brian Sandoval, mostly because of the Steve Sisolak-Chris Giunchigliani bloodletting that will make an Eli Roth film look tame, and his nearly unlimited supply of money from national and local (Sheldon Adelson) sources.
The attorney general's campaign has so far consisted of touting his compelling life story, disgorging red-meat shibboleths for the base and doing prolonged interviews only with friendly interlocutors.
Laxalt has shown very little knowledge of the state he has lived in for only a few years, and his speech in Fernley revealed just how little he knows still and how he will keep repeating the same false talking points. He is an automaton who does not seem to understand that his programming is compromised.
Consider just two examples from Fernley:
---California nightmare: Put aside for a moment that California is a beautiful state with wonderful cities, a place where Laxalt, on his financial disclosure form, lists as a source of income a Newport Beach-based (a horrible place, we are led to understand) high-end wealth advisory firm.
The implication, as he put it, that Nevada will become "California East" if the Democrats take over has been a hackneyed GOP scare tactic through the years. But Laxalt said in Fernley that Sandoval-led Nevada already is – not will be – headed in the wrong direction, that we already are turning into California, a high-tax state.
Even the conservative Tax Foundation finds this is nonsense, as its latest study shows Nevada has the fifth-best business climate in the country and residents have a relatively low tax burden by most metrics. Laxalt's spurious claim also is a slap in the face of the governor's economic development efforts, which have coaxed fish big and small to jump into our little pond.
You can criticize Sandoval all you want – and Laxalt does – but unemployment is a third of what it was during the recession and tens of thousands of jobs have been created, many in new and growing industries, during the governor's tenure.
Does Laxalt know this and choose to ignore it? Or does he simply not know?
---Math problems: Laxalt has said he wants to repeal the Commerce Tax, Sandoval's signature achievement to broaden the tax base to help fund education. He has consistently exaggerated his opposition at the time – he was silent except for a few slips with friendly right-wing radio talkers – and he has also exaggerated how little it brings into the budget, buying into one of his supporters' claims that it is a "rounding error."
In Fernley, Laxalt went even further, according to a transcript provide to me by Robert Perea, who runs the newspaper there. Here's what Laxalt said when asked about getting rid of the Commerce Tax, which only affects businesses that make $4 million or more annually:
The Commerce Tax I was opposed in 2015. I was opposed then, it wasn't easy to be opposed to the Commerce Tax in 2015, but I felt it wasn't the right tax for the state. I remain opposed and I'm opposed today. I don't think it's the best tax for the state. I think it's important to note that before I get hit for being opposed to the Commerce Tax, and I'm already being hit for it, it is only .8 percent of our general fund budget and I am more than positive that we are going to be able to replace that. It does not go directly to education, it goes to the general fund, so we're going to be able to replace that, whether it's economic growth, whether it's marijuana tax, there will be a number of areas where just a small amount of cutting. But business, I've heard loud and clear that gross receipts tax is not the best way to tax our businesses. If it lands on the ballot, I know there's ballot initiatives going around, I'll be voting for it.
There is so much wrong with what he said that I barely know where to begin.
First, the math. The Commerce Tax is not 0.8 percent of the general fund. Not even close. Laxalt's number is off by about 600 percent.
The tax brought in close to $350 million in the first two years, or about 5 percent of the general fund. And it is projected to grow to closer to $400 million in the next biennium.
That ain't peanuts. (Laxalt & Co. have disingenuously added federal monies outside the general fund to make his Commerce Tax minimizing look better. But in Fernley, he showed that he doesn't even know what the general fund number is.)
As Sandoval pointed out, you can't just whack hundreds of millions of dollars from an $8 billion budget and not expect to feel it:
"I think if somebody's going to make a proposal like that, they've got to stand in a schoolroom with a room full of parents and teachers and be able to explain who they're going to cut. You're going to cut autism funding? You're going to cut special (education)? You're going to cut gifted and talented? You're going to cut technology? Are you going to cut career and technical education? All those are things that we've been able to fund in an unprecedented way, and with a proposal like that, it's gone."
Who do you believe? Sandoval or Laxalt?
Laxalt's contention that either economic growth or marijuana taxes, which bring in a small fraction of the aforementioned amount (projected to be around $50 million a year), along with amorphous "cutting" can make up for the Commerce Tax money is laughable.
His assertion that he wants the repeal ballot initiative to qualify and that he will vote for it is yet another thumb in Sandoval's eye.
I wonder where all of the Republicans who voted for that tax, some running this cycle and some still in the Legislature, are now. Laxalt got your tongue...?
Does he know the real numbers and percentages and choose to ignore them? Or does he simply not know?
---Laxalt made other bizarre comments during his Fernley sojourn, including a reference to the BLM as "an enemy in our state" and claiming to have fought for more federal to state land transfers. (How will you pay for all that land management, governor-in-hoping? Maybe you are simply trying to induce independent candidate Ryan Bundy, who is going to cut into your rural base, out of the race? The deadline is Tuesday.)
And, of course, Laxalt continued to harp on "sanctuary cities," which Sandoval has said and most sane people know are not an issue here. Laxalt has boasted that he helped stop a legislative bill last year on the issue, but the truth is he uttered nary a peep about the measure, which was eventually scuttled because law enforcement was afraid of losing federal grants (and Las Vegas Metro also has said there is no issue here).
Does Laxalt choose to ignore the opinion of the state's chief executive, once an attorney general himself, along with local law enforcement? Or does he simply not know?
Laxalt's patronizing and dog-whistling to his rural and white base come as no surprise, especially after his crushing cow county victories when he won in 2014. But his entire argument beyond that superficial approach with his superficial (or erroneous) knowledge of the state where he is spent very little of his life seems to be that Nevadans need him to stop the horror of our beautiful state from being turned into – cover your eyes – California.
The argument is similar to another fellow who knew very little about anything but used catch phrases and appeals to alienated white voters to win a high office. Present a fundamentally pessimistic view, scare people about the current state of affairs, talk about tax cuts and raise the specter of illegal immigration.
It worked for Donald Trump, so why not Adam Laxalt?
Steve Sisolak and Chris Giunchigliani have donated to The Nevada Independent. You can see a full list of donors here.
Jon Ralston is the editor of The Nevada Independent. He has been covering Nevada politics for more than 30 years. Contact him at [email protected] On Twitter: @ralstonreports