Laxalt's school safety report recommends more funding for law enforcement, 'red flag' policies on guns for mentally ill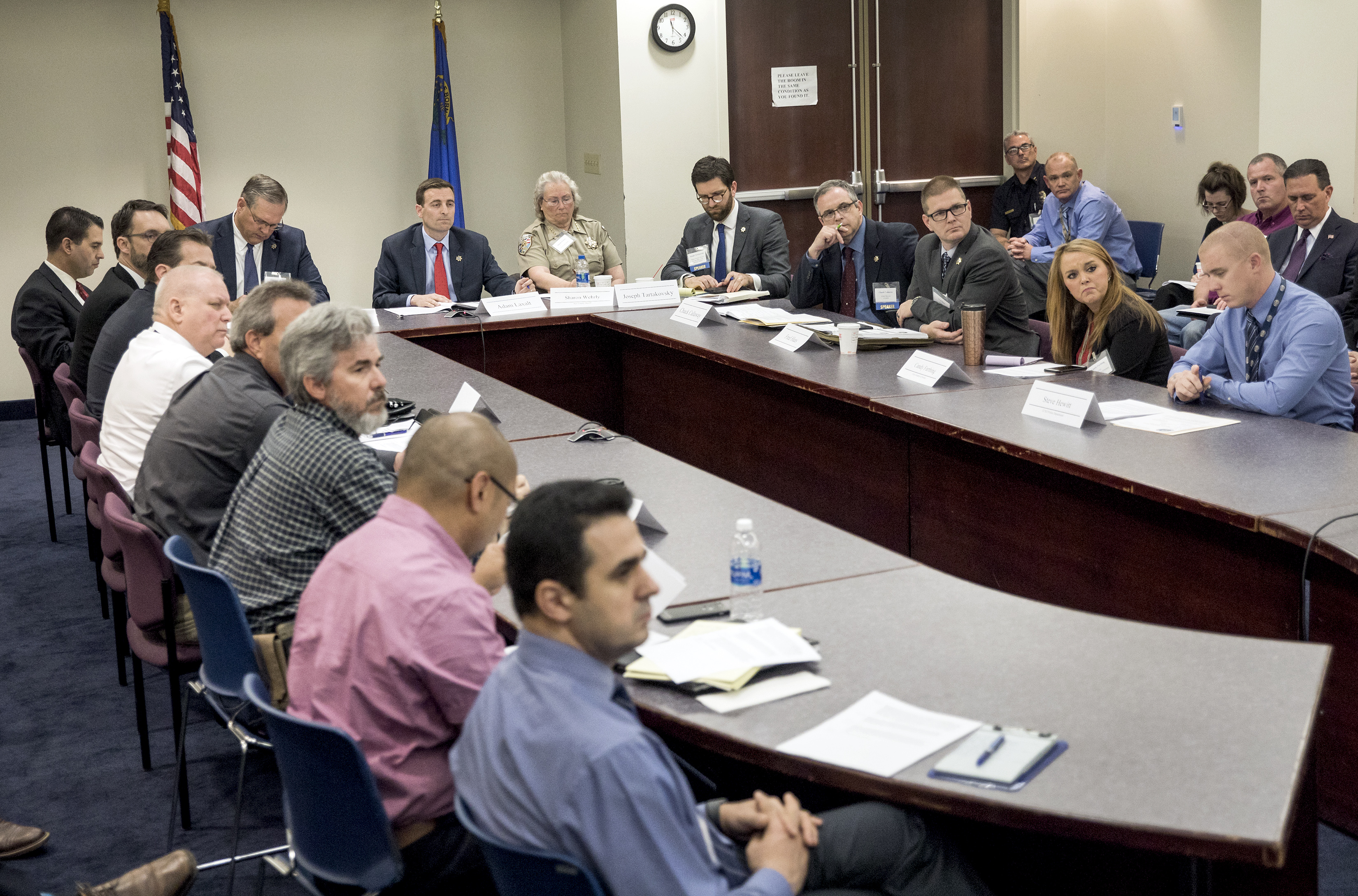 In an effort to prevent school shootings, Attorney General Adam Laxalt is recommending increased funding for law enforcement to patrol schools, for systems that would electronically transmit criminal records to a background check repository and for capital improvements to schools such as better fencing, bullet-resistant building materials and key card systems.
The 32-page report released by his office Thursday outlines recommendations that fall into several categories — school resource officers, school building design, tactical response to a crisis and threat detection. It's the culmination of a half-day school safety summit he organized in March, which brought together law enforcement officials, teachers, school administrators and security experts to discuss the hot-button issue after a school shooting in Parkland, Florida, left 17 dead and reignited a national debate about school safety and gun control.
"Our schools should be places of teaching and learning, not the site of violent crimes," Laxalt said in a statement. "Just as I have done with Nevada's sexual assault kit backlog, elder abuse crisis and opioid epidemic, I am proud to lead Nevada's effort to bring law enforcement and others together to identify concrete solutions to Nevada's existing public safety problems. I am confident that if Nevada takes these important steps, our schools and children will be safer."
Although Laxalt, the Republican nominee for governor, has recommended numerous changes that would require the Legislature to allocate additional funding, he has also pledged not to raise taxes. His office didn't immediately respond to an inquiry about whether the plans could be pulled off while adhering to a no-new-taxes pledge. Some of the recommendations, however, suggest that local agencies seek federal grants to cover expenses.
What the report doesn't include: any recommendation about arming teachers. The report steered clear of that controversial subject and, in fact, noted that "school staff should not be relied upon to adhere to the active-assailant plan, such as in evacuation, since in most cases they will have been victims themselves, and will be experiencing trauma that potentially makes them unreliable."
Among the recommendations:
Appropriate additional funding, or seek federal funding, to ensure law enforcement can respond quickly to school violence.

Automate criminal record processing to ensure a more complete criminal background check repository, and consider funding a unified electronic records transmission system to keep the database up-to-date.

Strive to create a single point of entry at schools and install multiple security cameras that are accessible to law enforcement.

Develop "new mechanisms" for funding school safety-related capital improvements.

Ensure all law enforcement has copies of floor plans of schools within their jurisdiction.

Pre-designate a single agency as the point of command in the incident of a school shooting, so local police, sheriff's offices and school police agencies don't conflict with each other during a crisis.

Make an exemption so that shared active-assailant response plans are confidential and not subject to disclosure through the public records law.

Ensure officers have active assailant training from the FBI. The report notes it will bring the FBI to its next law enforcement summit to provide training.

Establish working relationships between police and school principals, and have law enforcement request school emergency plans.

Fund a statewide system similar to Clark County's Family Tracs program that would ensure information about a student's behavioral and disciplinary history follows a student when they move from school to school.

Apply for grants that would increase the ability for law enforcement to assess threats.

Encourage students to download an app called "SafeVoice Nevada," which debuted last year and allows students to anonymously submit tips to police.

Educate districts so the federal Family Education Rights and Privacy Act (FERPA) is not seen as a barrier to sharing important information about school safety risks.

The Legislature should evaluate whether more mental health-related information, such as medical diagnoses and Legal 2000 records, should be made available to law enforcement in real time.

Counties should look into establishing Mobile Outreach Safety Teams (MOST), which are partnerships between law enforcement and clinicians that assist in de-escalating mental-health crisis situations.

The Legislature should study the effect of "red flag" laws in other states and consider enacting something similar in Nevada. Those laws allow police, family members or prosecutors to petition the courts for a civil order that would temporarily take away a person's firearms if they're deemed an immediate threat to themselves or others.
Laxalt held his summit two days after Gov. Brian Sandoval convened school superintendents in Carson City to kick off dialogue about how to bolster student safety. The governor proceeded to issue an executive order creating a School Safety Task Force consisting of 25 members — including two superintendents, principals, teachers, parents, state lawmakers students and a judge, among others — to examine the fears vexing school districts across the nation and offer recommendations for what can be done in Nevada.
The task force will submit an initial report to Sandoval featuring recommendations that could be immediately enacted and then a final report by Nov. 30. Sandoval envisions the task force report as something that could guide lawmakers' policy decisions in the 2019 legislative session, although the recommendations aren't binding and Sandoval will be out of office by then.
Laxalt's report will be submitted to Sandoval's task force and the Legislature.
The Nevada Independent is raising $200,000 by Dec. 31 to support coverage of the 2024 election.
Tax-deductible donations from readers like you fund this critical work.
If you give today,your donation will be matched dollar-for-dollar.
Give + Get Matched
Featured Videos