Lombardo routs field in GOP governor primary; election doubter prevails for SOS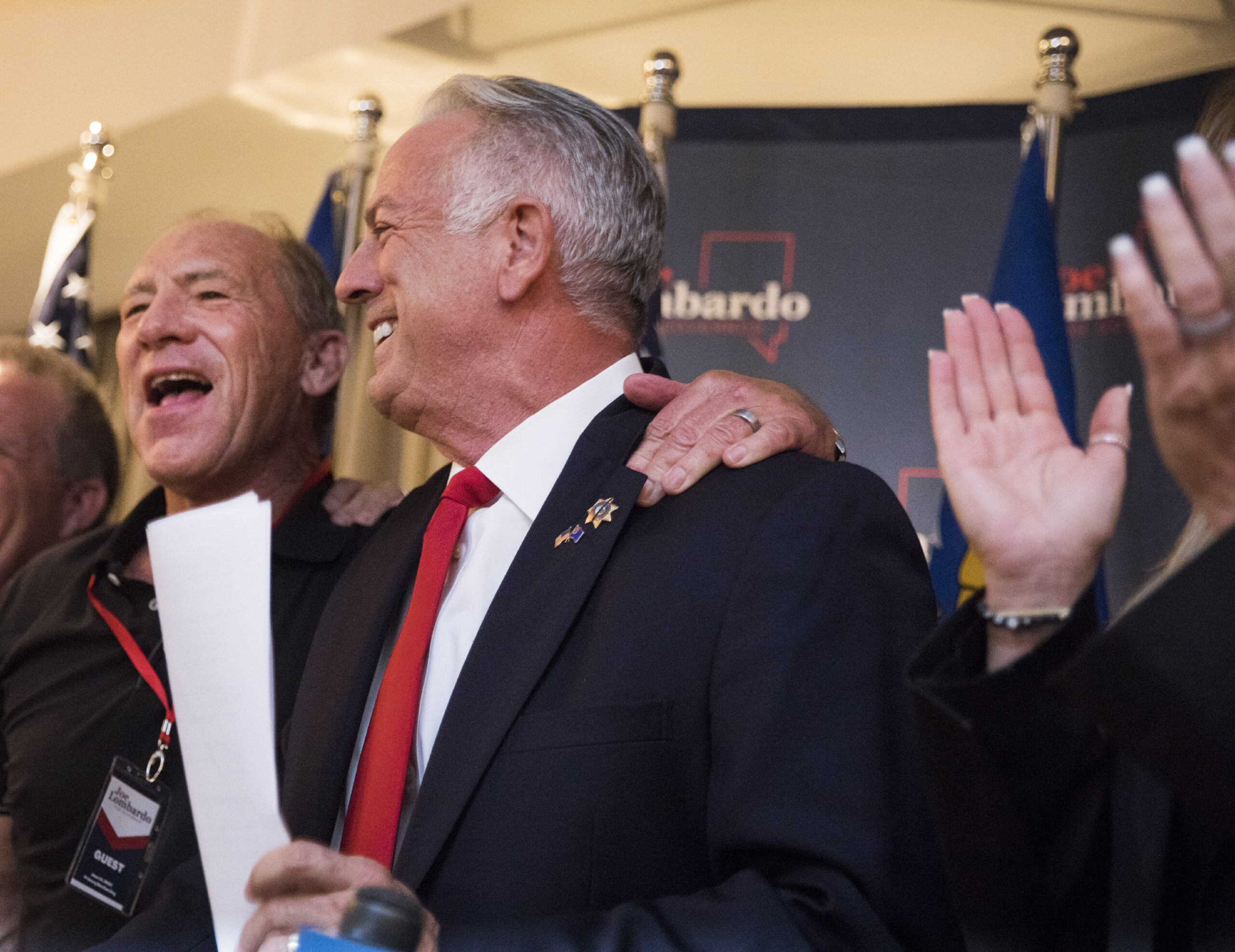 A more moderate Clark County Sheriff Joe Lombardo won a decisive victory over the sprawling field of Republican gubernatorial candidates, even as further-right figures romped to victory over more centrist opponents in other statewide GOP primaries.
Early election results — largely composed of mail ballots and early vote totals — showed Lombardo winning populous Clark County by a large margin, with more than double the votes of his next closest primary rival, Reno attorney Joey Gilbert. Most news organizations, including The Nevada Independent, called the race for Lombardo less than 30 minutes after results were first published on Tuesday.
Speaking to a crowd of supporters inside Panevino restaurant in Las Vegas, Lombardo pivoted to his general election matchup with Sisolak, attacking him for having "abused our trust and … failed us during COVID."
"I will never wait for politicians in Washington, D.C., or for the governor of California to tell me what to do," he said. "I will always put the best interests of Nevadans first. Frankly, it is long overdue."
For his part, Sisolak effortlessly shrugged off a primary challenge Tuesday from former Clark County Commissioner Tom Collins and turned his aim toward Lombardo as results came in, saying the sheriff was "flouting his official responsibilities on the campaign trail."
"Nevadans deserve someone who will put in the work to lift up every family, not someone who has spent the last 12 months taking both sides and lying to voters about where he stands on the issues," Sisolak said in a statement.
Sisolak has posted record-breaking fundraising totals as he looks toward the general, but he carries baggage over shutdowns and mandates during the pandemic, and faces the headwinds of inflation and President Joe Biden's unpopularity in his quest for a second term.
Down the ballot, far-right Republican candidates largely trounced more moderate (and oftentimes better-funded) primary rivals. Jim Marchant, a former Assembly member who has raised his public profile by campaigning on unsubstantiated claims of mass voter fraud in the 2020 election, won handedly over Reno-based developer Jesse Haw.
On the Democratic side, Lt. Gov. Lisa Cano Burkhead won a surprisingly comfortable victory over Henderson Mayor Debra March, who had outpaced the political novice in fundraising and touted an endorsement from the state Democratic Party chair. The race was the only competitive Democratic primary for a statewide position on Tuesday.
Governor
Lombardo led the 15-person pack in fundraising in spite of attempts from Democrats and fellow Republicans to slow his momentum. An endorsement from President Donald Trump last month also helped cement his victory in the primary, although it could be a liability among moderates in the purple state during the general election.
Reno attorney Joey Gilbert — who attended Trump's "Stop the Steal" rally in Washington, D.C., on Jan. 6, 2021, has been a strident opponent of COVID mandates and vowed to take control of public schools through a state of emergency upon taking office — came in second place.
Reached for comment Tuesday evening, Gilbert's campaign said they were waiting for all the votes to come in before making any statements. However, almost an hour before the race was called, Gilbert signaled in a Facebook post that he would be suing for voter fraud.
"Maybe the establishment and swamp rats
forgot who they're dealing with. I smell a lawsuit because this STINKS! I will concede nothing," Gilbert wrote on his campaign page. "No one likes No Show Joe and he absolutely is not beating me, and will not beat me in a fair fight/race. There's a reason a real fighter with real legal teams is in this fight. We fix our elections, and we fix everything. Standby."
Trailing far behind was Heller, whose three-decade political career that peaked in the U.S. Senate translated to mere single digits in the race. The former senator failed to energize the base in spite of promises to cut the state budget by 20 percent and fund efforts to remove abortion protections from state law.
North Las Vegas Mayor John Lee, who has also had a long career in elected office and switched from the Democratic to Republican parties in dramatic fashion just before launching his campaign, also failed to break through the pack.
Lombardo has taken more moderate positions on gun control than his opponents and has expressed his stance on abortion as vaguely "pro-life" rather than staking out specific and aggressive anti-abortion positions as opponents such as Heller have.
But supporters who spoke with The Nevada Independent at a watch party at Panevino restaurant in Las Vegas — where a lively crowd appeared to be celebrating Lombardo's victory well before results were released — also said they've been impressed by his performance as sheriff instead of citing his policy stances on wedge issues.
"I believe in the Metro's theme, being partners with the community, and that's how I met Joe," said community activist Earl White, 63. "He was always accessible, always would sit down with members of the community."
Small business owner Matt Paddock said one asset for him has been Lombardo's experience working with people on both sides of the aisle in the nonpartisan sheriff's role. He also thinks things like community safety resonate even though there are "other candidates who could put up a more interesting fight."
"It's a real priority [that] the people coming in have a nice experience. And there are cities that are this size that are nowhere nearly as well run and orderly as Las Vegas," Paddock said. "It's, again, kind of the things that matter more on the ground to most people day to day, as opposed to winning some argument about this nonsense from five years ago."
Secretary of State
Former Assemblyman Jim Marchant prevailed in a high-stakes Republican primary that raised the possibility that a candidate who fundamentally distrusts Nevada's election system and believes the results have been fraudulent for decades could be in charge of running them.
Marchant, who lost a Southern Nevada House race in 2020, has raised his public profile during campaign season by promoting in rural counties the idea of abandoning electronic voting machines in favor of paper ballots and hand-counting ballots. Many clerks have pushed back on the idea, arguing it would represent a massive expansion of time and resources to execute, could open the system to more human error and is based on a false premise of widespread fraud in the system.
More broadly, Marchant has embraced baseless election conspiracy theories surrounding the 2020 presidential election. Groups promoting such theories have backed Marchant through tens of thousands in campaign donations, and he has publicly joined an "America First" coalition of secretary of state candidates across the country seeking to upend state and local election administration as a response to 2020.
The Marchant campaign did not respond to a request for comment Tuesday night. Marchant said in a tweet early Wednesday that he was "beyond humbled" with the results.
The well-funded Reno developer Jesse Haw was seen as the more moderate candidate in the race, although he advocates for voter ID, a concept that has repeatedly failed to gain traction in the Democrat-controlled Legislature. Haw also sharply criticized legalization of ballot collection by non-family members — often referred to by critics as "ballot harvesting" — and called for the practice to be made a felony.
Marchant will face the lone Democrat in the race — former Nevada Athletic Commissioner Cisco Aguilar — who had already banked record fundraising amounts ahead of Tuesday's primary. The seat will be open as Republican Secretary of State Barbara Cegavske is termed out.
In a written statement Tuesday, Aguilar said the stakes for this year's secretary of state contest have "never been higher."
"Nevada's chief elections officer can't be someone who has sewn doubts about our elections for partisan gain," Aguilar said. "I'll do everything I can to protect every eligible Nevadan's constitutional right to vote, whether they voted for me or not."
Lieutenant Governor
Lt. Gov. Lisa Cano Burkhead survived a competitive Democratic primary for the second-highest statewide elected office against a better-funded opponent with more than a decade of experience in elected office.
Cano Burkhead, a former principal and daughter of immigrants, was appointed by Gov. Steve Sisolak in December but had been a virtual political unknown before that, struggling to sufficiently establish herself and fundraise to keep her seat. Outside groups poured hundreds of thousands of dollars into saving her in the final sprint to Election Day.
"My parents came to Nevada with an elementary education and a hope and a dream. One generation later, their daughter became Lt. Governor and tonight was affirmed by Nevada voters to keep fighting for that dream," Cano Burkhead tweeted. "For every family. Thank you Nevada - Voy a seguír luchando por tí [I will continue fighting for you]."
Her primary rival, Henderson Mayor Debra March, had boasted the endorsement of the chair of the state Democratic Party and her years in municipal government. Her term as mayor ends in January.
Cano Burkhead will likely face Las Vegas City Councilman Stavros Anthony, who rose above a crowded field of candidates that also included former Treasurer Dan Schwartz and Lexicon Bank founder John Miller. Anthony has been on the city council for more than a decade and lost a 2020 race for Clark County commissioner to Democratic candidate Ross Miller by a few dozen votes.
As of early Wednesday, Anthony held a roughly 4,000 vote lead over Air Force veteran Tony Grady, the second-highest vote-getter.
The lieutenant governor is next in the line of succession if the governor is unable to perform his or her duties, but the part-time role has relatively few major responsibilities in normal times, including the largely symbolic role of presiding over the state Senate and a chair role on the state's tourism commission.
Attorney General
Sigal Chattah, an Israeli-born lawyer who gained notoriety for challenging the state's capacity restrictions against churches and other places of worship during the COVID-19 pandemic, defeated Las Vegas attorney Tisha Black for the right to take on Democratic incumbent Aaron Ford for the state's top prosecutor post.
"It is truly an honor to be the Republican Nominee for Nevada Attorney General," Chattah said in a statement released on Twitter. "The next five months will be tough but together with your help, I know we can defeat Aaron Ford in November and get Nevada back on the right path."
Black was previously the head of the Nevada Cannabis Association and has carved out a niche helping clients score coveted marijuana business licenses in the nascent industry. With experience running a formidable but unsuccessful campaign for Clark County Commission in 2018, she was seen as the mainstream alternative to Chattah, who attacked Black for past donations to Democratic candidates.
Ford, who was previously the top-ranking state senator and has held the office since winning the seat by less than a percentage point in 2018, is by far the fundraising leader in the state, but is seen as endangered in a midterm year with a potential red wave.
The attorney general defends state agencies in court, but often takes partisan positions. Ford has used his platform to push back against restrictions on abortion seen elsewhere in the country, for example.
Treasurer
Las Vegas City Councilwoman Michele Fiore defeated businessman Manny Kess in a colorful Republican primary for treasurer.
The outspoken Fiore, a former Assembly member, had been running for governor but switched races at the last minute, citing advice from "Trump's team." Her political career so far has included making a television commercial where she shoots bottles labeled "CRT" and "vaccine mandates," creating a glamour calendar of herself posing with assault rifles and joining anti-government activists during a major standoff. 
"With gas prices at an all-time high and soaring inflation, our state desperately needs sound fiscally conservative policies," Fiore wrote in an emailed statement to The Nevada Independent on Wednesday. "I hope to unite all Nevadans behind our campaign for kitchen table financial common sense."
Kess has tried to make a splash himself. The former restaurant owner recently released an ad where he donned a blonde wig and mocked Fiore by shooting a gun haphazardly in the desert.
In an Instagram story posted an hour before the polls closed, Kess called Fiore "disgusting" and a "career politician." He added that whatever the election's final result, he is beyond grateful for the support he received.
"THANK YOU for the auppoet [sic] and love," he said.
Fiore will face Democratic incumbent Zach Conine, who has reserved a record amount of TV ad time ahead of the general election in a bid to keep his seat.
As treasurer, Conine is in charge of managing state funds, college funds, maintaining state and property records, investing and other financial responsibilities. His office has taken a significant role in administering federal COVID-19 relief, including by creating a small business grant program that disbursed more than $100 million. 
In an emailed statement, Conine said that throughout his first term as treasurer he has remained focused on responsibly managing the state's finances.
"Being Treasurer is a serious job, and Nevadans deserve a qualified and experienced individual to ensure our State remains on solid financial ground," he said. "Michele Fiore isn't that individual and I'm looking forward to talking to Nevadans about the vast difference between our qualifications."
Fiore's campaign did not immediately respond to voice messages or email requests to comment and did not post a public statement online.
Updated: June 15, 2022, at 3:04 p.m. to include a statement from Fiore's campaign.
The Nevada Independent is raising $200,000 by Dec. 31 to support coverage of the 2024 election.
Tax-deductible donations from readers like you fund this critical work.
If you give today,your donation will be matched dollar-for-dollar.
Give + Get Matched
Featured Videos