Los Atléticos llegan a acuerdo formal con Bally's y GLPI para estadio de béisbol en Las Vegas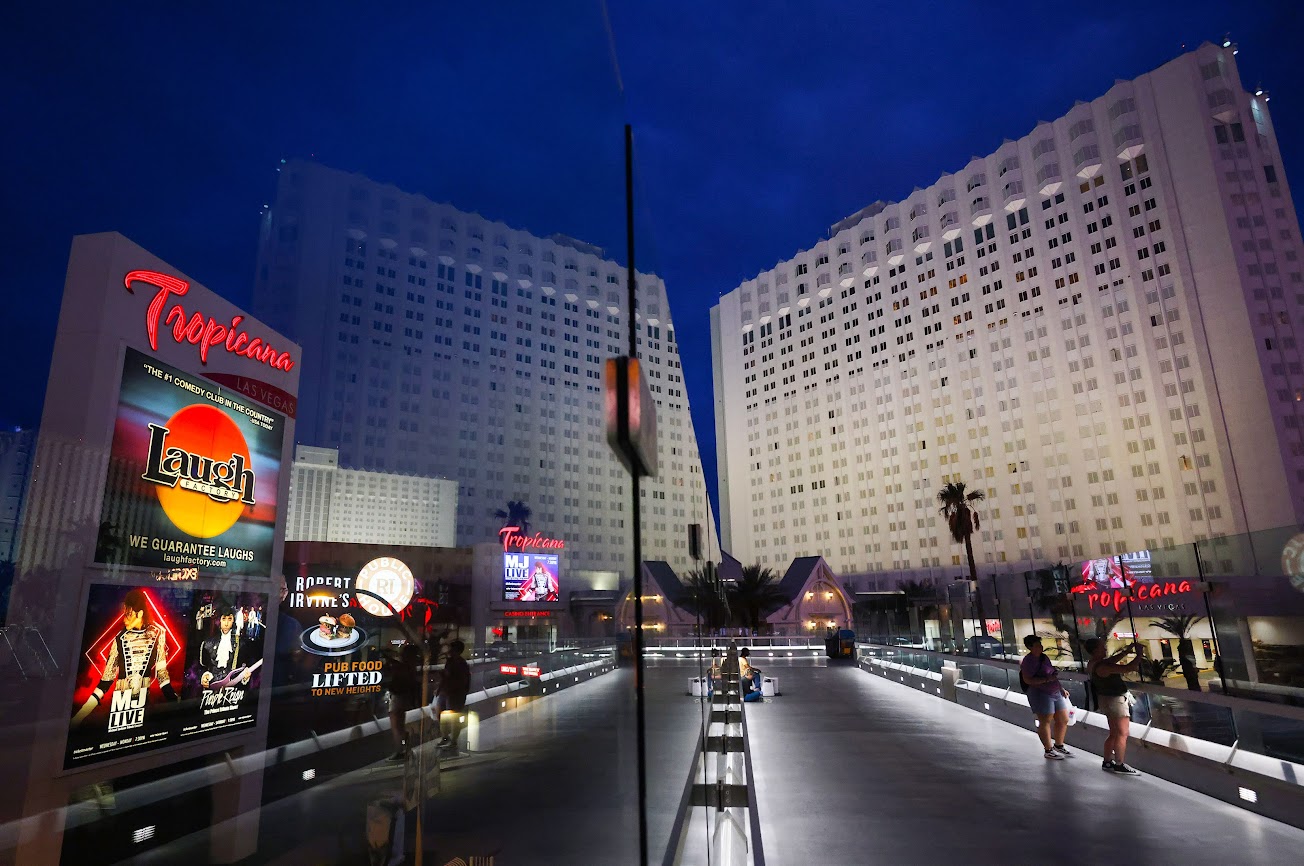 La empresa operadora de Tropicana Las Vegas, Bally's Corp., y el fondo de inversión en bienes raíces Gaming & Leisure Properties (GLPI) anunciaron formalmente este lunes un acuerdo con Los Atléticos de Oakland para traer a dicho equipo de béisbol de las Grandes Ligas a Las Vegas, sujeto a que los legisladores estatales aprueben un paquete de financiación pública de nueve cifras para ayudar con la construcción del estadio.
Según los términos del "acuerdo vinculante", GLPI, propietaria del sitio de 34 acres en Tropicana Boulevard y el Strip o franja de casinos de Las Vegas, otorgará hasta $175 millones de dólares para "ciertas mejoras compartidas dentro de la futura construcción a cambio de un aumento equivalente de alquiler".
GLPI y Bally's dijeron que el equipo recibiría nueve acres para el estadio.
Los planes de $1.5 billones para un estadio con techo retráctil y 35,000 asientos aún requieren la aprobación de los legisladores para los $395 millones que se buscan para financiamiento público para el proyecto. No se ha presentado ninguna iniciativa de ley relacionada a tres semanas de que concluya la actual sesión legislativa estatal, pero se espera que la acción sobre cualquier acuerdo de financiación tome forma rápidamente esta semana.
La semana pasada, The Nevada Independent informó primero que Los Atléticos habían cancelado un acuerdo para un sitio de 49 acres al oeste de la Interestatal 15 que había anunciado el 20 de abril y que ahora estaba trabajando con Bally's para el estadio de béisbol en el predio de Tropicana.
Inicialmente, Los Atléticos buscaban obtener apoyo legislativo para un paquete de financiamiento público de $500 millones que incluía créditos fiscales y la creación de un distrito fiscal especial para ayudar a financiar la construcción del estadio. Fuentes dijeron a The Nevada Independent que la nueva ubicación redujo el requisito de financiamiento público en $105 millones.
El anuncio de esta mañana marcó la primera vez que las dos empresas públicas reconocieron el acuerdo. Bally's opera el Tropicana bajo un contrato de arrendamiento con GLPI, propietaria del terreno.
El presidente de GLPI, Peter Carlino, dijo en un comunicado conjunto que la compañía estaba lista para ayudar en la "emocionante visión de un nuevo estadio de béisbol de Los Atléticos".
Bally's agregó que continuaría operando Tropicana Las Vegas en el futuro previsible "mientras evalúa todas las opciones disponibles para una remodelación más amplia del resto del predio que estará al lado del nuevo estadio".
La semana pasada, fuentes indicaron a The Nevada Independent que el hotel y casino Tropicana sería demolido para construir el estadio de béisbol de Los Atléticos.
"El Tropicana ha sido un símbolo de Las Vegas durante generaciones, y esta construcción mejorará este sitio icónico para las generaciones venideras", dijo en un comunicado el presidente de Bally's, George Papanier. "Estamos comprometidos a garantizar que el sitio y el estadio que se construyan en su lugar se conviertan en un nuevo emblema, rindiendo homenaje a la historia icónica y al atractivo mundial de Las Vegas".
Bally's anticipó que el estadio atraería a más de 2.5 millones de aficionados y visitantes al año.
The Nevada Independent is raising $200,000 by Dec. 31 to support coverage of the 2024 election.
Tax-deductible donations from readers like you fund this critical work.
If you give today,your donation will be matched dollar-for-dollar.
Give + Get Matched
Featured Videos