Mayor's speech defends Las Vegas ordinances targeted at homelessness as protests, preparations continue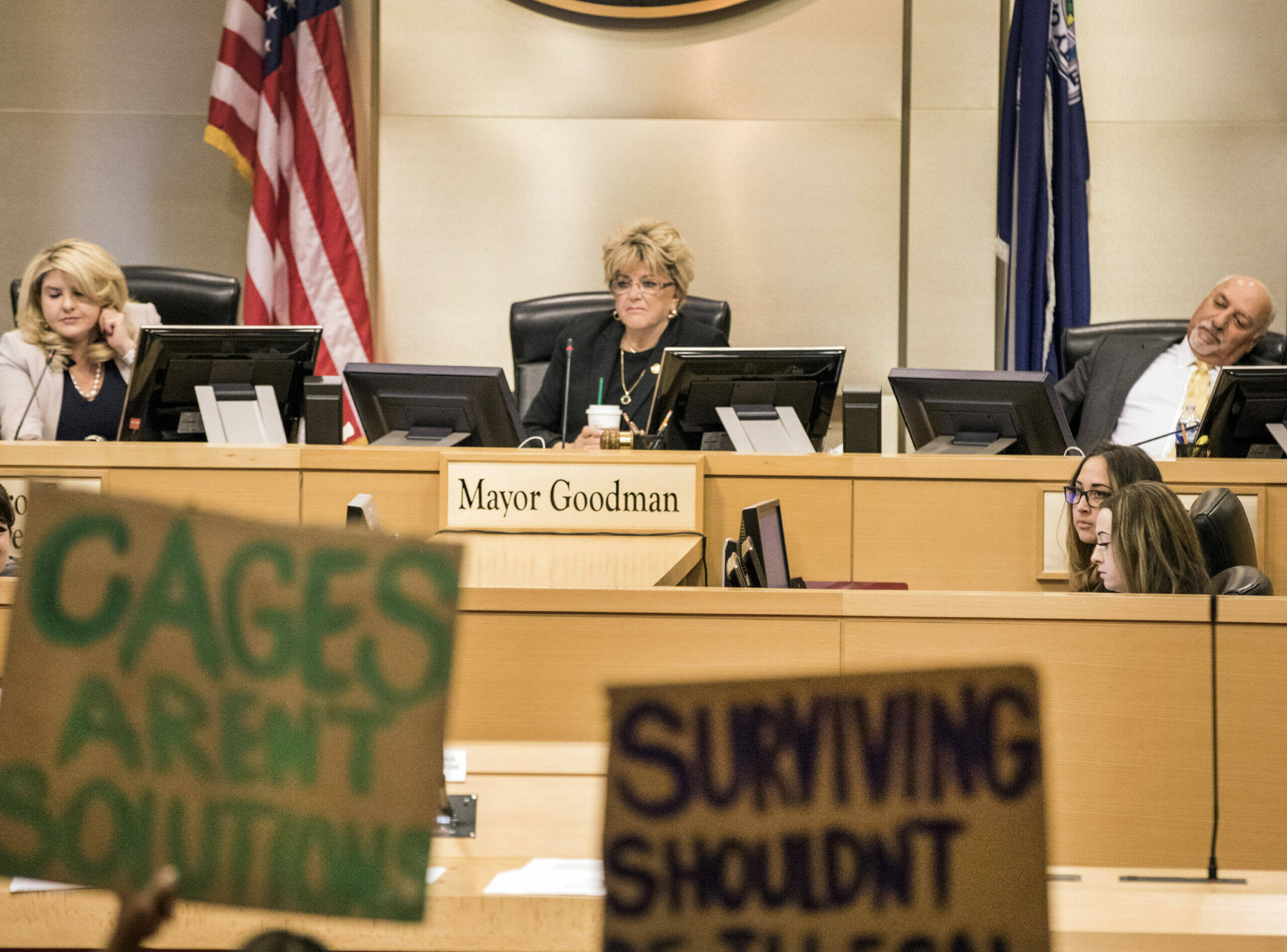 As a crowd gathered outside of Las Vegas City Hall on Thursday chanting, "The war on the poor has got to go," Mayor Carolyn Goodman defended the city's efforts to end homelessness, describing them as "humanitarian and compassionate" and pushing back against critics of an ordinance that makes it illegal to sit or lie down in public rights-of-way.
Criminal penalties for the ordinance, which passed with a 5-2 vote in November, are scheduled to go into effect on Feb. 1.
"While our critics are too vocal saying this [ordinance] criminalizes being homeless, it does nothing of the sort," the mayor said at the annual State of the City address at City Hall.
Nevada Homeless Alliance Executive Director Emily Paulsen said that the mayor's claim that the ordinance does not criminalize homelessness is "categorically false."
"If we look at the 9th Circuit [Court of Appeals] ruling and Housing and Urban Development definitions, it is undebatable that this ordinance criminalizes homelessness," Paulsen said in an interview on Friday.
Paulsen and several service providers have said that the ordinance goes against a 2019 order and opinion filed by the 9th Circuit Court of Appeals, which says that punishing homeless people for sitting or sleeping outside when they do not have adequate, alternative shelter constitutes "cruel and unusual punishment" under the Eighth Amendment.
The defendant in the 9th Circuit case, the City of Boise, added a provision to suspend its ordinance if the shelters were full. The 9th Circuit Court ruled that, even with the amendment, "individuals could still be turned away for reasons other than shelter capacity, such as for exceeding the shelter's stay limits, or for failing to take part in a shelter's mandatory religious programs."
Amid applause on Thursday, the mayor asserted that concerns of commerce, public safety and health must come first when dealing with homelessness.
"It is a job of this city government through its ordinance to demonstrate compassion, [while] promoting and always understanding, always understanding, that public safety and the good health of its residents, tourists, businesses and property comes first," Goodman said on Thursday. "The feedback from our citizens that has resulted from the passage of this ordinance has been extremely and incredibly positive."
The mayor also emphasized tourists' experiences and how the presence of homeless people around their lodging and activities may deter them from visiting the city and ultimately hurt economic interests.
According to the city's blog, the Downtown Vegas Alliance, composed of businesses, nonprofits and developers, conducted a survey of its 70 members (including The Mob Museum, data and tech company Switch and downtown hotels) and found that 83 percent of its membership supports the ordinance that passed in November.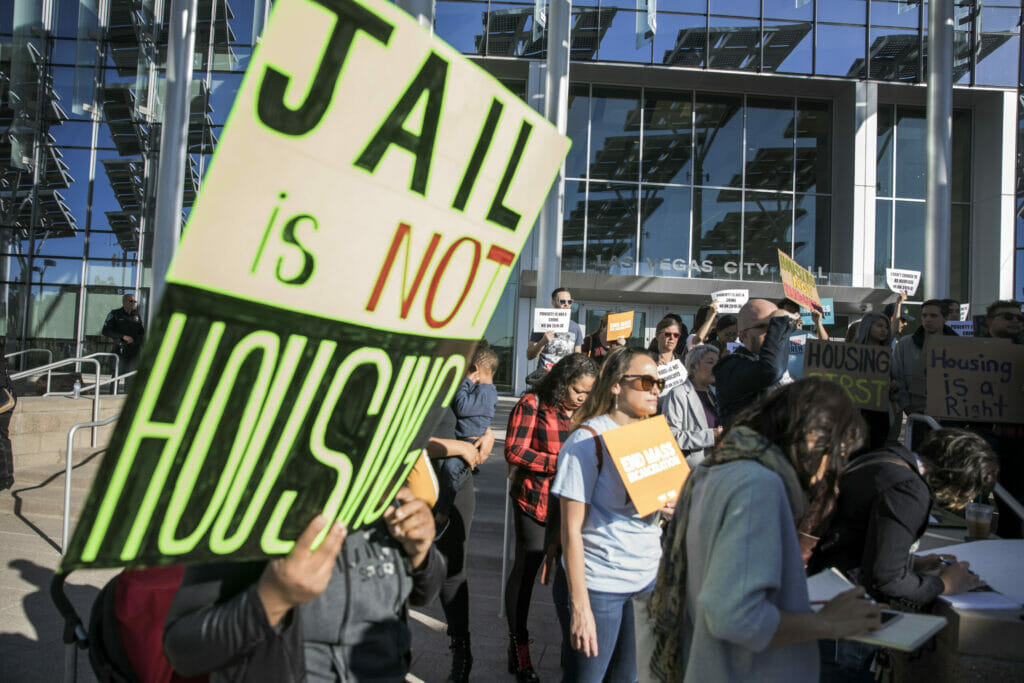 Enforcing criminal penalties
The City Council adopted the ordinance with Councilman Brian Knudsen and Councilwoman Olivia Diaz voting against it. Knudsen explained his nay vote in a December op-ed saying that there are alternative paths to address homelessness, "aside from police enforcement," that would be a better use of taxpayer dollars.
The ordinance carries misdemeanor penalties of a $1,000 fine or arrest, and covers all residential neighborhoods in all City of Las Vegas wards as well as Downtown Master Plan districts including the Historic Westside and the Medical District. The approved shelters listed in the city's ordinance — the Shade Tree, Las Vegas Rescue Mission, Salvation Army and Catholic Charities — include no youth shelters, creating a challenge for those working with homeless youth, who number about 1,180 in Southern Nevada.
Arash Ghafoori, executive director of the Nevada Partnership for Homeless Youth (NPHY), has been outspoken that the law will make Southern Nevada's youth homelessness much worse than it already is. According to a 2019 homeless census report, Nevada a higher rate of homeless youth than any other state in the nation.
"The youth shelters, by nature of how we work, could have a Safe Place call at two in the morning, because a youth got kicked out. And we would try to pick them up and take them to our emergency shelter or to another shelter," Ghafoori said in an interview on Wednesday.
When Las Vegas Metro patrol officers and city marshals encounter homeless individuals violating the ordinance, they will be expected to direct offenders to either an open shelter or to the Courtyard Homeless Resource Center, an open-air space with bathrooms, water, service offices and 24-hour security guards. City and law enforcement officials say that officers will give offenders a reasonable time to pack up and comply, utilize available outreach services, and finally resort to citation and arrest if the patrol officer deems that the offender is willfully noncompliant.
The ordinance gives the city's Office of Community Services the responsibility to find out when shelters are full, at which point they will notify law enforcement to suspend enforcement until 6 a.m. the following day.
In terms of enforcing the city's ordinance, Ghafoori has proposed that the city "carve out" exceptions or a separate procedure for homeless individuals under the age of 24, so that youth would not be ticketed or arrested when they are found on the street, but rather successfully connected with shelter and services.
"We have not yet sat down [with the city] because we're waiting to see how the dust settles on the second [ordinance] and then also how that relates to the Boise ruling," Ghafoori said, referring to a second ordinance that has been proposed that would allow city officials to set hours for "sidewalk cleaning," during which it would be a misdemeanor to sit or lie down in public rights-of-way. That measure is scheduled for a vote at the Jan. 15 City Council meeting.
Communications between shelters, city and law enforcement
As the NPHY and other providers prepare for the ordinance's criminal penalties to go into effect Feb. 1, the city's Office of Community Services is piloting a "push notifications system" to communicate with the ordinance's approved shelters and to notify law enforcement when the shelters and the city's zero-barrier Courtyard Homeless Resource Center reach capacity — about 1,400 beds total at the ordinance's shelters and a sleeping capacity of about 300 at the Courtyard.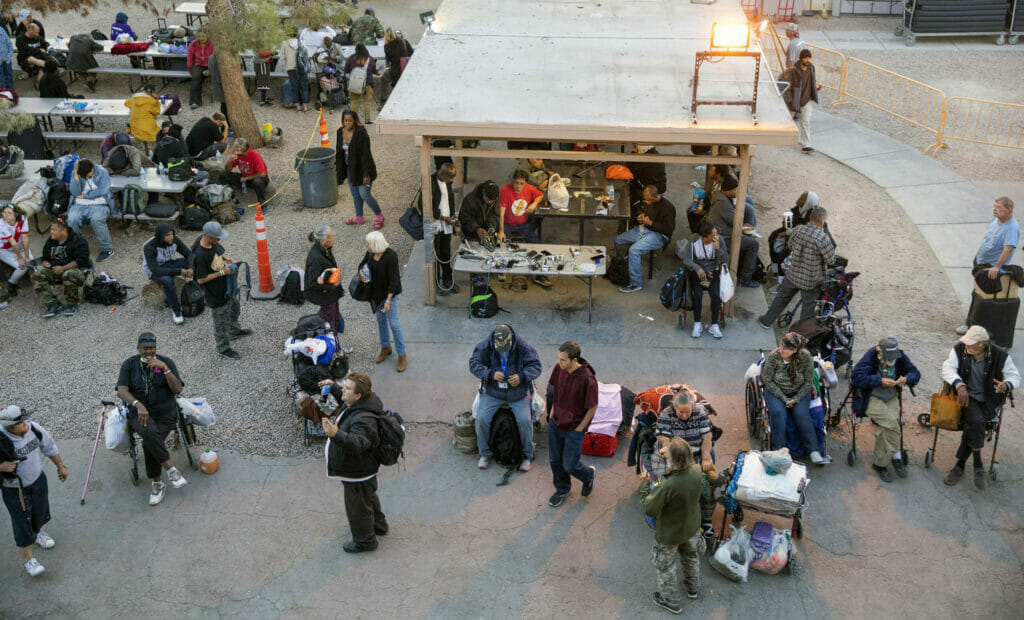 The notification system is an email system that reminds providers throughout the day to update the city with their number of available beds and to update when they have reached capacity. According to the director of the Office of Community Services, Kathi Thomas-Gibson, the capacity of the Courtyard will fluctuate as they do demolition in surrounding areas to eventually build out the Courtyard facility.
Goodman noted during her Thursday address that the Courtyard build-out, scheduled to be completed in 2021, will allow for more than 800 guests at a time, but will "not be able to help the 6,000 estimated that are homeless in Southern Nevada."
Thomas-Gibson said in an interview on Thursday that the Courtyard is "typically going to be the last one reaching zero" out of the ordinance's list of approved facilities. She added that the reason for law enforcement directing or transporting homeless individuals to the Courtyard is not so much about "landmass," (how much space is available there), but rather about "keeping them safe" — essentially supervising them for the night and not letting them wander around.
"Our goal in meeting with our shelter partners and our first responders is to ensure that we're providing consistent information to the folks who have to use this shelter notification system so that we're really clear that the likelihood of us not having a safe place for someone to be is very minimal," Thomas-Gibson said in an interview on Thursday. "You can be safe at the Courtyard. Nobody's going to beat you up, rob you or steal your stuff."
Lt. Timothy Hatchett, who is in charge of Las Vegas Metro's Homeless Outreach Teams (HOT) (similar to the city's Multi-agency Outreach Resources Engagement teams), said that normal patrol officers, not the officers on HOT, would be the ones enforcing the law. In order to connect homeless people with services, the stated intent of the ordinance, Hatchett has emphasized the importance of specialty courts.
"We've been in discussions with the city in reference to doing specialty courts. And those specialty courts would not imprison the person," Hatchett said. "They would actually take them and have them agree upon joining those specialty courts and transition them into either psychiatric, chemical dependency or whatever resource they need, and then actually transition them into housing."
In the eyes of law enforcement, providers and for those whom the mayor's ordinances target, pieces have yet to fall into place to ensure that the homeless will successfully connect and stick with services that address underlying causes of homelessness — low wages, lack of affordable housing, substance addiction and mental health issues, among others. In spite of providers and stakeholders advising against the ordinances, Goodman touts the rules as a bold and unprecedented move toward ending homelessness and its associated harms.
"It has become time to stop all the years of kicking this down the road, holding meetings after meetings, writing all the booklets and reportings on what we do. It is our time to get started doing something," Goodman said in her speech. "I will not allow the City of Las Vegas to become a skid row harbor of rampant crime and potential pandemic disease that too many other cities nearby in the confines of the 9th Circuit Court of Appeals are facing."
The Nevada Independent is raising $200,000 by Dec. 31 to support coverage of the 2024 election.
Tax-deductible donations from readers like you fund this critical work.
If you give today,your donation will be matched dollar-for-dollar.
Give + Get Matched
Featured Videos