Washoe school board appoints new trustee to serve District E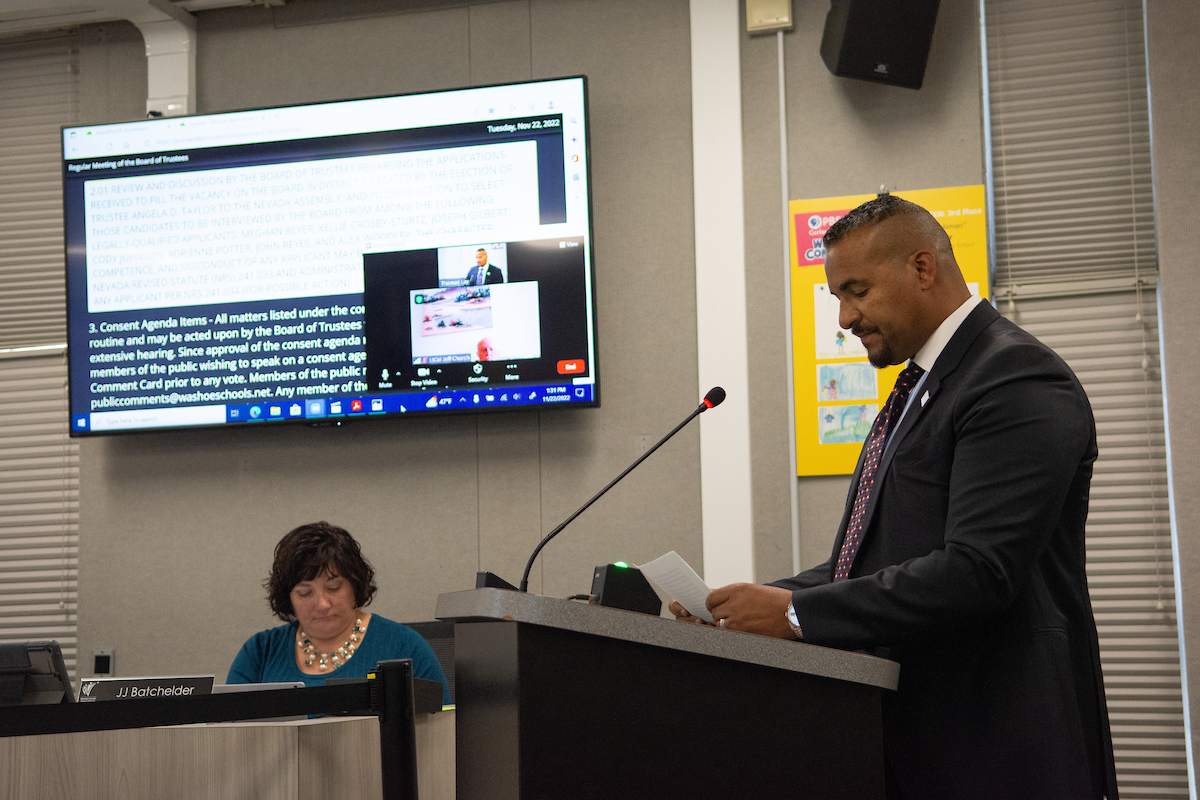 Editor's Note: This story was updated at 1:52 p.m. Tuesday, Dec. 6, 2022, to report the outcome of the board selection.
The Washoe County School Board has appointed Alex Woodley as the next trustee for District E, which covers the northwest section of Reno and parts of Lemmon and Panther Valleys. 
Woodley was sworn into office right after the votes were tallied Tuesday at a special board meeting. Woodley emerged as the favorite after the six trustees participated in a ranked-choice voting-like system.
Woodley is replacing former Board President Angie Taylor, who was recently elected to the Nevada Assembly. Woodley will serve out the remainder of Taylor's term, which ends Jan. 5, 2025.
Woodley – who identifies as a bilingual, Afrolatino man – works as the City of Reno's parking and code enforcement director. He was the former president of the Education Alliance of Washoe County.
Several community members and business leaders, including the Washoe Education Association, which represents district teachers, supported his appointment.
---
Meet the three candidates hoping to fill vacant Washoe school board seat
A public servant, an educator and a wildlife industry professional are all vying to become the next trustee to sit on the Washoe County School Board.
The District E position became open last month after former Board President Angie Taylor resigned following her election to the state Assembly. Nevada statute prohibits elected officials from serving in more than one office at a time.
The appointment means two new faces soon will be joining the school board as Trustee Ellen Minetto lost in the general election last month. The former Washoe County teacher will be succeeded by Colleen Westlake, a parent of three Washoe County district graduates who works in the dental field.
As a board, the trustees make important policy and financial decisions for the district of more than 61,000 students and oversee their one employee, Superintendent Susan Enfield, who took the role in July.
The three finalists – Alex Woodley, Kellie Crosby-Sturtz and Megan Beyer – will go in front of the board at a special meeting on Tuesday. The board will appoint one of them as the next trustee for District E, which encompasses schools in northwest Reno such as Peavine Elementary School and McQueen High School. The new trustee will serve on the board for the remainder of Taylor's term, which ends on Jan 6. 2025.
The three finalists were selected from a group of seven applicants — including Reno attorney Joey Gilbert, who ran for governor in the Republican primary in June — who the board considered at its Nov. 22 meeting. Woodley stood out as a favorite in the board's ranking of the candidates, followed by Beyer and Crosby-Sturtz.
The Nevada Independent interviewed the finalists ahead of the Dec. 6 meeting. Their responses have been edited for brevity and clarity.
---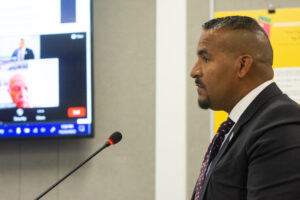 Name: Alex Woodley
Occupation: City of Reno's parking and code enforcement director
Other involvements/experiences: Father of a graduate of a District E school, former Education Alliance of Washoe County board president, Marine veteran
Why are you interested in serving on the board and the District E seat?
For me personally, I'm a product of public schools. School was everything for me. It was my social life. It was my sanctuary. It was a safe place. It was actually where I learned that I needed glasses. My grandmother raised me. She had a third-grade education. But we didn't really know much (about) getting eye exams … and it was in the public school that they offered it. I relied on public school for my breakfast and lunch even when school was out. So school did a lot for me. The school helped me get out of the environment that I grew up in that was very negative. I've always been grateful for education, and I've always wanted to give back. I've always volunteered to do different things for kids, especially in underrepresented and lower-income demographics.
What do you see as the biggest challenges/issues that the district is facing?
There's a shortage of teachers. Our goal, obviously, is to assist every child in the district, and in order to do that effectively, you have to have the tools and the resources to do so and there's no tool or resource more important than the actual teachers. We also have an issue with the classroom sizes. We know that there's a certain number of students, a certain number that any human being that you can teach effectively, communicate with effectively. After you have a certain number, it's not as effective as it should be. I think the ideal number would be around 18 … but to be more realistic, 20-22. So we do need to work on that.
What ideas do you have on how to improve the district?
I like to analyze everything I get into so my intent is to go in and learn and observe and get the knowledge that's necessary. It's very easy for the novice to just come in and say, 'Oh, we're gonna do this, and that,' and that's not realistic.
So what I personally think will help and that I can bring is my decades of experience of working, collaborating within the community, with different groups, during the job that I do regulating and creating ordinances. It requires me to coordinate and cooperate and make compromises and try to find common ground.
There's more than one way to achieve anything. I believe if I get in there, and once I have the appropriate knowledge, and not just what I think I see from the outside, but actually see from the interior and totally understand everything in the company and that complexity, then I can start providing insight and input and opinions and I might have some ideas. So I'm going to go in and I'm only one of seven so the best thing I can do is to make sure that I cooperate and collaborate with all the other trustees if I were to be selected.
---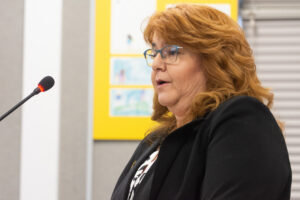 Name: Kellie Crosby-Sturtz
Occupation: Teacher/librarian and testing coordinator at Honors Academy of Literature charter school
Other involvements/experiences: Parent of two Washoe County school graduates, former member of Washoe County School District's Parent Involvement Council and Gifted and Talented Education Council, and former Nevada Council for Academic Standards chair and member
Why are you interested in serving on the board and the District E seat?
One of the biggest reasons why I put my name in is because I've been an educator, I've been in so many different arenas for the last 30 years. It's really important to me to be able to be part of the process, part of ensuring we have the highest level of education for our students in Washoe County. I saw as a parent how we navigated through that system. My youngest son is highly gifted … so being able to navigate through the education system in Washoe County with a student like that, it's a challenge.
As an educator, I know what it's like to have overcrowded classrooms. I know what it's like to not have those supplies, to try to do your best and then be told, 'Oh, but there's one more thing.'
Having that experience as a former state board member — I was on the Academic Standards Council for eight years — I know what it's like to work within the system of a board. You are one voice working within that system. So you are now participating in that democracy; it's a vote. So just because I want something doesn't mean that's how the rest of the board members are going to see it. So compromise, understanding those compromises, understanding the reasons why those compromises are there.
What do you see as the biggest challenges/issues that the district is facing?
I think there's a huge concern for class sizes. I know we are adding schools, and that's been amazing that we've been able to add these new schools and being able to change the district, the different area lines in order to have students be able to have smaller class sizes. But that is still a huge concern.
There's still many of our schools that have 30-plus kids in a classroom. Trying to teach in the classroom with that many children is — especially when you're having to differentiate — that's huge. Teachers having to reach benchmarks, when you've got such a wide range of students coming in from COVID, that learning loss is huge. And how are we making that catch up? How are we able to accommodate students for that massive learning loss?
There is a concern about safety, especially our middle and high schools. I've heard that from a lot of educators of not feeling safe. I actually know of a couple educators that left teaching, because they felt they weren't safe.
What ideas do you have on how to improve the district?
I think one of the first things — if I am the trustee that is selected — is I want to really have those sit downs with families, invite families to come and speak, invite educators, administrators to come (and) let me know what their priorities are. What do they see as their number one, number two, number three, and then being able to go back and say, 'OK, so here are the concerns. What are our roadblocks from fixing these?'
---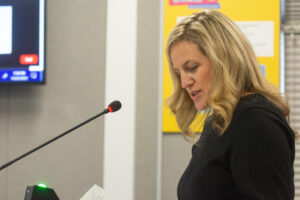 Name: Meghan Beyer
Occupation: Executive assistant to the Nevada Department of Wildlife director
Other involvements/experiences: Former Washoe County substitute teacher, parent to three Washoe County students, Navy veteran
Why are you interested in serving on the board and the District E seat?
I want to enable our children to be capable of taking on any challenge and know that the sky's the limit, understanding that it takes hard work to get there, but that it's worth it. They should never feel as if they can't. I want to help them understand that they can, no matter their challenges.
I have been blessed to be able to be so involved in my own children's education and experience at school and I want to share that enthusiasm for their benefit. I made it a priority for my family and want to help other families.
I also want to help teachers because they spend most of their day with our children, which means we should be supporting them in any way that we can. We can enable teachers by simplifying their requirements.
What do you see as the biggest challenges/issues that the district is facing?
One of the biggest challenges is recruiting and retaining teachers and staff. We need more teachers in the classrooms and more help for those classrooms where assistance is necessary.
Due to the high cost of living in Washoe County, the school district needs to provide more competitive compensation and incentives to teachers. Class sizes remain a problem and if we are unable to reduce them, we need to provide more support in the classroom.
Another challenge in our district is that effective classroom instruction is inhibited by strict standardization and cumbersome programs and policies.
What ideas do you have on how to improve the district?
Finding new sources of tax revenue will be very challenging, especially in this climate (post-COVID, high gas prices, high inflation, high home prices, etc.) and not likely to change any time soon. I would support efforts to find areas where resources could be reapportioned to focus those resources on the most pressing issues.
I would also like to explore new opportunities for help in the classroom, utilizing college students and possibly even high school students that could fill gaps in areas like reading and math in exchange for credit hours. We should never underestimate the growth that can result from real life experience for young adults when leading others.
I think we should build on what the district has already started and improve engagement and collaborate with community business leaders, particularly those whose area of expertise involves vocational careers.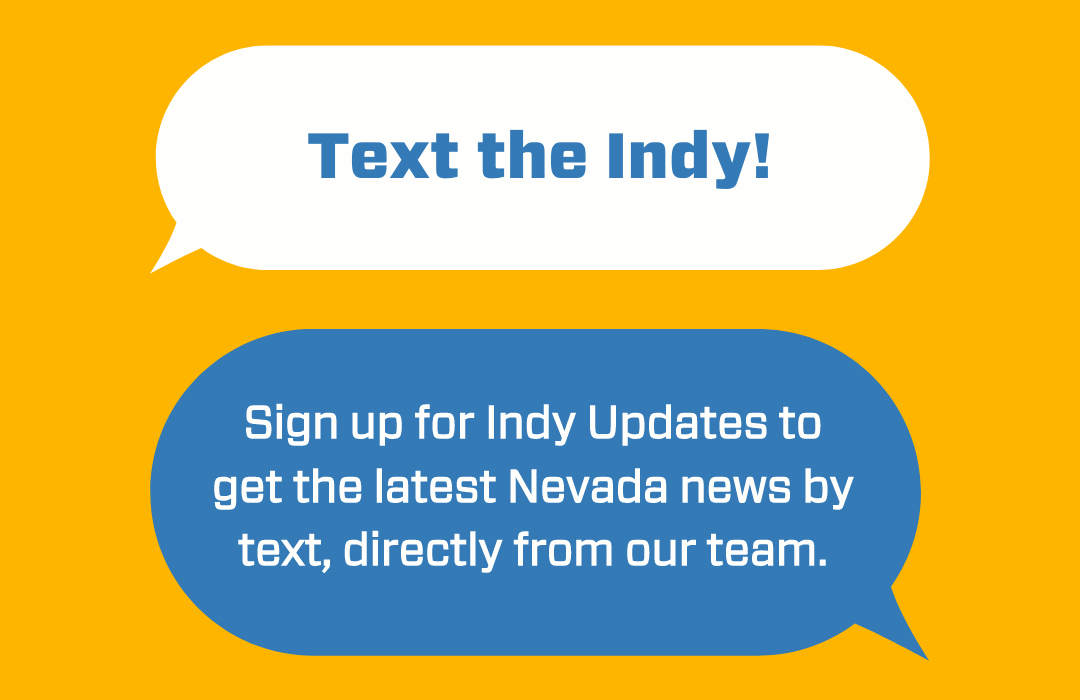 Featured Videos
Comment Policy (updated 4/20/2021): Please keep your comments civil. We reserve the right to delete comments or ban users who engage in personal attacks, use an excess of profanity, make verifiably false statements or are otherwise nasty. Comments that contain links must be approved by admin.