Microplastics are everywhere. A Nevada researcher wants to know how they spread.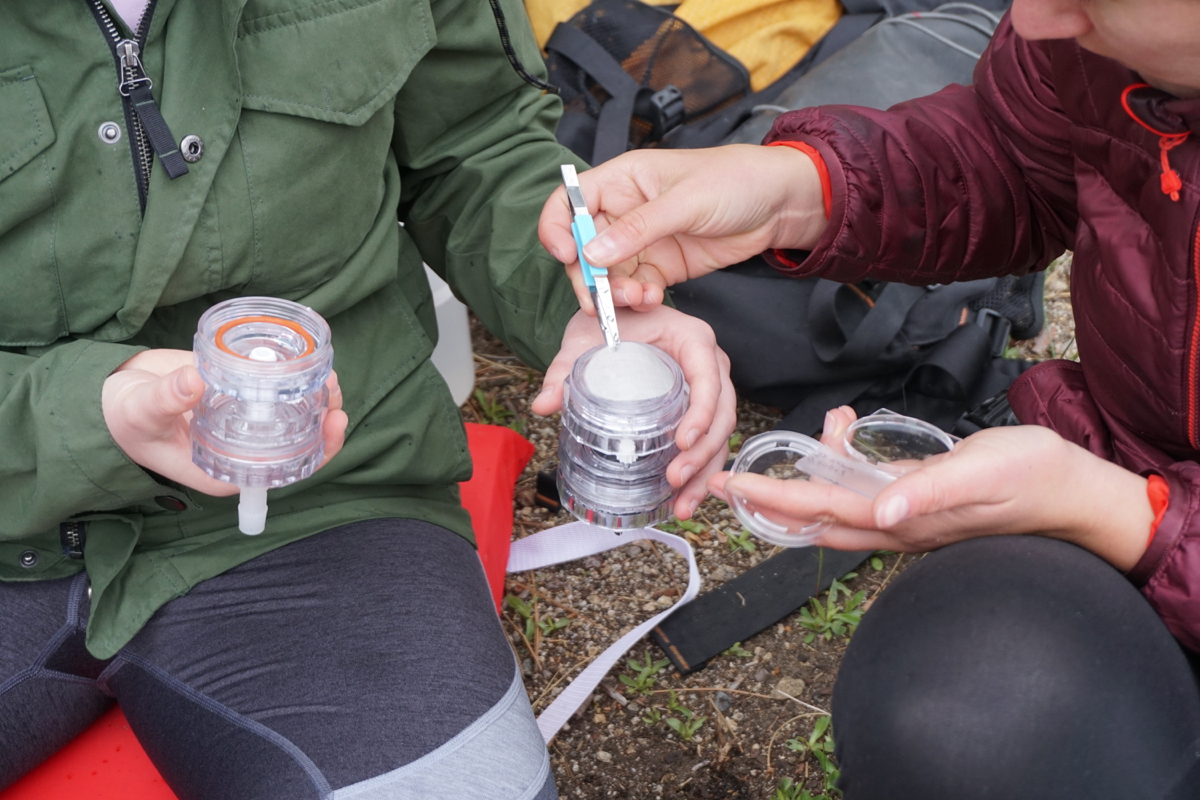 Good morning, and welcome to the Indy Environment newsletter.
As always, we want to hear from readers. Let us know what you're seeing on the ground and how policies are affecting you. Email me with any tips or suggestions at [email protected]
To get this newsletter in your inbox, subscribe here.
---
Tiny specks of degraded plastics have been documented in the snowpack around Lake Tahoe — and in the lake itself. They have been found in the Las Vegas Wash. The phenomenon is not unique to Nevada. Microplastics, the end product of our plastic consumption, have been found in ecosystems across the world, even in remote areas.
Microplastics are small — less than 5 millimeters — but they are not uniform. They can have different shapes and vary in size. Microplastics from clothing can appear as synthetic fibers, whereas degraded plastic from bags or water bottles might take on a different composition.
That is what we know, and it's a trend that researchers have documented for many years now. But there are a lot of open questions when it comes to microplastics. Where exactly do they come from? How do they spread throughout the environment? And how harmful are they?
"There is a lot we don't know about microplastics, and this is part of why it's so exciting as a scientist," said Monica Arienzo, who leads a microplastics lab at the Desert Research Institute.
Arienzo is looking to answer some of the many questions posed by microplastics, and she is focusing on the distribution of microplastics in areas like the Sierra, environments characterized by snowpack. In an area like Lake Tahoe, snowpack melts into streams and makes its way into the lake. Researchers want to better understand how microplastics move through watersheds.
Arienzo's work was recently recognized with an award from the National Science Foundation that comes with a five-year grant to fund microplastic research. We spoke to Arienzo about the growing body of science investigating microplastics and what questions she wants to answer.
There are a lot of unanswered questions, and a big one is trying to figure out where they originate and how they spread. Current research, specific to the Western U.S. has uncovered microplastics in snow, rainwater, freshwater streams and freshwater lakes, Arienzo said. In her own experience, she said basically everywhere she has looked, she has found microplastics.
"We have found microplastics in fairly remote areas," she said. "So really we are getting this picture that these are fairly ubiquitous, so we're finding them all throughout the environment."
But there are a lot of questions about where they originate. Arienzo's lab has looked at clothing dryers, which vent hot air outside of your house, as one potential pathway for microplastics. In addition to understanding how they spread, other research groups are looking at the toxicology of microplastics in ecosystems and the chemical variations in how microplastics are composed.
A starting point in the Sierra. The Desert Research Institute's microplastics lab has focused locally on the Sierra and the Lake Tahoe Basin. The National Science Foundation grant, Arienzo said, will look at the distribution of microplastics across the Sierra and over a multi-year period.
"Do we see variations as we move from Tahoe, where there's a lot of people that are recreating, to other parts of the Sierra where maybe there's more remote locations," she asked. "Do we see a different amount or type of plastics? And then how does it change as we go from year to year?
It's those types of questions that Arienzo said hopes to answer with the new grant.
Whether we like it or not, nearly all of us have a connection to plastics, and we can make an effort to curb our use. One of the things Arienzo said she finds fascinating about studying microplastics is the human connection that we all have to plastics. They are in many everyday products: our clothing, our car tires, our computer keyboards (just to name a few).
"It's not this sort of ambiguous chemical," Arienzo said. "We all interact with plastics and we all have a role to play in helping to reduce our plastic use [and] encourage recycling."
Even proper plastic disposal, in addition to reuse, can make a difference. This week, divers are set to begin circumnavigating Lake Tahoe to help clean up underwater trash that has made its way into the lake, as the Reno Gazette Journal recently reported. Arienzo said divers in Tahoe find a wide variety of trash, including plastic materials that can break down into smaller bits.
"So we know that people still aren't properly disposing of trash, which is unfortunate," she said, noting the plastic trash found in Lake Tahoe. "But hopefully we can all do a little better."
Here's what else I'm watching this week:
---
CONGRESS AND CARSON CITY
Jobs, jobs, jobs: That was the mantra of a hearing, as repeated several times by Treasurer Zach Conine, on efforts to restructure and fund the State Infrastructure Bank. Why write about the bank in a newsletter focused on the environment? SB430, backed by Gov. Steve Sisolak, aims to make several water, renewable energy and sustainability/recycling projects eligible for loans or financing from the bank, once it is up and running. A one-page summary outlining the governor's legislation said that it was intended "to maximize job creation, ensure that Nevada can address the climate crisis, and allow the State the ability to prioritize infrastructure projects that will yield the highest returns for communities in need of investment." The larger story here: Tackling climate change and creating jobs can be complementary goals, not exclusive tradeoffs. Addressing climate change requires new infrastructure — and jobs. Sisolak is leaning into that.
Interestingly, one type of project that is eligible is desalination. I tweeted about this earlier in the week and Sen. Keith Pickard (R-Henderson) asked more about it during a hearing Monday. "I'm not aware of any seashores that we'd be pulling seawater from," Pickard said. "Why are we authorizing that kind of work?" Conine responded: "All of the definitions you'll see are intended to be as broad as humanly possible, so if there was an opportunity to get involved in a project that made sense from a job creation [standpoint] or for some other economic reason, we would be able to, but we don't know of any seawater either." He also noted the state's track record in exporting water technology.
Federal funding coming toward Nevada: Are we serious about an all-of-government climate approach? Over the next few weeks (or months), it will be worth watching how policymakers view $2.7 billion in federal funds and more than $500 million in additional state dollars. Certainly some of this funding will go to infrastructure. But what kind?
Rep. Susie Lee asked about Yucca Mountain, as my colleague Humberto Sanchez reported. Lee also plans to launch a nuclear waste caucus with Rep. Chuck Fleischmann (R-Tenn.)
Coming up: Sen. Chris Brooks (D-Las Vegas) is expected to introduce an energy bill this week.
WATER AND LAND
A tremor in the North: A 4.7 magnitude earthquake struck the area near Truckee last week, and the tremor was felt across the Reno-Tahoe area. The earthquake is an important reminder that although California and the San Andreas Fault gets a lot of attention, Nevada is seismically active. The U.S. Geological Survey released an excellent Twitter thread on what happened.
Drought across the West: On Monday, California Gov. Gavin Newsom extended a drought declaration to most of the state, The Sacramento Bee's Dale Kessler reports. About 95 percent of Nevada is experiencing severe to exceptional drought, according to the U.S. Drought Monitor. Pockets of southern Nevada and eastern Nevada — an area that accounts for about 40 percent of the state — are experiencing exceptional drought, the most severe level of drought. For a deep dive into what's going on here, check out USDA's May water supply outlook.
The Las Vegas Sun's Hillary Davis looks at drought-tolerant landscaping in Las Vegas.
The challenge and opportunities of a water law: In 2014, California passed legislation to regulate the overuse of groundwater, an extreme problem in parts of the state. High Country News' Nick Bowlin examines some of the issues around implementing the new water plans.
Industry influences: The Arizona Republic's Ian James published important reporting on how representatives from major industries helped shape the state's new clean water rules. It is a great piece that offers insight into how businesses can influence the regulatory policy process.
---
ENERGY AND MINING
A new mining law reform effort: "For Democrats, who control both chambers of Congress, the heightened focus on minerals like lithium, cobalt and copper, means the time is right to completely overhaul the nation's foundational hardrock mining law," James Marshall reports for E&E News.
Nevada mine operator Barrick posted big quarterly profits: "Canadian miner Barrick Gold has reported adjusted net earnings of $507m in the first quarter of 2021, a 78% year-on-year surge benefitting from increase in gold and copper prices," Mining Technology reported.
Energy transition means more mineral demand: The International Energy Agency released a new report showing increased demand for minerals to support the build-out of new infrastructure as governments across the world look to meet its climate goals. The IEA report offered several recommendations for moving forward, including recycling. CNBC's Ammar Frangoul has more.
Reporting from Nevada's Thacker Pass, New York Times reporters Ivan Penn and Eric Lipton look at the rush to source more lithium in the West and "a fundamental tension surfacing around the world: Electric cars and renewable energy may not be as green as they appear. Production of raw materials like lithium, cobalt and nickel that are essential to these technologies are often ruinous to land, water, wildlife and people." The piece offers a lot of good context about national and corporate efforts to secure lithium. I'll be writing about Thacker Pass in the coming weeks.
Buffett defeats climate measure: "Warren Buffett helped to defeat a shareholder resolution Saturday that urged his sprawling conglomerate Berkshire Hathaway Inc. to inform investors of the risks it faces from climate change. The billionaire also offered a full-throated defense of the oil and gas industry," E&E News' Corbin Hiar reports. Berkshire Hathaway (the conglomerate's energy division owns NV Energy) plays a major role in the renewable energy transition.
Smart-from-the-start planning: The Las Vegas Sun published an editorial last week calling for comprehensive planning for where to locate solar projects, a growing issue around Las Vegas.
Utility regulators to look at the future natural gas: An investigatory docket has been opened.
Anaconda response: In a letter (a response to our story), Nevada's environmental agency acknowledged and defended the decision to reduce the scope of water pollution tied to the Anaconda Copper Mine near Yerington. We wrote about the state's letter and posted it here.
RECREATION
Tahoe tourism spike: "Lake Tahoe's recreational resources have been popular for generations, but last year when the pandemic descended upon us the number of people heading for the beaches, the hiking trails, and sledding hills reached new heights," Tim Hauserman writes for The Sierra Nevada Ally. Some interesting data from the Tahoe Rim Trail Association in the story.
The Nevada Independent is raising $200,000 by Dec. 31 to support coverage of the 2024 election.
Tax-deductible donations from readers like you fund this critical work.
If you give today,your donation will be matched dollar-for-dollar.
Give + Get Matched
Featured Videos