Sister Yolanda Elvira Guzmán Yeh, one of the nuns who staffs Casa del Migrante, shows an image of the Virgin of Guadalupe at Casa del Migrante migrant shelter in Reynosa, Tamaulipas, México on June 26, 2018. Photo by Luz Gray
Migrants deported back to Mexico find helping hands, uncertain future south of the border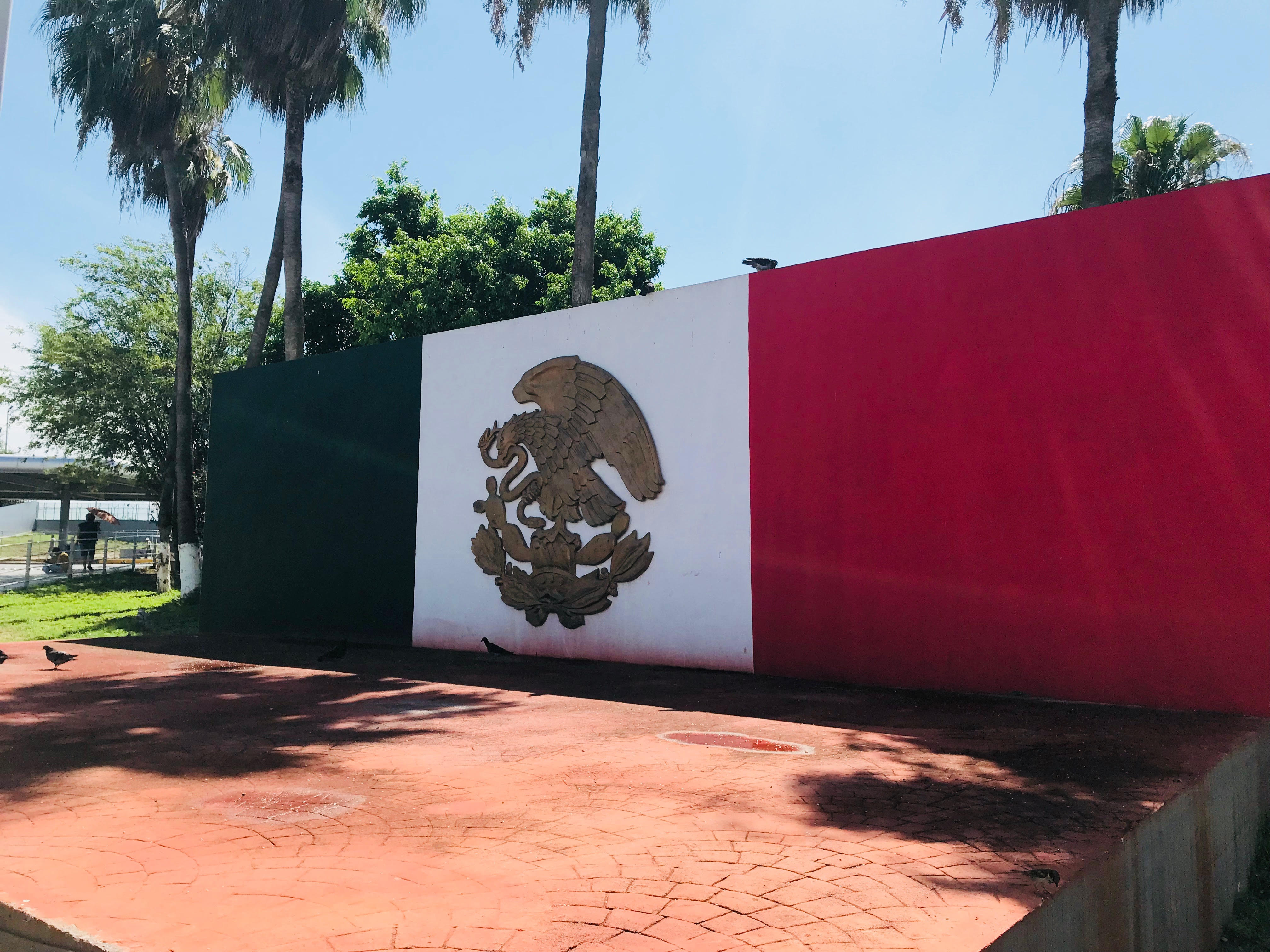 REYNOSA, Mexico – In this Mexican border town on a recent Tuesday, the air is thick with humidity and vast puddles span the streets in the aftermath of a storm.
Reynosa is a bustling city, with shoppers milling about in front of stores and restaurants. But there are also some unsettling signs — police in mine-resistant armored vehicles and masks covering their faces make their rounds along the perimeter of a park that's all but deserted.
Across a foot bridge is McAllen, Texas; so close yet so far for a group of three Mexicans who tried to cross into the United States but ended up being deported and found themselves seeking help at an aid agency on a street corner within sight of the border.
What awaits people like them as they head back home? Will they be safe in their own country? Why do some choose to live in a perpetual cycle of paying a coyote, crossing, being deported, and then starting all over again?
Some spoke to The Nevada Independent about what drives them to make the risky decision to cross.
Back to Mexico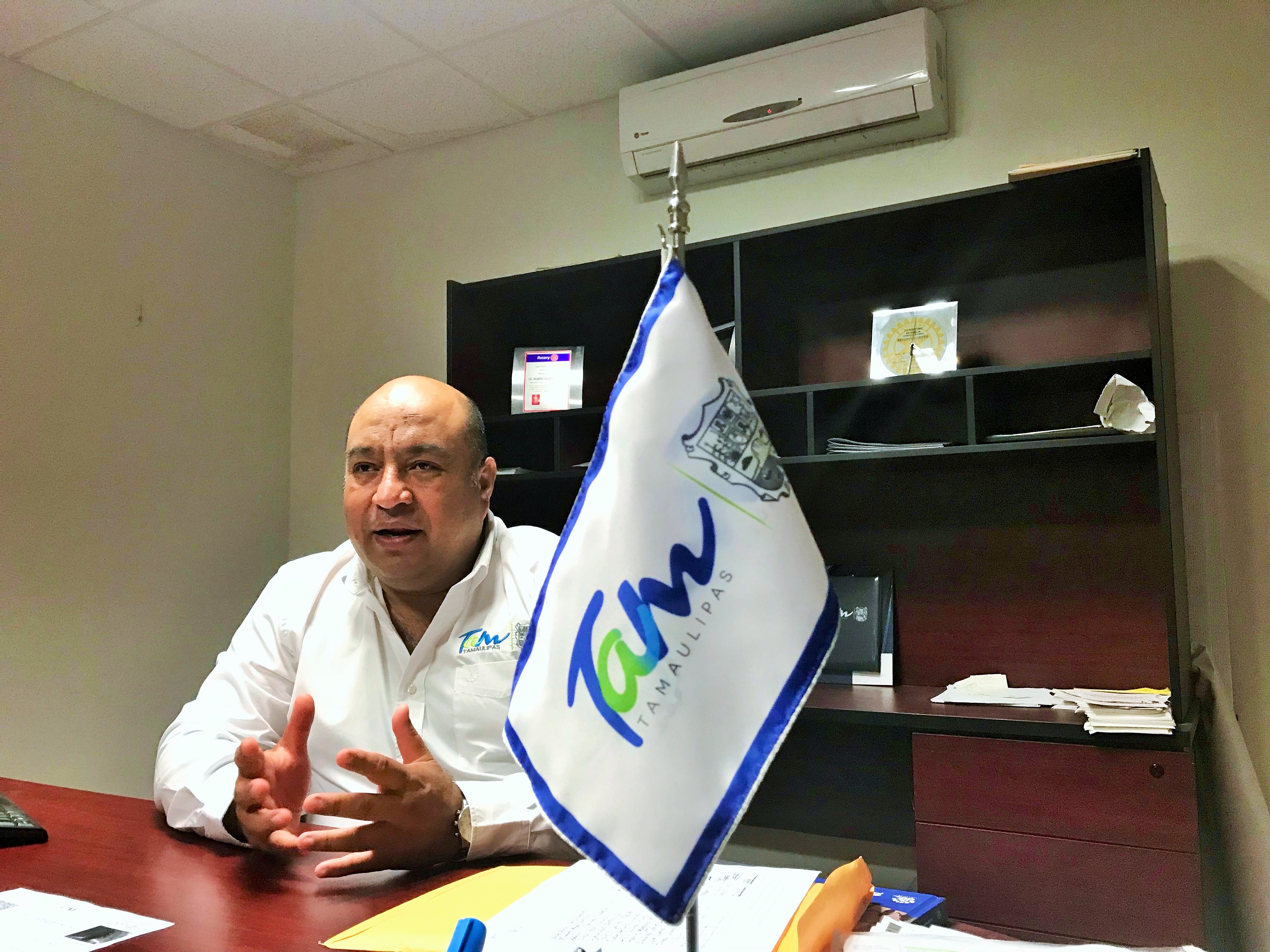 At the Tamaulipas Institute for Migrants (Instituto Tamaulipeco para los Migrantes), an aid agency about a block from the Texas-Mexico border, an 18-year-old clutches a small bag with food that institute staff just gave him.
"No. I won't try to do this again," he tells a reporter he says about his unsuccessful attempt to emigrate to the U.S. "They treat you really bad, they say things to you that hurt."
The northern Mexico state of Tamaulipas receives 40 percent of the people who are deported back to Mexico. Among them is this young man, who hails from Sinaloa, Mexico and spoke to The Nevada Independent on condition of anonymity. He said he was hoping to help his family financially when he tried to reach the U.S. by boat, but ended up being deported instead.
His shoes are dusty, his eyes are sunken with fatigue. He sits in a plastic chair inside the aid agency while he waits to be transferred, along with two older men, to one of the two shelters for migrants located in Reynosa.
"The reality is that they are sad when they come back, their morale is destroyed, while searching for the American dream they couldn't find because they were apprehended by the Border Patrol," said Ricardo Calderon, regional delegate of the institute, which started operations about seven years ago.
Calderon said one of the main objectives of the center is to make the journey immigrants face when returning home after a deportation a bit safer, since they are often extorted by members of organized crime.
Another goal, Calderon said, is to give them a decent welcome, food, personal hygiene products, legal counseling and health care courtesy of the Red Cross and Doctors Without Borders.
"After spending several years in a federal prison, they have been traveling almost 24 hours, with their hands and feet in shackles and a lot of stress," Calderon said in an interview with The Nevada Independent. "They do not have money to go back to their hometown. Earning dollars and then being paid in pesos is a very complicated matter. That's why we try to communicate with immigrant agencies in other states so they can help them get a stable job."
Two lives, two countries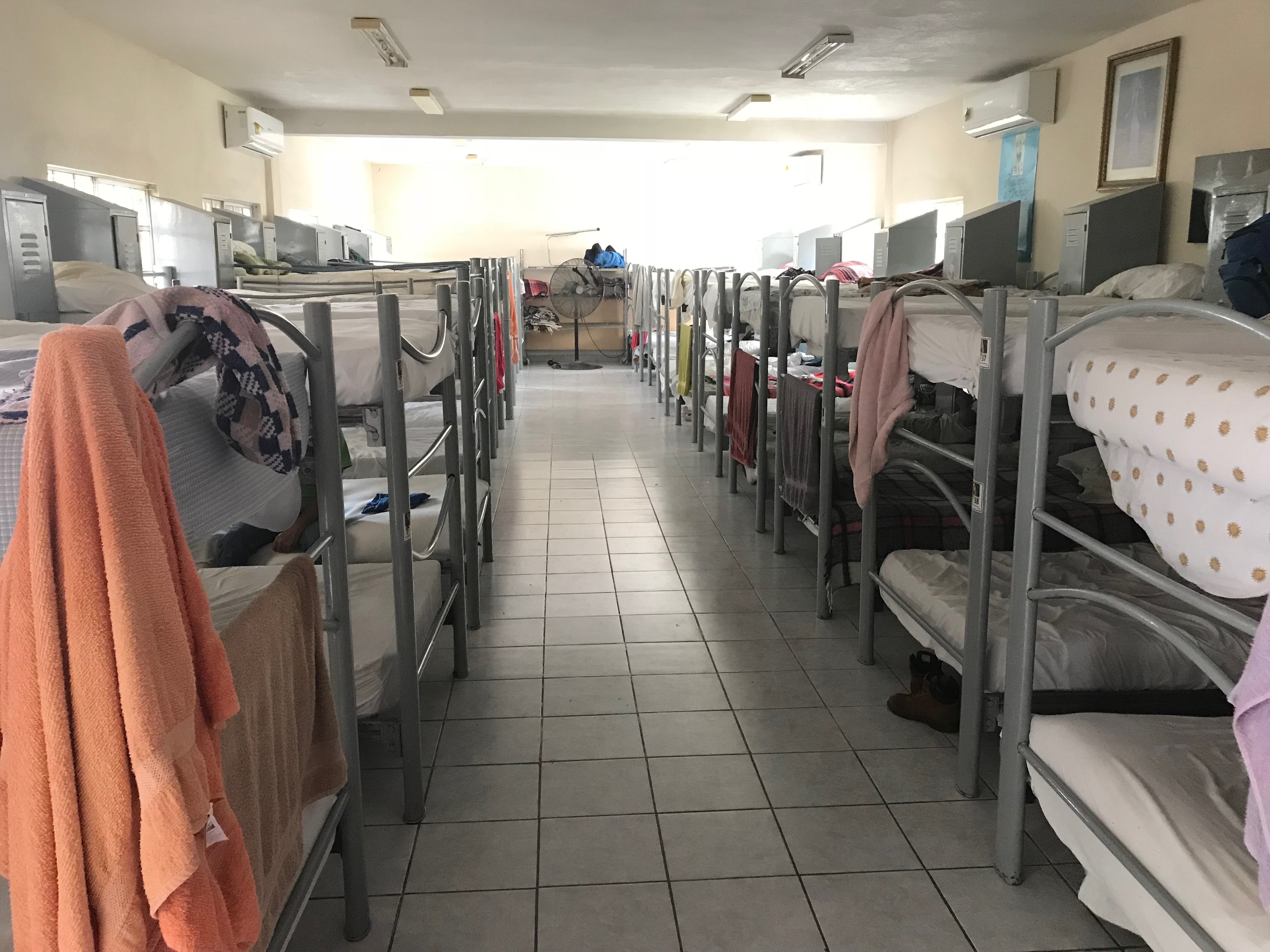 Calderon said that he hasn't seen a significant increase in the number of deportees who they have helped since Donald Trump became president. The Border Patrol reported it apprehended just under 304,000 people at the Southwest border in the fiscal year that ended in October; that's a lower number than in the three prior fiscal years.
But Calderon suspects the demand might rise soon because of the number of Mexicans who are being detained in the U.S. and potentially will be deported in the near future.
One of those new deportees was Miguel, a Mexican citizen who was sent by the Institute to Casa del Migrante, a shelter for immigrants operated by Catholic nuns. It's the fourth time he has been deported from the U.S. to Mexico.
"This time I was trying to go back to the United States, to Tennessee, because of my children," he said in an interview as he sat at a folding table in the shelter. His head is shaved, and he's wearing a clean royal blue T-shirt emblazoned with a picture of the Pillsbury doughboy and the words "Coolest most loveable guy in the room."
"I lived there since 1995. I went there trying to have a better life," he said.
Miguel, who worked as a bricklayer in America, has relatives who are legal residents and three American citizen children aged 10, 12 and 18. For more than 20 years, his life has been divided between the two countries, but his record of previous deportations means his prospects of returning to the U.S. the legal way are bleak. 
Each time he has been deported, Miguel said, it's been for having his driver's license revoked. Although the truck he bought for work is in his name, it has license plates and he pays the insurance policy he obtained, using his consulate-issued card as ID, he said.
Miguel's journeys to the U.S. have all involved crossing the desert and paying a coyote — a smuggler who helps immigrants cross illegally. The first trip cost him $400. This time, because he is Mexican and the journey is shorter, he paid nearly $7,000. For Central Americans, he said, the cost is up to $10,000.
Sometimes he has walked eight hours straight. On other occasions, like when he crossed through Arizona, it was almost a six-night journey.
"My children need me and I won't bring them over to this country," Miguel said, referring to Mexico. "Because of how the situation is over here, the cartels … it's awful, life here in Mexico, and not just at the border, also over there in my village it's the same thing. The cartels fight to see who controls the turf."
Miguel said he was going to risk crossing the border again, but planned to pass through the mountains this time. He said that will be more difficult because of tougher immigration laws, and crime in Mexico, but it was worth it just to be reunited with his kids.
This time when Miguel was detained in the United States, he also saw evidence of the Trump administration's family separation policy: children crying and mothers in cells blocks, looking tired, sleeping on the floor and covered up with some sort of plastic. The scene, more crowded than he had seen in the past, seemed inhumane.
"They have, like, cages for immigrants," he said. "It's cold. They don't fit in there. People are held in tight spaces. If they want to use the bathroom, they have to hop over each other one by one."
Miguel said he appreciated the assistance that Casa del Migrante offered him, after his experience as a detainee in custody of American immigration enforcers.
"They actually treat us bad … as a meal they give us two pieces of bread, a slice of bologna. They give you that three times a day. And tap water," he said about U.S. detention. "Sometimes they say bad things to people. If you tell them you're cold, they say 'too bad. I didn't tell you to come. This isn't your country. You're crossing illegally.'"
Spiritual comfort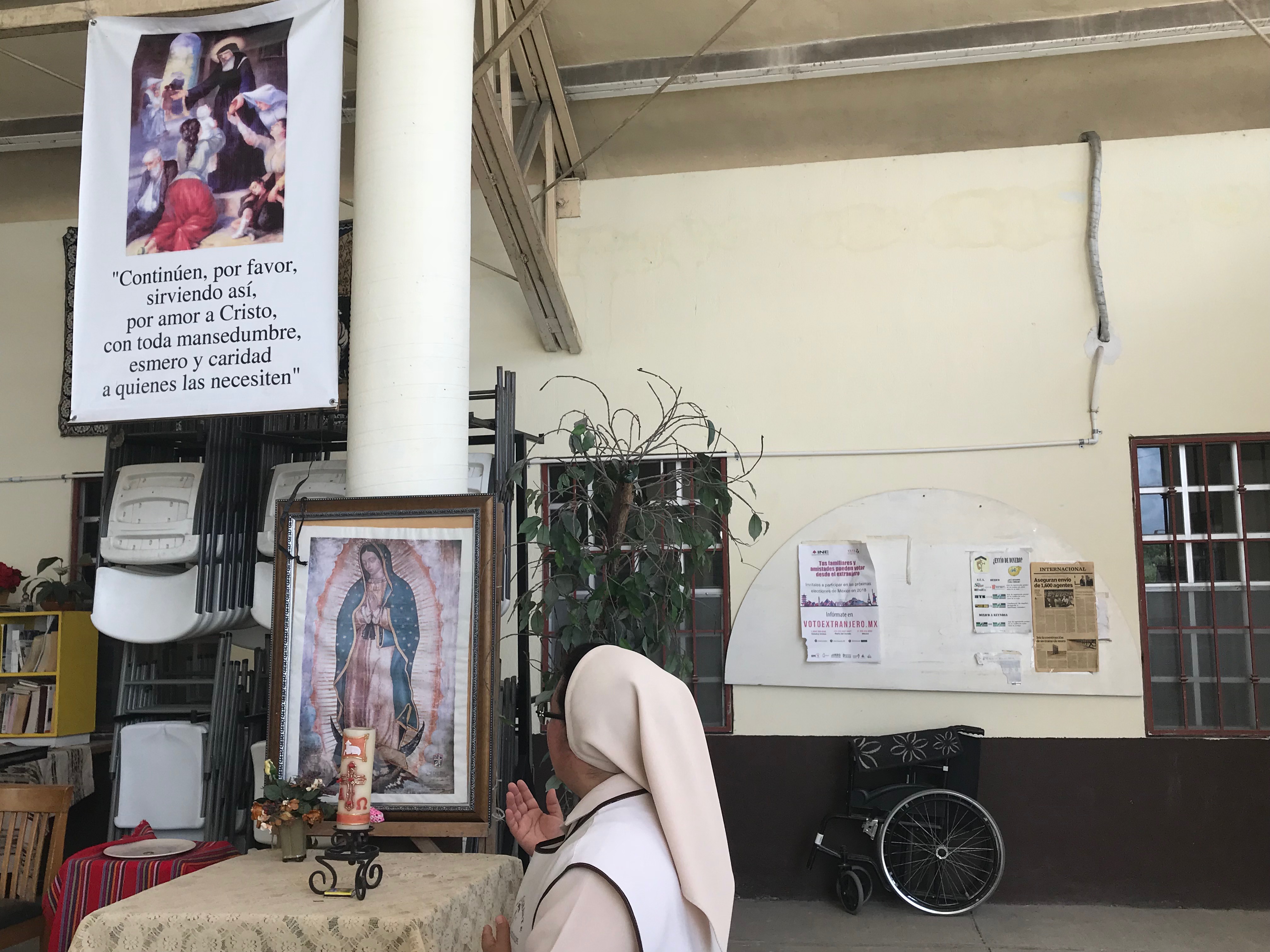 Most deportees who arrive at Casa del Migrante aren't only affected by their experience, but also suffer from ailments such as heart disease, which are even more difficult to treat, according to Sister Yolanda Elvira Guzman Yeh, one of the nuns who staffs the shelter.
"Since they have been deported, many of them are very resentful, they feel overwhelmed … they don't know what to do, they just lost their home, their family, money, a car, everything," Guzman said. "Many have lived so long over there, they don't have a family on this side anymore, they don't have a place to go, so they're in complete solitude."
Some of them also complain: "Why me?" "Why did they bring me here?" But Guzman said her Catholic order has taught her to serve the needy, from street children and drug addicts, to lepers and psychiatric patients.
"I tell them, God brought you here. God came here with you. He suffers with you, He cries with you. They get the message and their hope is strengthened," Guzman said. "My motivation, and my sisters' motivation, is Jesus Christ. I'm sure that in each of these brothers who are here, Jesus lives inside them."
La Casa del Migrante in Reynosa has been open as a standalone shelter for about seven years now, but it was an effort that began in the Parish of Guadalupe about 20 years ago because there was a growing need to support immigrants.
As a member of the Company of the Saint Vincent de Paul's Daughters of Charity, Guzman, along with three other nuns and a few assistants, spends her days serving migrants.
Guzman said they have seen an increase in the number of people who have lived a long time in the United States and are returning, adding that on average they get between 50 to 80 deportees per day.
"Most of the people, if they aren't going to cross to the United States, they return to their place of origin," Guzman said. "Because, although they have no family over there, they know where they are from and surely they will find an alternative there, among their own people."
According to Guzman, immigrants can only stay three days at the center. In addition to shelter, they receive clothing, showers, hot food, grooming utensils and a warm welcome.
"They have to look for an alternative to their problem," Guzman said. "Because if we let them stay here longer, it's like making them plunge into depression. We try to make them think about what alternatives they have."
When the shelter opens the door for them, one of the first images immigrants see is not only the open-air common area filled with tables and chairs, but a simple image of the Virgin of Guadalupe.
Many kneel and tears run down their faces.
"Most of the men, although some aren't Catholic, pass by here and they put themselves in the hands of the Blessed Virgin and continue their voyage," Guzman said. "When they leave here, they're always grateful and say, 'Sister, it had been a long time since I had an encounter with God. And I found Him here, and now I won't let go of Him because He has been with me, He has cried with me.'"
Comment Policy: We welcome reader comments on our stories. However, in keeping with our general policy of transparency, accuracy and accountability, we do not accept comments from anonymous accounts/persons. Anonymous commenters will be blocked.
get our morning newsletter,
The Daily Indy
@TheNVIndy ON TWITTER