Miller comes out on top in competitive race, winning seat on Clark County Commission by 10 votes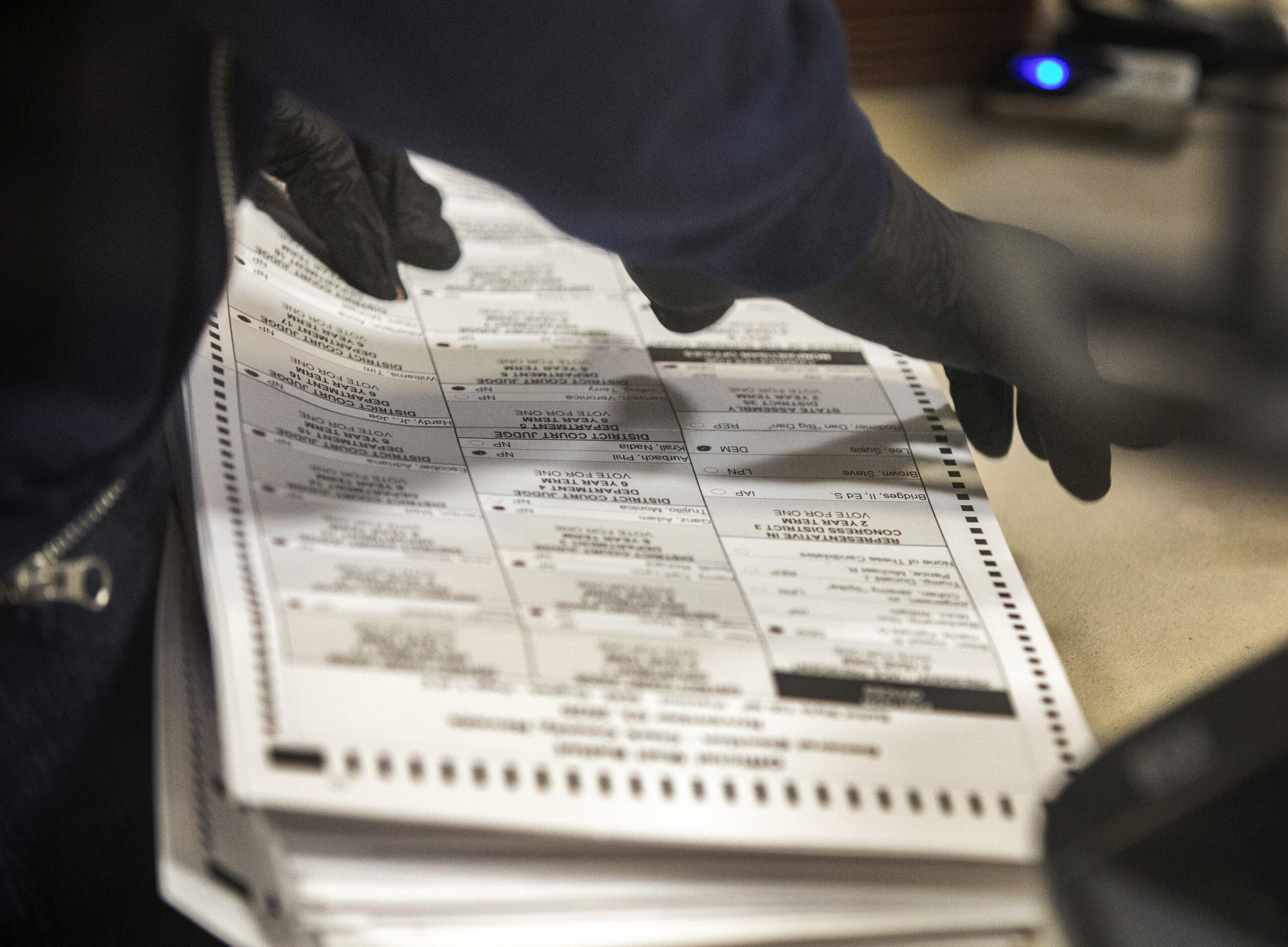 Democrat Ross Miller has been declared the winner in a contentious and exceedingly close race for the open District C seat on the powerful Clark County Commission, but Republican Stavros Anthony has indicated a recount may be coming.
The race was tight as results were released daily following Tuesday's election, with the candidates at one point separated by a mere eight votes in a district where more than 153,000 votes were ultimately counted. But with the last of the provisional ballots counted and announced Saturday morning, and while those results won't be certified until Monday, Miller ended the race with 10 more votes than Anthony, winning by a margin of only .003 percentage points.
"All week my campaign manager has modeled a single digit win, so I guess I'm just relieved to win by a double-digit vote blowout," Miller told The Nevada Independent on Saturday morning.
The District C seat is currently held by Democrat Larry Brown, who was first elected in 2008 and reached his term limit this year. The district, which incorporates the northwest portion of the Las Vegas Valley, has more active registered Democrats than Republicans although neither party holds a majority. Democrats make up 38 percent of active registered voters in the region and Republicans account for 32 percent.
Initial results on election night put Miller ahead with a lead of only 308 votes, but ballots reported early the next morning put Las Vegas City Councilman Anthony ahead by more than 2,000. From that point, each ballot drop helped Miller slowly make up the difference before finally overtaking Anthony on Sunday morning. Roles reversed on Thursday and Saturday, with Anthony once again making up that difference and narrowing Miller's lead.
Although Miller still had the lead in the final count, Anthony's campaign said the candidate was "pleased" that the final margin was so small and indicated the Republican may seek a recount and is currently reviewing all his options.
"Like you, we just received these results at 5:45 a.m. today. We are looking at all the options available to us in order to ensure that the ballot count is accurate," the campaign said in a statement Saturday morning.
Recounts in Nevada are not automatic. One must be requested and paid for either by the losing candidate or a voter within three days of the county certifying election results.
Anthony was selected as the mayor pro tem of Las Vegas earlier this year after serving 11 years on the Las Vegas City Council and previously worked in the Las Vegas Metro Police Department for 30 years. He was elected to the Board of Regents in 2002 and served two terms. In 2015, Anthony ran for mayor in Las Vegas, losing to incumbent Carolyn Goodman, and, in 2018, the candidate ran for Nevada's 4th Congressional District seat before later dropping out of the race.
Anthony is no stranger to a recount, as his opponent Glenn Trowbridge requested one following Anthony's first campaign for Las Vegas City Council in 2009. The recount in this race did not change the final outcome, and Anthony won the seat — also by 10 votes.
If Anthony does seek a recount, Miller says he does not expect it to affect the race's outcome.
"My opinion is they're unlikely to change the outcome because when the election officials do their job and they count, they get the votes accurate the first time. It's unlikely to get a different result," Miller said. "It would be scary if people asked for recounts and every time we got a different tally."
Miller was the youngest secretary of state in Nevada history when he was elected to the seat in 2006 at age 30. He held the office for two terms before reaching his limit. In 2014, Miller ran for attorney general, losing a close race to Adam Laxalt.
"I thought if I got into politics then the Clark County Commission would make a lot of sense. I had the opportunity to run for secretary of state, and I was honored to serve in that role," he said. "But I left politics because I became disillusioned with how far apart the political parties have become … So, I think in a local seat you have a tremendous ability to affect peoples' lives in ways that are often more focused on policy."
Miller, the son of two-term Democratic former Gov. Bob Miller, said he's been on the phone with commission incumbents and his family all week as he anxiously waited for results.
"In any of my dad's races, we never faced anything this close," Miller said. "I wouldn't recommend this for other candidates. If you can avoid it, you certainly want to win by a landslide."
Anthony has been a high spender in the commission race since January, spending more than $200,000 in the first quarter alone despite having no opponent in the Republican primary. Miller's spending was lower in that first quarter but matched his opponent's spending in quarter two when both politicians spent more than $60,000.
Anthony outspent Miller in the third quarter again, this time by nearly $290,0000. Miller raised issues with Anthony's third quarter finance report, filing a complaint with the secretary of state that pointed out that Anthony had accepted donations that exceeded the $10,000 contribution limit from multiple donors and failed to include adequate identifying information for many contributors as well.
Miller also found fault with a $100,000 transfer Anthony made from his former congressional fund turned multicandidate PAC which made up a large amount of his funding throughout his commission campaign. Anthony's campaign has since corrected some of those issues with the third quarter report.
In Miller's initial complaint, his campaign argued that simply correcting the issues and returning excess funds wouldn't be enough with just a week left until the election, as Anthony's campaign had already "reaped the benefits" of the funding.
Miller has also condemned Anthony for comments the city councilman made on Twitter following the Black Lives Matter protests in Las Vegas and Reno, in which Anthony said that "rioters" should be held in a prison in Jean.
Races for the other three open seats on the commission this year yielded far clearer results. In Districts A and B, incumbents Michael Naft and Marilyn Kirkpatrick held their seats, and, in the dominantly Democratic District D, Nevada Democratic Party Chair William McCurdy II won the seat with more than 77 percent of the vote.
As the candidates wait for results to be certified and Miller waits for Anthony's campaign's decision regarding a recount, Miller says he has set his sights forward, focusing on the work he wants to do while on the commission.
"I ran for the seat, and that's what I'm focused on," he said. "I'm going to work as aggressively as I can to get up to speed on the issues … I want to try and figure out where I can most effectively plug in to help in what I think is going to be a very rocky and difficult time for our community."
The Nevada Independent is raising $200,000 by Dec. 31 to support coverage of the 2024 election.
Tax-deductible donations from readers like you fund this critical work.
If you give today,your donation will be matched dollar-for-dollar.
Give + Get Matched
Featured Videos