National election survey: Nevada had middling turnout, mass unused mail ballots in 2022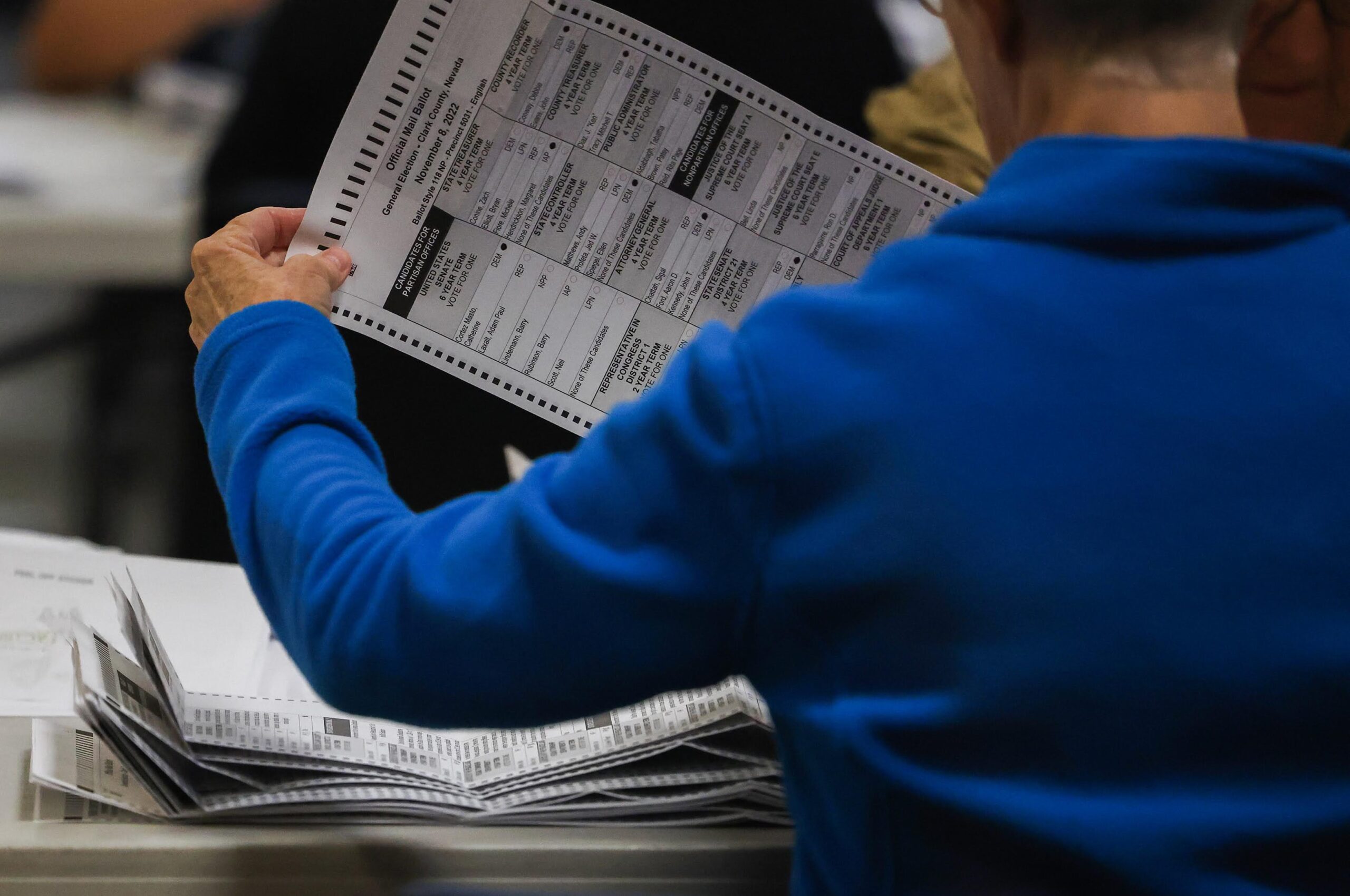 A new national survey of the 2022 election conducted by the U.S. Election Assistance Commission found that Nevada's turnout declined slightly from the 2018 to 2022 midterms and was in the middle of the pack nationally, while the rate of voters who cast their ballot by mail lagged behind other universal vote-by-mail states.
The commission's Election Administration and Voting Survey (EAVS) — a national survey of voting methods and election policies conducted by the independent, federal commission after each general election — found that general election turnout in Nevada among the U.S. citizen, voting-age population (those 18 and older who are eligible to vote) declined slightly from 48.1 percent in 2018 to 46.6 percent in 2022, just behind the national average of 46.8 percent.
Turnout decreased significantly more as a percentage of active registered voters, from 62.5 percent in 2018 to 55.5 percent — which came as the number of active registered voters in the state rose by nearly 277,000 across the four-year period, an increase that coincided with implementation of the state's automatic voter registration system.
The findings of the survey, which the commission described as the "most comprehensive source of election administration data in the United States," also reflect the sea change in Nevada's election policies between the two midterm elections, with the portion of ballots cast by mail rising from about 9 percent in 2018 to nearly 51 percent in 2022.
In 2020, amid the COVID-19 pandemic, Nevada adopted temporary policies for widespread mail voting, and during the 2021 legislative session, lawmakers passed AB321, permanently adopting the practice of sending mail ballots to every active registered voter who does not opt out of receiving a mail ballot.
But that 2022 mail turnout mark lagged far behind other universal vote-by-mail states. Among the eight states that conducted elections in that manner last year, Nevada's mail turnout percentage (50.7 percent of ballots cast in the general election) was a distant eighth place, behind Vermont (67.6 percent) and California (87.4 percent). The other five states recorded mail turnout percentages above 90 percent.
Nevada also reported a nation-low 28.2 percent rate of returned mail ballots, meaning that out of nearly 1.9 million ballots mailed to Nevada voters, fewer than 530,000 were used. California recorded the second-lowest rate with 44.4 percent of mail ballots returned.
That meant Nevada significantly outperformed other mail-voting states in terms of in-person voting, with 27.6 percent of votes cast in person during early voting (12th highest in the nation) and 20.6 percent cast in person on Election Day. Nevada has historically recorded high rates of early voting turnout, with an expansive early voting period relative to many other states that lasts for two weeks. In 2018, nearly 57 percent of Nevada ballots were cast in person during early voting, third highest in the nation.
The survey also highlighted major changes in Nevada's voter registration since 2018, with the 2020 adoption of automatic voter registration (AVR) — a system that automatically enrolls eligible voters during DMV transactions unless they opt out — driving increases in registrations.
The report found Nevada had the second-largest increase among all states in registrations at motor vehicle offices between 2020 and 2022, with DMV registrations making up 71.1 percent of total new registrations in 2022, up from 23.9 percent in 2020 and 36.4 percent in 2018.
The AVR system has resulted in a significantly larger share of the voting-age population being on the state's voter rolls — even as Nevada has taken steps to identify and remove from the rolls voters who have died or moved.
From 2018 to 2022, the number of registered voters increased by more than 24 percent, significantly outpacing the 8 percent growth of the state's citizen voting-age population. Still, those gains were spread between active registered voters (277,000) and inactive voters (150,000), who are not mailed election materials, such as mail ballots, and are deemed inactive if they do not respond to an address confirmation notice within 30 days, but are still considered registered and able to vote.
The large increase in inactive voters came even as Nevada reported extensive voter roll cleanup efforts, including sending out more than 404,000 address confirmation notices last year.
In 2022, Nevada removed nearly 397,000 voters from the rolls, an amount that ranked as third highest in the nation as a percentage of registered voters. The most common reasons for removal were failure to return address confirmation notice (41.3 percent), moved out of jurisdiction (28.3 percent) and voter deceased (17.8 percent).
These findings come from the EAVS, a biennial survey of all 50 states, the District of Columbia and several U.S. territories conducted since 2004 that collects data on the ways Americans vote, how elections are administered and more. The report generally includes tweaks each year, as refinements are made to the survey questions and as the commission aims to increase compliance to improve the data. The 2022 edition was submitted to Congress last month.
"These data play a vital role in helping election officials, policymakers, and other election stakeholders identify trends, anticipate and respond to changing voter needs, invest resources to improve election administration and the voter experience, and better secure U.S. elections infrastructure," the commission wrote in the 2022 report.