Annette Magnus, executive director of Battle Born Progress, speaks during a news conference about Nevada's national monuments on July 31, 2017. Congresswoman Dina Titus and Clark County Commissioners Marilyn Kirkpatrick and Chris Giunchigliani (pictured on the right) also participated. Photo by Jackie Valley.
National monument supporters blast Zinke for cutting short Nevada trip, call his visit a political stunt
Supporters of Nevada's two national monuments thought they would be meeting Monday morning with Interior Secretary Ryan Zinke to share their hopes for the acreage under federal review.
Instead, they gathered in a central Las Vegas office room, dismayed and angry after Zinke canceled their planned roundtable discussion, which they said stifles their side of the land debate.
"I will tell you I'm kind of — I want to say – pissed because I am," Clark County Commissioner Marilyn Kirkpatrick said. "I jumped through a million hoops Thursday, Friday trying to get with the team to make sure all of the locations were secure and all that … I just find it disingenuous."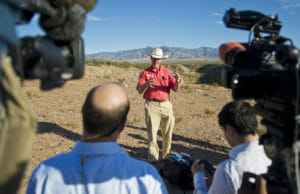 The head of the U.S. Department of the Interior toured Nevada's national monuments — Gold Butte and Basin and Range — on Sunday and addressed the media from Bunkerville. But Zinke cut short his multi-day western trip to fly back to Washington, D.C., for a Cabinet meeting.
The guest list for Zinke's tour also irked some of the national monument advocates. Republican Attorney General Adam Laxalt, who's widely expected to announce his bid for Nevada governor, accompanied the secretary on his tour, a spokeswoman for Zinke's office confirmed.
"They turned it into a political event instead of making it what it was supposed to be — getting good information about the value of our monuments," Democratic Congresswoman Dina Titus said. "We don't appreciate it."
The assortment of local politicians and monument advocates who gathered Monday morning touted the value of Nevada's national monuments, both of which former President Barack Obama established during his tenure in office. An executive order issued by President Donald Trump in April, however, could jeopardize their existence.
The order directs Zinke to review all monuments created since 1996 that are more than 100,000 acres in size. The Interior secretary has until Aug. 24 to issue recommendations to the president, which could include reducing, rescinding or otherwise modifying the monuments.
Zinke declined to say whether he has made any decisions about the Nevada monuments, but he shared several concerns, including preserving traditional uses of the land, maintaining public access and allowing for infrastructure upgrades.
The looming decision has mobilized Democrats and members of organizations such as Battle Born Progress, Friends of Gold Butte and the Nevada League of Conservation Voters who want to see the monuments remain intact. The public comment period closed earlier this month.
"It's ecotourism. It's economics," Clark County Commissioner Chris Giunchigliani, who is contemplating a run for governor against Laxalt, said. "It's making sure that the public has a space and a place to go, that the tribes have a place and a space spiritually to protect and it also happens to be damn beautiful."
Darren Daboda, chairman of the Moapa Band of Paiutes, said the cancellation made his tribal members feel like "second-class citizens" in the discussion. Zinke's team scheduled a teleconference for Monday afternoon with several local tribes in lieu of the face-to-face meeting that was supposed to occur.
"Again, it felt like empty promises from the government," Daboda said of the meeting cancellation.
Daboda said his tribe hopes to convey the cultural significance of Gold Butte, where Native Americans lived and relied on the land's resources for thousands of years. If the Trump administration decides to downsize the national monuments, Daboda said his tribe would like to work with the Bureau of Land Management and acquire some of that land.
Marcia Bollea, a member of the Nevada League of Conservation Voters, said it's up to concerned citizens to keep fighting against any monument changes. She pointed to the increasing popularity of places such as Red Rock National Conservation Area in Clark County and Zion National Park in Utah as proof of the public desire for the monuments.
"The more open space and the more places people can go and see what Nevada is, the better," she said.
Comment Policy: We welcome reader comments on our stories. However, in keeping with our general policy of transparency, accuracy and accountability, we do not accept comments from anonymous accounts/persons. Anonymous commenters will be blocked.
get our morning newsletter,
The Daily Indy
@TheNVIndy ON TWITTER